Ladies and Gentlemen, good morning!
Computers:
1) Windows 2K3 server controlling the file/print/dhcp/DNS/domain controller functions
2) Dell Insprion 9400 w/ Windows XP MCE
3)Dell Inspiron 5160 w/ XP Professional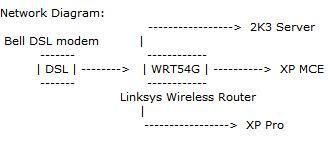 The router is setup as only a switch, I have disabled the DHCP functions and changed the client PC's subnet mask to reflect that of the DHCP server, not the router.
I have followed the instructions here
http://empoweringsoh...motedesktop.pdf
and checked and rechecked several times and yet I cannot connect to my home server from the office. The domain controller has a static IP, remote connections are enabled, and port farwarding in the router directs right to the DC.
Has anyone else had better success with this??
-Skate.
Edited by skate_punk_21, 06 July 2007 - 08:48 AM.