Hello,
my problem in simple terms is that my "Netgear WGT624 v3" wireless router is having a huge impact on my internet browsing.
My internet setup is as follows:
I receive roughly 2MB cable broadband trough a Motorola Surfboard Cable Modem (5 years old ish). I then run this through my netgear router (a year old) which splits the connection to my PC (wired), to my laptop (wired/wireless) and sometimes to my Wii console(wireless).
When i remove the router and connect the cable modem directly to my laptop (a year old), the internet works like a dream. Instant loading of pages; soo quick.
Then i add the Netgear router into the mix and everything becomes so slow whether your wired or wireless.
As i understand it when you enter an address into the address bar, before the page appears the browser goes through various stages that are actually shown in the status bar at the bottom of the browser. This includes "connecting to..." "waiting for ..." "loading ..." "transferring..." etc. and eventually "Done" is reached.
When i use my router (wired or wireless) all these stages are pretty much flown through EXCEPT the "
waiting for ...
" stage. Nearly all webpages seem to hang here. Once "waiting for..." is passed then the page loads almost instantaneously.
Let me show an example...
I type www.google.co.uk into address bar
"waiting for www.google.co.uk..." - takes about 10 seconds
All other status changes less than 1 second
I search for BBC News
"waiting for www.google.co.uk..." - takes about another 10 seconds
All other status changes less than 1 second
Click on BBC News link
"waiting for newsimg.bbc.co.uk..." - hangs for an unlimited time (see attached image)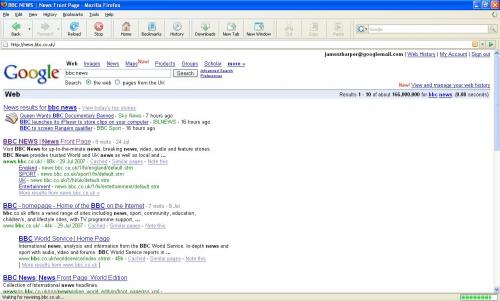 I must stress that it is only this "waiting for.." section that is slow. The general speed of the internet is fine, things like downloading, uploading etc remain reasonably constant. Well there's no noticeable difference anyway.
Last example is with a website called ebuyer.com.
That takes an age to get past the "waiting for www.ebuyer.com" stage.
BUT if i disable javascript the page loads fine.
Some random notes that might be relevant:
- My PC and laptop are on a workgroup
- I have latest ZoneAlarm Free
- spyware blaster
- Latest AVG Free
- no MAC filtering on router
- basic WEP encryption for router
- Dynamic IP
- Router DHCP enabled
- Router has UPnP on
So can anyone help me in stopping this
"waiting for...."
stage from running in circles and hanging all the time. It's incredibly annoying.
Thank You,
Makihara