Hi there,
Delete everything in this folder: C:\Documents and Settings\Devaughn Jones\.housecall6.6\
Quarantine
And delete these:
C:\Documents and Settings\Devaughn Jones\Local Settings\Application Data\Mozilla\Firefox\Profiles\pmjhapp7.default\Cache(2)\
6B8396A2d01
C:\Documents and Settings\Devaughn Jones\My Documents\Games\MapleStory\
MapleVIO_Launcher_05-11-02.zip
And your logs look clean! (I bet you freed up at least 2 gigs of junk

)
Step 1. Removing ComboFix
Click
START
then
RUN
Now type
Combofix /u
in the runbox and click
OK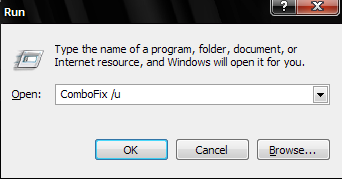 Notice the space between the
x
and
/
-- That needs to be there.
Now please download
OTCleanIt
.
Save it to your desktop.
Double Click on OTCleanIt.exe, a window will appear.
Please press the CleanUp! Button.
This will remove the tools we used during the process of cleaning your computer.
Step 2. Configuring Automatic Updates
Click the
Automatic Updates
tab. Choose the update option that best suits your needs, but be sure that Automatic Updates is not turned off. Windows XP will now notify you and download important updates and security patches as they become available.
Click "
OK
" to save your new settings and close the System Properties dialogue.
Step 3. Preventing future infection
Below I have included a number of recommendations for how to protect your computer in order to prevent future malware infections. Please take these recommendations seriously; these few simple steps can stave off the vast majority of spyware problems.
In order to protect yourself against spyware, you should consider installing and running the following
free
programs:
Spybot-Search & Destroy
A tutorial on using Spybot to remove spyware from your computer may be found
here
. Please also remember to enable Spybot's "Immunize" and "TeaTimer" features.
SpywareBlaster
A tutorial on using SpywareBlaster to prevent spyware from ever installing on your computer may be found
here
.
SpywareGuard
A tutorial on using SpywareGuard for realtime protection against spyware and hijackers may be found
here
.
IE-SPYAD puts over 5000 sites in your restricted zone so you'll be protected when you visit innocent-looking sites that aren't actually innocent at all.
http://www.spywarewa...uc/resource.htm
Make sure to
keep these programs up-to-date
and to
run them regularly
, as this can prevent a great deal of spyware hassle.
Please consider using an alternate browser. Mozilla's Firefox browser is
fantastic
; it is much more secure than Internet Explorer, immune to almost all known browser hijackers, and also has the best built-in popup blocker (as an added benefit!) that I have ever seen. If you are interested, Firefox may be downloaded from here:
http://www.mozilla.o...oducts/firefox/
Also make sure to
run your antivirus software regularly, and to keep it up-to-date.
There are many programs that can be used for your protection, most falling within the three main categories of anti-virus, anti-spyware and firewall. Please be careful to never run more than one program of the same category in resident mode, as conflicts between the different programs can actually decrease your protection.
Please also read Tony Klein's excellent article:
How I got Infected in the First Place
Hopefully this should take care of your problems! Good luck.
Please post back and tell me if everything is OK, so that I may mark this thread as Resolved.