There's a few games that I have that work fine, but a couple minutes into the game, it freezes up, then the next thing I know, it resumes working but the graphics have been horribly screwed up. I have included a photograph of one of the game I have that has this issue occuring (Albatross18), and the specs of my computer following that.
If anyone has any idea on what is the problem with it, as well as a suggestion to fix it, I'd sure appreciate it, as I do not have the money to get myself a new computer or a new graphics card at the moment.
Other games include:
-Disney's Toontown Online (though not very often)
-MapleStory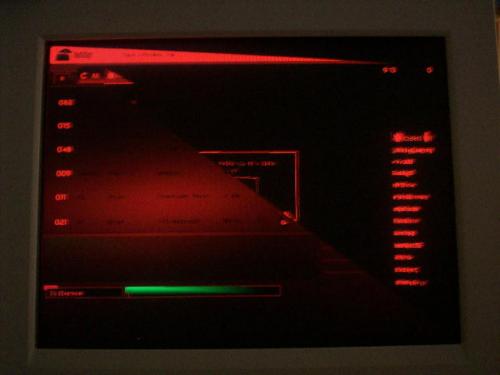 Windows: Windows XP5.1 (Build 2600) Service Pack 2
Internet Explorer: 7.0.5730.11
Memory (RAM): 512 MB
CPU: AMD Athlon™ Processor
CPU Speed: 1202.3 MHz
Sound card: Envy24 Family Audio (WDM)
Display Adapters: NVIDIA GeForce FX 5500 | NetMeeting driver | RDPDD Chained DD
Screen Resolution: 800 X 600 - 32 bit
:
Network Adapters: Linksys LNE100TX Fast Ethernet Adapter(LNE100TX v4) #3 - Symantec Network Security Miniport
CD / DVD Drives: D: HITACHI DVD-ROM GD-8000 | E: BTC BCE1610IM
:
COM Ports: COM1
LPT Ports: LPT1
Mouse: 5 Button Wheel Mouse Present
Hard Disks: C: 55.9GB
Hard Disks - Free: C: 6.5GB
USB Controllers: 2 host controllers.
Firewire (1394): Not Detected
:
Manufacturer: American Megatrends Inc.
Product Make: KEYSTONE
:
AC Power Status: OnLine
BIOS Info: ATAT COMPATIBLE 052201 GATEWA 20010522
Time Zone: Eastern Standard Time
Battery: No Battery
Motherboard: MicroStar MS-6389
Modem: Not detected