I have the worst luck with computers. Especially in this past year. Last year my RAM died on me and the problem was misdiagnosed. I ended up reformatting a hard drive that I didn't need to. Then a few months ago my PSU started melting and I had to replace that.
And now I think my hard drive (only a year old!) is dying on me. Check out the following images and tell me what you think.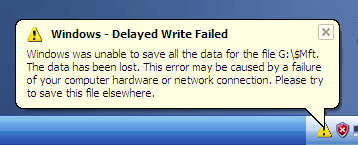 The funny and sad thing is that I just bought a 1TB external hard drive to back up my stuff
two days ago
. I get home and this starts!
Anyway, I'm running on Windows XP and the faulty drive is my second hard drive where I keep just My Documents. Music, videos and photos. So I've been trying to backup my files. File transfers that should take a few seconds have been taking me 5 minutes or more. Sometimes it'll speed momentarily and transfer crazy fast like it's suppose to. But for the most part, it's just really slow. And then eventually the entire drive disappears and I get the last two error messages seen above. The first error message is a precursor to the second two. It let's me know crap is going down soon.
So when the drive disappears I restart. Upon booting up the drive reappears. All files present and accounted for. I try backing up some more.. slooooooooooooooowly.. and then it disappears again. It feels like it's getting worse.
So yeah. Dying hard drive? No remedies? Just save as much as possible and move on?