Hey
So Im upgrading my ram on my desktop computer and wanted your advice if the memory im considering to buy is compatible.
Using CPUID,I found out my current specs:
Motherboard: Micro-Star International Co. LTD.
Model No.:MS-6577
Intel chipset: i845G rev. B1
Number of memory slots: 2
Current memory installed -
2 modules of 256MB PC2100 DDR SDRAM memory (specifications are in Attachment):
(Note dat on the sticker on the memory sticks, it said 266MHz, not 133MHz??)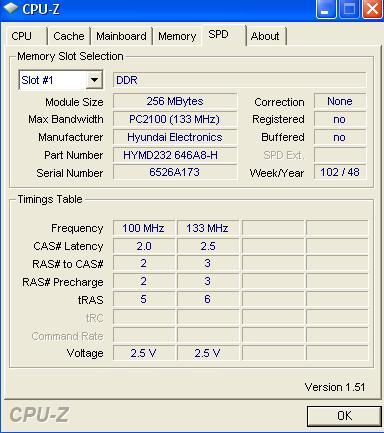 This is the memory im considering to buy:
Its on ebay and this is the link:
512mb memory
Ill paste the info here also just in case the link doesnt work:
512MB PC2100 400MHZ DDR 266FSB LOW DENSITY
CERTIFIED MEMORY
Brand NEW Product
Dual Channel Ready
Product Details:
• 184-pin unbuffered DIMM
• Density: Low
• PC2100 266FSB
• 2.5 Volts
• 6 Layer unbuffered
• CAS Latency 3
(the current one i have is 2.5 i think)
• 4 Bank
• Off-chip driver (OCD) impedance adjustment, and on die termination (ODT)
Technical Information:
Memory Size: DDR 184 Pin
Number: 512MB
Memory Speed: 266Mhz
Non ECC
Non Registered
UnBuffered
6 Layer
Non Parity
Physical Characteristics:
Form Factor: 184-pin DDR, Gold Pin, Green PCB
Warranty: Life Time Manufacturer warranty
Performance: PC2100
Dual Channel ready
2.5 Volts
DQ DQ Burst Frequency: 266MHz
Inputs and outputs are SSTL-18 compatible
CAS latency 3.0
128x4 X 2 LOW DENSITY DDR SDRAM CHIP CONFIGURATION
SDRAM have 4 internal banks for concurrent operation
Differential clock inputs
Data is read or written on both clock edges
Bi-directional data strobe with one clock cycle preamble and one-half clock post-amble
Address and control signals are fully synchronous to positive clock edge
Programmable Operation:
Burst Type: Sequential or Interleave
Burst Length: 4, 8
Operation: Burst Read and Write
Auto Refresh (CBR) and Self Refresh Modes
Automatic and controlled precharge commands
Serial Presence Detect
SDRAMs in FBGA Package
RoHs compliance
So any advice is appreciated...as well any cons u can see from the specs.
If you need any more info about my comp, ill be happy to provide.
Thanks in Advance
Japster