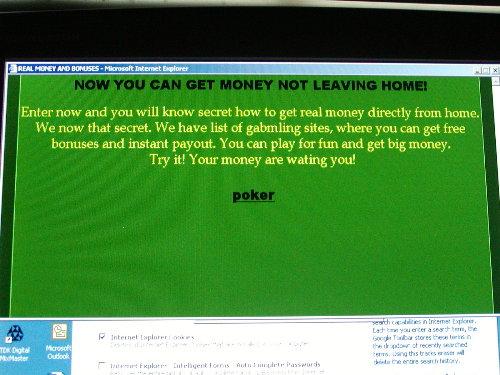 About:Blank, page redirects, & popups issues.
The "about:blank" homepage hijacker came (I think as I didn't have this issue b4) as I opened up a download of TDS-3 software recommemded to clean my PC up before posting a Hijack log! I got all kinds of warnings from Microsoft AntiSpyware Beta1 as I tried opening TDS-3 and somehow it slipped past.
Other than that, I have alrerady posted my AdAware log to the other board, I can post my Hijack This log when requested. I tried everything that I could do on the "Required steps before posting" page.
I run Win 2000 on an AMD Athlon 1.8
My symptoms are:
Outlook doesn't work anymore(won't send or receive
I get a pop-up a window often that looks like this:(see attachment)
I get redirects from legitimate sites to [bleep] sites
I now have the about:blank issue
My computer freezes up somewhere between the Bios and the desktop opening all the way. It usually takes 4 shots at restarting to get it running.
My Norten Internet Security 2005 keeps expiring. They cannot seem to help me.
Many programs that try to download updates from the web do not work, incl. Norton live update, AdAware, Stinger, & Ewido Security Suite. Spybot DOES work however.
Any help would be greatly appreciated. Thank you for your time.