Hi all
Background (may be unnecessary)

My problems started two days ago and help would be much appreciated. It started off like this:
I had network connectivity (the two little computers in the bottom right hand of the screen didn't have a red x on them) but when I started my web browser it didn't work (had the message "This web page is not available...")
I think I then disconnected the internet connection and then tried to restart the internet but it didn't work. I then restarted the computer and Avast antivirus wasn't working properly. By this stage I had no internet connectivity. Avast was saying my firewall might be stopping Avast from loading up properly. I tried to load up the components of avast that weren't working properly but the buttons like "Fix Now" weren't working at all. So I uninstalled the firewall and avast, re-installed avast but had the same problem even though I didn't have a firewall installed. I ran avast anti-virus, it picked up one virus and I moved it to the chest. Anyhow, I ended up uninstalling avast again. Still no internet connectivity. I went through the whole Malware and Spyware Cleaning Guide on Geekstogo but it didn't pick up any viruses.
The problem
So now I've got no internet connectivity. Anyhow, what I have now is what's in the attached network.gif.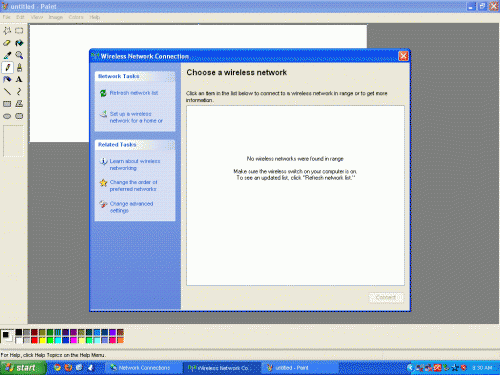 When I used to click "Refresh Network List" it used to look for wireless networks in the area. When I press "Refresh Network List" now it doesn't even look for any networks (usually I can see 2 or 3 other networks in the area). It says "make sure the wireless switch on your computer is turned on." As far as I know it is switched on (I've pressed function F5 and there's an antenna looking symbol which is lit up.)
What also might be of interest is I've got a USB wireless adapter and my computer doesn't even pick up the fact that I've connected it even though I know that the Wireless USB adapter works fine.
I've got an IBM Thinkpad 2722, and I run Windows XP.
If you need any other info please let me know.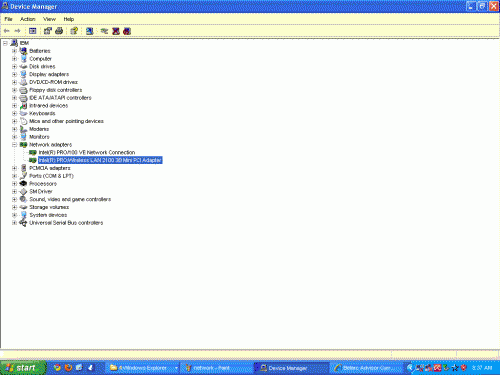 Hopefully someone can figure this out for me!