Hi guys.
Long time since I've been on this great site & am pleased to see you guys are still about. It's been about 6 years ago i think since i last used your much appreciated expertise.
Anyhow i have some type of hijacked malware problem on one of my computers which runs XP. Its a fake virus scanner thing that has hijacked the PC & it wont allow any program to operate
at all
until you opt into their constantly popped-up pretend scanner box, and then its asks to click the box to purchase a copy their [bleep] software product. If you click 'no thanks' it just sits there anyways & doesn't allow anything to run properly. Even the good old 'control-alt-delete' function is affected. AVG is currently the loaded virus protector on the PC.
I've already scanned using all twice - AVG, Trend online, Spybot Search&Destroy, & also run CCleaner with no success. I cant even identify the name of the thing, whatever it is, so i cant even follow directions via your comprehensive removal guides.
Your help is requested.
EDIT: i managed to photograph the screen of the affected PC. note that i was unable to start my screen capture program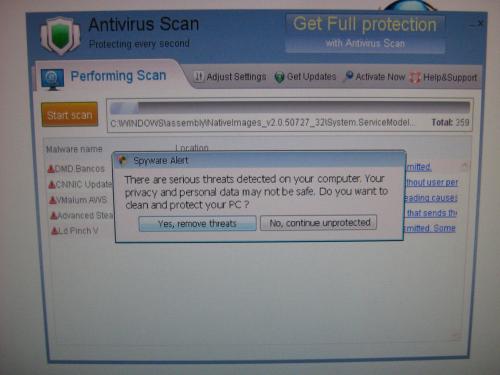 Edited by snurg, 05 January 2011 - 02:24 AM.