Possible Rootkit Infection?
Started by
rvold7871
,
May 26 2011 05:05 PM
#46
Posted 26 June 2011 - 11:00 AM
I must admit I am now considering a hardware/driver error
Are you still getting the alerts ?

---
#47
Posted 26 June 2011 - 11:10 AM
No actually. In fact, all it took was to uninstall uTorrent and the attacks stopped. But I'm still getting BSOD's when I try to run any type of scan in normal mode (especially on the affected account) and not even chkdsk is working correctly...

---
#48
Posted 26 June 2011 - 11:11 AM
No actually. In fact, all it took was to uninstall uTorrent and the attacks stopped. But I'm still getting BSOD's when I try to run any type of scan in normal mode (especially on the affected account) and not even chkdsk is working correctly...
However, I ran all those scans (ComboFix, SAS, ESET, etc.) when c: was dirty. After running chkdsk c: /f /x do you think the scans would work now?
Edited by rvold7871, 26 June 2011 - 11:13 AM.
---
#49
Posted 26 June 2011 - 11:29 AM
Could you try SAS first please

---
#50
Posted 26 June 2011 - 02:44 PM
I tried running SAS but again, after a whole hour actually and after scanning most of the PC, it ended in a BSOD. Here is the message:

A problem has been detected and Windows has been shut down to prevent damage to your computer.

KERNEL_DATA_INPAGE_ERROR

If this is the first time you've seen this Stop error screen, restart your computer. If this screen appears again, follow these steps:

Check to make sure any new hardware or software is properly installed. If this is a new installation, ask your hardware or software manufacturer for any Windows updates you might need.

If problems continue, disable or remove any newly installed hardware or software. Disable BIOS memory options such as caching or shadowing. If you need to use Safe Mode to remove or disable components, restart your computer, press F8 to select Advanced Startup Options, and then select Safe Mode.

Technical information:

*** STOP: 0x0000007A (0xE248B938, 0xC000000E, 0xBF91E66F, 0x144EE860)

*** win32k.sys - Address BF91E66F base at BF800000, DateStamp 4d6f95bd

Beginning dump of physical memory
__________________________________________________________________________________________________________________________________________________________

Now, before it BSOD'd, I managed to get the file names of some malware that SAS picked up:
Adware.Tracking Cookie x 4
Trojan.Agent/Gen-Bancos x 1

I know it's no log, but it's something finally. What do you think we should do now?

---
#51
Posted 26 June 2011 - 03:01 PM
If there was any infection I believe Dr Web would have caught it, cookies are of no import.
I have a feeling we are looking at either RAM or overheating as being the root cause
If you have more than one RAM module installed, try starting computer with one RAM stick at a time.
NOTE
Keep in mind, the manual check listed above is always superior to the software check, listed below. DO NOT proceed with memtest, if you can go with option A
B.
If you have only one RAM stick installed...
...run
memtest
...
1.
Download - Pre-Compiled Bootable ISO (.zip)
2. Unzip downloaded
memtest86+-2.11.iso.zip
file.
3. Inside, you'll find
memtest86+-2.11.iso
file.
4. Download, and install
ImgBurn
:
http://www.imgburn.com/
5. Insert blank CD into your CD drive.
6. Open
ImgBurn
, and click on
Write image file to disc
7. Click on
Browse for a file...
icon:
8. Locate
memtest86+-2.11.iso
file, and click
Open
button.
9. Click on ImgBurn green arrow to start burning bootable memtest86 CD:
10. Once the CD is created, boot from it, and memtest will automatically start to run.
You may have to change the boot sequence in your BIOS to make it work right.
To change
Boot Sequence
in your
BIOS
Reboot the system and at the first post screen
(where it is counting up memory)
start tapping the
DEL
button
This will enter you into the
Bios\Cmos
area.
Find the
Advanced
area and click
Enter
Look for
Boot Sequence
or
Boot Options
and highlight that click
Enter
Now highlight the first drive and follow the directions on the bottom of the screen on how to modify it and change it to
CDrom
.
Change the second drive to the
C or Main Drive
Once that is done then click
F10 to Save and Exit
You will prompted to enter
Y
to verify
Save and Exit
. Click
Y
and the system will now reboot with the new settings.
The running program will look something like this depending on the size and number of ram modules installed:
It's recommended to run 5-6
passes
. Each pass contains very same 8
tests
.
This will show the progress of the test. It can take a while. Be patient, or leave it running overnight.
The following image is the test results area:
The most important item here is the "errors" line. If you see ANY errors, even one, most likely, you have bad RAM.
---
#52
Posted 26 June 2011 - 04:03 PM
It won't let me use the file you gave me. It comes up as an ActiveIso Burner type of file which apparently doesn't work with Imgburn. And I think you might be right about the overheating, the computer itself is a laptop and the fan is definitely not working.
Edited by rvold7871, 26 June 2011 - 04:05 PM.
---
#53
Posted 26 June 2011 - 05:02 PM
Just kidding. I got it to work

and now we wait...
---
#54
Posted 26 June 2011 - 08:30 PM
No errors were found. I let it run 5 passes and nothing came up. Finally, a bit of good news, right?

---
#55
Posted 26 June 2011 - 10:02 PM
But more bad news on the way. I tried running Dr. Web again (full scan this time) and it crashed.


---
#56
Posted 27 June 2011 - 10:08 AM
BREAKTHROUGH!!! So I decided to get a little creative...
I ran SAS but I only did a check on C:\System Volume Information (that's where the trojan was found), I found the trojan, and paused the scan before it could crash. I immediately quarantined it, rebooted, and ran a SAS full system scan. And guess what, it ran to completion and produced a log! Here is that log.
---
#57
Posted 27 June 2011 - 10:27 AM
All SAS got was tracking cookies, and data in the system volume is generally inactive until you use system restore
Download
Speedfan
(The download link is to the right), and install it. Once it's installed, run the program and post here the information it shows.
The information I want you to post is the stuff that is circled in the example picture I have attached.
To make sure we are getting all the correct information it would help us if you were to attach a screenshot like the one below of your
Speedfan
results.
To do a screenshot please have click on your Print Screen on your keyboard.
It is normally the key above your number pad between the F12 key and the Scroll Lock key
Now go to Start and then to All Programs
Scroll to Accessories and then click on Paint
In the Empty White Area click and hold the CTRL key and then click the V
Go to the File option at the top and click on Save as
Save as file type JPEG and save it to your Desktop
Attach it to your next reply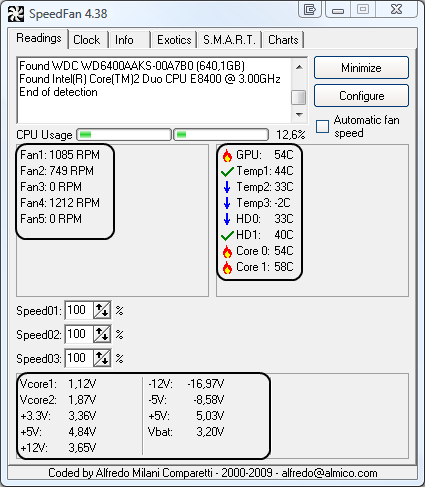 Speedfan instructions posted with acknowledgment to rshaffer61
---
#58
Posted 27 June 2011 - 10:44 AM
---
---
#60
Posted 27 June 2011 - 11:01 AM
Ya. At my job there is a vent thing that it goes on; right now it's just sitting here on my desk in my room. The only problems we have now are that chkdsk won't run properly, and it doesn't boot the first time after restart; it gets stuck on the DELL welcome screen where you push F8 in order to get the advanced boot options. Would you like to see any other scans? Or is it time to clean-up?

---
---
Similar Topics
0 user(s) are reading this topic
0 members, 0 guests, 0 anonymous users
As Featured On: