System Restore window "PC Performance & Stability analysis rep
Started by
maezhou
,
Oct 22 2011 03:20 AM
#226
Posted 10 December 2011 - 03:18 PM
OK do the reg fix and then we will look at the firewall if that has worked

---
#227
Posted 10 December 2011 - 03:37 PM
I tried Windows Defender and I think it's working now. It's now doing a quick scan on the machine.

---
---
#229
Posted 11 December 2011 - 08:09 PM
I've downloaded and run MicrosoftFixit.WinSecurity.Run.
Then after it ran, I tried Windows Firewall settings again. It's still getting the windows firewall errors.
I tried Windows Security Troubleshoot that's available in MicrosoftFixit, and it shows this under Firewall: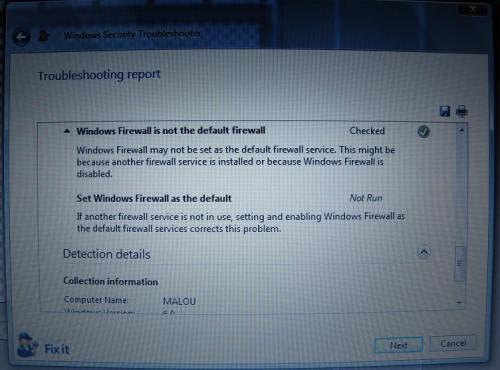 I restarted the machine and tried Windows Firewall settings again.
But it's still getting the same error that i've indicated in the earlier posts.
---
#230
Posted 12 December 2011 - 12:21 PM
Re run the fixit and use the set to default option

Apart from that how is it behaving in general ?

---
#231
Posted 12 December 2011 - 03:23 PM
Apart from the Firewall settings, everything is working fine.
I run MicrosoftFixIt again and I came across this error: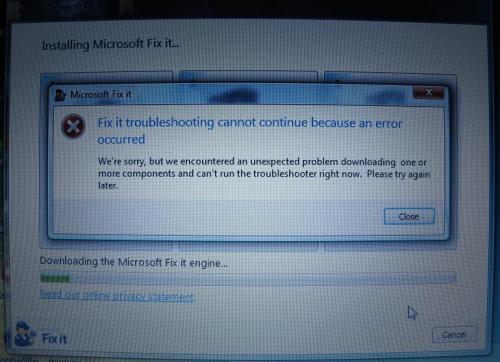 I have to re-run MicrosoftFixIt 3 times before it completed successfully.
Where should I specify to use the default option?
When I run MicrosoftFixIt, I get the screen to accept the Privacy Statement: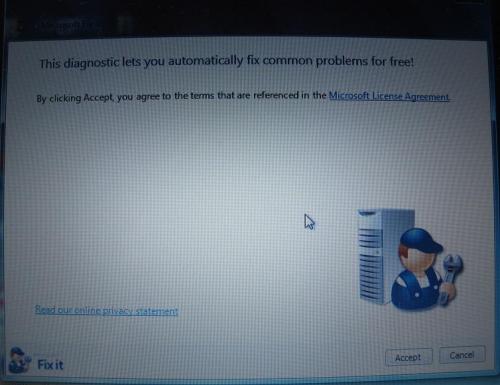 After clicking [Accept] button, it starts to install Microsoft Fix It: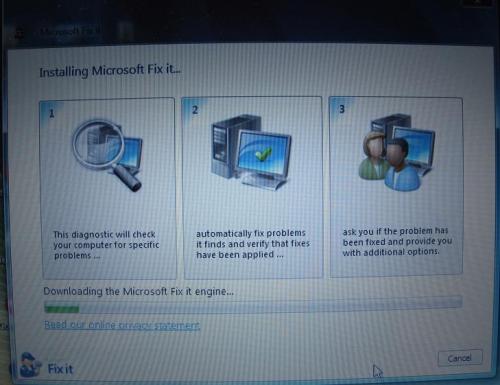 And then once completed, I get the 'Windows Security Troubleshooter' window: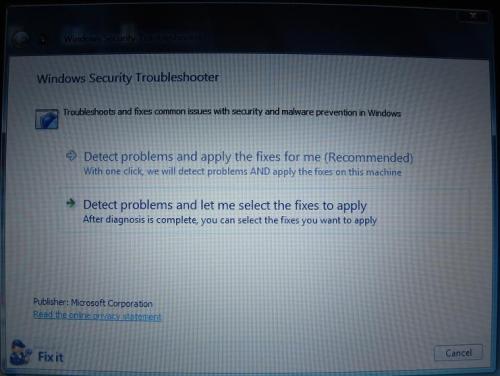 The first option is grayed out, so I can't select that one. And I have no other choice but to do the second option: "Detect problems and let me select the fixes to apply".
Once I clicked that option, I get the 'Troubleshooting is complete' window.
(Sorry, I'm already getting an error if I attach screenshots now. It says i've reached my 4MB global upload quota)
I clicked on 'View Report Details', and I get the 'Troubleshooting report' window.
If I clicked on 'Windows firewall is not the default firewall', I get to the link where it shows that 'Set Windows firewall as the default' did not run.
Edited by maezhou, 12 December 2011 - 03:34 PM.
---
---
#233
Posted 12 December 2011 - 04:05 PM
It's taking a long time to run and then I got the popup that says:
"We're sorry, but we encountered an issue downloading one or more components and cannot run the troubleshooter right now. Please try again later or visit
http://www.microsoft.com/fixit
to obtain the most current version.
[Code 80072EE2]"
I'll try it again later.
---
#234
Posted 12 December 2011 - 04:16 PM
I tried it again and it run. But it didn't fix the problem.
I clicked on the link "Send troubleshooter results to see specific solutions" and it brought me to this page:
http://fixitcenter.s...a5-79d439f61dba
---
#235
Posted 12 December 2011 - 04:24 PM
Which actually links you back to the initial fixit
Do you have a third party firewall installed ?
Subject to no further problems

I will remove my tools now and give some recommendations, but, I would like you to run for 24 hours or so and come back if you have any problems
Now the best part of the day ----- Your log now appears clean
A good workman always cleans up after himself so..The following will implement some cleanup procedures as well as reset System Restore points:
Run OTL
Under the Custom Scans/Fixes box at the bottom, paste in the following


:Commands
[resethosts]
[emptytemp]
[Reboot]
Then click the Run Fix button at the top
Let the program run unhindered, reboot the PC when it is done
Remove ComboFix
Hold down the Windows key + R on your keyboard. This will display the Run dialogue box
In the Run box, type in ComboFix /Uninstall (Notice the space between the "x" and "/") then click OK



Follow the prompts on the screen
A message should appear confirming that ComboFix was uninstalled
Run OTL and hit the cleanup button. It will remove all the programmes we have used plus itself.
We will now confirm that your hidden files are set to that, as some of the tools I use will change that
Click Start.
Open My Computer.
Select the Tools menu and click Folder Options.
Select the View Tab.
Under the Hidden files and folders heading select Do not show hidden files and folders.
Click Yes to confirm.
Click OK.
Your
Java
is out of date. Older versions have vulnerabilities that malware can use to infect your system.
Please follow these steps to remove older version of
Java
components and upgrade the application.
Upgrading Java
:
Go to

this site

and click Do I have Java
It will check your current version and then offer to update to the latest version
SPRING CLEANTo manually create a new Restore Point
Go to Control Panel and select System
Select System
On the left select System Protection and accept the warning if you get one
Select System Protection Tab
Select Create at the bottom
Type in a name i.e. Clean
Select Create
Now we can purge the infected ones
GoStart > All programs > Accessories > system tools
Right click Disc cleanup and select run as administrator
Select Your main drive and accept the warning if you get one
For a few moments the system will make some calculations
Select the More Options tab
In the System Restore and Shadow Backups select Clean up
Select Delete on the pop up
Select OK
Select Delete
Now that you are clean, to help protect your computer in the future I recommend that you get the following free programmes:
Malwarebytes
. Update and run weekly to keep your system clean
Download and install
FileHippo update checker
and run it monthly it will show you which programmes on your system need updating and give a download link
It is critical to have both a firewall and anti virus to protect your system and to keep them
updated.
To keep your operating system up to date visit
To learn more about how to protect yourself while on the internet read our little guide
How did I get infected in the first place

?
Keep safe


---
#236
Posted 12 December 2011 - 04:44 PM
Webroot SecureAnywhere which is my antivirus/antispyware protection is running a firewall.
It's already about to expire (Feb 2012). Do you think Malwarebytes is better? If it is, then I'll not renew my Webroot account and get Malwarebytes instead.

---
#237
Posted 13 December 2011 - 12:20 PM
Malwarebytes is not an antivirus - so it will not be able to fulfill that role

You could run something like PCTools firewall and a free av as a complimentary setup

---
#238
Posted 14 December 2011 - 12:11 AM
OK. Thanks so much for your patience and all your help. I really greatly appreciate them.
All the best! Cheers!

---
#239
Posted 14 December 2011 - 12:26 PM
Not a problem - I will not close 'till tomorrow - just in case

---
#240
Posted 15 December 2011 - 02:39 PM
I guess you can close it now, I haven't experienced anything unusual since.
Happy Holidays! Now I can enjoy Christmas without my laptop worries

---
---
Similar Topics
0 user(s) are reading this topic
0 members, 0 guests, 0 anonymous users
As Featured On: