Programs not responding,laptop has slown up [Closed]
Started by
featman
,
Mar 31 2012 03:32 PM
This topic is locked
#31
Posted 21 April 2012 - 06:51 AM
OK. Please tell me what are current problems.

---
#32
Posted 24 April 2012 - 09:32 PM
Well,
Somewhat better. Still get programs not responding and a quivering cursor which is annoying.

Funny thing is....when I pause protection on Kaspersky, I get a message that 19 active networks will close. What does that mean?
Also, when I do pause protection on Kaspersky the system seems to work faster and better all around.

---
#33
Posted 26 April 2012 - 11:49 AM
I get a message that 19 active networks will close.
Well... That look like your Kaspersky suite has also firewall. Let's scan it with other Kaspersky tool. Please temporary disable your Kaspersky AV and follow the steps below:
We should proceed with general antimalware scan which can take quite a long time so please be patient.
Download
Virus Removal
Tool (VRT) from
Here
to your desktop
(You have to enter your e-mail address and click on
Submit Form
button. Please download latest English version of this tool)
Run the programme you have just downloaded to your desktop (it will be randomly named )
First we will run a virus scan
Click the cog in the upper right
Select down to and including your main drive, once done select the Automatic scan tab and press
Start Scan
(Please be patient as this scan can take a few hours)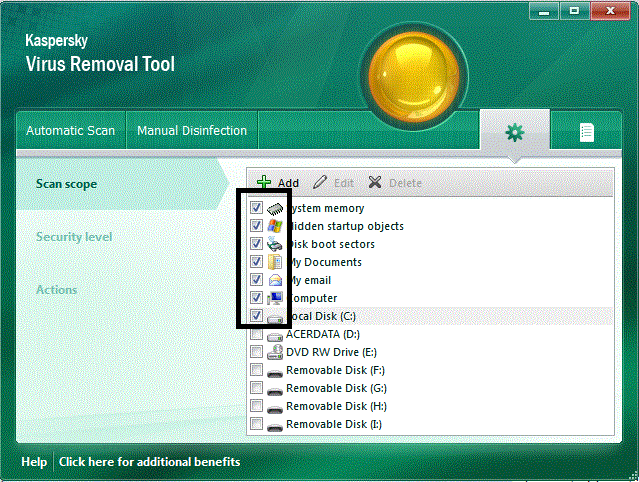 Allow VRT to delete all infections found
Once it has finished select report tab (last tab)
Select
Detected threads
report from the left and press
Save
button
Save it to your desktop and attach to your next post
Now the Analysis
Rerun VRT and select the
Manual Disinfection
tab and press
Start Gathering System Information
On completion click the link to locate the zip file to upload and attach to your next post
---
#34
Posted 28 April 2012 - 04:31 PM
No malware was detected with the automatic scan so there was nothing to attach.
The zip file is attached.
Thanks again...
---
#35
Posted 02 May 2012 - 12:19 PM
Hi and sorry for the delay. I was on short vacation.

From provided logs I can't see any malware activity.

How old is that computer in question?

Kaspersky Internet Security is resource-heavy application. I would go with uninstalling KIS and installing some light AV program.

I recommend you one of these:

Then run your computer as normal and let me know if the problem persist.

---
#36
Posted 02 May 2012 - 12:26 PM
Welcome back,

Bought it new maybe 6 or 7 years ago.....is it a case of planned obsolescence??

Thanks,
Richard

---
#37
Posted 03 May 2012 - 08:18 AM
is it a case of planned obsolescence??
No and yes.

Did you tried to uninstall KIS and use some recommended AV?
Other solution would be fresh OS install.
---
#38
Posted 09 May 2012 - 06:49 AM
Sorry...I was away for a few days.

I'm reluctant to do a fresh OS install.

Would uninstall KIS, although kind of a shame seeing as how I paid for it.

I would go to a recommended AV on your word though, so I'm all ears.

Thanks

---
#39
Posted 10 May 2012 - 10:34 AM
We can try. You can always go back with Kaspersky later.

---
#40
Posted 24 May 2012 - 08:40 PM
Hi Render,

I sure do owe you an apology and a ton of THANKS. Life got a bit hectic these last couple of weeks and PC problems were way down on my priority list.

Thanks for your patience and the many solutions you came up with. I haven't switched the anti virus out of Kaspersky yet, but I will, In general,things are working better though.

I'll be in touch to let you know how things go....

Hoping all is well in your world,

Featman


---
#41
Posted 26 May 2012 - 04:37 PM
Hi,

OK. I will leave this thread open.

---
#42
Posted 04 October 2012 - 10:08 AM
Due to lack of feedback, this topic has been closed.

If you need this topic reopened, please contact a staff member. This applies only to the original topic starter. Everyone else please begin a New Topic.

---
---
Similar Topics
0 user(s) are reading this topic
0 members, 0 guests, 0 anonymous users
As Featured On: