STUCK ON BLACK SCREEN
Started by
faith2248
,
Sep 09 2012 09:17 AM
#16
Posted 13 September 2012 - 06:45 PM

---
#17
Posted 13 September 2012 - 06:54 PM
okay....it doesnt work....i change the BIOS to boot off a CD...then i put in the disc and nothing really happens...the only diference is that the toshiba screen where i can press f2 and f12 lasts a few seconds longer than it would if the CD was not in it....then i wud continue to get the black screen with a blinking underscore on top left for a few seconds and then itll disapppear and i am left with a black screen then the error message i usuallly get as posted above

---
#18
Posted 13 September 2012 - 07:03 PM
USB doesnt work and CD doesnt work...what else could i possibly do? would i have to end up replacing my hard drive?
Edited by faith2248, 13 September 2012 - 07:04 PM.
---
#19
Posted 13 September 2012 - 08:05 PM
confirm please that you have downloaded the Seatools for DOS ISO file
http://www.seagate.c...loads/seatools/
from here, by going there from the previous link I sent you
and then burnt that using the special ISO burning program I sent you
and that you have changed boot order to the CD/DVD drive
and that when you boot, WITH the DVD in, if you have a message press any key to boot from CD you have done so
---
#20
Posted 13 September 2012 - 08:19 PM
i have done all of that but i do not get a message that tells me to press any key to boot to CD

---
#21
Posted 14 September 2012 - 04:56 AM
See if that DVD will boot another computer and proceed to offer the test
You may then cancel and exit out.

---
#22
Posted 14 September 2012 - 02:32 PM
yes i tried and it work on this laptop....when i tried botting off a cd i eventually got to a seatools page with an agreement thing telling me accept or decline...i just declined and restarted the laptop

---
#23
Posted 14 September 2012 - 03:43 PM
For the avoidance of doubt - you refer to ANOTHER computer when you say "it work on this laptop" - NOT to the one we are trying to discover the fault on

---
#24
Posted 14 September 2012 - 03:57 PM
huh? the disc does not work on th laptop i want to fix....it works on the one im using right now...you told me to try the disc on another computer?...and it does work on another computer...it just doesnt work on the laptop i want to fix

---
#25
Posted 14 September 2012 - 04:25 PM

---
#26
Posted 15 September 2012 - 06:20 AM
See Page 53 of the manual you downloaded
On the base of the laptop remove the screw securing that panel
AFTER disconnecting the laptop and REMOVING the battery
Underneath that pane lyou will see as explained in the manual the memory sticks - DO NOT reove those
Also underneath the panel is the Hard drive
Carefully unplug the lead connecting the hard drive - check and ensure there are no clips securing anything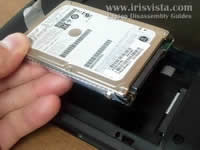 STEP 2
There are no screws securing the hard drive.
Simply slide the hard drive to the left and disconnect it from the motherboard.
Lift up and remove the hard drive.
It is a SATA drive 500GB I think - now you will need to obtain a 2.5 enclosure or docking station and connect the drive into that and then to usb to another computer - from there the drive should be seen, if it is good as an external drive and you can then run the same seatools on that drive to see if the problem is indeed the drive
I do not know where you are located but this is an example of what you need - when buying thwe enclosure for the drive ensure it is one that the drive will fit - not onyl for 2.5 but check that it is if a slimline type, the drive will go in.
http://www.amazon.co...sl_48tka1t8fg_b
http://www.amazon.co...sl_20fezpm7bd_b
---
#27
Posted 15 September 2012 - 11:38 AM
---
#28
Posted 15 September 2012 - 12:37 PM
1. The enclosure appears to be OK
The docking station is too expensive is it not for a one off job
2. You said this was your drive
TOSHIBA MK5055GXSN
Is there any chance you have typed it incorrectly as I think it maybe GSXN and not GXSN
http://www.google.co...iw=1280&bih=852
not that it makes that much difference it is I think a 500GB SATA it is listed as SATA 300 that is NOT SATA3 so you
should
be OK with that enclosure.
3. The purpose of the exercise is to see if the drive is good.
I cannot guarantee it will work, neither can I say that it will then enable us to fix the fault.
Seatools if the drive is readable at all, in that the other computer will see it, will then check the drive - I thought you may have realised that when you read about it on the link I sent for you to download it.
4. As you know ffrom the other computer that DVD should boot the computer to run Seatools
It will not, neither would the USB when you tried that with my colleague
and yet you say that you used the repair CD on the Toshiba forum - or I thought that was what you meant
...i started getting that error message i posted above right after using the repair disc i made while following the guy in the link above

If you HAVE tried anything else to fix it, please do say so, as of course I have only the information you give me to work on.
It does not matter what you have done, as it is of course your computer, but if you have done anything at all, that infromation may hel
---
#29
Posted 15 September 2012 - 01:16 PM
oh...well when i tried using that repair disc nothing happened either...but after trying to use the disc i starting getting that error message
my laptop at 1st would freeze/get stuck on the starting windows screen
then i went on safe mode and tried running norton 360 and anti-malware bytes, but the scans could not finish before my laptop would for some reason freeze
then i tried cleaning out my registry with ccleaner on safe mode...after doing so my laptop got past starting windows but then would freeze on right when i got to my desktop screen after the icons on it showed up
then i wasnt sure what to do and i tried f8 options like starting on last sucessful reboot and etc....and nothing worked...then i dont know what happened and i couldnt get back to the frozen desktop then f8 options stopped working and i couldnt get into safe mode and etc and then i thought i needed some kind of disc...things just slow got worse to where i am now
Edited by faith2248, 15 September 2012 - 01:23 PM.
---
#30
Posted 15 September 2012 - 02:44 PM
Well - it has the possibility that it was overheating or it had a hardware fault - motherboard
The overheating if it was - could have caused it

It may well be the case that this will prove to be a fault that cannot be analysed on a forum help and will require actual posession of the laptop

You have not answered the question re the HDD

I still think that removal and testing of the drive is a useful exercise.

---
---
Similar Topics
0 user(s) are reading this topic
0 members, 0 guests, 0 anonymous users
As Featured On: