Help-Computer keeps freezing & rebooting
Started by
erf
,
Nov 03 2012 03:37 PM
#46
Posted 15 November 2012 - 07:16 AM
That is ok like I said I see two drivers for sure that are out of date.

---
#47
Posted 15 November 2012 - 08:47 PM
I ran drivermax and it found 13 drivers that needed updates. I'm not able to capture the info with printscreen for you to see for some reason. Anyway I will try to update at least the previous 2 that were identified. Would you like to see a list of the other drivers?

---
#48
Posted 15 November 2012 - 10:22 PM
Yes please. Then I can direct you which ones to get in what order.

---
#49
Posted 17 November 2012 - 07:06 PM
OK, I updated a couple of drivers, and the computer is running way worse. It takes forever to boot into XP and freezes up quickly. I will try to see if I can remove the updates.

---
#50
Posted 17 November 2012 - 10:19 PM
Did you update the drivers that pc pit stop showed or were there different ones?
You never posted screenshots of the drivermax findings so that I could direct to in what order to install them.

---
#51
Posted 19 November 2012 - 03:32 PM
Do you think my problem could be with my motherboard/IDE&SATA controllers? My problems appear to be very random and appear to get worse the longer the computer stays on (heat?).

---
#52
Posted 19 November 2012 - 04:12 PM
We can check the heat with two different programs. What about my previous question?
Please download and run
Hardware Monitor
Installation (setup version only)
HWMonitor is a hardware monitoring program that reads PC systems main health sensors : voltages, temperatures, fans speed. Please get a screenshot and attach of the temps and voltages for me please.
The program handles the most common sensor chips, like ITE® IT87 series, most Winbond® ICs, and others. In addition, it can read modern CPUs on-die core thermal sensors, as well has hard drives temperature via S.M.A.R.T, and video card GPU temperature.
Download
Speedfan
(The download link is to the right), and install it. Once it's installed, run the program and post here the information it shows.
The information I want you to post is the stuff that is circled in the example picture I have attached.
To make sure we are getting all the correct information it would help us if you were to attach a screenshot like the one below of your
Speedfan
results.
To do a screenshot please have click on your Print Screen on your keyboard.
It is normally the key above your number pad between the F12 key and the Scroll Lock key
Now go to Start and then to All Programs
Scroll to Accessories and then click on Paint
In the Empty White Area click and hold the CTRL key and then click the V
Go to the File option at the top and click on Save as
Save as file type JPEG and save it to your Desktop
Attach it to your next reply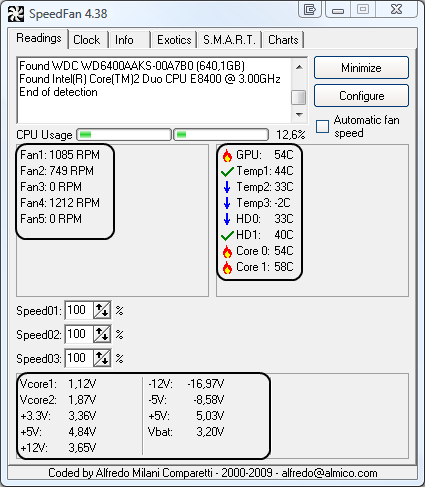 ---
#53
Posted 19 November 2012 - 05:00 PM
I installed a VIA SATA RAID driver but I did not do it using PC pitstop. My PC ran so bad I removed it and replaced it with the original driver. I also updated the NVIDIA G force driver that was not listed by PC pitsop. That is the only one I left installed. Will download Speedfan and Hardware monitor when I get home.

Thanks,

---
#54
Posted 19 November 2012 - 05:23 PM
Here is a little tip that usually speeds up xp machines when nothing else will.

Hit the Start button then Right Click My computer>>>>>>>>>>>>>>Properties>>>>>>>>>>>
Harwdare Tab>>>>>>>>>>>>>Device Manager.
Scroll down to the IDE ATA/ATAPI Controlers Left click the + to the left of the drivers.
Right Click and uninstall all of your Primary IDE drivers there most likely will be more than one of the Primary IDE Drivers Make sure and un-install All of them prior to rebooting.

---
#55
Posted 19 November 2012 - 08:07 PM

---
#56
Posted 19 November 2012 - 08:12 PM
---
#57
Posted 19 November 2012 - 09:04 PM
Have you tried the primary ide uninstall ?

---
#58
Posted 19 November 2012 - 09:18 PM
No, not yet. I'll try it.

---
#59
Posted 19 November 2012 - 09:32 PM
---
#60
Posted 20 November 2012 - 07:50 PM
Yes and you will be prompted to reboot please do so.
After the reboot you will be notified with a found new hardware prompt and you will be asked to reboot again do so and test the machine.
Edited by rockmilk, 20 November 2012 - 07:51 PM.
---
---
Similar Topics
0 user(s) are reading this topic
0 members, 0 guests, 0 anonymous users
As Featured On: