I work on large spreadsheets that require empty rows to be removed. I found a macro that allows me to do this. For easy access I have loaded it on to my Quick Access toolbar (see the grey 'Piggy Bank' button in the picture below), however other members of my team could benefit with this macro as well. Wihtout having to copy and paste the same macro over and over again I would like to use the Add-Ins tab. We have other buttons in our Add-Ins tab so it would be useful to add this macro along with the others. I have gone through the normal stages (File > Options > Add-Ins > Go... > etc) but the button does not appear.
As you can see from the attachment below I have selected Removeemptyrows button to show, but it does not.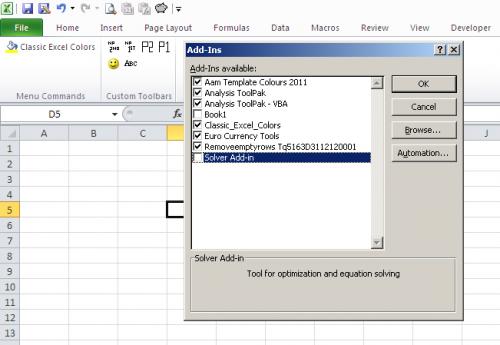 Any ideas as to why thi may be and how to solve this issue? I am new to macros so any help would be appreciated.
Many thanks!
PS - I use Excel 2010
Edited by AliWL, 05 March 2013 - 04:04 AM.