Hi Guys.
I registered here specifically because someone had a similar issue, only theirs was the CPU overheating, mine's definitely not that.
I've been keeping an eye on voltages and temps but this seems to randomly happen. There will be a loud click, then my computer will completely power down. Sometimes it'll power itself back on, other times it won't. Now this click isn't from any HDD and I haven't yet narrowed it down but strongly suspect it's the PSU clicking, possibly as if reacting to a short circuit?
It's also started not cold booting in the mornings, e.g not POSTing, no system beeps... nothing other than the fans wirring away. If I leave it there for 30secs or so it'll then boot if I power down and immediately power back on.
Sounds PSUy to me. What do you guys think? It's a 700w "gaming" PSU so power wise it should be sound, but a few years old now so might be iffy.
Let me know if this screams out to anyone and they know for almost certain what it is, otherwise I'll give more HW details etc.
Thanks guys!
[SOLVED]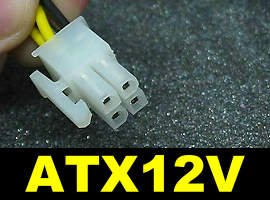 The 4 pin ATX12V was apparently loose, despite being clicked in place it'd be able to move just enough to cause problems. I stripped the comp down and had it running laid out on a surface then by fluke, knocked the PSU and heard the click and power off. It seems heat build up over heavy use made the cable/connector flex in such a way that it'd short, be detected by the PSU which would then click off for safety.
It's amazing what trouble and strange symptoms one loose cable can cause...
Edited by damnclick, 29 June 2013 - 08:08 AM.