Virus Gone:But so is my cd/dvr & system restore:
Started by
bonezz777
,
Mar 21 2014 04:21 AM
#61
Posted 08 April 2014 - 08:36 AM

---
#62
Posted 08 April 2014 - 10:26 AM
it looked differant from sceenshot,but this is what it showed...Vcore=1.24v..

12v=12.9

..5v=5.12..Vbat==3.20..5VSB=5.15...Thats all it showed + temps

 
The +12V rail is reading as being too high, this is in the BIOS when the computer is not under load and so is even more of a concern.
Not sure why Avast is being downloaded/saved to Ccleaner.exe 

If it is still being downloaded stop it then try this link, run it if it will let you.
---
#63
Posted 08 April 2014 - 11:09 AM
phillpower2,I started the new dwnload,only 23hrs left,it will never happen,either i'll lose internet,or it will say,timed out...Anyway the 12vrail?,what will that affect? should I worry/or not?,And is there a correct setting for dial up,it was on highspeed @ Dr.'s office,n keeps resetting to proxy setting,n i have to change it to Detect settings automatically"lan"??no big deal I guess,okay thanks.
---
#64
Posted 08 April 2014 - 01:59 PM
Do you have a friend or family member with broadband who could download Avast to a thumb drive for you.
A +12V rail that is putting out too much voltage is basically frying the hardware, the higher that it is the quicker the computer will fail.
---
#65
Posted 08 April 2014 - 03:24 PM
phillpower2,Thanks for all Your help,I guess my computer is ready to be put out to paster,like me;I had a friend in canada,when I needed stuff like that he'd make/mail,but he's no longer w/us(lucky him) hopefuly I will get my disability aproved in may,then I will be able to have the funds to fix it"if" i'm still around;THANKS a MILLION,take care...............Tim
---
#66
Posted 09 April 2014 - 02:17 AM
Don`t give up on this, more than one test showed the +12V rail to be ok.
Keep a check on the voltages with either HWMonitor or Speedfan, uninstall whichever one you do not use + Everest and any other testing software that we have now finished with.
Restart your computer using Last Known Good Configuration, details here once done check to see if Microsoft Security Essentials is present and get back to us before you do anything else.
As an asides Tim, if your local library has an internet connection it would be possible to download Avast to a USB thumb drive there and then take it home to install on your computer.
---
#67
Posted 14 April 2014 - 02:47 PM
Hello phillpower2,I got avast installed now,so I'm protected;Hey I've got to get this thing back up to 48.8kbs,this modem I have now struggles at 28.8,most times places tell me "you must be connected to the internet" Yea that slow; I have a intel 537epg  I heard it Will work on my xp pro,but I cant find a dwnload drive for it,TOO many CONS out there,can You help?,Thanks,Tim.....PS,I use to get Your messeges in my Email,now I have to come here,to see if I have a reply; How do I fix that?...Thanks some more...
Edited by bonezz777, 14 April 2014 - 02:50 PM.
---
#68
Posted 15 April 2014 - 01:40 AM
Hello Tim
Try the driver from here
For notification settings, click on Notifications which is found on the toolbar at the top right of your screen, click on Options, Topics & Posts, tick the appropriate options boxes there and then click on the save box at the bottom of the screen.
---
#69
Posted 15 April 2014 - 03:46 AM
Thanks phillpower2,I'll try it n let you know..Tim
---
#70
Posted 15 April 2014 - 05:11 AM
You are welcome Tim 


---
#71
Posted 16 April 2014 - 04:44 AM
phillpower2,hello,I dwnloaded driver program,it seems to be on the up n up,allowed 2 per day; first one I did was my modem,it needed to restart;When I reconnected,I noticed it went from 28.8 to 30.8,an inprovement,I'll take it;A storm came up so I shut dwn,latter when I logged on it was back to 28.8?? Oh well....Question,will it work to dwnload a modem or other driver to my (say) desktop,and later open that file,will it still load/go where it is suppose to??...,Thanks Tim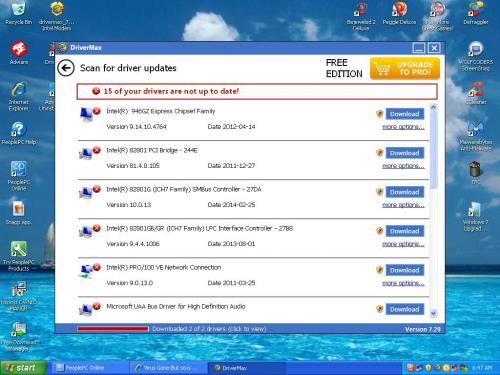 out of these what is MOST important??
Edited by bonezz777, 16 April 2014 - 04:53 AM.
---
#72
Posted 16 April 2014 - 06:12 AM
Hello Tim
See link below;
The Golden Rule of Drivers: If It Ain't Broke, Don't Fix It
When possible I download drivers and save them to the desktop, uninstall the drivers that I need to update, restart the computer, install the drivers and then restart the computer as normal, it is not always possible to do it this way as some driver packages come with auto installers that remove the previous drivers and then install the newer drivers automatically.
Remember to always create a new restore point before uninstalling/updating drivers or making any other software changes.
---
#73
Posted 16 April 2014 - 04:41 PM
Thanks for the advice; For example several drives was last updated in 2005,and the newest is like 2011...Tim
---
#74
Posted 17 April 2014 - 02:18 AM
Unless you are having issues that require a specific driver update to fix it you should leave well alone.
You should also keep in mind that as MS no longer releases security updates for XP that it is recommended that computers running XP should be disconnected from the internet or risk being attacked by malware or becoming the victim of hackers, as an asides Tim try the Autoplay Wizard from here for your CD/DVD problem.
---
#75
Posted 17 April 2014 - 06:12 AM
Hello phillpower2, YES Autoplay Wizzard from MS worked!,Good Job; It wasn't that big of a problem 'cause it worked,I just had to go to "my computor" and Manually start the cd,But for sure Better to Insert n play,So Thanks...Tim
---
---
Similar Topics
0 user(s) are reading this topic
0 members, 0 guests, 0 anonymous users
As Featured On: