Hi,
I'm hoping someone can help me out here?
I still use M.S.Office Word 2003; and I recently encountered a little query/problem.
The small up & down button (located on the right hand column and used to move through a document quickly) now shows the Page Number and the start of a message below it when I left click on the button. [See picture attached]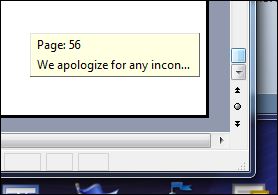 My problem is: HOW can I read the whole of the message? 
It says "We apologize for any incon..." but I cannot see how to display the remainder of whatever inconvenience it refers to!
[It's probably very easy, but I'm having a "senior moment" and cannot for the life of me see how to display the whole message]
Any ideas HOW I achieve this please?
Many thanks, in advance.
Edited by Wrinkly Pete, 31 May 2014 - 12:58 AM.