I needed to get some repair manual for one of dearest PocketPC phones and for that I had to install some adware for music that I removed later. Since then I got hit by "Warning install Flash Player" and maybe survived it by changing the DNS of my router/modem. Now I found HitBlender update and removed by its uninstaller from the Program Files(x86) folder. Still get that feeling that Chrome is overbooking memory. True that I open tens of tabs and I watch videos a lot but I always have and that is not regular caching. I uninstalled Torch Browser just in case. I like to know if I can re-install it.
ProcessExplorer shows better than a thousand words. Now I get Microsoft to tell me to close programs cause the memory is too low! Let alone the sudden death of chromes selective pages without notice at times
On a completely different note I need to contact an administrator for log-in name change and an old account of mine that I cannot get to its yahoo mail address. I need to know who and how to PM the admin for the issues current and old.
Thank you for help
Just here and now Chrome purged my post form page while I waited for the OTL report to be generated.
You need to make the Auto Saved Content bigger and button shaped I almost missed it.
Thanks again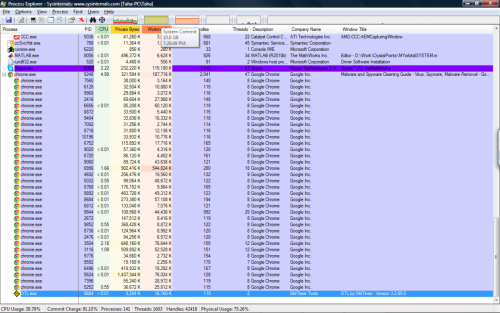 OTL.Txt 118.43KB 209 downloads
Extras.Txt 60.88KB 435 downloads