Possible Laptop Purchase (Resolved).
Started by
Channeal
,
Apr 27 2016 12:01 PM

Best Answer Channeal , 28 September 2016 - 09:06 AM
Hello Phill, Phew! I am exhausted!!!!  Some good news, some bad........ Dban completed okay. I eventually managed to sort out my ISO-to-flashdrive problems and got the Windows 10 dow... Go to the full post »
#46
Posted 14 May 2016 - 07:15 AM
Hello Phill,
Agreed, will leave things just as they are.
Chris.

---
#47
Posted 14 May 2016 - 07:43 AM
Hello again Phill,
I never like to admit defeat easily, so kept searching and finally managed to add the missing 'System' by following these instructions which I got from a Microsoft forum: -
In Group Policy Editor, right click Administrative Templates, Add/Remove Templates.

Usually, you would see:

conf
inetres
system
wmplayer
wuau

If some are missing, add them.

Click Add and it will open a folder where you can Add the missing components to match the usually in there list, or to match the list seen on some system that is working properly.

Reboot to make sure the changes stick.
Haven't tried any further yet as have to go do some extremely boring housework now!

Thanks again,
Chris.
---
#48
Posted 14 May 2016 - 10:46 AM
Hello Chris,
A job well done and thank you for posting the necessary steps for the benefit of others
---
#49
Posted 02 June 2016 - 01:52 PM
Hello again,
Just thought I'd call in and let you know that I am still waiting patiently for the laptop (well not all that patiently actually; I keep on nagging my daughter as I am a bit bored and really want the chance to play around with the laptop!

)
Will let you know when the waiting is finally over!
Chris.
---
#50
Posted 02 June 2016 - 02:24 PM
Hello Chris,
Get bored myself sometimes and then end up snowed under or with a right pain in the proverbial of a job, never a happy medium 

---
#51
Posted 04 June 2016 - 05:31 AM
Hello Phill,

Yep, that's the way it usually goes!

I have plenty to do, just not anything that really interests and absorbs me!



Computers though, I find, are never boring: they are always posing some new puzzle to be solved! Though they can, of course, be very frustrating at the same time - and have probably been the cause of at least a few of my grey hairs over the years!



I found myself looking at a display of laptops in Tescos yesterday. It made me very tempted to just give up my wait for the laptop and buy a new one. I resisted the temptation though..... at least for now!

Have a great weekend,

Chris.
---
#52
Posted 12 June 2016 - 11:34 AM
Hello Phill,
My daughter surprised me last night by starting to talk about the laptop, without any prompting from me.  A step in the right direction, hopefully! 

Seems she is not sure how to get the data from the old laptop to the new one, given the fact that she was previously having trouble with the memory stick.  She asked about using the external hard drive where the back-ups of my files are kept, but I think that doing that would not leave enough free space remaining (I seem to remember you once told me that I needed to keep 25% free?).  I would probably have space on my second hard drive to temporarily store my daughter's data, but the problem of how to get it onto there would still occur just as it does with transferring from one laptop to the other.

Terry mentioned in message 32 about the possibility of setting up a Homegroup. The link he gave though does not mention Vista and my own research seems to suggest that it is not an option for that particular OS.  Is there another way of achieving the same result as Homegroup with Vista?

My daughter did also mention the possibility of her buying her own external drive, but has asked me to first of all try to find out if there are any other options for transferring the data.  Perhaps you would though also be good enough to let me have a rough idea of the current price of external drives, as I suppose it might be a good idea for her to buy one anyway, so she can keep her files backed up on it.

Many thanks,
Chris.


 
---
#53
Posted 12 June 2016 - 11:45 AM
this should explain how to network different computers running different windows operating systems so you can share/copy files from one to the other. (you need workgroup not home group, i believe.) :- http://windows.micro...ndows=windows-7

external hard drive prices are around £50 depending on drive size/type. :- https://www.amazon.c...&node=430544031
one i'd recommend :- https://www.amazon.c...rnal hard drive
just because hgst drives have a good reputation for longevity against other makes.
Edited by terry1966, 12 June 2016 - 12:00 PM.
---
#54
Posted 12 June 2016 - 01:04 PM
---
#55
Posted 12 June 2016 - 02:01 PM
Hello Phill and Terry,

Thank you both for all the info.

Wow! When I bought my external drive (quite a few years ago now), I think it cost over £300. I didn't know that they had come down in price so much. I am thinking now that my daughter should definitely buy one. Or maybe I will buy one myself and then she can have the old one.... not sure at the moment.

I read through the info about the workgroup, as it may be of use to me if/when I do take possession of the laptop. Being a bit stupid, it didn't make a lot of sense to me and I had lots of questions (as I always do!).... but will come back to it when the time comes. Maybe it will make more sense when I actually have the laptop in front of me and can explore and click on things.

Thanks again to both of you for your help.

Chris


---
#56
Posted 12 June 2016 - 02:45 PM
Hello Chris,
I am thinking now that my daughter should definitely buy one. 

 
For sure, why make work for yourself by having to back everything up again 

You are welcome 

---
#57
Posted 12 June 2016 - 02:56 PM
 

Maybe it will make more sense when I actually have the laptop in front of me and can explore and click on things.
yes it definitely will, if memory serves you setup the workgroup on the oldest os your using then when you do a search on the machine with the newer os for any network shares it will find and connect to it and then you can easily share files across the pc's.

Edited by terry1966, 12 June 2016 - 02:58 PM.
---
#58
Posted 13 June 2016 - 04:28 AM
Bonjour Gentlemen,
Thanks Terry, you answered one of my unasked questions about which computer to start with. If I am going to try this if/when I get the laptop, I will then have to look at my XP computer first. Was reading up on how to do it with XP (it made a bit of light bedtime reading at midnight last night!

) and it looks more complicated with XP. Might take a closer look in a while now that I have the computer in front of me, as I have the whole day to myself because my husband is out playing golf (in the rain!)

For sure, why make work for yourself by having to back everything up again  :(

I take your point, Phill. However, you have unintentionally hit on an issue which maybe could be dealt with better by me

Before my computer had its furniture all moved around and spring cleaned back in 2014, my back ups were in the form of an image (created by using my Acronis program) which was stored on our external drive. During the work which, with your help, was done that year, my files were moved backwards and forwards several time from drive to drive. The external drive eventually ended up with the files copied and pasted onto it. Since then, the only way that I have been keeping these files up to date has been by doing it manually, by copying and pasting all over again from time to time. I am sure that there is a better way I should be doing it, maybe by using Acronis again (but to back up only the files, rather than an image of the whole computer). Life has just been too full of problems the past couple of years and it is just an issue that I have never gotten around to dealing with, although maybe I should do so now now. But anyway.... backing the whole caboodle up all over again is something that I am very familiar with doing!

I could not decide between the HGST and the Seagate, but in the end I ordered the former. I decided that I would buy it myself, as my daughter really should be spending as little money as possible right now! In any any case, I am a Gadget Girl and always love to have something new like that!

And.... having to put up with using this old XP computer - and possibly our daughter's old laptop too now - instead of buying myself a nice shiny Windows 10 laptop as I would secretly like to do, I reckon I deserve something new! Our daughter seems happy at the prospect of being given my old one for nothing - and if there is any problem, then I would most likely have room for both our back-ups on the new external drive. Hopefully we will both be happy this way!

Now the rain has stopped and the sun has come out where I am..... so hopefully my husband will be happy now too!

Bye for now,
Chris.
Edited by Channeal, 13 June 2016 - 04:33 AM.
---
#59
Posted 13 June 2016 - 07:53 AM
SECOND MESSAGE.
Hello again,

After my previous message this morning I had a go at setting up the shared network on my main XP computer (just because I love playing around with this stuff! 

), but unfortunately I ran into a problem.



I got to the following stage: -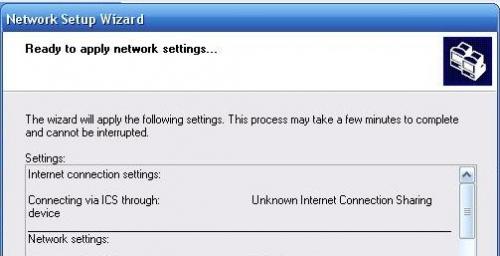 Am I correct in that the 'Unknown Internet Connection' refers to the router?  I read elsewhere that 'You can't, and you must not, enable Internet Connection Sharing on either of your computers, because your router already shares its Internet connection.  Enabling ICS would require that a computer have two network connections: one for the Internet, and one for the local area network.' Is this therefore the wrong internet connection option?

If however I choose 'Local Area Connection Instead' it ends up telling me that an error occurred.

Any ideas what I am doing wrong?
Chris.
UPDATE 1
It's okay, I managed to do it by choosing a 3rd option for a 'Computer Connected to the Internet through a Residential Gateway.
I have run into another problem now though.......
I have encountered the following screen: -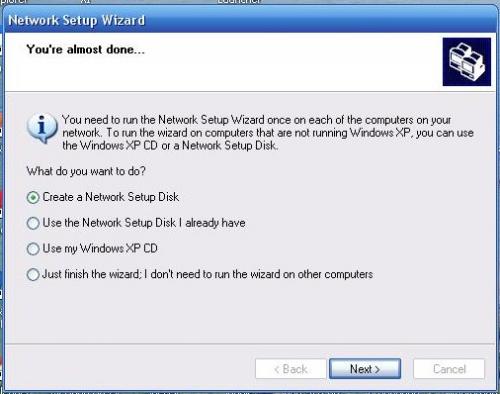 The instruction I have been following at http://computernetwo...roup-setup.html do not mention anything about either having to create a 'Network Setup Disk' or about having to use my Windows XP CD.
The screen won't let me click either 'Cancel' or 'Back' so I have got to think of the best way to get away from here!

I will probably choose the option to just finish the wizard as I have just read that 'In Windows Vista network setup wizard is replaced by network discovery service' so hopefully all will be well!
Apologies for rambling on to myself so much! Writing it all down here has been helping me to work out what I have been doing. :-)
Chris
 
Edited by Channeal, 13 June 2016 - 09:16 AM.
---
#60
Posted 14 June 2016 - 06:21 PM
 

I will probably choose the option to just finish the wizard
yes that is correct.
don't think you'll need this but just in case maybe this link will help you better. :- http://www.howtogeek...nd-xp-machines/
much easier to test things though when you have both machines handy.

Edited by terry1966, 14 June 2016 - 06:23 PM.
---
---
Similar Topics
0 user(s) are reading this topic
0 members, 0 guests, 0 anonymous users
As Featured On: