We lived on Orcas for 5 years.  I loved it but 3 years ago my wife talked me into moving back to Florida so she could be near her granddaughter.  I hate Florida and really miss Orcas.  This was the view from our Orcas property where we had planned to build: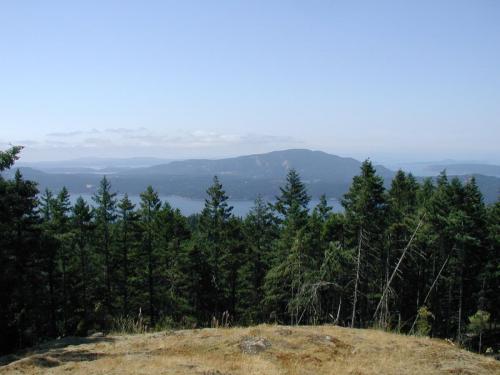 (Trees need a trim but they are on our 5 acre property)
Not sure what is going on.  Dismhost is still doing something and now Chrome is eating a lot of CPU time. 
Open an elevated command prompt:

http://www.howtogeek...-in-windows-10/
http://www.eightforu...indows-8-a.html

(If you open an elevated Command Prompt properly it will say Administrator: Command Prompt in the margin at the top of the window)


Once you have an elevated command prompt:

Type:

 DISM  /Online  /Cleanup-Image  /RestoreHealth

 (I use two spaces so you can be sure to see where one space goes.)
Hit Enter.  This will take a while (10-20 minutes) to complete.  Once the prompt returns:

Reboot.  Open an elevated Command Prompt again and type (with an Enter after the line):

sfc  /scannow



This will also take a few minutes.  

When it finishes it will say one of the following:

Windows did not find any integrity violations (a good thing)
Windows Resource Protection found corrupt files and repaired them (a good thing)
Windows Resource Protection found corrupt files but was unable to fix some (or all) of them (not a good thing)

If you get the last result then type:
findstr  /c:"[SR]"  \windows\logs\cbs\cbs.log  >  %UserProfile%\desktop\junk.txt


Hit Enter.  Then type::


notepad %UserProfile%\desktop\junk.txt

Hit Enter.

 Copy the text from notepad and paste it into a reply.


After you finish SFC, regardless of the result:



1. Please download the Event Viewer Tool by Vino Rosso
http://images.malwar...om/vino/VEW.exe
and save it to your Desktop:
2. Right-click VEW.exe and Run AS Administrator
3. Under 'Select log to query', select:

* System
4. Under 'Select type to list', select:
* Error
* Warning


Then use the 'Number of events' as follows:


1. Click the radio button for 'Number of events'
Type 20 in the 1 to 20 box
Then click the Run button.
Notepad will open with the output log.


Please post the Output log in your next reply then repeat but select Application.  (Each time you run VEW it overwrites the log so copy the first one to a Reply or rename it before running it a second time.)


Run Process Explorer as before and post the log.
Let's also see if RogueKiller sees anything.
http://www.adlice.co...iller/#download

Portable 64 bits

Download and Save.



Right click on the downloaded file (RogueKillerX64.exe or RogueKiller.exe)  and Run As admin

Start Scan
Start Scan

Will take about 20 minutes to complete.

Open Report
Export TXT (save it to your desktop as rk) Save

Do not let Rogue Killer remove anything until you hear from me.  Leave Rogue Killer up (but minimized) so you won't have to rescan.

Open rk.txt and copy and paste it to your next Reply.