Hello Geeks,
I have a problem with my Wifi.
We have Broadband from Virgin Media (am in the U.K.) and earlier this week there was a problem and the connection kept coming and going. The Virgin Media website said that there was a problem in my area. The connection was eventually restored and everything is now okay with my desktop and our phones. It has however left me with a connection problem on my laptop.
In addition to the connection in our lounge (where the router is) we also have a wifi extender in another room. It plugs into the electricity and is called a BT Homespot P3F. It creates a hotspot in that room and therefore comes up a separate internet connection. My laptop will still connect to this alternative connection, but will not connect to the main wifi. Our phones however can still be connected to either the main Virgin Media or the BT Homespot P3F one, just as normal. It is only the laptop where the problem is.
This is what comes up when I attempt to troubleshoot the connection: -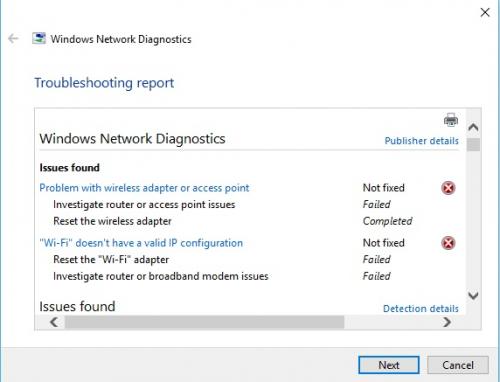 I would much appreciate some help with this problem. I hope I have explained the situation adequately.
Chris.
EDIT: Ooops sorry. After posting the above, I thought I would try turning the router on and off again. This didn't work the first time I tried it, but this time it seems to have connected okay. I am hoping it has fixed things, but will let you know if there are any further problems.
Many thanks.
Chris
Edited by Channeal, 27 October 2018 - 10:40 AM.