I have been searched a couple of days a solution to this problem without any results .

Every time when I start up the computer, this "RunDLL"  message pops up: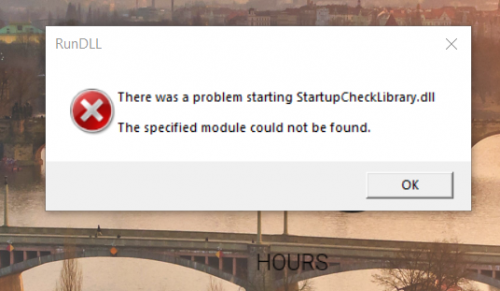 This is my FRST Logs
FRST_30-10-2019 09.52.46.txt 227.04KB 137 downloads
Addition_30-10-2019 09.52.46.txt 70.38KB 129 downloads

Can it be solve?
Best regards.
Scan result of Farbar Recovery Scan Tool (FRST) (x64) Version: 29-10-2019
Ran by Alex (administrator) on ALEX-ASUS (ASUSTeK COMPUTER INC. VivoBook S15 X510UF) (30-10-2019 09:51:08)
Running from D:\Downloads\Chrome
Loaded Profiles: Alex (Available Profiles: Alex)
Platform: Windows 10 Pro Version 1903 18362.449 (X64) Language: English (United States)
Default browser: Chrome
Boot Mode: Normal
Tutorial for Farbar Recovery Scan Tool: http://www.geekstogo...very-scan-tool/

==================== Processes (Whitelisted) =================

(If an entry is included in the fixlist, the process will be closed. The file will not be moved.)

(Adguard Software Limited -> Adguard Software Ltd) C:\Program Files (x86)\Adguard\Adguard.exe
(Adguard Software Limited -> Adguard Software Ltd) C:\Program Files (x86)\Adguard\AdguardSvc.exe
(ASUS) [File not signed] C:\Program Files (x86)\ASUS\Splendid\ACMON.exe
(ASUSTeK Computer Inc. -> ASUSTek Computer Inc.) C:\Program Files (x86)\ASUS\ATK Package\ATK Hotkey\AsLdrSrv.exe
(ASUSTeK Computer Inc. -> ASUSTek Computer Inc.) C:\Program Files (x86)\ASUS\ATK Package\ATK Hotkey\HControl.exe
(ASUSTeK Computer Inc. -> ASUSTek Computer Inc.) C:\Program Files (x86)\ASUS\ATK Package\ATK Media\DMedia.exe
(ASUSTeK Computer Inc. -> ASUSTek Computer Inc.) C:\Program Files (x86)\ASUS\ATK Package\ATKOSD2\ATKOSD2.exe
(Avast Software s.r.o. -> AVAST Software) C:\Program Files (x86)\Avast Driver Updater\Avast Driver Updater.exe
(AVAST Software s.r.o. -> AVAST Software) C:\Program Files (x86)\AVAST Software\Avast Cleanup\TuneupSvc.exe
(AVAST Software s.r.o. -> AVAST Software) C:\Program Files (x86)\AVAST Software\Avast Cleanup\TuneupUI.exe
(AVAST Software s.r.o. -> AVAST Software) C:\Program Files\AVAST Software\Avast\afwServ.exe
(AVAST Software s.r.o. -> AVAST Software) C:\Program Files\AVAST Software\Avast\aswidsagent.exe
(AVAST Software s.r.o. -> AVAST Software) C:\Program Files\AVAST Software\Avast\AvastSvc.exe
(AVAST Software s.r.o. -> AVAST Software) C:\Program Files\AVAST Software\Avast\AvastUI.exe
(AVAST Software s.r.o. -> AVAST Software) C:\Program Files\AVAST Software\Avast\AvastUI.exe
(AVAST Software s.r.o. -> AVAST Software) C:\Program Files\AVAST Software\Avast\wsc_proxy.exe
(Conexant Systems LLC -> Conexant Systems, Inc) C:\Program Files\CONEXANT\SAII\SmartAudio.exe
(Conexant Systems LLC -> Conexant Systems, Inc.) C:\Program Files\CONEXANT\cAudioFilterAgent\CAudioFilterAgent64.exe
(Conexant Systems, Inc. -> Conexant Systems Inc.) C:\Windows\System32\CxAudMsg64.exe
(Conexant Systems, Inc. -> Conexant Systems, Inc.) C:\Windows\System32\SASrv.exe
(Firebit OU -> Rainmeter) C:\Program Files\Rainmeter\Rainmeter.exe
(Google Inc -> Google LLC) C:\Program Files (x86)\Google\Update\1.3.35.302\GoogleCrashHandler.exe
(Google Inc -> Google LLC) C:\Program Files (x86)\Google\Update\1.3.35.302\GoogleCrashHandler64.exe
(Google LLC -> Google LLC) C:\Program Files (x86)\Google\Chrome\Application\chrome.exe
(Google LLC -> Google LLC) C:\Program Files (x86)\Google\Chrome\Application\chrome.exe
(Google LLC -> Google LLC) C:\Program Files (x86)\Google\Chrome\Application\chrome.exe
(Google LLC -> Google LLC) C:\Program Files (x86)\Google\Chrome\Application\chrome.exe
(Google LLC -> Google LLC) C:\Program Files (x86)\Google\Chrome\Application\chrome.exe
(Google LLC -> Google LLC) C:\Program Files (x86)\Google\Chrome\Application\chrome.exe
(Google LLC -> Google LLC) C:\Program Files (x86)\Google\Chrome\Application\chrome.exe
(Google LLC -> Google LLC) C:\Program Files (x86)\Google\Chrome\Application\chrome.exe
(Google LLC -> Google LLC) C:\Program Files (x86)\Google\Chrome\Application\chrome.exe
(Google LLC -> Google LLC) C:\Program Files (x86)\Google\Chrome\Application\chrome.exe
(Google LLC -> Google LLC) C:\Program Files (x86)\Google\Chrome\Application\chrome.exe
(Google LLC -> Google LLC) C:\Program Files (x86)\Google\Chrome\Application\chrome.exe
(Google LLC -> Google LLC) C:\Program Files (x86)\Google\Chrome\Application\chrome.exe
(ICEpower a/s -> ICEpower) C:\Windows\System32\DriverStore\FileRepository\x40plmwa.inf_amd64_09e65ea70153c3a6\ICEsoundService64.exe
(Intel Corporation -> Intel Corporation) C:\Windows\System32\Intel\DPTF\dptf_helper.exe
(Intel Corporation -> Intel Corporation) C:\Windows\System32\Intel\DPTF\esif_uf.exe
(Intel Corporation -> Intel® Corporation) C:\Program Files\Common Files\Intel\WirelessCommon\RegSrvc.exe
(Intel Corporation -> Intel® Corporation) C:\Program Files\Intel\WiFi\bin\EvtEng.exe
(Intel Corporation -> Intel® Corporation) C:\Program Files\Intel\WiFi\bin\ZeroConfigService.exe
(Intel® pGFX -> Intel Corporation) C:\Windows\System32\DriverStore\FileRepository\igdlh64.inf_amd64_c9081e50bcffa972\igfxCUIService.exe
(Intel® pGFX -> Intel Corporation) C:\Windows\System32\DriverStore\FileRepository\igdlh64.inf_amd64_c9081e50bcffa972\igfxEM.exe
(Intel® pGFX -> Intel Corporation) C:\Windows\System32\DriverStore\FileRepository\igdlh64.inf_amd64_c9081e50bcffa972\igfxext.exe
(Intel® pGFX -> Intel Corporation) C:\Windows\System32\DriverStore\FileRepository\igdlh64.inf_amd64_c9081e50bcffa972\IntelCpHDCPSvc.exe
(Intel® pGFX -> Intel Corporation) C:\Windows\System32\DriverStore\FileRepository\igdlh64.inf_amd64_c9081e50bcffa972\IntelCpHeciSvc.exe
(Intel® Wireless Connectivity Solutions -> Intel Corporation) C:\Windows\System32\ibtsiva.exe
(Kilonova LLC -> Skillbrains) C:\Program Files (x86)\Skillbrains\lightshot\5.5.0.4\Lightshot.exe
(Microsoft Corporation -> Microsoft Corporation) C:\Program Files (x86)\Microsoft OneDrive\OneDrive.exe
(Microsoft Corporation -> Microsoft Corporation) C:\Program Files\Microsoft SQL Server\90\Shared\sqlwriter.exe
(Microsoft Corporation -> Microsoft Corporation) C:\Windows\Microsoft.NET\Framework64\v3.0\WPF\PresentationFontCache.exe
(Microsoft Corporation -> Microsoft Corporation) C:\Windows\SystemApps\Microsoft.MicrosoftEdge_8wekyb3d8bbwe\MicrosoftEdge.exe
(Microsoft Corporation) C:\Program Files\WindowsApps\Microsoft.WindowsStore_11905.1001.4.0_x64__8wekyb3d8bbwe\WinStore.App.exe
(Microsoft Windows -> Microsoft Corporation) C:\Windows\ImmersiveControlPanel\SystemSettings.exe
(Microsoft Windows -> Microsoft Corporation) C:\Windows\System32\browser_broker.exe
(Microsoft Windows -> Microsoft Corporation) C:\Windows\System32\cmd.exe
(Microsoft Windows -> Microsoft Corporation) C:\Windows\System32\dllhost.exe
(Microsoft Windows -> Microsoft Corporation) C:\Windows\System32\MicrosoftEdgeCP.exe
(Microsoft Windows -> Microsoft Corporation) C:\Windows\System32\MicrosoftEdgeSH.exe
(Microsoft Windows -> Microsoft Corporation) C:\Windows\System32\rundll32.exe
(Microsoft Windows -> Microsoft Corporation) C:\Windows\System32\rundll32.exe
(Microsoft Windows -> Microsoft Corporation) C:\Windows\System32\smartscreen.exe
(Microsoft Windows -> Microsoft Corporation) C:\Windows\System32\wbem\WMIADAP.exe
(Microsoft Windows -> Microsoft Corporation) C:\Windows\System32\wlanext.exe
(NVIDIA Corporation -> Node.js) C:\Program Files (x86)\NVIDIA Corporation\NvNode\NVIDIA Web Helper.exe
(NVIDIA Corporation -> NVIDIA Corporation) C:\Program Files\NVIDIA Corporation\Display.NvContainer\NVDisplay.Container.exe
(NVIDIA Corporation -> NVIDIA Corporation) C:\Program Files\NVIDIA Corporation\Display.NvContainer\NVDisplay.Container.exe
(NVIDIA Corporation -> NVIDIA Corporation) C:\Program Files\NVIDIA Corporation\NvContainer\nvcontainer.exe
(NVIDIA Corporation -> NVIDIA Corporation) C:\Program Files\NVIDIA Corporation\NvContainer\nvcontainer.exe
(Oracle America, Inc. -> Oracle Corporation) C:\Program Files (x86)\Common Files\Java\Java Update\jusched.exe

==================== Registry (Whitelisted) ===================

(If an entry is included in the fixlist, the registry item will be restored to default or removed. The file will not be moved.)

HKLM\...\Run: [AdobeGCInvoker-1.0] => "C:\Program Files (x86)\Common Files\Adobe\AdobeGCClient\AGCInvokerUtility.exe"
HKLM\...\Run: [AvastUI.exe] => C:\Program Files\AVAST Software\Avast\AvLaunch.exe [268680 2019-10-29] (AVAST Software s.r.o. -> AVAST Software)
HKLM-x32\...\Run: [SunJavaUpdateSched] => C:\Program Files (x86)\Common Files\Java\Java Update\jusched.exe [653648 2018-06-27] (Oracle America, Inc. -> Oracle Corporation)
HKLM-x32\...\Run: [Lightshot] => C:\Program Files (x86)\Skillbrains\lightshot\Lightshot.exe [226728 2019-07-21] (Kilonova LLC -> )
HKLM-x32\...\Run: [Intel Driver & Support Assistant] => C:\Program Files (x86)\Intel\Driver and Support Assistant\DSATray.exe [138088 2019-10-16] (IDSA Production signing key -> Intel)
HKLM\...\Policies\Explorer: [HideSCAHealth] 1
HKLM\SOFTWARE\Policies\Microsoft\Windows Defender: Restriction <==== ATTENTION
HKU\S-1-5-21-2000554322-72074022-1378442669-1002\...\Run: [OneDrive] => C:\Program Files (x86)\Microsoft OneDrive\OneDrive.exe [1593464 2019-10-28] (Microsoft Corporation -> Microsoft Corporation)
HKU\S-1-5-21-2000554322-72074022-1378442669-1002\...\Run: [Adguard] => C:\Program Files (x86)\Adguard\Adguard.exe [5727080 2018-07-09] (Adguard Software Limited -> Adguard Software Ltd)
HKLM\Software\Microsoft\Active Setup\Installed Components: [{8A69D345-D564-463c-AFF1-A69D9E530F96}] -> C:\Program Files (x86)\Google\Chrome\Application\77.0.3865.120\Installer\chrmstp.exe [2019-10-16] (Google LLC -> Google LLC)
IFEO\SppExtComObj.exe: [Debugger] SppExtComObjPatcher.exe
Lsa: [Authentication Packages] msv1_0 SshdPinAuthLsa
Startup: C:\Users\Alex\AppData\Roaming\Microsoft\Windows\Start Menu\Programs\Startup\Rainmeter.lnk [2018-10-16]
ShortcutTarget: Rainmeter.lnk -> C:\Program Files\Rainmeter\Rainmeter.exe (Firebit OU -> Rainmeter)
Startup: C:\ProgramData\Microsoft\Windows\Start Menu\Programs\Startup\Avast Cleanup Premium.lnk [2019-10-29]
ShortcutTarget: Avast Cleanup Premium.lnk -> C:\Program Files (x86)\AVAST Software\Avast Cleanup\TuneupUI.exe (AVAST Software s.r.o. -> AVAST Software)
GroupPolicy: Restriction ? <==== ATTENTION
FF HKLM\SOFTWARE\Policies\Mozilla\Firefox: Restriction <==== ATTENTION

==================== Scheduled Tasks (Whitelisted) ============

(If an entry is included in the fixlist, it will be removed from the registry. The file will not be moved unless listed separately.)

Task: {08668EF0-D4C3-49B5-B4EC-C126FF8B1550} - System32\Tasks\Avast Emergency Update => C:\Program Files\AVAST Software\Avast\AvEmUpdate.exe [3933576 2019-10-29] (AVAST Software s.r.o. -> AVAST Software)
Task: {0B7A790A-2C1C-4AFB-B1C2-5200DC5AE877} - System32\Tasks\Adobe Acrobat Update Task => C:\Program Files (x86)\Common Files\Adobe\ARM\1.0\AdobeARM.exe
Task: {0DD2738C-BDAF-4754-80DE-1DB1CB9611FE} - System32\Tasks\USER_ESRV_SVC_QUEENCREEK => "C:\WINDOWS\System32\Wscript.exe" //B //NoLogo "C:\Program Files\Intel\SUR\QUEENCREEK\x64\task.vbs"
Task: {11E0E33D-70BE-4008-921C-D4E14B4EB44A} - System32\Tasks\Microsoft\Office\Office Feature Updates => C:\Program Files\Microsoft Office\root\Office16\sdxhelper.exe [156432 2019-10-25] (Microsoft Corporation -> Microsoft Corporation)
Task: {13FCB979-0A63-494B-AA7F-6C03826776E0} - System32\Tasks\update-sys => C:\Program Files (x86)\Skillbrains\Updater\Updater.exe [414872 2017-04-12] (OOO Lightshot -> TODO: <Company name>)
Task: {1592930D-EF56-450A-A315-241950A1CB62} - System32\Tasks\AdobeGCInvoker-1.0-DESKTOP-51L5VTF-Alex => C:\Program Files (x86)\Common Files\Adobe\AdobeGCClient\AGCInvokerUtility.exe
Task: {1BA92FBD-1A88-4553-A701-D0217943C40D} - System32\Tasks\Update Checker => C:\Program Files (x86)\ASUS\ASUS Live Update\UpdateChecker.exe [143160 2019-03-12] (ASUSTek Computer Inc. -> ASUSTek Computer Inc.)
Task: {1F986AF4-DA2D-4F5E-8B3E-B61560AD298E} - System32\Tasks\NvTmRep_CrashReport3_{B2FE1952-0186-46C3-BAEC-A80AA35AC5B8} => C:\Program Files\NVIDIA Corporation\NvBackend\NvTmRep.exe [1133608 2019-09-05] (NVIDIA Corporation -> NVIDIA Corporation)
Task: {2383CF06-AA3E-406B-BFD9-4C0C7DB58056} - System32\Tasks\Microsoft\Windows\Application Experience\StartupCheckLibrary => rundll32.exe StartupCheckLibrary.dll,DllMainRunLibrary <==== ATTENTION
Task: {2FD357A3-F6F8-4706-9068-A9BB57730DEE} - System32\Tasks\Microsoft\Office\Office Automatic Updates 2.0 => C:\Program Files\Common Files\Microsoft Shared\ClickToRun\OfficeC2RClient.exe [27289376 2019-10-18] (Microsoft Corporation -> Microsoft Corporation)
Task: {3226653E-27D8-4B9C-88BA-89A3A29268B7} - System32\Tasks\NvProfileUpdaterOnLogon_{B2FE1952-0186-46C3-BAEC-A80AA35AC5B8} => C:\Program Files\NVIDIA Corporation\Update Core\NvProfileUpdater64.exe [913448 2019-09-05] (NVIDIA Corporation -> NVIDIA Corporation)
Task: {333BC52A-8C83-4873-9D5C-A266F7D5AAE6} - System32\Tasks\Microsoft\Office\Office ClickToRun Service Monitor => C:\Program Files\Common Files\Microsoft Shared\ClickToRun\OfficeC2RClient.exe [27289376 2019-10-18] (Microsoft Corporation -> Microsoft Corporation)
Task: {39848C5B-4ED2-45DE-8AE5-D7294187C549} - System32\Tasks\Microsoft\Office\OfficeBackgroundTaskHandlerRegistration => C:\Program Files\Microsoft Office\root\Office16\officebackgroundtaskhandler.exe [2170264 2019-10-25] (Microsoft Corporation -> Microsoft Corporation)
Task: {3C282785-7528-41A8-8F4E-68CB8FC301EB} - System32\Tasks\NvDriverUpdateCheckDaily_{B2FE1952-0186-46C3-BAEC-A80AA35AC5B8} => C:\Program Files\NVIDIA Corporation\NvContainer\nvcontainer.exe [860016 2019-08-27] (NVIDIA Corporation -> NVIDIA Corporation)
Task: {3C473E08-9229-47D3-AA50-2BB6CA5ADF53} - System32\Tasks\Microsoft\Windows\Conexant\SA2 => C:\Program Files\CONEXANT\SAII\SACpl.exe [1832280 2017-06-07] (Conexant Systems, Inc. -> Conexant Systems, Inc.)
Task: {3D8A4D50-8D5D-4FD1-B16A-861B5482F032} - System32\Tasks\Microsoft\Windows\Conexant\AFA => C:\Program Files\CONEXANT\cAudioFilterAgent\SACpl.exe [1823232 2016-07-05] (Conexant Systems, Inc.) [File not signed]
Task: {3F2D34DE-408D-440E-9154-570988D70CD0} - System32\Tasks\NVIDIA GeForce Experience SelfUpdate_{B2FE1952-0186-46C3-BAEC-A80AA35AC5B8} => C:\Program Files\NVIDIA Corporation\NVIDIA GeForce Experience\NVIDIA GeForce Experience.exe [3310688 2019-09-05] (NVIDIA Corporation -> NVIDIA Corporation)
Task: {440062B6-B403-4E0B-8A75-B52A9EA0A4BB} - System32\Tasks\Microsoft\VisualStudio\VSIX Auto Update 15.9.3032 => C:\Program Files (x86)\Microsoft Visual Studio\Installer\resources\app\ServiceHub\Services\Microsoft.VisualStudio.Setup.Service\VSIXAutoUpdate.exe [206184 2018-12-11] (Microsoft Corporation -> )
Task: {45394268-6A2A-4218-9EAE-734B16C57628} - System32\Tasks\CCleanerSkipUAC => C:\Program Files\CCleaner\CCleaner.exe [18458752 2019-10-16] (Piriform Software Ltd -> Piriform Ltd)
Task: {471B0129-BF21-4FA6-899E-880215CE49EF} - System32\Tasks\KMS_VL_ALL => C:\Windows\schemas\Scripts\KMS_VL_ALL.cmd
Task: {478DE886-EEFC-4176-979F-FE2B1076CF44} - System32\Tasks\JavaUpdateSched => C:\Program Files (x86)\Common Files\Java\Java Update\jusched.exe [653648 2018-06-27] (Oracle America, Inc. -> Oracle Corporation)
Task: {47F6C0B3-9D93-42CA-9F74-DCDA52D9DFA7} - System32\Tasks\NvTmRep_CrashReport1_{B2FE1952-0186-46C3-BAEC-A80AA35AC5B8} => C:\Program Files\NVIDIA Corporation\NvBackend\NvTmRep.exe [1133608 2019-09-05] (NVIDIA Corporation -> NVIDIA Corporation)
Task: {47F8351B-7ACE-4D18-9EEF-34C83A2C278F} - System32\Tasks\Avast Cleanup Update => C:\Program Files (x86)\AVAST Software\Avast Cleanup\TUNEUpdate.exe [1659000 2019-10-29] (AVAST Software s.r.o. -> AVAST Software)
Task: {4B2CB542-D565-41E0-8E72-A8F18DB9E49C} - System32\Tasks\GoogleUpdateTaskMachineCore => C:\Program Files (x86)\Google\Update\GoogleUpdate.exe [154920 2019-09-16] (Google Inc -> Google LLC)
Task: {4C2AFCAD-2AE8-4779-ADA1-EDF7EE6CA50C} - System32\Tasks\NvNodeLauncher_{B2FE1952-0186-46C3-BAEC-A80AA35AC5B8} => C:\Program Files (x86)\NVIDIA Corporation\NvNode\nvnodejslauncher.exe [653864 2019-09-05] (NVIDIA Corporation -> NVIDIA Corporation)
Task: {53FF14E8-FEDA-4D91-AF65-1C54A2B5CC7C} - System32\Tasks\Avast Driver Updater Startup => C:\Program Files (x86)\Avast Driver Updater\Avast Driver Updater.exe [30244056 2019-04-10] (Avast Software s.r.o. -> AVAST Software)
Task: {69DED8BB-F3CF-4299-8B0E-5C3FAA53C58C} - System32\Tasks\Icons8 Sync => C:\Program Files (x86)\Icons8\Icons8.Sync.exe
Task: {73E69801-DA75-461B-BF96-8A35EA65949F} - System32\Tasks\ATK Package 36D18D69AFC3 => C:\Program Files (x86)\ASUS\ATK Package\ATK Hotkey\SimAppExec.exe [124304 2017-11-23] (ASUSTeK Computer Inc. -> ASUSTek Computer Inc.)
Task: {7E65CF74-0596-4676-8600-5DD1ADC7C132} - System32\Tasks\Microsoft\Office\OfficeTelemetryAgentFallBack2016 => C:\Program Files\Microsoft Office\root\Office16\msoia.exe [6304872 2019-10-25] (Microsoft Corporation -> Microsoft Corporation)
Task: {81A01547-50BD-4ED6-BFCA-962134A00675} - System32\Tasks\Icons8 Check For Updates => C:\Program Files (x86)\Icons8\Icons8.Job.exe
Task: {87C8EA16-E2D1-407B-86CE-BD9E78A38F59} - System32\Tasks\ATK Package A22126881260 => C:\Program Files (x86)\ASUS\ATK Package\ATK Hotkey\SimAppExec.exe [124304 2017-11-23] (ASUSTeK Computer Inc. -> ASUSTek Computer Inc.)
Task: {8C509354-4AF5-4688-ADFA-5A9DAF76CC43} - System32\Tasks\Microsoft\Office\OfficeBackgroundTaskHandlerLogon => C:\Program Files\Microsoft Office\root\Office16\officebackgroundtaskhandler.exe [2170264 2019-10-25] (Microsoft Corporation -> Microsoft Corporation)
Task: {8CDEE5C8-255D-42F6-8C13-81C7107C32A7} - System32\Tasks\Microsoft\Office\OfficeTelemetryAgentLogOn2016 => C:\Program Files\Microsoft Office\root\Office16\msoia.exe [6304872 2019-10-25] (Microsoft Corporation -> Microsoft Corporation)
Task: {9847EA01-081E-4A60-8756-3BFE4620AD0A} - System32\Tasks\Microsoft\Office\Office Feature Updates Logon => C:\Program Files\Microsoft Office\root\Office16\sdxhelper.exe [156432 2019-10-25] (Microsoft Corporation -> Microsoft Corporation)
Task: {9A12B50B-0A98-4898-A16E-2724EB49D877} - System32\Tasks\KMSAutoNet => C:\ProgramData\KMSAutoS\KMSAuto Net.exe
Task: {9F0689D3-DD1F-4873-9666-05DEC022986F} - System32\Tasks\GoogleUpdateTaskMachineUA => C:\Program Files (x86)\Google\Update\GoogleUpdate.exe [154920 2019-09-16] (Google Inc -> Google LLC)
Task: {A2146FA4-56BF-4C53-84D4-C285F125C397} - System32\Tasks\NvTmRep_CrashReport2_{B2FE1952-0186-46C3-BAEC-A80AA35AC5B8} => C:\Program Files\NVIDIA Corporation\NvBackend\NvTmRep.exe [1133608 2019-09-05] (NVIDIA Corporation -> NVIDIA Corporation)
Task: {A4A3E3C0-5142-4D3B-B7D4-4E83C92154D6} - System32\Tasks\Avast Software\Overseer => C:\Program Files\Common Files\AVAST Software\Overseer\overseer.exe [1873288 2019-10-29] (AVAST Software s.r.o. -> AVAST Software)
Task: {A80AB1C5-9CC3-4026-95B0-0ECCF020E49E} - System32\Tasks\Microsoft\Office\Office 15 Subscription Heartbeat => C:\Program Files\Common Files\Microsoft Shared\Office16\OLicenseHeartbeat.exe
Task: {B1C90269-8013-4B50-97B7-E720A2B91A47} - System32\Tasks\IntelSURQC-Upgrade-86621605-2a0b-4128-8ffc-15514c247132 => C:\Program Files\Intel\SUR\QUEENCREEK\Updater\bin\IntelSoftwareAssetManagerService.exe [18744 2019-04-15] (Intel® Software Development Products -> Intel Corporation)
Task: {B1EBF16E-FA73-4F2A-BEC6-251A509B4041} - System32\Tasks\CCleaner Update => C:\Program Files\CCleaner\CCUpdate.exe [608384 2019-10-16] (Piriform Software Ltd -> Piriform Software Ltd)
Task: {BA071485-801A-4374-A458-9644D42986F0} - System32\Tasks\IntelSURQC-Upgrade-86621605-2a0b-4128-8ffc-15514c247132-Logon => C:\Program Files\Intel\SUR\QUEENCREEK\Updater\bin\IntelSoftwareAssetManagerService.exe [18744 2019-04-15] (Intel® Software Development Products -> Intel Corporation)
Task: {BBF477BE-7BA5-4FD9-A839-C310363DB5F8} - System32\Tasks\Microsoft\VisualStudio\Updates\UpdateConfiguration_S-1-5-21-2000554322-72074022-1378442669-1002 => C:\Program Files (x86)\Microsoft Visual Studio\Installer\resources\app\ServiceHub\Services\Microsoft.VisualStudio.Setup.Service\VSIXConfigurationUpdater.exe [33640 2018-12-11] (Microsoft Corporation -> Microsoft Corporation)
Task: {C42504FB-FA6B-4B5D-B751-3758EE4F225B} - System32\Tasks\OneDrive Per-Machine Standalone Update Task => C:\Program Files (x86)\Microsoft OneDrive\OneDriveStandaloneUpdater.exe [2719352 2019-10-28] (Microsoft Corporation -> Microsoft Corporation)
Task: {C9772A0F-7757-4BE5-9A76-0ADB2E6F2D31} - System32\Tasks\NvTmRep_CrashReport4_{B2FE1952-0186-46C3-BAEC-A80AA35AC5B8} => C:\Program Files\NVIDIA Corporation\NvBackend\NvTmRep.exe [1133608 2019-09-05] (NVIDIA Corporation -> NVIDIA Corporation)
Task: {D22E3C0C-4ED5-4DDC-BF17-D72B516D06B7} - System32\Tasks\NvProfileUpdaterDaily_{B2FE1952-0186-46C3-BAEC-A80AA35AC5B8} => C:\Program Files\NVIDIA Corporation\Update Core\NvProfileUpdater64.exe [913448 2019-09-05] (NVIDIA Corporation -> NVIDIA Corporation)
Task: {DE2337E5-CC73-4B44-AF7A-E74A86884790} - System32\Tasks\update-S-1-5-21-2000554322-72074022-1378442669-1002 => C:\Program Files (x86)\Skillbrains\Updater\Updater.exe [414872 2017-04-12] (OOO Lightshot -> TODO: <Company name>)
Task: {EC0C5672-5126-4E23-8AAB-040BEE588C6E} - System32\Tasks\ASUS Splendid ACMON => C:\Program Files (x86)\ASUS\Splendid\ACMON.exe [75776 2017-10-24] (ASUS) [File not signed]
Task: {FFEE2BA0-9E5B-4404-9B72-9E4D27A5CB1A} - System32\Tasks\NvBatteryBoostCheckOnLogon_{B2FE1952-0186-46C3-BAEC-A80AA35AC5B8} => C:\Program Files\NVIDIA Corporation\NvContainer\nvcontainer.exe [860016 2019-08-27] (NVIDIA Corporation -> NVIDIA Corporation)

(If an entry is included in the fixlist, the task (.job) file will be moved. The file which is running by the task will not be moved.)

Task: C:\WINDOWS\Tasks\Avast Driver Updater Startup.job => C:\Program Files (x86)\Avast Driver Updater\Avast Driver Updater.exe
Task: C:\WINDOWS\Tasks\CreateExplorerShellUnelevatedTask.job => C:\WINDOWS\explorer.exe
Task: C:\WINDOWS\Tasks\update-S-1-5-21-2000554322-72074022-1378442669-1002.job => C:\Program Files (x86)\Skillbrains\Updater\Updater.exe
Task: C:\WINDOWS\Tasks\update-sys.job => C:\Program Files (x86)\Skillbrains\Updater\Updater.exe

==================== Internet (Whitelisted) ====================

(If an item is included in the fixlist, if it is a registry item it will be removed or restored to default.)

Hosts: There are more than one entry in Hosts. See Hosts section of Addition.txt
Tcpip\Parameters: [DhcpNameServer] 10.100.102.1
Tcpip\..\Interfaces\{7167177c-b6da-4c4c-b798-b43515fa85a9}: [DhcpNameServer] 10.100.102.1
Tcpip\..\Interfaces\{c6bcb95a-b5d2-4683-8f0b-e85d87e5fbc8}: [DhcpNameServer] 10.100.102.1

Internet Explorer:
==================
HKU\S-1-5-21-2000554322-72074022-1378442669-1002\Software\Microsoft\Internet Explorer\Main,Start Page = hxxps://go.microsoft.com/fwlink/p/?LinkId=619797&pc=UE01&ocid=UE01DHP
BHO: Skype for Business Browser Helper -> {31D09BA0-12F5-4CCE-BE8A-2923E76605DA} -> C:\Program Files\Microsoft Office\root\Office16\OCHelper.dll [2019-06-26] (Microsoft Corporation -> Microsoft Corporation)
BHO: Java™ Plug-In SSV Helper -> {761497BB-D6F0-462C-B6EB-D4DAF1D92D43} -> C:\Program Files\Java\jre1.8.0_231\bin\ssv.dll [2019-10-20] (Oracle America, Inc. -> Oracle Corporation)
BHO: No Name -> {D0498E0A-45B7-42AE-A9AA-ABA463DBD3BF} -> No File
BHO: Java™ Plug-In 2 SSV Helper -> {DBC80044-A445-435b-BC74-9C25C1C588A9} -> C:\Program Files\Java\jre1.8.0_231\bin\jp2ssv.dll [2019-10-20] (Oracle America, Inc. -> Oracle Corporation)
BHO-x32: Skype for Business Browser Helper -> {31D09BA0-12F5-4CCE-BE8A-2923E76605DA} -> C:\Program Files\Microsoft Office\root\VFS\ProgramFilesX86\Microsoft Office\Office16\OCHelper.dll [2019-04-03] (Microsoft Corporation -> Microsoft Corporation)
BHO-x32: Java™ Plug-In SSV Helper -> {761497BB-D6F0-462C-B6EB-D4DAF1D92D43} -> C:\Program Files (x86)\Java\jre1.8.0_231\bin\ssv.dll [2019-10-20] (Oracle America, Inc. -> Oracle Corporation)
BHO-x32: No Name -> {D0498E0A-45B7-42AE-A9AA-ABA463DBD3BF} -> No File
BHO-x32: Java™ Plug-In 2 SSV Helper -> {DBC80044-A445-435b-BC74-9C25C1C588A9} -> C:\Program Files (x86)\Java\jre1.8.0_231\bin\jp2ssv.dll [2019-10-20] (Oracle America, Inc. -> Oracle Corporation)
Handler: mso-minsb-roaming.16 - {83C25742-A9F7-49FB-9138-434302C88D07} - C:\Program Files\Microsoft Office\root\Office16\MSOSB.DLL [2019-10-04] (Microsoft Corporation -> Microsoft Corporation)
Handler-x32: mso-minsb-roaming.16 - {83C25742-A9F7-49FB-9138-434302C88D07} - C:\Program Files\Microsoft Office\root\VFS\ProgramFilesX86\Microsoft Office\Office16\MSOSB.DLL [2019-10-04] (Microsoft Corporation -> Microsoft Corporation)
Handler: mso-minsb.16 - {42089D2D-912D-4018-9087-2B87803E93FB} - C:\Program Files\Microsoft Office\root\Office16\MSOSB.DLL [2019-10-04] (Microsoft Corporation -> Microsoft Corporation)
Handler-x32: mso-minsb.16 - {42089D2D-912D-4018-9087-2B87803E93FB} - C:\Program Files\Microsoft Office\root\VFS\ProgramFilesX86\Microsoft Office\Office16\MSOSB.DLL [2019-10-04] (Microsoft Corporation -> Microsoft Corporation)
Handler: osf-roaming.16 - {42089D2D-912D-4018-9087-2B87803E93FB} - C:\Program Files\Microsoft Office\root\Office16\MSOSB.DLL [2019-10-04] (Microsoft Corporation -> Microsoft Corporation)
Handler-x32: osf-roaming.16 - {42089D2D-912D-4018-9087-2B87803E93FB} - C:\Program Files\Microsoft Office\root\VFS\ProgramFilesX86\Microsoft Office\Office16\MSOSB.DLL [2019-10-04] (Microsoft Corporation -> Microsoft Corporation)
Handler: osf.16 - {5504BE45-A83B-4808-900A-3A5C36E7F77A} - C:\Program Files\Microsoft Office\root\Office16\MSOSB.DLL [2019-10-04] (Microsoft Corporation -> Microsoft Corporation)
Handler-x32: osf.16 - {5504BE45-A83B-4808-900A-3A5C36E7F77A} - C:\Program Files\Microsoft Office\root\VFS\ProgramFilesX86\Microsoft Office\Office16\MSOSB.DLL [2019-10-04] (Microsoft Corporation -> Microsoft Corporation)

Edge:
======
DownloadDir: C:\Users\Alex\Downloads

FireFox:
========
FF Plugin: @java.com/DTPlugin,version=11.231.2 -> C:\Program Files\Java\jre1.8.0_231\bin\dtplugin\npDeployJava1.dll [2019-10-20] (Oracle America, Inc. -> Oracle Corporation)
FF Plugin: @java.com/JavaPlugin,version=11.231.2 -> C:\Program Files\Java\jre1.8.0_231\bin\plugin2\npjp2.dll [2019-10-20] (Oracle America, Inc. -> Oracle Corporation)
FF Plugin: @microsoft.com/SharePoint,version=14.0 -> C:\Program Files\Microsoft Office\root\Office16\NPSPWRAP.DLL [2019-06-26] (Microsoft Corporation -> Microsoft Corporation)
FF Plugin-x32: @java.com/DTPlugin,version=11.231.2 -> C:\Program Files (x86)\Java\jre1.8.0_231\bin\dtplugin\npDeployJava1.dll [2019-10-20] (Oracle America, Inc. -> Oracle Corporation)
FF Plugin-x32: @java.com/JavaPlugin,version=11.231.2 -> C:\Program Files (x86)\Java\jre1.8.0_231\bin\plugin2\npjp2.dll [2019-10-20] (Oracle America, Inc. -> Oracle Corporation)
FF Plugin-x32: @microsoft.com/Lync,version=15.0 -> C:\Program Files\Microsoft Office\root\VFS\ProgramFilesX86\Mozilla Firefox\plugins\npmeetingjoinpluginoc.dll [2019-04-03] (Microsoft Corporation -> Microsoft Corporation)
FF Plugin-x32: @microsoft.com/SharePoint,version=14.0 -> C:\Program Files\Microsoft Office\root\VFS\ProgramFilesX86\Microsoft Office\Office16\NPSPWRAP.DLL [2019-04-03] (Microsoft Corporation -> Microsoft Corporation)
FF Plugin-x32: @tools.google.com/Google Update;version=3 -> C:\Program Files (x86)\Google\Update\1.3.35.302\npGoogleUpdate3.dll [2019-10-02] (Google Inc -> Google LLC)
FF Plugin-x32: @tools.google.com/Google Update;version=9 -> C:\Program Files (x86)\Google\Update\1.3.35.302\npGoogleUpdate3.dll [2019-10-02] (Google Inc -> Google LLC)

Chrome:
=======
CHR HomePage: Default -> hxxp://www.google.com
CHR StartupUrls: Default -> "hxxps://www.google.co.il/"
CHR Notifications: Default -> hxxps://iw.go-travels.com; hxxps://www.facebook.com; hxxps://www.fxp.co.il; hxxps://www.youtube.com; hxxps://www.zap.co.il
CHR Profile: C:\Users\Alex\AppData\Local\Google\Chrome\User Data\Default [2019-10-30]
CHR DownloadDir: D:\Downloads\Chrome
CHR Extension: (Slides) - C:\Users\Alex\AppData\Local\Google\Chrome\User Data\Default\Extensions\aapocclcgogkmnckokdopfmhonfmgoek [2019-09-16]
CHR Extension: (Docs) - C:\Users\Alex\AppData\Local\Google\Chrome\User Data\Default\Extensions\aohghmighlieiainnegkcijnfilokake [2019-09-16]
CHR Extension: (Google Drive) - C:\Users\Alex\AppData\Local\Google\Chrome\User Data\Default\Extensions\apdfllckaahabafndbhieahigkjlhalf [2019-09-16]
CHR Extension: (James White) - C:\Users\Alex\AppData\Local\Google\Chrome\User Data\Default\Extensions\bkeidgmehkdjmpjodpjkepolokanalkm [2019-09-16]
CHR Extension: (YouTube) - C:\Users\Alex\AppData\Local\Google\Chrome\User Data\Default\Extensions\blpcfgokakmgnkcojhhkbfbldkacnbeo [2019-09-16]
CHR Extension: (Sheets) - C:\Users\Alex\AppData\Local\Google\Chrome\User Data\Default\Extensions\felcaaldnbdncclmgdcncolpebgiejap [2019-09-16]
CHR Extension: (Google Docs Offline) - C:\Users\Alex\AppData\Local\Google\Chrome\User Data\Default\Extensions\ghbmnnjooekpmoecnnnilnnbdlolhkhi [2019-09-18]
CHR Extension: (AdBlock) - C:\Users\Alex\AppData\Local\Google\Chrome\User Data\Default\Extensions\gighmmpiobklfepjocnamgkkbiglidom [2019-10-24]
CHR Extension: (Grammarly for Chrome) - C:\Users\Alex\AppData\Local\Google\Chrome\User Data\Default\Extensions\kbfnbcaeplbcioakkpcpgfkobkghlhen [2019-10-30]
CHR Extension: (Click&Clean App) - C:\Users\Alex\AppData\Local\Google\Chrome\User Data\Default\Extensions\pdabfienifkbhoihedcgeogidfmibmhp [2019-10-07]
CHR Extension: (Gmail) - C:\Users\Alex\AppData\Local\Google\Chrome\User Data\Default\Extensions\pjkljhegncpnkpknbcohdijeoejaedia [2019-09-16]
CHR Profile: C:\Users\Alex\AppData\Local\Google\Chrome\User Data\System Profile [2019-10-28]

==================== Services (Whitelisted) ===================

(If an entry is included in the fixlist, it will be removed from the registry. The file will not be moved unless listed separately.)

R2 Adguard Service; C:\Program Files (x86)\Adguard\AdguardSvc.exe [129896 2018-07-09] (Adguard Software Limited -> Adguard Software Ltd)
R3 aswbIDSAgent; C:\Program Files\AVAST Software\Avast\aswidsagent.exe [6085360 2019-10-29] (AVAST Software s.r.o. -> AVAST Software)
R2 avast! Antivirus; C:\Program Files\AVAST Software\Avast\AvastSvc.exe [996880 2019-10-29] (AVAST Software s.r.o. -> AVAST Software)
R2 avast! Firewall; C:\Program Files\AVAST Software\Avast\afwServ.exe [417536 2019-10-29] (AVAST Software s.r.o. -> AVAST Software)
R2 AvastWscReporter; C:\Program Files\AVAST Software\Avast\wsc_proxy.exe [57504 2019-10-29] (AVAST Software s.r.o. -> AVAST Software)
S3 BEService; C:\Program Files (x86)\Common Files\BattlEye\BEService.exe [8577760 2019-08-09] (BattlEye Innovations e.K. -> )
R2 CleanupPSvc; C:\Program Files (x86)\AVAST Software\Avast Cleanup\TuneupSvc.exe [10287216 2019-07-24] (AVAST Software s.r.o. -> AVAST Software)
S4 ClickToRunSvc; C:\Program Files\Common Files\Microsoft Shared\ClickToRun\OfficeClickToRun.exe [11636808 2019-10-18] (Microsoft Corporation -> Microsoft Corporation)
S3 DevActSvc; C:\Program Files (x86)\ASUS\ASUS Device Activation\DevActSvc.exe [326032 2018-06-05] (ASUSTeK Computer Inc. -> )
S4 DSAService; C:\Program Files (x86)\Intel\Driver and Support Assistant\DSAService.exe [34664 2019-10-16] (IDSA Production signing key -> Intel)
S4 DSAUpdateService; C:\Program Files (x86)\Intel\Driver and Support Assistant\DSAUpdateService.exe [105320 2019-10-16] (IDSA Production signing key -> Intel)
S3 EasyAntiCheat; C:\Program Files (x86)\EasyAntiCheat\EasyAntiCheat.exe [777856 2019-08-09] (EasyAntiCheat Oy -> EasyAntiCheat Ltd)
R2 esifsvc; C:\WINDOWS\system32\Intel\DPTF\esif_uf.exe [1701480 2017-07-07] (Intel Corporation -> Intel Corporation)
S4 ESRV_SVC_QUEENCREEK; C:\Program Files\Intel\SUR\QUEENCREEK\x64\esrv_svc.exe [877368 2019-08-16] (Intel® Software Development Products -> )
S3 FileSyncHelper; C:\Program Files (x86)\Microsoft OneDrive\FileSyncHelper.exe [2139768 2019-10-28] (Microsoft Corporation -> Microsoft Corporation)
R2 ibtsiva; C:\WINDOWS\System32\ibtsiva.exe [550568 2018-05-02] (Intel® Wireless Connectivity Solutions -> Intel Corporation)
R2 ICEsoundService; C:\WINDOWS\System32\DriverStore\FileRepository\x40plmwa.inf_amd64_09e65ea70153c3a6\ICEsoundService64.exe [806136 2018-11-27] (ICEpower a/s -> ICEpower)
S4 Intel® SUR QC SAM; C:\Program Files\Intel\SUR\QUEENCREEK\Updater\bin\IntelSoftwareAssetManagerService.exe [18744 2019-04-15] (Intel® Software Development Products -> Intel Corporation)
S3 MyWiFiDHCPDNS; C:\Program Files\Intel\WiFi\bin\PanDhcpDns.exe [265824 2018-04-17] (Intel Corporation -> )
R2 NvContainerLocalSystem; C:\Program Files\NVIDIA Corporation\NvContainer\nvcontainer.exe [860016 2019-08-27] (NVIDIA Corporation -> NVIDIA Corporation)
S3 NvContainerNetworkService; C:\Program Files\NVIDIA Corporation\NvContainer\nvcontainer.exe [860016 2019-08-27] (NVIDIA Corporation -> NVIDIA Corporation)
S3 OneDrive Updater Service; C:\Program Files (x86)\Microsoft OneDrive\OneDriveUpdaterService.exe [2492024 2019-10-28] (Microsoft Corporation -> Microsoft Corporation)
R2 SAService; C:\WINDOWS\system32\SAsrv.exe [416576 2016-10-27] (Conexant Systems, Inc. -> Conexant Systems, Inc.)
S3 Sense; C:\Program Files\Windows Defender Advanced Threat Protection\MsSense.exe [5796168 2019-10-30] (Microsoft Windows Publisher -> Microsoft Corporation)
S3 sshd; C:\WINDOWS\System32\OpenSSH\sshd.exe [974848 2019-03-02] (Microsoft Windows -> )
S3 SshdBroker; C:\WINDOWS\System32\SshdBroker.dll [290816 2019-10-30] (Microsoft Windows -> Microsoft Corporation)
S4 SystemUsageReportSvc_QUEENCREEK; C:\Program Files\Intel\SUR\QUEENCREEK\SurSvc.exe [204088 2019-08-16] (Intel® Software Development Products -> )
S4 USER_ESRV_SVC_QUEENCREEK; C:\Program Files\Intel\SUR\QUEENCREEK\x64\esrv_svc.exe [877368 2019-08-16] (Intel® Software Development Products -> )
S4 VBoxSDS; C:\Program Files\Oracle\VirtualBox\VBoxSDS.exe [694016 2019-09-03] (Oracle Corporation -> Oracle Corporation)
S3 VSStandardCollectorService150; C:\Program Files (x86)\Microsoft Visual Studio\Shared\Common\DiagnosticsHub.Collection.Service\StandardCollector.Service.exe [157480 2018-08-02] (Microsoft Corporation -> Microsoft Corporation)
S3 WdNisSvc; C:\Program Files\Windows Defender\NisSrv.exe [4098056 2019-03-19] (Microsoft Corporation -> Microsoft Corporation)
S3 WinDefend; C:\Program Files\Windows Defender\MsMpEng.exe [113992 2019-03-19] (Microsoft Corporation -> Microsoft Corporation)
R2 ZeroConfigService; C:\Program Files\Intel\WiFi\bin\ZeroConfigService.exe [3848288 2018-04-17] (Intel Corporation -> Intel® Corporation)
R2 NVDisplay.ContainerLocalSystem; "C:\Program Files\NVIDIA Corporation\Display.NvContainer\NVDisplay.Container.exe" -s NVDisplay.ContainerLocalSystem -f "C:\ProgramData\NVIDIA\NVDisplay.ContainerLocalSystem.log" -l 3 -d "C:\Program Files\NVIDIA Corporation\Display.NvContainer\plugins\LocalSystem" -r -p 30000

===================== Drivers (Whitelisted) ===================

(If an entry is included in the fixlist, it will be removed from the registry. The file will not be moved unless listed separately.)

R1 adgnetworkwfpdrv; C:\WINDOWS\System32\drivers\adgnetworkwfpdrv.sys [84536 2018-06-20] (Microsoft Windows Hardware Compatibility Publisher -> )
R2 aow_drv; D:\Program Files\TxGameAssistant\UI\2.0.12832.123\aow_drv_x64_ev.sys [863616 2019-09-27] (Tencent Technology (Shenzhen) Company Limited -> Tencent)
R3 AsusPTPDrv; C:\WINDOWS\System32\drivers\AsusPTPFilter.sys [108504 2019-04-24] (ASUSTek Computer Inc. -> ASUSTek COMPUTER INC.)
R1 aswArPot; C:\WINDOWS\System32\drivers\aswArPot.sys [204824 2019-10-29] (AVAST Software s.r.o. -> AVAST Software)
R1 aswbidsdriver; C:\WINDOWS\System32\drivers\aswbidsdriver.sys [274456 2019-10-29] (AVAST Software s.r.o. -> AVAST Software)
R0 aswbidsh; C:\WINDOWS\System32\drivers\aswbidsh.sys [209552 2019-10-29] (AVAST Software s.r.o. -> AVAST Software)
R0 aswbuniv; C:\WINDOWS\System32\drivers\aswbuniv.sys [65120 2019-10-29] (AVAST Software s.r.o. -> AVAST Software)
R0 aswElam; C:\WINDOWS\System32\drivers\aswElam.sys [16304 2019-10-29] (Microsoft Windows Early Launch Anti-malware Publisher -> AVAST Software)
R1 aswKbd; C:\WINDOWS\System32\drivers\aswKbd.sys [42736 2019-10-29] (AVAST Software s.r.o. -> AVAST Software)
R2 aswMonFlt; C:\WINDOWS\System32\drivers\aswMonFlt.sys [171520 2019-10-29] (AVAST Software s.r.o. -> AVAST Software)
R1 aswNetSec; C:\WINDOWS\System32\drivers\aswNetSec.sys [552848 2019-10-29] (AVAST Software s.r.o. -> AVAST Software)
R1 aswRdr; C:\WINDOWS\System32\drivers\aswRdr2.sys [110320 2019-10-29] (AVAST Software s.r.o. -> AVAST Software)
R0 aswRvrt; C:\WINDOWS\System32\drivers\aswRvrt.sys [83792 2019-10-29] (AVAST Software s.r.o. -> AVAST Software)
R1 aswSnx; C:\WINDOWS\System32\drivers\aswSnx.sys [848432 2019-10-29] (AVAST Software s.r.o. -> AVAST Software)
R1 aswSP; C:\WINDOWS\System32\drivers\aswSP.sys [460448 2019-10-29] (AVAST Software s.r.o. -> AVAST Software)
R2 aswStm; C:\WINDOWS\System32\drivers\aswStm.sys [236024 2019-10-29] (AVAST Software s.r.o. -> AVAST Software)
R0 aswVmm; C:\WINDOWS\System32\drivers\aswVmm.sys [316528 2019-10-29] (AVAST Software s.r.o. -> AVAST Software)
R1 ATKWMIACPIIO; C:\Program Files (x86)\ASUS\ATK Package\ATK WMIACPI\atkwmiacpi64.sys [20096 2015-05-08] (Microsoft Windows Hardware Compatibility Publisher -> ASUSTek Computer Inc.)
R3 AX88179; C:\WINDOWS\System32\drivers\ax88179_178a.sys [74240 2019-03-19] (Microsoft Windows -> ASIX Electronics Corp.)
R1 cbfs6; C:\WINDOWS\system32\drivers\cbfs6.sys [460992 2016-09-09] (EldoS Corporation -> /n software, Inc.)
R3 CnxtHdAudService; C:\WINDOWS\system32\drivers\CHDRT64.sys [3463464 2018-11-27] (Synaptics Incorporated -> Conexant Systems Inc.)
R3 dptf_acpi; C:\WINDOWS\System32\drivers\dptf_acpi.sys [74168 2017-07-07] (Intel Corporation -> Intel Corporation)
R3 dptf_cpu; C:\WINDOWS\System32\drivers\dptf_cpu.sys [69560 2017-07-07] (Intel Corporation -> Intel Corporation)
S3 ESETCleanersDriver; C:\WINDOWS\system32\Drivers\ESETCleanersDriver.sys [170280 2019-09-07] (ESET, spol. s r.o. -> ESET)
R3 esif_lf; C:\WINDOWS\system32\DRIVERS\esif_lf.sys [382392 2017-07-07] (Intel Corporation -> Intel Corporation)
R3 HIDSwitch; C:\WINDOWS\System32\drivers\AsRadioControl.sys [32680 2019-08-07] (ASUSTek Computer Inc. -> ASUS)
R3 ibtusb; C:\WINDOWS\system32\DRIVERS\ibtusb.sys [731640 2019-08-09] (Intel® Wireless Connectivity Solutions -> Intel Corporation)
R3 Netwtw06; C:\WINDOWS\System32\drivers\Netwtw06.sys [8831480 2019-08-28] (Intel® Wireless Connectivity Solutions -> Intel Corporation)
R3 nvlddmkm; C:\WINDOWS\System32\DriverStore\FileRepository\nvami.inf_amd64_c731909e98902516\nvlddmkm.sys [22734744 2019-10-17] (NVIDIA Corporation -> NVIDIA Corporation)
S3 NvStreamKms; C:\Program Files\NVIDIA Corporation\NvStreamSrv\NvStreamKms.sys [30336 2019-07-23] (NVIDIA Corporation -> NVIDIA Corporation)
R3 nvvad_WaveExtensible; C:\WINDOWS\system32\drivers\nvvad64v.sys [69840 2019-03-19] (NVIDIA Corporation -> NVIDIA Corporation)
R3 nvvhci; C:\WINDOWS\System32\drivers\nvvhci.sys [75600 2019-10-17] (NVIDIA Corporation -> NVIDIA Corporation)
S3 semav6msr64; C:\WINDOWS\system32\drivers\semav6msr64.sys [41816 2019-08-16] (Intel Corporation -> )
S3 SWDUMon; C:\WINDOWS\system32\DRIVERS\SWDUMon.sys [25608 2019-10-30] (AVG Technologies CZ, s.r.o. -> SlimWare Utilities, Inc.)
S3 tesrsdt; C:\WINDOWS\system32\drivers\tesrsdt.sys [442128 2019-09-13] (Tencent Technology(Shenzhen) Company Limited -> TENCENT)
S3 TesSafe; C:\WINDOWS\system32\TesSafe.sys [555064 2019-10-14] (Tencent Technology(Shenzhen) Company Limited -> TENCENT)
R3 VBoxNetAdp; C:\WINDOWS\System32\drivers\VBoxNetAdp6.sys [237376 2019-09-03] (Oracle Corporation -> Oracle Corporation)
R1 VBoxNetLwf; C:\WINDOWS\system32\DRIVERS\VBoxNetLwf.sys [248464 2019-09-03] (Oracle Corporation -> Oracle Corporation)
R3 vpnpbus; C:\WINDOWS\System32\drivers\vpnpbus.sys [18624 2016-09-09] (EldoS Corporation -> /n software, Inc.)
S3 WdBoot; C:\WINDOWS\system32\drivers\WdBoot.sys [46472 2019-03-19] (Microsoft Windows Early Launch Anti-malware Publisher -> Microsoft Corporation)
S3 WdFilter; C:\WINDOWS\system32\drivers\WdFilter.sys [333784 2019-03-19] (Microsoft Windows -> Microsoft Corporation)
S3 WdNisDrv; C:\WINDOWS\System32\Drivers\WdNisDrv.sys [62432 2019-03-19] (Microsoft Windows -> Microsoft Corporation)

==================== NetSvcs (Whitelisted) ===================

(If an entry is included in the fixlist, it will be removed from the registry. The file will not be moved unless listed separately.)


==================== One month (created) ===================

(If an entry is included in the fixlist, the file/folder will be moved.)

2019-10-30 09:48 - 2019-10-30 09:48 - 001388432 _____ C:\Users\Public\VOIP.dat
2019-10-30 09:34 - 2019-10-30 09:47 - 000474832 _____ C:\WINDOWS\system32\FNTCACHE.DAT
2019-10-30 01:23 - 2019-10-29 15:33 - 000000000 ____D C:\Windows.old
2019-10-30 00:57 - 2019-10-30 01:23 - 000000000 ____D C:\WINDOWS\system32\config\bbimigrate
2019-10-30 00:56 - 2019-10-30 00:57 - 000000000 ____D C:\WINDOWS\ServiceProfiles
2019-10-30 00:56 - 2019-10-30 00:56 - 000008192 _____ C:\WINDOWS\system32\config\userdiff
2019-10-30 00:56 - 2019-10-30 00:56 - 000000000 ____D C:\ProgramData\USOShared
2019-10-30 00:54 - 2019-10-30 00:54 - 019811840 _____ (Microsoft Corporation) C:\WINDOWS\system32\HologramWorld.dll
2019-10-30 00:54 - 2019-10-30 00:54 - 004481536 _____ (Microsoft Corporation) C:\WINDOWS\system32\DHolographicDisplay.dll
2019-10-30 00:54 - 2019-10-30 00:54 - 003637760 _____ (Microsoft Corporation) C:\WINDOWS\SysWOW64\MFMediaEngine.dll
2019-10-30 00:54 - 2019-10-30 00:54 - 003525592 _____ (Microsoft Corporation) C:\WINDOWS\SysWOW64\mfcore.dll
2019-10-30 00:54 - 2019-10-30 00:54 - 003365376 _____ (Microsoft Corporation) C:\WINDOWS\SysWOW64\xpsrchvw.exe
2019-10-30 00:54 - 2019-10-30 00:54 - 002314648 _____ (Microsoft Corporation) C:\WINDOWS\SysWOW64\msmpeg2vdec.dll
2019-10-30 00:54 - 2019-10-30 00:54 - 002138472 _____ (Microsoft Corporation) C:\WINDOWS\SysWOW64\WMVCORE.DLL
2019-10-30 00:54 - 2019-10-30 00:54 - 001866064 _____ (Microsoft Corporation) C:\WINDOWS\SysWOW64\mfmp4srcsnk.dll
2019-10-30 00:54 - 2019-10-30 00:54 - 001555688 _____ (Microsoft Corporation) C:\WINDOWS\SysWOW64\mfplat.dll
2019-10-30 00:54 - 2019-10-30 00:54 - 001343488 _____ (Microsoft Corporation) C:\WINDOWS\SysWOW64\Windows.Media.Audio.dll
2019-10-30 00:54 - 2019-10-30 00:54 - 001273392 _____ (Microsoft Corporation) C:\WINDOWS\SysWOW64\mfasfsrcsnk.dll
2019-10-30 00:54 - 2019-10-30 00:54 - 001244944 _____ (Microsoft Corporation) C:\WINDOWS\SysWOW64\msvproc.dll
2019-10-30 00:54 - 2019-10-30 00:54 - 001105480 _____ (Microsoft Corporation) C:\WINDOWS\SysWOW64\mfsvr.dll
2019-10-30 00:54 - 2019-10-30 00:54 - 001098712 _____ (Microsoft Corporation) C:\WINDOWS\system32\DolbyDecMFT.dll
2019-10-30 00:54 - 2019-10-30 00:54 - 001012792 _____ (Microsoft Corporation) C:\WINDOWS\SysWOW64\mfmpeg2srcsnk.dll
2019-10-30 00:54 - 2019-10-30 00:54 - 000952416 _____ (Microsoft Corporation) C:\WINDOWS\SysWOW64\DolbyDecMFT.dll
2019-10-30 00:54 - 2019-10-30 00:54 - 000939008 _____ (Microsoft Corporation) C:\WINDOWS\system32\fveapi.dll
2019-10-30 00:54 - 2019-10-30 00:54 - 000888832 _____ (Microsoft Corporation) C:\WINDOWS\system32\HolographicExtensions.dll
2019-10-30 00:54 - 2019-10-30 00:54 - 000806400 _____ (Microsoft Corporation) C:\WINDOWS\system32\fvewiz.dll
2019-10-30 00:54 - 2019-10-30 00:54 - 000800568 _____ (Microsoft Corporation) C:\WINDOWS\system32\Drivers\fvevol.sys
2019-10-30 00:54 - 2019-10-30 00:54 - 000742912 _____ (Microsoft Corporation) C:\WINDOWS\system32\RDXService.dll
2019-10-30 00:54 - 2019-10-30 00:54 - 000722944 _____ (Microsoft Corporation) C:\WINDOWS\SysWOW64\fveapi.dll
2019-10-30 00:54 - 2019-10-30 00:54 - 000633344 _____ (Microsoft Corporation) C:\WINDOWS\system32\SyncController.dll
2019-10-30 00:54 - 2019-10-30 00:54 - 000537600 _____ (Microsoft Corporation) C:\WINDOWS\SysWOW64\mf.dll
2019-10-30 00:54 - 2019-10-30 00:54 - 000524800 _____ (Microsoft Corporation) C:\WINDOWS\system32\bdesvc.dll
2019-10-30 00:54 - 2019-10-30 00:54 - 000500224 _____ (Microsoft Corporation) C:\WINDOWS\SysWOW64\SyncController.dll
2019-10-30 00:54 - 2019-10-30 00:54 - 000411136 _____ (Microsoft Corporation) C:\WINDOWS\system32\DavSyncProvider.dll
2019-10-30 00:54 - 2019-10-30 00:54 - 000401408 _____ (Microsoft Corporation) C:\WINDOWS\system32\fveapibase.dll
2019-10-30 00:54 - 2019-10-30 00:54 - 000387832 _____ (Microsoft Corporation) C:\WINDOWS\system32\wmpps.dll
2019-10-30 00:54 - 2019-10-30 00:54 - 000334336 _____ (Microsoft Corporation) C:\WINDOWS\SysWOW64\fveapibase.dll
2019-10-30 00:54 - 2019-10-30 00:54 - 000329728 _____ (Microsoft Corporation) C:\WINDOWS\SysWOW64\DavSyncProvider.dll
2019-10-30 00:54 - 2019-10-30 00:54 - 000307200 _____ (Microsoft Corporation) C:\WINDOWS\system32\fveui.dll
2019-10-30 00:54 - 2019-10-30 00:54 - 000294400 _____ (Microsoft Corporation) C:\WINDOWS\system32\SettingsHandlers_AnalogShell.dll
2019-10-30 00:54 - 2019-10-30 00:54 - 000290816 _____ (Microsoft Corporation) C:\WINDOWS\system32\SshdBroker.dll
2019-10-30 00:54 - 2019-10-30 00:54 - 000286720 _____ (Microsoft Corporation) C:\WINDOWS\system32\DirectML.Debug.dll
2019-10-30 00:54 - 2019-10-30 00:54 - 000283264 _____ (Microsoft Corporation) C:\WINDOWS\system32\bdeunlock.exe
2019-10-30 00:54 - 2019-10-30 00:54 - 000201216 _____ (Microsoft Corporation) C:\WINDOWS\SysWOW64\DirectML.Debug.dll
2019-10-30 00:54 - 2019-10-30 00:54 - 000179200 _____ (Microsoft Corporation) C:\WINDOWS\system32\Windows.UI.XamlHost.dll
2019-10-30 00:54 - 2019-10-30 00:54 - 000135168 _____ (Microsoft Corporation) C:\WINDOWS\SysWOW64\Windows.UI.XamlHost.dll
2019-10-30 00:54 - 2019-10-30 00:54 - 000129088 _____ (Microsoft Corporation) C:\WINDOWS\SysWOW64\mfps.dll
2019-10-30 00:54 - 2019-10-30 00:54 - 000111616 _____ (Microsoft Corporation) C:\WINDOWS\system32\SshdPinAuthLsa.dll
2019-10-30 00:54 - 2019-10-30 00:54 - 000097280 _____ (Microsoft Corporation) C:\WINDOWS\system32\fveskybackup.dll
2019-10-30 00:54 - 2019-10-30 00:54 - 000093104 _____ (Microsoft Corporation) C:\WINDOWS\system32\Drivers\dumpfve.sys
2019-10-30 00:54 - 2019-10-30 00:54 - 000053760 _____ (Microsoft Corporation) C:\WINDOWS\system32\BdeUISrv.exe
2019-10-30 00:54 - 2019-10-30 00:54 - 000035328 _____ (Microsoft Corporation) C:\WINDOWS\system32\bdeui.dll
2019-10-30 00:54 - 2019-10-30 00:54 - 000027136 _____ (Microsoft Corporation) C:\WINDOWS\system32\fvecerts.dll
2019-10-30 00:54 - 2019-10-30 00:54 - 000021504 _____ (Microsoft Corporation) C:\WINDOWS\SysWOW64\fvecerts.dll
2019-10-30 00:53 - 2019-10-30 00:53 - 007754240 _____ (Microsoft Corporation) C:\WINDOWS\system32\Chakra.dll
2019-10-30 00:53 - 2019-10-30 00:53 - 007582752 _____ (Microsoft Corporation) C:\WINDOWS\system32\d3d10warp.dll
2019-10-30 00:53 - 2019-10-30 00:53 - 005915648 _____ (Microsoft Corporation) C:\WINDOWS\SysWOW64\Chakra.dll
2019-10-30 00:53 - 2019-10-30 00:53 - 005865272 _____ (Microsoft Corporation) C:\WINDOWS\system32\spwizimg.dll
2019-10-30 00:53 - 2019-10-30 00:53 - 005848840 _____ (Microsoft Corporation) C:\WINDOWS\SysWOW64\d3d10warp.dll
2019-10-30 00:53 - 2019-10-30 00:53 - 005041664 _____ (Microsoft Corporation) C:\WINDOWS\system32\wininet.dll
2019-10-30 00:53 - 2019-10-30 00:53 - 005013504 _____ (Microsoft Corporation) C:\WINDOWS\system32\MFMediaEngine.dll
2019-10-30 00:53 - 2019-10-30 00:53 - 004857856 _____ (Microsoft Corporation) C:\WINDOWS\system32\jscript9.dll
2019-10-30 00:53 - 2019-10-30 00:53 - 004578816 _____ (Microsoft Corporation) C:\WINDOWS\system32\msi.dll
2019-10-30 00:53 - 2019-10-30 00:53 - 004562688 _____ (Microsoft Corporation) C:\WINDOWS\system32\sppsvc.exe
2019-10-30 00:53 - 2019-10-30 00:53 - 004538880 _____ (Microsoft Corporation) C:\WINDOWS\SysWOW64\wininet.dll
2019-10-30 00:53 - 2019-10-30 00:53 - 004470784 _____ (Microsoft Corporation) C:\WINDOWS\system32\InputService.dll
2019-10-30 00:53 - 2019-10-30 00:53 - 004348408 _____ (Microsoft Corporation) C:\WINDOWS\system32\Windows.Mirage.dll
2019-10-30 00:53 - 2019-10-30 00:53 - 004009472 _____ (Microsoft Corporation) C:\WINDOWS\system32\Microsoft.Bluetooth.Service.dll
2019-10-30 00:53 - 2019-10-30 00:53 - 003817472 _____ (Microsoft Corporation) C:\WINDOWS\SysWOW64\jscript9.dll
2019-10-30 00:53 - 2019-10-30 00:53 - 003654656 _____ (Microsoft Corporation) C:\WINDOWS\system32\Windows.UI.Logon.dll
2019-10-30 00:53 - 2019-10-30 00:53 - 003553280 _____ (Microsoft Corporation) C:\WINDOWS\system32\dwmcore.dll
2019-10-30 00:53 - 2019-10-30 00:53 - 003487232 _____ (Microsoft Corporation) C:\WINDOWS\SysWOW64\msi.dll
2019-10-30 00:53 - 2019-10-30 00:53 - 003353088 _____ (Microsoft Corporation) C:\WINDOWS\system32\msftedit.dll
2019-10-30 00:53 - 2019-10-30 00:53 - 003327256 _____ (Microsoft Corporation) C:\WINDOWS\system32\CoreUIComponents.dll
2019-10-30 00:53 - 2019-10-30 00:53 - 003261440 _____ (Microsoft Corporation) C:\WINDOWS\system32\esent.dll
2019-10-30 00:53 - 2019-10-30 00:53 - 003243080 _____ (Microsoft Corporation) C:\WINDOWS\SysWOW64\Windows.Mirage.dll
2019-10-30 00:53 - 2019-10-30 00:53 - 003184128 _____ (Microsoft Corporation) C:\WINDOWS\system32\CertEnroll.dll
2019-10-30 00:53 - 2019-10-30 00:53 - 003141120 _____ (Microsoft Corporation) C:\WINDOWS\system32\directml.dll
2019-10-30 00:53 - 2019-10-30 00:53 - 003084800 _____ (Microsoft Corporation) C:\WINDOWS\system32\DWrite.dll
2019-10-30 00:53 - 2019-10-30 00:53 - 002956984 _____ (Microsoft Corporation) C:\WINDOWS\system32\mfmp4srcsnk.dll
2019-10-30 00:53 - 2019-10-30 00:53 - 002876416 _____ (Microsoft Corporation) C:\WINDOWS\SysWOW64\esent.dll
2019-10-30 00:53 - 2019-10-30 00:53 - 002861568 _____ (Microsoft Corporation) C:\WINDOWS\system32\xpsservices.dll
2019-10-30 00:53 - 2019-10-30 00:53 - 002821120 _____ (Microsoft Corporation) C:\WINDOWS\SysWOW64\CertEnroll.dll
2019-10-30 00:53 - 2019-10-30 00:53 - 002755584 _____ (Microsoft Corporation) C:\WINDOWS\SysWOW64\mshtml.tlb
2019-10-30 00:53 - 2019-10-30 00:53 - 002755584 _____ (Microsoft Corporation) C:\WINDOWS\system32\mshtml.tlb
2019-10-30 00:53 - 2019-10-30 00:53 - 002743808 _____ (Microsoft Corporation) C:\WINDOWS\SysWOW64\msftedit.dll
2019-10-30 00:53 - 2019-10-30 00:53 - 002656768 _____ (Microsoft Corporation) C:\WINDOWS\system32\wlansvc.dll
2019-10-30 00:53 - 2019-10-30 00:53 - 002590208 _____ C:\WINDOWS\system32\dwmscene.dll
2019-10-30 00:53 - 2019-10-30 00:53 - 002576384 _____ (Microsoft Corporation) C:\WINDOWS\SysWOW64\DWrite.dll
2019-10-30 00:53 - 2019-10-30 00:53 - 002552120 _____ (Microsoft Corporation) C:\WINDOWS\system32\UpdateAgent.dll
2019-10-30 00:53 - 2019-10-30 00:53 - 002494440 _____ (Microsoft Corporation) C:\WINDOWS\system32\msmpeg2vdec.dll
2019-10-30 00:53 - 2019-10-30 00:53 - 002490712 _____ (Microsoft Corporation) C:\WINDOWS\SysWOW64\CoreUIComponents.dll
2019-10-30 00:53 - 2019-10-30 00:53 - 002466304 _____ (Microsoft Corporation) C:\WINDOWS\system32\d3d11.dll
2019-10-30 00:53 - 2019-10-30 00:53 - 002456064 _____ (Microsoft Corporation) C:\WINDOWS\system32\InstallService.dll
2019-10-30 00:53 - 2019-10-30 00:53 - 002448712 _____ (Microsoft Corporation) C:\WINDOWS\system32\msxml6.dll
2019-10-30 00:53 - 2019-10-30 00:53 - 002422592 _____ (Microsoft Corporation) C:\WINDOWS\system32\WMVCORE.DLL
2019-10-30 00:53 - 2019-10-30 00:53 - 002249216 _____ (Microsoft Corporation) C:\WINDOWS\system32\Windows.Devices.Bluetooth.dll
2019-10-30 00:53 - 2019-10-30 00:53 - 002236144 _____ (Microsoft Corporation) C:\WINDOWS\system32\mfasfsrcsnk.dll
2019-10-30 00:53 - 2019-10-30 00:53 - 002232960 _____ (Microsoft Corporation) C:\WINDOWS\system32\Windows.ApplicationModel.Store.dll
2019-10-30 00:53 - 2019-10-30 00:53 - 002224952 _____ (Microsoft Corporation) C:\WINDOWS\system32\ResetEngine.dll
2019-10-30 00:53 - 2019-10-30 00:53 - 002175288 _____ (Microsoft Corporation) C:\WINDOWS\system32\workfolderssvc.dll
2019-10-30 00:53 - 2019-10-30 00:53 - 002160640 _____ (Microsoft Corporation) C:\WINDOWS\system32\pnidui.dll
2019-10-30 00:53 - 2019-10-30 00:53 - 002132280 _____ (Microsoft Corporation) C:\WINDOWS\system32\wsp_fs.dll
2019-10-30 00:53 - 2019-10-30 00:53 - 002114048 _____ (Microsoft Corporation) C:\WINDOWS\system32\Windows.CloudStore.dll
2019-10-30 00:53 - 2019-10-30 00:53 - 002095104 _____ (Microsoft Corporation) C:\WINDOWS\system32\ExplorerFrame.dll
2019-10-30 00:53 - 2019-10-30 00:53 - 002072152 _____ (Microsoft Corporation) C:\WINDOWS\system32\mfplat.dll
2019-10-30 00:53 - 2019-10-30 00:53 - 002069504 _____ (Microsoft Corporation) C:\WINDOWS\system32\ISM.dll
2019-10-30 00:53 - 2019-10-30 00:53 - 002031104 _____ C:\WINDOWS\system32\rdpnano.dll
2019-10-30 00:53 - 2019-10-30 00:53 - 002000168 _____ (Microsoft Corporation) C:\WINDOWS\system32\ntdll.dll
2019-10-30 00:53 - 2019-10-30 00:53 - 001957008 _____ (Microsoft Corporation) C:\WINDOWS\SysWOW64\d3d11.dll
2019-10-30 00:53 - 2019-10-30 00:53 - 001952360 _____ (Microsoft Corporation) C:\WINDOWS\SysWOW64\msxml6.dll
2019-10-30 00:53 - 2019-10-30 00:53 - 001940952 _____ (Microsoft Corporation) C:\WINDOWS\system32\dcomp.dll
2019-10-30 00:53 - 2019-10-30 00:53 - 001918976 _____ (Microsoft Corporation) C:\WINDOWS\system32\wevtsvc.dll
2019-10-30 00:53 - 2019-10-30 00:53 - 001884200 _____ (Microsoft Corporation) C:\WINDOWS\system32\D3D12.dll
2019-10-30 00:53 - 2019-10-30 00:53 - 001856000 _____ (Microsoft Corporation) C:\WINDOWS\system32\ConstraintIndex.Search.dll
2019-10-30 00:53 - 2019-10-30 00:53 - 001847808 _____ (Microsoft Corporation) C:\WINDOWS\SysWOW64\xpsservices.dll
2019-10-30 00:53 - 2019-10-30 00:53 - 001845408 _____ (Microsoft Corporation) C:\WINDOWS\system32\d3d9.dll
2019-10-30 00:53 - 2019-10-30 00:53 - 001841152 _____ C:\WINDOWS\system32\TextInputMethodFormatter.dll
2019-10-30 00:53 - 2019-10-30 00:53 - 001835008 _____ (Microsoft Corporation) C:\WINDOWS\system32\enterprisecsps.dll
2019-10-30 00:53 - 2019-10-30 00:53 - 001830200 _____ (Microsoft Corporation) C:\WINDOWS\system32\rdpserverbase.dll
2019-10-30 00:53 - 2019-10-30 00:53 - 001819136 _____ (Microsoft Corporation) C:\WINDOWS\system32\CoreShell.dll
2019-10-30 00:53 - 2019-10-30 00:53 - 001788728 _____ (Microsoft Corporation) C:\WINDOWS\system32\wsp_health.dll
2019-10-30 00:53 - 2019-10-30 00:53 - 001783296 _____ (Microsoft Corporation) C:\WINDOWS\system32\Windows.UI.Input.Inking.dll
2019-10-30 00:53 - 2019-10-30 00:53 - 001761792 _____ (Microsoft Corporation) C:\WINDOWS\system32\wwansvc.dll
2019-10-30 00:53 - 2019-10-30 00:53 - 001744400 _____ (Microsoft Corporation) C:\WINDOWS\system32\ContentDeliveryManager.Utilities.dll
2019-10-30 00:53 - 2019-10-30 00:53 - 001743672 _____ (Microsoft Corporation) C:\WINDOWS\system32\sppobjs.dll
2019-10-30 00:53 - 2019-10-30 00:53 - 001730560 _____ (Microsoft Corporation) C:\WINDOWS\SysWOW64\InstallService.dll
2019-10-30 00:53 - 2019-10-30 00:53 - 001717776 _____ (Microsoft Corporation) C:\WINDOWS\system32\AppxPackaging.dll
2019-10-30 00:53 - 2019-10-30 00:53 - 001697792 _____ (Microsoft Corporation) C:\WINDOWS\system32\msxml3.dll
2019-10-30 00:53 - 2019-10-30 00:53 - 001697280 _____ (Microsoft Corporation) C:\WINDOWS\system32\GdiPlus.dll
2019-10-30 00:53 - 2019-10-30 00:53 - 001687040 _____ (Microsoft Corporation) C:\WINDOWS\system32\XpsPrint.dll
2019-10-30 00:53 - 2019-10-30 00:53 - 001664376 _____ (Microsoft Corporation) C:\WINDOWS\SysWOW64\ntdll.dll
2019-10-30 00:53 - 2019-10-30 00:53 - 001657856 _____ (Microsoft Corporation) C:\WINDOWS\system32\lsasrv.dll
2019-10-30 00:53 - 2019-10-30 00:53 - 001651848 _____ (Microsoft Corporation) C:\WINDOWS\SysWOW64\Windows.ApplicationModel.Store.dll
2019-10-30 00:53 - 2019-10-30 00:53 - 001647072 _____ (Microsoft Corporation) C:\WINDOWS\system32\gdi32full.dll
2019-10-30 00:53 - 2019-10-30 00:53 - 001635328 _____ (Microsoft Corporation) C:\WINDOWS\system32\TaskFlowDataEngine.dll
2019-10-30 00:53 - 2019-10-30 00:53 - 001616784 _____ (Microsoft Corporation) C:\WINDOWS\SysWOW64\d3d9.dll
2019-10-30 00:53 - 2019-10-30 00:53 - 001616608 _____ (Microsoft Corporation) C:\WINDOWS\system32\ttdrecordcpu.dll
2019-10-30 00:53 - 2019-10-30 00:53 - 001607680 _____ (Microsoft Corporation) C:\WINDOWS\system32\wpncore.dll
2019-10-30 00:53 - 2019-10-30 00:53 - 001601536 _____ (Microsoft Corporation) C:\WINDOWS\system32\dosvc.dll
2019-10-30 00:53 - 2019-10-30 00:53 - 001581056 _____ (Microsoft Corporation) C:\WINDOWS\system32\qmgr.dll
2019-10-30 00:53 - 2019-10-30 00:53 - 001563648 _____ (Microsoft Corporation) C:\WINDOWS\SysWOW64\ExplorerFrame.dll
2019-10-30 00:53 - 2019-10-30 00:53 - 001562424 _____ (Microsoft Corporation) C:\WINDOWS\SysWOW64\rdpserverbase.dll
2019-10-30 00:53 - 2019-10-30 00:53 - 001543168 _____ (Microsoft Corporation) C:\WINDOWS\system32\WindowManagement.dll
2019-10-30 00:53 - 2019-10-30 00:53 - 001539584 _____ (Microsoft Corporation) C:\WINDOWS\system32\rdpcorets.dll
2019-10-30 00:53 - 2019-10-30 00:53 - 001535288 _____ (Microsoft Corporation) C:\WINDOWS\SysWOW64\AppxPackaging.dll
2019-10-30 00:53 - 2019-10-30 00:53 - 001531656 _____ (Microsoft Corporation) C:\WINDOWS\SysWOW64\D3D12.dll
2019-10-30 00:53 - 2019-10-30 00:53 - 001512320 _____ (Microsoft Corporation) C:\WINDOWS\system32\winload.exe
2019-10-30 00:53 - 2019-10-30 00:53 - 001510752 _____ (Microsoft Corporation) C:\WINDOWS\system32\msvproc.dll
2019-10-30 00:53 - 2019-10-30 00:53 - 001505808 _____ (Microsoft Corporation) C:\WINDOWS\system32\rdpbase.dll
2019-10-30 00:53 - 2019-10-30 00:53 - 001505320 _____ (Microsoft Corporation) C:\WINDOWS\SysWOW64\wsp_fs.dll
2019-10-30 00:53 - 2019-10-30 00:53 - 001497088 _____ (Microsoft Corporation) C:\WINDOWS\system32\TokenBroker.dll
2019-10-30 00:53 - 2019-10-30 00:53 - 001488384 _____ (Microsoft Corporation) C:\WINDOWS\SysWOW64\Windows.Devices.Bluetooth.dll
2019-10-30 00:53 - 2019-10-30 00:53 - 001488216 _____ (Microsoft Corporation) C:\WINDOWS\system32\mfsvr.dll
2019-10-30 00:53 - 2019-10-30 00:53 - 001482040 _____ (Microsoft Corporation) C:\WINDOWS\system32\Drivers\ndis.sys
2019-10-30 00:53 - 2019-10-30 00:53 - 001480704 _____ (Microsoft Corporation) C:\WINDOWS\system32\rdpsharercom.dll
2019-10-30 00:53 - 2019-10-30 00:53 - 001473488 _____ (Microsoft Corporation) C:\WINDOWS\SysWOW64\dcomp.dll
2019-10-30 00:53 - 2019-10-30 00:53 - 001458176 _____ (Microsoft Corporation) C:\WINDOWS\SysWOW64\GdiPlus.dll
2019-10-30 00:53 - 2019-10-30 00:53 - 001423872 _____ (Microsoft Corporation) C:\WINDOWS\system32\Windows.Networking.Vpn.dll
2019-10-30 00:53 - 2019-10-30 00:53 - 001413624 _____ (Microsoft Corporation) C:\WINDOWS\SysWOW64\gdi32full.dll
2019-10-30 00:53 - 2019-10-30 00:53 - 001412096 _____ (Microsoft Corporation) C:\WINDOWS\system32\SystemSettings.Handlers.dll
2019-10-30 00:53 - 2019-10-30 00:53 - 001383856 _____ (Microsoft Corporation) C:\WINDOWS\system32\Windows.UI.dll
2019-10-30 00:53 - 2019-10-30 00:53 - 001375232 _____ (Microsoft Corporation) C:\WINDOWS\system32\APMon.dll
2019-10-30 00:53 - 2019-10-30 00:53 - 001372160 _____ (Microsoft Corporation) C:\WINDOWS\system32\NotificationController.dll
2019-10-30 00:53 - 2019-10-30 00:53 - 001368576 _____ (Microsoft Corporation) C:\WINDOWS\SysWOW64\Windows.UI.Input.Inking.dll
2019-10-30 00:53 - 2019-10-30 00:53 - 001366128 _____ (Microsoft Corporation) C:\WINDOWS\system32\winresume.efi
2019-10-30 00:53 - 2019-10-30 00:53 - 001337872 _____ (Microsoft Corporation) C:\WINDOWS\system32\wpx.dll
2019-10-30 00:53 - 2019-10-30 00:53 - 001334064 _____ (Microsoft Corporation) C:\WINDOWS\SysWOW64\ttdrecordcpu.dll
2019-10-30 00:53 - 2019-10-30 00:53 - 001332736 _____ (Microsoft Corporation) C:\WINDOWS\system32\MiracastReceiver.dll
2019-10-30 00:53 - 2019-10-30 00:53 - 001321472 _____ (Microsoft Corporation) C:\WINDOWS\SysWOW64\msxml3.dll
2019-10-30 00:53 - 2019-10-30 00:53 - 001319936 _____ (Microsoft Corporation) C:\WINDOWS\system32\webplatstorageserver.dll
2019-10-30 00:53 - 2019-10-30 00:53 - 001313792 _____ (Microsoft Corporation) C:\WINDOWS\system32\wpnapps.dll
2019-10-30 00:53 - 2019-10-30 00:53 - 001312256 _____ (Microsoft Corporation) C:\WINDOWS\SysWOW64\msjet40.dll
2019-10-30 00:53 - 2019-10-30 00:53 - 001305608 _____ (Microsoft Corporation) C:\WINDOWS\SysWOW64\ContentDeliveryManager.Utilities.dll
2019-10-30 00:53 - 2019-10-30 00:53 - 001301504 _____ (Microsoft Corporation) C:\WINDOWS\system32\Windows.Media.Audio.dll
2019-10-30 00:53 - 2019-10-30 00:53 - 001301008 _____ (Microsoft Corporation) C:\WINDOWS\system32\Drivers\http.sys
2019-10-30 00:53 - 2019-10-30 00:53 - 001297936 _____ (Microsoft Corporation) C:\WINDOWS\SysWOW64\wsp_health.dll
2019-10-30 00:53 - 2019-10-30 00:53 - 001283600 _____ (Microsoft Corporation) C:\WINDOWS\system32\SecConfig.efi
2019-10-30 00:53 - 2019-10-30 00:53 - 001283072 _____ (Microsoft Corporation) C:\WINDOWS\system32\werconcpl.dll
2019-10-30 00:53 - 2019-10-30 00:53 - 001273344 _____ (Microsoft Corporation) C:\WINDOWS\system32\rdpcore.dll
2019-10-30 00:53 - 2019-10-30 00:53 - 001263616 _____ (Microsoft Corporation) C:\WINDOWS\system32\opengl32.dll
2019-10-30 00:53 - 2019-10-30 00:53 - 001261800 _____ (Microsoft Corporation) C:\WINDOWS\system32\msctf.dll
2019-10-30 00:53 - 2019-10-30 00:53 - 001260032 _____ (Microsoft Corporation) C:\WINDOWS\SysWOW64\rdpsharercom.dll
2019-10-30 00:53 - 2019-10-30 00:53 - 001244672 _____ (Microsoft Corporation) C:\WINDOWS\SysWOW64\TokenBroker.dll
2019-10-30 00:53 - 2019-10-30 00:53 - 001217904 _____ (Microsoft Corporation) C:\WINDOWS\system32\ClipUp.exe
2019-10-30 00:53 - 2019-10-30 00:53 - 001214976 _____ (Microsoft Corporation) C:\WINDOWS\system32\sdclt.exe
2019-10-30 00:53 - 2019-10-30 00:53 - 001214976 _____ (Microsoft Corporation) C:\WINDOWS\system32\reseteng.dll
2019-10-30 00:53 - 2019-10-30 00:53 - 001213240 _____ (Microsoft Corporation) C:\WINDOWS\SysWOW64\rdpbase.dll
2019-10-30 00:53 - 2019-10-30 00:53 - 001182240 _____ (Microsoft Corporation) C:\WINDOWS\system32\winresume.exe
2019-10-30 00:53 - 2019-10-30 00:53 - 001180160 _____ (Microsoft Corporation) C:\WINDOWS\system32\Windows.Security.Authentication.Web.Core.dll
2019-10-30 00:53 - 2019-10-30 00:53 - 001178816 _____ (Microsoft Corporation) C:\WINDOWS\SysWOW64\ucrtbase.dll
2019-10-30 00:53 - 2019-10-30 00:53 - 001158656 _____ (Microsoft Corporation) C:\WINDOWS\system32\Unistore.dll
2019-10-30 00:53 - 2019-10-30 00:53 - 001152016 _____ (Microsoft Corporation) C:\WINDOWS\system32\mfmpeg2srcsnk.dll
2019-10-30 00:53 - 2019-10-30 00:53 - 001150240 _____ (Microsoft Corporation) C:\WINDOWS\system32\InputHost.dll
2019-10-30 00:53 - 2019-10-30 00:53 - 001138688 _____ (Microsoft Corporation) C:\WINDOWS\system32\nettrace.dll
2019-10-30 00:53 - 2019-10-30 00:53 - 001122816 _____ (Microsoft Corporation) C:\WINDOWS\system32\CBDHSvc.dll
2019-10-30 00:53 - 2019-10-30 00:53 - 001101312 _____ C:\WINDOWS\SysWOW64\TextInputMethodFormatter.dll
2019-10-30 00:53 - 2019-10-30 00:53 - 001098240 _____ (Microsoft Corporation) C:\WINDOWS\system32\Windows.Internal.Signals.dll
2019-10-30 00:53 - 2019-10-30 00:53 - 001091584 _____ (Microsoft Corporation) C:\WINDOWS\system32\TpmCoreProvisioning.dll
2019-10-30 00:53 - 2019-10-30 00:53 - 001084728 _____ (Microsoft Corporation) C:\WINDOWS\system32\Windows.Services.TargetedContent.dll
2019-10-30 00:53 - 2019-10-30 00:53 - 001084432 _____ (Microsoft Corporation) C:\WINDOWS\system32\ReAgent.dll
2019-10-30 00:53 - 2019-10-30 00:53 - 001080832 _____ (Microsoft Corporation) C:\WINDOWS\SysWOW64\rdpcore.dll
2019-10-30 00:53 - 2019-10-30 00:53 - 001080320 _____ (Microsoft Corporation) C:\WINDOWS\system32\clusapi.dll
2019-10-30 00:53 - 2019-10-30 00:53 - 001079296 _____ (Microsoft Corporation) C:\WINDOWS\SysWOW64\Windows.Networking.Vpn.dll
2019-10-30 00:53 - 2019-10-30 00:53 - 001067008 _____ (Microsoft Corporation) C:\WINDOWS\system32\SettingSyncCore.dll
2019-10-30 00:53 - 2019-10-30 00:53 - 001060352 _____ (Microsoft Corporation) C:\WINDOWS\system32\termsrv.dll
2019-10-30 00:53 - 2019-10-30 00:53 - 001054872 _____ (Microsoft Corporation) C:\WINDOWS\SysWOW64\msctf.dll
2019-10-30 00:53 - 2019-10-30 00:53 - 001047968 _____ (Microsoft Corporation) C:\WINDOWS\SysWOW64\Windows.UI.dll
2019-10-30 00:53 - 2019-10-30 00:53 - 001042944 _____ (Microsoft Corporation) C:\WINDOWS\system32\IKEEXT.DLL
2019-10-30 00:53 - 2019-10-30 00:53 - 001036800 _____ (Microsoft Corporation) C:\WINDOWS\system32\wcmsvc.dll
2019-10-30 00:53 - 2019-10-30 00:53 - 001029432 _____ (Microsoft Corporation) C:\WINDOWS\system32\Drivers\ClipSp.sys
2019-10-30 00:53 - 2019-10-30 00:53 - 001023128 _____ (Microsoft Corporation) C:\WINDOWS\system32\ucrtbase.dll
2019-10-30 00:53 - 2019-10-30 00:53 - 001009152 _____ (Microsoft Corporation) C:\WINDOWS\system32\kerberos.dll
2019-10-30 00:53 - 2019-10-30 00:53 - 001007616 _____ (Microsoft Corporation) C:\WINDOWS\system32\StorSvc.dll
2019-10-30 00:53 - 2019-10-30 00:53 - 001007120 _____ (Microsoft Corporation) C:\WINDOWS\system32\CloudExperienceHostCommon.dll
2019-10-30 00:53 - 2019-10-30 00:53 - 001006592 _____ (Microsoft Corporation) C:\WINDOWS\SysWOW64\wpnapps.dll
2019-10-30 00:53 - 2019-10-30 00:53 - 001000960 _____ (Microsoft Corporation) C:\WINDOWS\system32\Windows.Mirage.Internal.dll
2019-10-30 00:53 - 2019-10-30 00:53 - 000996352 _____ (Microsoft Corporation) C:\WINDOWS\system32\sysmain.dll
2019-10-30 00:53 - 2019-10-30 00:53 - 000986112 _____ (Microsoft Corporation) C:\WINDOWS\system32\Spectrum.exe
2019-10-30 00:53 - 2019-10-30 00:53 - 000977688 _____ (Microsoft Corporation) C:\WINDOWS\system32\propsys.dll
2019-10-30 00:53 - 2019-10-30 00:53 - 000977408 _____ (Microsoft Corporation) C:\WINDOWS\system32\fontext.dll
2019-10-30 00:53 - 2019-10-30 00:53 - 000960512 _____ (Microsoft Corporation) C:\WINDOWS\system32\assignedaccessmanagersvc.dll
2019-10-30 00:53 - 2019-10-30 00:53 - 000957952 _____ (Microsoft Corporation) C:\WINDOWS\SysWOW64\Unistore.dll
2019-10-30 00:53 - 2019-10-30 00:53 - 000957952 _____ (Microsoft Corporation) C:\WINDOWS\system32\ngcsvc.dll
2019-10-30 00:53 - 2019-10-30 00:53 - 000950784 _____ (Microsoft Corporation) C:\WINDOWS\system32\rasapi32.dll
2019-10-30 00:53 - 2019-10-30 00:53 - 000947712 _____ (Microsoft Corporation) C:\WINDOWS\system32\mspaint.exe
2019-10-30 00:53 - 2019-10-30 00:53 - 000944664 _____ (Microsoft Corporation) C:\WINDOWS\system32\dxgi.dll
2019-10-30 00:53 - 2019-10-30 00:53 - 000931840 _____ (Microsoft Corporation) C:\WINDOWS\system32\Drivers\WdiWiFi.sys
2019-10-30 00:53 - 2019-10-30 00:53 - 000928776 _____ (Microsoft Corporation) C:\WINDOWS\system32\SettingSyncHost.exe
2019-10-30 00:53 - 2019-10-30 00:53 - 000923136 _____ (Microsoft Corporation) C:\WINDOWS\system32\Windows.Internal.Management.dll
2019-10-30 00:53 - 2019-10-30 00:53 - 000923136 _____ (Microsoft Corporation) C:\WINDOWS\system32\samsrv.dll
2019-10-30 00:53 - 2019-10-30 00:53 - 000923136 _____ (Microsoft Corporation) C:\WINDOWS\system32\EdgeManager.dll
2019-10-30 00:53 - 2019-10-30 00:53 - 000916480 _____ (Microsoft Corporation) C:\WINDOWS\system32\Windows.UI.Core.TextInput.dll
2019-10-30 00:53 - 2019-10-30 00:53 - 000913408 _____ (Microsoft Corporation) C:\WINDOWS\system32\rasmans.dll
2019-10-30 00:53 - 2019-10-30 00:53 - 000913168 _____ (Microsoft Corporation) C:\WINDOWS\system32\SecurityHealthService.exe
2019-10-30 00:53 - 2019-10-30 00:53 - 000910848 _____ (Microsoft Corporation) C:\WINDOWS\SysWOW64\MiracastReceiver.dll
2019-10-30 00:53 - 2019-10-30 00:53 - 000910336 _____ (Microsoft Corporation) C:\WINDOWS\SysWOW64\fontext.dll
2019-10-30 00:53 - 2019-10-30 00:53 - 000904704 _____ (Microsoft Corporation) C:\WINDOWS\SysWOW64\opengl32.dll
2019-10-30 00:53 - 2019-10-30 00:53 - 000904208 _____ (Microsoft Corporation) C:\WINDOWS\SysWOW64\ReAgent.dll
2019-10-30 00:53 - 2019-10-30 00:53 - 000893952 _____ (Microsoft Corporation) C:\WINDOWS\system32\RecoveryDrive.exe
2019-10-30 00:53 - 2019-10-30 00:53 - 000893440 _____ (Microsoft Corporation) C:\WINDOWS\system32\FlightSettings.dll
2019-10-30 00:53 - 2019-10-30 00:53 - 000890472 _____ (Microsoft Corporation) C:\WINDOWS\system32\ci.dll
2019-10-30 00:53 - 2019-10-30 00:53 - 000882688 _____ (Microsoft Corporation) C:\WINDOWS\system32\CPFilters.dll
2019-10-30 00:53 - 2019-10-30 00:53 - 000880088 _____ (Microsoft Corporation) C:\WINDOWS\system32\wer.dll
2019-10-30 00:53 - 2019-10-30 00:53 - 000878080 _____ (Microsoft Corporation) C:\WINDOWS\system32\BFE.DLL
2019-10-30 00:53 - 2019-10-30 00:53 - 000875008 _____ (Microsoft Corporation) C:\WINDOWS\SysWOW64\rasapi32.dll
2019-10-30 00:53 - 2019-10-30 00:53 - 000875008 _____ (Microsoft Corporation) C:\WINDOWS\system32\mprddm.dll
2019-10-30 00:53 - 2019-10-30 00:53 - 000864768 _____ (Microsoft Corporation) C:\WINDOWS\SysWOW64\Windows.Security.Authentication.Web.Core.dll
2019-10-30 00:53 - 2019-10-30 00:53 - 000864256 _____ (Microsoft Corporation) C:\WINDOWS\system32\netlogon.dll
2019-10-30 00:53 - 2019-10-30 00:53 - 000858112 _____ (Microsoft Corporation) C:\WINDOWS\system32\schedsvc.dll
2019-10-30 00:53 - 2019-10-30 00:53 - 000856576 _____ C:\WINDOWS\system32\MBR2GPT.EXE
2019-10-30 00:53 - 2019-10-30 00:53 - 000843776 _____ (Microsoft Corporation) C:\WINDOWS\SysWOW64\webplatstorageserver.dll
2019-10-30 00:53 - 2019-10-30 00:53 - 000842752 _____ (Microsoft Corporation) C:\WINDOWS\system32\jscript.dll
2019-10-30 00:53 - 2019-10-30 00:53 - 000842552 _____ (Microsoft Corporation) C:\WINDOWS\SysWOW64\CloudExperienceHostCommon.dll
2019-10-30 00:53 - 2019-10-30 00:53 - 000841216 _____ (Microsoft Corporation) C:\WINDOWS\system32\wuapi.dll
2019-10-30 00:53 - 2019-10-30 00:53 - 000840704 _____ (Microsoft Corporation) C:\WINDOWS\system32\ieproxy.dll
2019-10-30 00:53 - 2019-10-30 00:53 - 000839680 _____ (Microsoft Corporation) C:\WINDOWS\system32\d3d9on12.dll
2019-10-30 00:53 - 2019-10-30 00:53 - 000836608 _____ (Microsoft Corporation) C:\WINDOWS\SysWOW64\TpmCoreProvisioning.dll
2019-10-30 00:53 - 2019-10-30 00:53 - 000835584 _____ (Microsoft Corporation) C:\WINDOWS\system32\WorkfoldersControl.dll
2019-10-30 00:53 - 2019-10-30 00:53 - 000833312 _____ (Microsoft Corporation) C:\WINDOWS\system32\pkeyhelper.dll
2019-10-30 00:53 - 2019-10-30 00:53 - 000830976 _____ (Microsoft Corporation) C:\WINDOWS\system32\iphlpsvc.dll
2019-10-30 00:53 - 2019-10-30 00:53 - 000829536 _____ (Microsoft Corporation) C:\WINDOWS\system32\BioIso.exe
2019-10-30 00:53 - 2019-10-30 00:53 - 000828216 _____ (Microsoft Corporation) C:\WINDOWS\system32\AppVClient.exe
2019-10-30 00:53 - 2019-10-30 00:53 - 000822416 _____ (Microsoft Corporation) C:\WINDOWS\system32\fontdrvhost.exe
2019-10-30 00:53 - 2019-10-30 00:53 - 000818688 _____ (Microsoft Corporation) C:\WINDOWS\system32\LogonController.dll
2019-10-30 00:53 - 2019-10-30 00:53 - 000818656 _____ (Microsoft Corporation) C:\WINDOWS\system32\dnsapi.dll
2019-10-30 00:53 - 2019-10-30 00:53 - 000817152 _____ (Microsoft Corporation) C:\WINDOWS\system32\Drivers\PEAuth.sys
2019-10-30 00:53 - 2019-10-30 00:53 - 000814080 _____ (Microsoft Corporation) C:\WINDOWS\system32\comdlg32.dll
2019-10-30 00:53 - 2019-10-30 00:53 - 000813568 _____ (Microsoft Corporation) C:\WINDOWS\SysWOW64\SettingSyncCore.dll
2019-10-30 00:53 - 2019-10-30 00:53 - 000811160 _____ C:\WINDOWS\SysWOW64\locale.nls
2019-10-30 00:53 - 2019-10-30 00:53 - 000811160 _____ C:\WINDOWS\system32\locale.nls
2019-10-30 00:53 - 2019-10-30 00:53 - 000810496 _____ (Microsoft Corporation) C:\WINDOWS\system32\NgcCtnrSvc.dll
2019-10-30 00:53 - 2019-10-30 00:53 - 000808960 _____ (Microsoft Corporation) C:\WINDOWS\system32\Windows.Gaming.Input.dll
2019-10-30 00:53 - 2019-10-30 00:53 - 000805888 _____ (Microsoft Corporation) C:\WINDOWS\system32\cscui.dll
2019-10-30 00:53 - 2019-10-30 00:53 - 000804880 _____ (Microsoft Corporation) C:\WINDOWS\system32\Drivers\vhdmp.sys
2019-10-30 00:53 - 2019-10-30 00:53 - 000804664 _____ (Microsoft Corporation) C:\WINDOWS\system32\Drivers\acpi.sys
2019-10-30 00:53 - 2019-10-30 00:53 - 000802816 _____ (Microsoft Corporation) C:\WINDOWS\SysWOW64\clusapi.dll
2019-10-30 00:53 - 2019-10-30 00:53 - 000800048 _____ (Microsoft Corporation) C:\WINDOWS\SysWOW64\propsys.dll
2019-10-30 00:53 - 2019-10-30 00:53 - 000797112 _____ (Microsoft Corporation) C:\WINDOWS\system32\oleaut32.dll
2019-10-30 00:53 - 2019-10-30 00:53 - 000792296 _____ (Microsoft Corporation) C:\WINDOWS\SysWOW64\InputHost.dll
2019-10-30 00:53 - 2019-10-30 00:53 - 000784384 _____ (Microsoft Corporation) C:\WINDOWS\SysWOW64\kerberos.dll
2019-10-30 00:53 - 2019-10-30 00:53 - 000783480 _____ (Microsoft Corporation) C:\WINDOWS\system32\tcblaunch.exe
2019-10-30 00:53 - 2019-10-30 00:53 - 000777528 _____ (Microsoft Corporation) C:\WINDOWS\SysWOW64\Windows.Services.TargetedContent.dll
2019-10-30 00:53 - 2019-10-30 00:53 - 000776704 _____ (Microsoft Corporation) C:\WINDOWS\system32\tdh.dll
2019-10-30 00:53 - 2019-10-30 00:53 - 000775768 _____ (Microsoft Corporation) C:\WINDOWS\SysWOW64\dxgi.dll
2019-10-30 00:53 - 2019-10-30 00:53 - 000775680 _____ (Microsoft Corporation) C:\WINDOWS\system32\nshwfp.dll
2019-10-30 00:53 - 2019-10-30 00:53 - 000771584 _____ (Microsoft Corporation) C:\WINDOWS\system32\Drivers\srv2.sys
2019-10-30 00:53 - 2019-10-30 00:53 - 000769336 _____ (Microsoft Corporation) C:\WINDOWS\SysWOW64\SettingSyncHost.exe
2019-10-30 00:53 - 2019-10-30 00:53 - 000769024 _____ (Microsoft Corporation) C:\WINDOWS\system32\NgcIsoCtnr.dll
2019-10-30 00:53 - 2019-10-30 00:53 - 000765440 _____ (Microsoft Corporation) C:\WINDOWS\system32\spoolsv.exe
2019-10-30 00:53 - 2019-10-30 00:53 - 000759488 _____ (Microsoft Corporation) C:\WINDOWS\system32\taskschd.dll
2019-10-30 00:53 - 2019-10-30 00:53 - 000758584 _____ (Microsoft Corporation) C:\WINDOWS\system32\wimgapi.dll
2019-10-30 00:53 - 2019-10-30 00:53 - 000752792 _____ (Microsoft Corporation) C:\WINDOWS\system32\Drivers\cng.sys
2019-10-30 00:53 - 2019-10-30 00:53 - 000750080 _____ (Microsoft Corporation) C:\WINDOWS\system32\Windows.Storage.Search.dll
2019-10-30 00:53 - 2019-10-30 00:53 - 000749568 _____ (Microsoft Corporation) C:\WINDOWS\SysWOW64\mprddm.dll
2019-10-30 00:53 - 2019-10-30 00:53 - 000743424 _____ (Microsoft Corporation) C:\WINDOWS\system32\FrameServer.dll
2019-10-30 00:53 - 2019-10-30 00:53 - 000739328 _____ (Microsoft Corporation) C:\WINDOWS\SysWOW64\mspaint.exe
2019-10-30 00:53 - 2019-10-30 00:53 - 000732176 _____ (Microsoft Corporation) C:\WINDOWS\system32\SettingsHandlers_StorageSense.dll
2019-10-30 00:53 - 2019-10-30 00:53 - 000731648 _____ (Microsoft Corporation) C:\WINDOWS\system32\windows.immersiveshell.serviceprovider.dll
2019-10-30 00:53 - 2019-10-30 00:53 - 000729088 _____ (Microsoft Corporation) C:\WINDOWS\SysWOW64\FlightSettings.dll
2019-10-30 00:53 - 2019-10-30 00:53 - 000728576 _____ (Microsoft Corporation) C:\WINDOWS\system32\PsmServiceExtHost.dll
2019-10-30 00:53 - 2019-10-30 00:53 - 000722288 _____ (Microsoft Corporation) C:\WINDOWS\system32\kernel32.dll
2019-10-30 00:53 - 2019-10-30 00:53 - 000717312 _____ (Microsoft Corporation) C:\WINDOWS\system32\mousocoreworker.exe
2019-10-30 00:53 - 2019-10-30 00:53 - 000706760 _____ (Microsoft Corporation) C:\WINDOWS\system32\mscms.dll
2019-10-30 00:53 - 2019-10-30 00:53 - 000705536 _____ (Microsoft Corporation) C:\WINDOWS\system32\jscript9diag.dll
2019-10-30 00:53 - 2019-10-30 00:53 - 000702464 _____ (Microsoft Corporation) C:\WINDOWS\system32\Drivers\nwifi.sys
2019-10-30 00:53 - 2019-10-30 00:53 - 000701952 _____ (Microsoft Corporation) C:\WINDOWS\system32\Windows.UI.FileExplorer.dll
2019-10-30 00:53 - 2019-10-30 00:53 - 000699904 _____ (Microsoft Corporation) C:\WINDOWS\SysWOW64\d3d8.dll
2019-10-30 00:53 - 2019-10-30 00:53 - 000691712 _____ (Microsoft Corporation) C:\WINDOWS\SysWOW64\comdlg32.dll
2019-10-30 00:53 - 2019-10-30 00:53 - 000691712 _____ (Microsoft Corporation) C:\WINDOWS\system32\LockController.dll
2019-10-30 00:53 - 2019-10-30 00:53 - 000690176 _____ (Microsoft Corporation) C:\WINDOWS\SysWOW64\jscript.dll
2019-10-30 00:53 - 2019-10-30 00:53 - 000689152 _____ (Microsoft Corporation) C:\WINDOWS\SysWOW64\CPFilters.dll
2019-10-30 00:53 - 2019-10-30 00:53 - 000686080 _____ (Microsoft Corporation) C:\WINDOWS\system32\WSDApi.dll
2019-10-30 00:53 - 2019-10-30 00:53 - 000683008 _____ (Microsoft Corporation) C:\WINDOWS\system32\ApplicationFrame.dll
2019-10-30 00:53 - 2019-10-30 00:53 - 000680448 _____ (Microsoft Corporation) C:\WINDOWS\system32\vpnike.dll
2019-10-30 00:53 - 2019-10-30 00:53 - 000680448 _____ (Microsoft Corporation) C:\WINDOWS\system32\ngccredprov.dll
2019-10-30 00:53 - 2019-10-30 00:53 - 000679880 _____ (Microsoft Corporation) C:\WINDOWS\SysWOW64\wer.dll
2019-10-30 00:53 - 2019-10-30 00:53 - 000678400 _____ (Microsoft Corporation) C:\WINDOWS\SysWOW64\Windows.UI.Core.TextInput.dll
2019-10-30 00:53 - 2019-10-30 00:53 - 000676632 _____ (Microsoft Corporation) C:\WINDOWS\system32\StructuredQuery.dll
2019-10-30 00:53 - 2019-10-30 00:53 - 000674072 _____ (Microsoft Corporation) C:\WINDOWS\system32\services.exe
2019-10-30 00:53 - 2019-10-30 00:53 - 000673456 _____ (Microsoft Corporation) C:\WINDOWS\SysWOW64\fontdrvhost.exe
2019-10-30 00:53 - 2019-10-30 00:53 - 000673080 _____ (Microsoft Corporation) C:\WINDOWS\system32\comctl32.dll
2019-10-30 00:53 - 2019-10-30 00:53 - 000670208 _____ (Microsoft Corporation) C:\WINDOWS\system32\daxexec.dll
2019-10-30 00:53 - 2019-10-30 00:53 - 000669496 _____ (Microsoft Corporation) C:\WINDOWS\system32\computecore.dll
2019-10-30 00:53 - 2019-10-30 00:53 - 000667136 _____ (Microsoft Corporation) C:\WINDOWS\SysWOW64\EdgeManager.dll
2019-10-30 00:53 - 2019-10-30 00:53 - 000664576 _____ (Microsoft Corporation) C:\WINDOWS\system32\rdbui.dll
2019-10-30 00:53 - 2019-10-30 00:53 - 000663552 _____ (Microsoft Corporation) C:\WINDOWS\SysWOW64\netlogon.dll
2019-10-30 00:53 - 2019-10-30 00:53 - 000659456 _____ (Microsoft Corporation) C:\WINDOWS\system32\AssignedAccessManager.dll
2019-10-30 00:53 - 2019-10-30 00:53 - 000656960 _____ (Microsoft Corporation) C:\WINDOWS\system32\d3d11on12.dll
2019-10-30 00:53 - 2019-10-30 00:53 - 000654912 _____ (Microsoft Corporation) C:\WINDOWS\system32\advapi32.dll
2019-10-30 00:53 - 2019-10-30 00:53 - 000652800 _____ (Microsoft Corporation) C:\WINDOWS\SysWOW64\wuapi.dll
2019-10-30 00:53 - 2019-10-30 00:53 - 000649016 _____ (Microsoft Corporation) C:\WINDOWS\system32\AppVPublishing.dll
2019-10-30 00:53 - 2019-10-30 00:53 - 000647168 _____ (Microsoft Corporation) C:\WINDOWS\SysWOW64\Windows.Internal.Management.dll
2019-10-30 00:53 - 2019-10-30 00:53 - 000642208 _____ (Microsoft Corporation) C:\WINDOWS\system32\TextInputFramework.dll
2019-10-30 00:53 - 2019-10-30 00:53 - 000640512 _____ (Microsoft Corporation) C:\WINDOWS\system32\vds.exe
2019-10-30 00:53 - 2019-10-30 00:53 - 000639400 _____ (Microsoft Corporation) C:\WINDOWS\system32\msvcp_win.dll
2019-10-30 00:53 - 2019-10-30 00:53 - 000636416 _____ (Microsoft Corporation) C:\WINDOWS\system32\twinapi.dll
2019-10-30 00:53 - 2019-10-30 00:53 - 000634880 _____ (Microsoft Corporation) C:\WINDOWS\system32\actxprxy.dll
2019-10-30 00:53 - 2019-10-30 00:53 - 000631808 _____ (Microsoft Corporation) C:\WINDOWS\SysWOW64\tdh.dll
2019-10-30 00:53 - 2019-10-30 00:53 - 000629248 _____ (Microsoft Corporation) C:\WINDOWS\SysWOW64\Windows.Storage.Search.dll
2019-10-30 00:53 - 2019-10-30 00:53 - 000628400 _____ (Microsoft Corporation) C:\WINDOWS\SysWOW64\kernel32.dll
2019-10-30 00:53 - 2019-10-30 00:53 - 000623104 _____ (Microsoft Corporation) C:\WINDOWS\system32\resutils.dll
2019-10-30 00:53 - 2019-10-30 00:53 - 000623104 _____ (Microsoft Corporation) C:\WINDOWS\system32\facecredentialprovider.dll
2019-10-30 00:53 - 2019-10-30 00:53 - 000617784 _____ (Microsoft Corporation) C:\WINDOWS\system32\hal.dll
2019-10-30 00:53 - 2019-10-30 00:53 - 000612864 _____ (Microsoft Corporation) C:\WINDOWS\system32\dmenrollengine.dll
2019-10-30 00:53 - 2019-10-30 00:53 - 000610816 _____ (Microsoft Corporation) C:\WINDOWS\system32\netprofmsvc.dll
2019-10-30 00:53 - 2019-10-30 00:53 - 000609280 _____ (Microsoft Corporation) C:\WINDOWS\SysWOW64\nshwfp.dll
2019-10-30 00:53 - 2019-10-30 00:53 - 000606112 _____ (Microsoft Corporation) C:\WINDOWS\system32\sechost.dll
2019-10-30 00:53 - 2019-10-30 00:53 - 000602224 _____ (Microsoft Corporation) C:\WINDOWS\SysWOW64\mscms.dll
2019-10-30 00:53 - 2019-10-30 00:53 - 000601088 _____ (Microsoft Corporation) C:\WINDOWS\system32\NgcCtnr.dll
2019-10-30 00:53 - 2019-10-30 00:53 - 000599552 _____ (Microsoft Corporation) C:\WINDOWS\system32\SmsRouterSvc.dll
2019-10-30 00:53 - 2019-10-30 00:53 - 000598024 _____ (Microsoft Corporation) C:\WINDOWS\SysWOW64\wimgapi.dll
2019-10-30 00:53 - 2019-10-30 00:53 - 000596008 _____ (Microsoft Corporation) C:\WINDOWS\system32\AppResolver.dll
2019-10-30 00:53 - 2019-10-30 00:53 - 000594944 _____ (Microsoft Corporation) C:\WINDOWS\system32\XAudio2_9.dll
2019-10-30 00:53 - 2019-10-30 00:53 - 000593112 _____ (Microsoft Corporation) C:\WINDOWS\SysWOW64\oleaut32.dll
2019-10-30 00:53 - 2019-10-30 00:53 - 000588256 _____ (Microsoft Corporation) C:\WINDOWS\SysWOW64\dnsapi.dll
2019-10-30 00:53 - 2019-10-30 00:53 - 000587776 _____ (Microsoft Corporation) C:\WINDOWS\system32\SettingsHandlers_PCDisplay.dll
2019-10-30 00:53 - 2019-10-30 00:53 - 000578560 _____ (Microsoft Corporation) C:\WINDOWS\system32\ddraw.dll
2019-10-30 00:53 - 2019-10-30 00:53 - 000576512 _____ (Microsoft Corporation) C:\WINDOWS\system32\Drivers\csc.sys
2019-10-30 00:53 - 2019-10-30 00:53 - 000574976 _____ (Microsoft Corporation) C:\WINDOWS\SysWOW64\XAudio2_9.dll
2019-10-30 00:53 - 2019-10-30 00:53 - 000568336 _____ (Microsoft Corporation) C:\WINDOWS\SysWOW64\comctl32.dll
2019-10-30 00:53 - 2019-10-30 00:53 - 000564736 _____ (Microsoft Corporation) C:\WINDOWS\SysWOW64\Windows.Gaming.Input.dll
2019-10-30 00:53 - 2019-10-30 00:53 - 000562176 _____ (Microsoft Corporation) C:\WINDOWS\SysWOW64\jscript9diag.dll
2019-10-30 00:53 - 2019-10-30 00:53 - 000561680 _____ (Microsoft Corporation) C:\WINDOWS\system32\Drivers\mrxsmb.sys
2019-10-30 00:53 - 2019-10-30 00:53 - 000558592 _____ (Microsoft Corporation) C:\WINDOWS\system32\SettingsHandlers_Notifications.dll
2019-10-30 00:53 - 2019-10-30 00:53 - 000558080 _____ (Microsoft Corporation) C:\WINDOWS\SysWOW64\WSDApi.dll
2019-10-30 00:53 - 2019-10-30 00:53 - 000551952 _____ (Microsoft Corporation) C:\WINDOWS\system32\Drivers\Vid.sys
2019-10-30 00:53 - 2019-10-30 00:53 - 000551424 _____ (Microsoft Corporation) C:\WINDOWS\system32\DeviceEnroller.exe
2019-10-30 00:53 - 2019-10-30 00:53 - 000546816 _____ (Microsoft Corporation) C:\WINDOWS\system32\dxdiagn.dll
2019-10-30 00:53 - 2019-10-30 00:53 - 000544576 _____ (Microsoft Corporation) C:\WINDOWS\system32\Windows.Media.MediaControl.dll
2019-10-30 00:53 - 2019-10-30 00:53 - 000541696 _____ (Microsoft Corporation) C:\WINDOWS\system32\ResourceMapper.dll
2019-10-30 00:53 - 2019-10-30 00:53 - 000541480 _____ (Microsoft Corporation) C:\WINDOWS\system32\policymanager.dll
2019-10-30 00:53 - 2019-10-30 00:53 - 000541264 _____ (Microsoft Corporation) C:\WINDOWS\SysWOW64\StructuredQuery.dll
2019-10-30 00:53 - 2019-10-30 00:53 - 000539648 _____ (Microsoft Corporation) C:\WINDOWS\SysWOW64\d3d9on12.dll
2019-10-30 00:53 - 2019-10-30 00:53 - 000539648 _____ (Microsoft Corporation) C:\WINDOWS\system32\winspool.drv
2019-10-30 00:53 - 2019-10-30 00:53 - 000538624 _____ (Microsoft Corporation) C:\WINDOWS\SysWOW64\ngccredprov.dll
2019-10-30 00:53 - 2019-10-30 00:53 - 000533504 _____ (Microsoft Corporation) C:\WINDOWS\system32\schannel.dll
2019-10-30 00:53 - 2019-10-30 00:53 - 000531976 _____ (Microsoft Corporation) C:\WINDOWS\system32\Drivers\USBXHCI.SYS
2019-10-30 00:53 - 2019-10-30 00:53 - 000531464 _____ (Microsoft Corporation) C:\WINDOWS\SysWOW64\TextInputFramework.dll
2019-10-30 00:53 - 2019-10-30 00:53 - 000530432 _____ (Microsoft Corporation) C:\WINDOWS\system32\sppcext.dll
2019-10-30 00:53 - 2019-10-30 00:53 - 000529408 _____ (Microsoft Corporation) C:\WINDOWS\SysWOW64\ddraw.dll
2019-10-30 00:53 - 2019-10-30 00:53 - 000529408 _____ (Microsoft Corporation) C:\WINDOWS\system32\nltest.exe
2019-10-30 00:53 - 2019-10-30 00:53 - 000524216 _____ (Microsoft Corporation) C:\WINDOWS\system32\bcryptprimitives.dll
2019-10-30 00:53 - 2019-10-30 00:53 - 000518656 _____ (Microsoft Corporation) C:\WINDOWS\system32\ncsi.dll
2019-10-30 00:53 - 2019-10-30 00:53 - 000516408 _____ (Microsoft Corporation) C:\WINDOWS\system32\wimserv.exe
2019-10-30 00:53 - 2019-10-30 00:53 - 000515896 _____ (Microsoft Corporation) C:\WINDOWS\system32\WerFault.exe
2019-10-30 00:53 - 2019-10-30 00:53 - 000511488 _____ (Microsoft Corporation) C:\WINDOWS\SysWOW64\twinapi.dll
2019-10-30 00:53 - 2019-10-30 00:53 - 000510984 _____ (Microsoft Corporation) C:\WINDOWS\system32\systemreset.exe
2019-10-30 00:53 - 2019-10-30 00:53 - 000510464 _____ (Microsoft Corporation) C:\WINDOWS\SysWOW64\dmenrollengine.dll
2019-10-30 00:53 - 2019-10-30 00:53 - 000509440 _____ (Microsoft Corporation) C:\WINDOWS\system32\Windows.Cortana.Desktop.dll
2019-10-30 00:53 - 2019-10-30 00:53 - 000507704 _____ (Microsoft Corporation) C:\WINDOWS\system32\spwizeng.dll
2019-10-30 00:53 - 2019-10-30 00:53 - 000507152 _____ (Microsoft Corporation) C:\WINDOWS\SysWOW64\taskschd.dll
2019-10-30 00:53 - 2019-10-30 00:53 - 000502784 _____ C:\WINDOWS\system32\AssignedAccessCsp.dll
2019-10-30 00:53 - 2019-10-30 00:53 - 000501232 _____ (Microsoft Corporation) C:\WINDOWS\SysWOW64\msvcp_win.dll
2019-10-30 00:53 - 2019-10-30 00:53 - 000500736 _____ (Microsoft Corporation) C:\WINDOWS\system32\inetcpl.cpl
2019-10-30 00:53 - 2019-10-30 00:53 - 000499200 _____ (Microsoft Corporation) C:\WINDOWS\system32\rdpshell.exe
2019-10-30 00:53 - 2019-10-30 00:53 - 000497664 _____ (Microsoft Corporation) C:\WINDOWS\system32\wuuhext.dll
2019-10-30 00:53 - 2019-10-30 00:53 - 000497664 _____ (Microsoft Corporation) C:\WINDOWS\system32\ntshrui.dll
2019-10-30 00:53 - 2019-10-30 00:53 - 000496640 _____ (Microsoft Corporation) C:\WINDOWS\system32\werui.dll
2019-10-30 00:53 - 2019-10-30 00:53 - 000488056 _____ (Microsoft Corporation) C:\WINDOWS\SysWOW64\advapi32.dll
2019-10-30 00:53 - 2019-10-30 00:53 - 000487576 _____ (Microsoft Corporation) C:\WINDOWS\system32\ucrtbase_enclave.dll
2019-10-30 00:53 - 2019-10-30 00:53 - 000483328 _____ (Microsoft Corporation) C:\WINDOWS\system32\SessEnv.dll
2019-10-30 00:53 - 2019-10-30 00:53 - 000481592 _____ (Microsoft Corporation) C:\WINDOWS\system32\bcdedit.exe
2019-10-30 00:53 - 2019-10-30 00:53 - 000478800 _____ (Microsoft Corporation) C:\WINDOWS\SysWOW64\sechost.dll
2019-10-30 00:53 - 2019-10-30 00:53 - 000477696 _____ (Microsoft Corporation) C:\WINDOWS\system32\cryptngc.dll
2019-10-30 00:53 - 2019-10-30 00:53 - 000476672 _____ (Microsoft Corporation) C:\WINDOWS\SysWOW64\resutils.dll
2019-10-30 00:53 - 2019-10-30 00:53 - 000475648 _____ (Microsoft Corporation) C:\WINDOWS\SysWOW64\msxbde40.dll
2019-10-30 00:53 - 2019-10-30 00:53 - 000474112 _____ (Microsoft Corporation) C:\WINDOWS\system32\CloudDomainJoinDataModelServer.dll
2019-10-30 00:53 - 2019-10-30 00:53 - 000472576 _____ (Microsoft Corporation) C:\WINDOWS\system32\SharedRealitySvc.dll
2019-10-30 00:53 - 2019-10-30 00:53 - 000472064 _____ (Microsoft Corporation) C:\WINDOWS\system32\wlansec.dll
2019-10-30 00:53 - 2019-10-30 00:53 - 000467968 _____ (Microsoft Corporation) C:\WINDOWS\system32\wwanconn.dll
2019-10-30 00:53 - 2019-10-30 00:53 - 000467456 _____ (Microsoft Corporation) C:\WINDOWS\system32\FWPUCLNT.DLL
2019-10-30 00:53 - 2019-10-30 00:53 - 000466416 _____ (Microsoft Corporation) C:\WINDOWS\system32\Faultrep.dll
2019-10-30 00:53 - 2019-10-30 00:53 - 000464384 _____ (Microsoft Corporation) C:\WINDOWS\SysWOW64\daxexec.dll
2019-10-30 00:53 - 2019-10-30 00:53 - 000464384 _____ (Microsoft Corporation) C:\WINDOWS\system32\webauthn.dll
2019-10-30 00:53 - 2019-10-30 00:53 - 000463272 _____ (Microsoft Corporation) C:\WINDOWS\SysWOW64\policymanager.dll
2019-10-30 00:53 - 2019-10-30 00:53 - 000462848 _____ (Microsoft Corporation) C:\WINDOWS\SysWOW64\schannel.dll
2019-10-30 00:53 - 2019-10-30 00:53 - 000462848 _____ (Microsoft Corporation) C:\WINDOWS\system32\cloudAP.dll
2019-10-30 00:53 - 2019-10-30 00:53 - 000462136 _____ (Microsoft Corporation) C:\WINDOWS\system32\msv1_0.dll
2019-10-30 00:53 - 2019-10-30 00:53 - 000460288 _____ (Microsoft Corporation) C:\WINDOWS\SysWOW64\AcSpecfc.dll
2019-10-30 00:53 - 2019-10-30 00:53 - 000456504 _____ (Microsoft Corporation) C:\WINDOWS\system32\Drivers\rdbss.sys
2019-10-30 00:53 - 2019-10-30 00:53 - 000455680 _____ (Microsoft Corporation) C:\WINDOWS\system32\Drivers\ks.sys
2019-10-30 00:53 - 2019-10-30 00:53 - 000455168 _____ (Microsoft Corporation) C:\WINDOWS\system32\puiobj.dll
2019-10-30 00:53 - 2019-10-30 00:53 - 000454736 _____ (Microsoft Corporation) C:\WINDOWS\SysWOW64\AppResolver.dll
2019-10-30 00:53 - 2019-10-30 00:53 - 000452408 _____ (Microsoft Corporation) C:\WINDOWS\SysWOW64\WerFault.exe
2019-10-30 00:53 - 2019-10-30 00:53 - 000450560 _____ (Microsoft Corporation) C:\WINDOWS\SysWOW64\dxdiagn.dll
2019-10-30 00:53 - 2019-10-30 00:53 - 000450360 _____ (Microsoft Corporation) C:\WINDOWS\SysWOW64\d3d11on12.dll
2019-10-30 00:53 - 2019-10-30 00:53 - 000450048 _____ (Microsoft Corporation) C:\WINDOWS\system32\rdpclip.exe
2019-10-30 00:53 - 2019-10-30 00:53 - 000449888 _____ (Microsoft Corporation) C:\WINDOWS\system32\MMDevAPI.dll
2019-10-30 00:53 - 2019-10-30 00:53 - 000448000 _____ (Microsoft Corporation) C:\WINDOWS\system32\SettingsEnvironment.Desktop.dll
2019-10-30 00:53 - 2019-10-30 00:53 - 000442704 _____ (Microsoft Corporation) C:\WINDOWS\system32\ws2_32.dll
2019-10-30 00:53 - 2019-10-30 00:53 - 000440256 _____ (Microsoft Corporation) C:\WINDOWS\SysWOW64\Windows.Media.MediaControl.dll
2019-10-30 00:53 - 2019-10-30 00:53 - 000437776 _____ (Microsoft Corporation) C:\WINDOWS\system32\Drivers\fltMgr.sys
2019-10-30 00:53 - 2019-10-30 00:53 - 000437760 _____ (Microsoft Corporation) C:\WINDOWS\system32\P2PGraph.dll
2019-10-30 00:53 - 2019-10-30 00:53 - 000436536 _____ (Microsoft Corporation) C:\WINDOWS\system32\Drivers\pci.sys
2019-10-30 00:53 - 2019-10-30 00:53 - 000431448 _____ (Microsoft Corporation) C:\WINDOWS\system32\tsmf.dll
2019-10-30 00:53 - 2019-10-30 00:53 - 000429568 _____ (Microsoft Corporation) C:\WINDOWS\SysWOW64\werui.dll
2019-10-30 00:53 - 2019-10-30 00:53 - 000428544 _____ (Microsoft Corporation) C:\WINDOWS\system32\p2psvc.dll
2019-10-30 00:53 - 2019-10-30 00:53 - 000427008 _____ (Microsoft Corporation) C:\WINDOWS\system32\wlanmsm.dll
2019-10-30 00:53 - 2019-10-30 00:53 - 000425472 _____ (Microsoft Corporation) C:\WINDOWS\system32\Drivers\HdAudio.sys
2019-10-30 00:53 - 2019-10-30 00:53 - 000425264 _____ (Microsoft Corporation) C:\WINDOWS\system32\wlanapi.dll
2019-10-30 00:53 - 2019-10-30 00:53 - 000422008 _____ (Microsoft Corporation) C:\WINDOWS\system32\SgrmEnclave_secure.dll
2019-10-30 00:53 - 2019-10-30 00:53 - 000421376 _____ (Microsoft Corporation) C:\WINDOWS\SysWOW64\inetcpl.cpl
2019-10-30 00:53 - 2019-10-30 00:53 - 000421376 _____ (curl, hxxps://curl.haxx.se/) C:\WINDOWS\system32\curl.exe
2019-10-30 00:53 - 2019-10-30 00:53 - 000417280 _____ (Microsoft Corporation) C:\WINDOWS\SysWOW64\SessEnv.dll
2019-10-30 00:53 - 2019-10-30 00:53 - 000415232 _____ (Microsoft Corporation) C:\WINDOWS\SysWOW64\winspool.drv
2019-10-30 00:53 - 2019-10-30 00:53 - 000412152 _____ (Microsoft Corporation) C:\WINDOWS\system32\MusNotifyIcon.exe
2019-10-30 00:53 - 2019-10-30 00:53 - 000408064 _____ (Microsoft Corporation) C:\WINDOWS\system32\domgmt.dll
2019-10-30 00:53 - 2019-10-30 00:53 - 000406528 _____ (Microsoft Corporation) C:\WINDOWS\system32\rascustom.dll
2019-10-30 00:53 - 2019-10-30 00:53 - 000404992 _____ (Microsoft Corporation) C:\WINDOWS\system32\DispBroker.Desktop.dll
2019-10-30 00:53 - 2019-10-30 00:53 - 000404392 _____ (Microsoft Corporation) C:\WINDOWS\SysWOW64\Faultrep.dll
2019-10-30 00:53 - 2019-10-30 00:53 - 000401208 _____ (Microsoft Corporation) C:\WINDOWS\system32\Drivers\clfs.sys
2019-10-30 00:53 - 2019-10-30 00:53 - 000398728 _____ (Microsoft Corporation) C:\WINDOWS\system32\wininit.exe
2019-10-30 00:53 - 2019-10-30 00:53 - 000396288 _____ (Microsoft Corporation) C:\WINDOWS\system32\Windows.Devices.Lights.dll
2019-10-30 00:53 - 2019-10-30 00:53 - 000395776 _____ (Microsoft Corporation) C:\WINDOWS\system32\WiFiDisplay.dll
2019-10-30 00:53 - 2019-10-30 00:53 - 000394752 _____ (Microsoft Corporation) C:\WINDOWS\system32\SearchFolder.dll
2019-10-30 00:53 - 2019-10-30 00:53 - 000392704 _____ (Microsoft Corporation) C:\WINDOWS\system32\NotificationControllerPS.dll
2019-10-30 00:53 - 2019-10-30 00:53 - 000390456 _____ (Microsoft Corporation) C:\WINDOWS\system32\CloudExperienceHost.dll
2019-10-30 00:53 - 2019-10-30 00:53 - 000388096 _____ (Microsoft Corporation) C:\WINDOWS\system32\dhcpcore.dll
2019-10-30 00:53 - 2019-10-30 00:53 - 000387584 _____ (Microsoft Corporation) C:\WINDOWS\system32\provplatformdesktop.dll
2019-10-30 00:53 - 2019-10-30 00:53 - 000386320 _____ (Microsoft Corporation) C:\WINDOWS\SysWOW64\bcryptprimitives.dll
2019-10-30 00:53 - 2019-10-30 00:53 - 000386048 _____ (curl, hxxps://curl.haxx.se/) C:\WINDOWS\SysWOW64\curl.exe
2019-10-30 00:53 - 2019-10-30 00:53 - 000383984 _____ (Microsoft Corporation) C:\WINDOWS\SysWOW64\MMDevAPI.dll
2019-10-30 00:53 - 2019-10-30 00:53 - 000382976 _____ (Microsoft Corporation) C:\WINDOWS\system32\nlasvc.dll
2019-10-30 00:53 - 2019-10-30 00:53 - 000380416 _____ (Microsoft Corporation) C:\WINDOWS\SysWOW64\ntshrui.dll
2019-10-30 00:53 - 2019-10-30 00:53 - 000380216 _____ (Microsoft Corporation) C:\WINDOWS\SysWOW64\msv1_0.dll
2019-10-30 00:53 - 2019-10-30 00:53 - 000379840 _____ (Microsoft Corporation) C:\WINDOWS\SysWOW64\ws2_32.dll
2019-10-30 00:53 - 2019-10-30 00:53 - 000379392 _____ (Microsoft Corporation) C:\WINDOWS\system32\provengine.dll
2019-10-30 00:53 - 2019-10-30 00:53 - 000376832 _____ (Microsoft Corporation) C:\WINDOWS\SysWOW64\webauthn.dll
2019-10-30 00:53 - 2019-10-30 00:53 - 000376832 _____ (Microsoft Corporation) C:\WINDOWS\system32\rdpinit.exe
2019-10-30 00:53 - 2019-10-30 00:53 - 000375808 _____ (Microsoft Corporation) C:\WINDOWS\system32\rastls.dll
2019-10-30 00:53 - 2019-10-30 00:53 - 000373248 _____ (Microsoft Corporation) C:\WINDOWS\system32\Windows.System.Diagnostics.dll
2019-10-30 00:53 - 2019-10-30 00:53 - 000369664 _____ (Microsoft Corporation) C:\WINDOWS\system32\dxdiag.exe
2019-10-30 00:53 - 2019-10-30 00:53 - 000366184 _____ (Microsoft Corporation) C:\WINDOWS\system32\mfsensorgroup.dll
2019-10-30 00:53 - 2019-10-30 00:53 - 000365568 _____ (Microsoft Corporation) C:\WINDOWS\SysWOW64\ieproxy.dll
2019-10-30 00:53 - 2019-10-30 00:53 - 000363624 _____ (Microsoft Corporation) C:\WINDOWS\system32\wintrust.dll
2019-10-30 00:53 - 2019-10-30 00:53 - 000362056 _____ (Microsoft Corporation) C:\WINDOWS\SysWOW64\tsmf.dll
2019-10-30 00:53 - 2019-10-30 00:53 - 000359936 _____ (Microsoft Corporation) C:\WINDOWS\SysWOW64\puiobj.dll
2019-10-30 00:53 - 2019-10-30 00:53 - 000356864 _____ (Microsoft Corporation) C:\WINDOWS\SysWOW64\P2PGraph.dll
2019-10-30 00:53 - 2019-10-30 00:53 - 000355840 _____ (Microsoft Corporation) C:\WINDOWS\system32\WaaSMedicSvc.dll
2019-10-30 00:53 - 2019-10-30 00:53 - 000355000 _____ (Microsoft Corporation) C:\WINDOWS\system32\Drivers\intelpep.sys
2019-10-30 00:53 - 2019-10-30 00:53 - 000353960 _____ (Microsoft Corporation) C:\WINDOWS\system32\sppwinob.dll
2019-10-30 00:53 - 2019-10-30 00:53 - 000353792 _____ (Microsoft Corporation) C:\WINDOWS\SysWOW64\msrd3x40.dll
2019-10-30 00:53 - 2019-10-30 00:53 - 000353280 _____ (Microsoft Corporation) C:\WINDOWS\system32\pnrpsvc.dll
2019-10-30 00:53 - 2019-10-30 00:53 - 000352256 _____ (Microsoft Corporation) C:\WINDOWS\system32\WpcApi.dll
2019-10-30 00:53 - 2019-10-30 00:53 - 000350208 _____ (Microsoft Corporation) C:\WINDOWS\system32\dnsrslvr.dll
2019-10-30 00:53 - 2019-10-30 00:53 - 000346624 _____ (Microsoft Corporation) C:\WINDOWS\SysWOW64\secproc.dll
2019-10-30 00:53 - 2019-10-30 00:53 - 000344576 _____ (Microsoft Corporation) C:\WINDOWS\SysWOW64\cryptngc.dll
2019-10-30 00:53 - 2019-10-30 00:53 - 000344064 _____ (Microsoft Corporation) C:\WINDOWS\system32\ncryptprov.dll
2019-10-30 00:53 - 2019-10-30 00:53 - 000342896 _____ (Microsoft Corporation) C:\WINDOWS\system32\ttdwriter.dll
2019-10-30 00:53 - 2019-10-30 00:53 - 000342528 _____ (Microsoft Corporation) C:\WINDOWS\system32\Windows.Shell.BlueLightReduction.dll
2019-10-30 00:53 - 2019-10-30 00:53 - 000341504 _____ (Microsoft Corporation) C:\WINDOWS\SysWOW64\msexcl40.dll
2019-10-30 00:53 - 2019-10-30 00:53 - 000338800 _____ (Microsoft Corporation) C:\WINDOWS\system32\Windows.Storage.ApplicationData.dll
2019-10-30 00:53 - 2019-10-30 00:53 - 000338432 _____ (Microsoft Corporation) C:\WINDOWS\system32\AppxAllUserStore.dll
2019-10-30 00:53 - 2019-10-30 00:53 - 000336960 _____ (Microsoft Corporation) C:\WINDOWS\system32\AudioSrvPolicyManager.dll
2019-10-30 00:53 - 2019-10-30 00:53 - 000336928 _____ (Microsoft Corporation) C:\WINDOWS\SysWOW64\wlanapi.dll
2019-10-30 00:53 - 2019-10-30 00:53 - 000334936 _____ (Microsoft Corporation) C:\WINDOWS\system32\wow64.dll
2019-10-30 00:53 - 2019-10-30 00:53 - 000331776 _____ (Microsoft Corporation) C:\WINDOWS\system32\DAFWSD.dll
2019-10-30 00:53 - 2019-10-30 00:53 - 000327168 _____ (Microsoft Corporation) C:\WINDOWS\system32\VAN.dll
2019-10-30 00:53 - 2019-10-30 00:53 - 000327168 _____ (Microsoft Corporation) C:\WINDOWS\system32\ComposableShellProxyStub.dll
2019-10-30 00:53 - 2019-10-30 00:53 - 000324608 _____ (Microsoft Corporation) C:\WINDOWS\system32\FSClient.dll
2019-10-30 00:53 - 2019-10-30 00:53 - 000324608 _____ (Microsoft Corporation) C:\WINDOWS\system32\Drivers\xboxgip.sys
2019-10-30 00:53 - 2019-10-30 00:53 - 000323584 _____ (Microsoft Corporation) C:\WINDOWS\system32\sppcommdlg.dll
2019-10-30 00:53 - 2019-10-30 00:53 - 000321024 _____ (Microsoft Corporation) C:\WINDOWS\SysWOW64\dhcpcore.dll
2019-10-30 00:53 - 2019-10-30 00:53 - 000320512 _____ (Microsoft Corporation) C:\WINDOWS\SysWOW64\SearchFolder.dll
2019-10-30 00:53 - 2019-10-30 00:53 - 000317952 _____ (Microsoft Corporation) C:\WINDOWS\SysWOW64\rastls.dll
2019-10-30 00:53 - 2019-10-30 00:53 - 000316216 _____ (Microsoft Corporation) C:\WINDOWS\system32\computestorage.dll
2019-10-30 00:53 - 2019-10-30 00:53 - 000315904 _____ (Microsoft Corporation) C:\WINDOWS\system32\dmenterprisediagnostics.dll
2019-10-30 00:53 - 2019-10-30 00:53 - 000315392 _____ (Microsoft Corporation) C:\WINDOWS\SysWOW64\dxdiag.exe
2019-10-30 00:53 - 2019-10-30 00:53 - 000314368 _____ (Microsoft Corporation) C:\WINDOWS\system32\wc_storage.dll
2019-10-30 00:53 - 2019-10-30 00:53 - 000313344 _____ (Microsoft Corporation) C:\WINDOWS\SysWOW64\msrd2x40.dll
2019-10-30 00:53 - 2019-10-30 00:53 - 000312832 _____ (Microsoft Corporation) C:\WINDOWS\SysWOW64\WiFiDisplay.dll
2019-10-30 00:53 - 2019-10-30 00:53 - 000312320 _____ (Microsoft Corporation) C:\WINDOWS\system32\Windows.ApplicationModel.Store.TestingFramework.dll
2019-10-30 00:53 - 2019-10-30 00:53 - 000310072 _____ (Microsoft Corporation) C:\WINDOWS\system32\SecurityHealthAgent.dll
2019-10-30 00:53 - 2019-10-30 00:53 - 000309760 _____ (Microsoft Corporation) C:\WINDOWS\system32\Drivers\srvnet.sys
2019-10-30 00:53 - 2019-10-30 00:53 - 000306688 _____ (Microsoft Corporation) C:\WINDOWS\system32\netplwiz.dll
2019-10-30 00:53 - 2019-10-30 00:53 - 000300184 _____ (Microsoft Corporation) C:\WINDOWS\system32\skci.dll
2019-10-30 00:53 - 2019-10-30 00:53 - 000296976 _____ (Microsoft Corporation) C:\WINDOWS\system32\Drivers\sdbus.sys
2019-10-30 00:53 - 2019-10-30 00:53 - 000295936 _____ (Microsoft Corporation) C:\WINDOWS\system32\TDLMigration.dll
2019-10-30 00:53 - 2019-10-30 00:53 - 000295424 _____ (Microsoft Corporation) C:\WINDOWS\system32\cscobj.dll
2019-10-30 00:53 - 2019-10-30 00:53 - 000294400 _____ (Microsoft Corporation) C:\WINDOWS\system32\provops.dll
2019-10-30 00:53 - 2019-10-30 00:53 - 000293376 _____ (Microsoft Corporation) C:\WINDOWS\system32\dhcpcore6.dll
2019-10-30 00:53 - 2019-10-30 00:53 - 000293344 _____ (Microsoft Corporation) C:\WINDOWS\system32\cfgmgr32.dll
2019-10-30 00:53 - 2019-10-30 00:53 - 000292352 _____ (Microsoft Corporation) C:\WINDOWS\system32\wkssvc.dll
2019-10-30 00:53 - 2019-10-30 00:53 - 000291840 _____ (Microsoft Corporation) C:\WINDOWS\SysWOW64\Windows.System.Diagnostics.dll
2019-10-30 00:53 - 2019-10-30 00:53 - 000288256 _____ (Microsoft Corporation) C:\WINDOWS\system32\mdmregistration.dll
2019-10-30 00:53 - 2019-10-30 00:53 - 000285696 _____ (Microsoft Corporation) C:\WINDOWS\system32\directxdatabaseupdater.exe
2019-10-30 00:53 - 2019-10-30 00:53 - 000285256 _____ (Microsoft Corporation) C:\WINDOWS\SysWOW64\wintrust.dll
2019-10-30 00:53 - 2019-10-30 00:53 - 000284160 _____ (Microsoft Corporation) C:\WINDOWS\system32\container.dll
2019-10-30 00:53 - 2019-10-30 00:53 - 000283688 _____ (Microsoft Corporation) C:\WINDOWS\SysWOW64\ttdwriter.dll
2019-10-30 00:53 - 2019-10-30 00:53 - 000283144 _____ (Microsoft Corporation) C:\WINDOWS\system32\browserbroker.dll
2019-10-30 00:53 - 2019-10-30 00:53 - 000282112 _____ (Microsoft Corporation) C:\WINDOWS\system32\Windows.UI.AppDefaults.dll
2019-10-30 00:53 - 2019-10-30 00:53 - 000281600 _____ (Microsoft Corporation) C:\WINDOWS\SysWOW64\actxprxy.dll
2019-10-30 00:53 - 2019-10-30 00:53 - 000281600 _____ (Microsoft Corporation) C:\WINDOWS\system32\ngcpopkeysrv.dll
2019-10-30 00:53 - 2019-10-30 00:53 - 000281600 _____ (Microsoft Corporation) C:\WINDOWS\system32\coredpus.dll
2019-10-30 00:53 - 2019-10-30 00:53 - 000279040 _____ (Microsoft Corporation) C:\WINDOWS\SysWOW64\AppxAllUserStore.dll
2019-10-30 00:53 - 2019-10-30 00:53 - 000278080 _____ (Microsoft Corporation) C:\WINDOWS\system32\LsaIso.exe
2019-10-30 00:53 - 2019-10-30 00:53 - 000275968 _____ (Microsoft Corporation) C:\WINDOWS\system32\SystemEventsBrokerServer.dll
2019-10-30 00:53 - 2019-10-30 00:53 - 000274944 _____ (Microsoft Corporation) C:\WINDOWS\SysWOW64\Windows.Devices.Lights.dll
2019-10-30 00:53 - 2019-10-30 00:53 - 000271872 _____ (Microsoft Corporation) C:\WINDOWS\system32\provhandlers.dll
2019-10-30 00:53 - 2019-10-30 00:53 - 000270848 _____ (Microsoft Corporation) C:\WINDOWS\system32\ngctasks.dll
2019-10-30 00:53 - 2019-10-30 00:53 - 000270336 _____ (Microsoft Corporation) C:\WINDOWS\SysWOW64\ncryptprov.dll
2019-10-30 00:53 - 2019-10-30 00:53 - 000268800 _____ (Microsoft Corporation) C:\WINDOWS\system32\ubpm.dll
2019-10-30 00:53 - 2019-10-30 00:53 - 000268288 _____ (Microsoft Corporation) C:\WINDOWS\system32\dot3svc.dll
2019-10-30 00:53 - 2019-10-30 00:53 - 000267528 _____ (Microsoft Corporation) C:\WINDOWS\system32\mfps.dll
2019-10-30 00:53 - 2019-10-30 00:53 - 000267496 _____ (Microsoft Corporation) C:\WINDOWS\SysWOW64\Windows.Storage.ApplicationData.dll
2019-10-30 00:53 - 2019-10-30 00:53 - 000261632 _____ (Microsoft Corporation) C:\WINDOWS\system32\WaaSMedicCapsule.dll
2019-10-30 00:53 - 2019-10-30 00:53 - 000260920 _____ (Microsoft Corporation) C:\WINDOWS\system32\Drivers\mrxsmb20.sys
2019-10-30 00:53 - 2019-10-30 00:53 - 000258048 _____ (Microsoft Corporation) C:\WINDOWS\system32\VPNv2CSP.dll
2019-10-30 00:53 - 2019-10-30 00:53 - 000257536 _____ (Microsoft Corporation) C:\WINDOWS\SysWOW64\provplatformdesktop.dll
2019-10-30 00:53 - 2019-10-30 00:53 - 000257536 _____ (Microsoft Corporation) C:\WINDOWS\system32\Drivers\usbaudio2.sys
2019-10-30 00:53 - 2019-10-30 00:53 - 000256000 _____ (Microsoft Corporation) C:\WINDOWS\SysWOW64\dhcpcore6.dll
2019-10-30 00:53 - 2019-10-30 00:53 - 000255488 _____ (Microsoft Corporation) C:\WINDOWS\system32\SettingsHandlers_ManagePhone.dll
2019-10-30 00:53 - 2019-10-30 00:53 - 000253952 _____ (Microsoft Corporation) C:\WINDOWS\system32\icm32.dll
2019-10-30 00:53 - 2019-10-30 00:53 - 000253952 _____ (Microsoft Corporation) C:\WINDOWS\system32\BitLockerCsp.dll
2019-10-30 00:53 - 2019-10-30 00:53 - 000252944 _____ (Microsoft Corporation) C:\WINDOWS\system32\Drivers\mssecflt.sys
2019-10-30 00:53 - 2019-10-30 00:53 - 000252416 _____ (Microsoft Corporation) C:\WINDOWS\system32\wpnservice.dll
2019-10-30 00:53 - 2019-10-30 00:53 - 000251704 _____ (Microsoft Corporation) C:\WINDOWS\system32\offlinesam.dll
2019-10-30 00:53 - 2019-10-30 00:53 - 000249656 _____ (Microsoft Corporation) C:\WINDOWS\system32\Drivers\tpm.sys
2019-10-30 00:53 - 2019-10-30 00:53 - 000248832 _____ (Microsoft Corporation) C:\WINDOWS\system32\ManageCI.dll
2019-10-30 00:53 - 2019-10-30 00:53 - 000248320 _____ (Microsoft Corporation) C:\WINDOWS\system32\rastapi.dll
2019-10-30 00:53 - 2019-10-30 00:53 - 000247856 _____ (Microsoft Corporation) C:\WINDOWS\system32\weretw.dll
2019-10-30 00:53 - 2019-10-30 00:53 - 000245248 _____ (Microsoft Corporation) C:\WINDOWS\SysWOW64\glu32.dll
2019-10-30 00:53 - 2019-10-30 00:53 - 000245248 _____ (Microsoft Corporation) C:\WINDOWS\system32\wosc.dll
2019-10-30 00:53 - 2019-10-30 00:53 - 000244736 _____ (Microsoft Corporation) C:\WINDOWS\system32\Drivers\ndproxy.sys
2019-10-30 00:53 - 2019-10-30 00:53 - 000243712 _____ (Microsoft Corporation) C:\WINDOWS\system32\VideoHandlers.dll
2019-10-30 00:53 - 2019-10-30 00:53 - 000243712 _____ (Microsoft Corporation) C:\WINDOWS\system32\SettingsHandlers_Gpu.dll
2019-10-30 00:53 - 2019-10-30 00:53 - 000241152 _____ (Microsoft Corporation) C:\WINDOWS\SysWOW64\msltus40.dll
2019-10-30 00:53 - 2019-10-30 00:53 - 000240640 _____ (Microsoft Corporation) C:\WINDOWS\system32\HttpsDataSource.dll
2019-10-30 00:53 - 2019-10-30 00:53 - 000240128 _____ (Microsoft Corporation) C:\WINDOWS\system32\ssdpsrv.dll
2019-10-30 00:53 - 2019-10-30 00:53 - 000239104 _____ (Microsoft Corporation) C:\WINDOWS\SysWOW64\mdmregistration.dll
2019-10-30 00:53 - 2019-10-30 00:53 - 000238592 _____ (Microsoft Corporation) C:\WINDOWS\system32\ApproveChildRequest.exe
2019-10-30 00:53 - 2019-10-30 00:53 - 000237880 _____ C:\WINDOWS\system32\containerdevicemanagement.dll
2019-10-30 00:53 - 2019-10-30 00:53 - 000236544 _____ (Microsoft Corporation) C:\WINDOWS\system32\wcmcsp.dll
2019-10-30 00:53 - 2019-10-30 00:53 - 000236544 _____ (Microsoft Corporation) C:\WINDOWS\system32\psmsrv.dll
2019-10-30 00:53 - 2019-10-30 00:53 - 000236520 _____ (Microsoft Corporation) C:\WINDOWS\SysWOW64\cfgmgr32.dll
2019-10-30 00:53 - 2019-10-30 00:53 - 000236032 _____ (Microsoft Corporation) C:\WINDOWS\SysWOW64\icm32.dll
2019-10-30 00:53 - 2019-10-30 00:53 - 000236032 _____ (Microsoft Corporation) C:\WINDOWS\system32\tetheringservice.dll
2019-10-30 00:53 - 2019-10-30 00:53 - 000235008 _____ (Microsoft Corporation) C:\WINDOWS\SysWOW64\rastapi.dll
2019-10-30 00:53 - 2019-10-30 00:53 - 000233472 _____ (Microsoft Corporation) C:\WINDOWS\system32\KnobsCore.dll
2019-10-30 00:53 - 2019-10-30 00:53 - 000232448 _____ (Microsoft Corporation) C:\WINDOWS\system32\provisioningcsp.dll
2019-10-30 00:53 - 2019-10-30 00:53 - 000231936 _____ (Microsoft Corporation) C:\WINDOWS\system32\InstallServiceTasks.dll
2019-10-30 00:53 - 2019-10-30 00:53 - 000231936 _____ (Microsoft Corporation) C:\WINDOWS\system32\Drivers\BthA2dp.sys
2019-10-30 00:53 - 2019-10-30 00:53 - 000231440 _____ (Microsoft Corporation) C:\WINDOWS\system32\AppVShNotify.exe
2019-10-30 00:53 - 2019-10-30 00:53 - 000231424 _____ (Microsoft Corporation) C:\WINDOWS\SysWOW64\Windows.ApplicationModel.Store.TestingFramework.dll
2019-10-30 00:53 - 2019-10-30 00:53 - 000228864 _____ (Microsoft Corporation) C:\WINDOWS\system32\MicrosoftAccountTokenProvider.dll
2019-10-30 00:53 - 2019-10-30 00:53 - 000226816 _____ (Microsoft Corporation) C:\WINDOWS\system32\netprofm.dll
2019-10-30 00:53 - 2019-10-30 00:53 - 000225792 _____ (Microsoft Corporation) C:\WINDOWS\system32\WorkFoldersShell.dll
2019-10-30 00:53 - 2019-10-30 00:53 - 000225080 _____ (Microsoft Corporation) C:\WINDOWS\system32\Drivers\wof.sys
2019-10-30 00:53 - 2019-10-30 00:53 - 000224768 _____ (Microsoft Corporation) C:\WINDOWS\system32\DWWIN.EXE
2019-10-30 00:53 - 2019-10-30 00:53 - 000224256 _____ (Microsoft Corporation) C:\WINDOWS\system32\wersvc.dll
2019-10-30 00:53 - 2019-10-30 00:53 - 000224256 _____ (Microsoft Corporation) C:\WINDOWS\system32\DeviceCenter.dll
2019-10-30 00:53 - 2019-10-30 00:53 - 000223232 _____ (Microsoft Corporation) C:\WINDOWS\system32\tssrvlic.dll
2019-10-30 00:53 - 2019-10-30 00:53 - 000223032 _____ (Microsoft Corporation) C:\WINDOWS\system32\Drivers\intelppm.sys
2019-10-30 00:53 - 2019-10-30 00:53 - 000222208 _____ (Microsoft Corporation) C:\WINDOWS\SysWOW64\netplwiz.dll
2019-10-30 00:53 - 2019-10-30 00:53 - 000221696 _____ (Microsoft Corporation) C:\WINDOWS\system32\dxgiadaptercache.exe
2019-10-30 00:53 - 2019-10-30 00:53 - 000220472 _____ (Microsoft Corporation) C:\WINDOWS\system32\wermgr.exe
2019-10-30 00:53 - 2019-10-30 00:53 - 000219136 _____ (Microsoft Corporation) C:\WINDOWS\system32\P2P.dll
2019-10-30 00:53 - 2019-10-30 00:53 - 000214032 _____ (Microsoft Corporation) C:\WINDOWS\system32\ifsutil.dll
2019-10-30 00:53 - 2019-10-30 00:53 - 000210744 _____ (Microsoft Corporation) C:\WINDOWS\system32\tcbloader.dll
2019-10-30 00:53 - 2019-10-30 00:53 - 000210400 _____ (Microsoft Corporation) C:\WINDOWS\system32\xmllite.dll
2019-10-30 00:53 - 2019-10-30 00:53 - 000208384 _____ (Microsoft Corporation) C:\WINDOWS\system32\wuuhosdeployment.dll
2019-10-30 00:53 - 2019-10-30 00:53 - 000208184 _____ (Microsoft Corporation) C:\WINDOWS\system32\Drivers\processr.sys
2019-10-30 00:53 - 2019-10-30 00:53 - 000206336 _____ (Microsoft Corporation) C:\WINDOWS\system32\dpapisrv.dll
2019-10-30 00:53 - 2019-10-30 00:53 - 000205312 _____ (Microsoft Corporation) C:\WINDOWS\system32\dmcsps.dll
2019-10-30 00:53 - 2019-10-30 00:53 - 000203264 _____ (Microsoft Corporation) C:\WINDOWS\system32\regapi.dll
2019-10-30 00:53 - 2019-10-30 00:53 - 000202768 _____ (Microsoft Corporation) C:\WINDOWS\system32\AppVStreamingUX.dll
2019-10-30 00:53 - 2019-10-30 00:53 - 000202752 _____ (Microsoft Corporation) C:\WINDOWS\SysWOW64\cscobj.dll
2019-10-30 00:53 - 2019-10-30 00:53 - 000202240 _____ (Microsoft Corporation) C:\WINDOWS\system32\p2pnetsh.dll
2019-10-30 00:53 - 2019-10-30 00:53 - 000201728 _____ (Microsoft Corporation) C:\WINDOWS\system32\puiapi.dll
2019-10-30 00:53 - 2019-10-30 00:53 - 000201528 _____ (Microsoft Corporation) C:\WINDOWS\system32\Drivers\wcifs.sys
2019-10-30 00:53 - 2019-10-30 00:53 - 000201016 _____ (Microsoft Corporation) C:\WINDOWS\system32\Drivers\amdppm.sys
2019-10-30 00:53 - 2019-10-30 00:53 - 000199480 _____ (Microsoft Corporation) C:\WINDOWS\SysWOW64\wermgr.exe
2019-10-30 00:53 - 2019-10-30 00:53 - 000199480 _____ (Microsoft Corporation) C:\WINDOWS\system32\Drivers\amdk8.sys
2019-10-30 00:53 - 2019-10-30 00:53 - 000195584 _____ (Microsoft Corporation) C:\WINDOWS\SysWOW64\container.dll
2019-10-30 00:53 - 2019-10-30 00:53 - 000193848 _____ (Microsoft Corporation) C:\WINDOWS\system32\Drivers\dumpsd.sys
2019-10-30 00:53 - 2019-10-30 00:53 - 000193592 _____ (Microsoft Corporation) C:\WINDOWS\SysWOW64\weretw.dll
2019-10-30 00:53 - 2019-10-30 00:53 - 000190464 _____ (Microsoft Corporation) C:\WINDOWS\SysWOW64\regapi.dll
2019-10-30 00:53 - 2019-10-30 00:53 - 000187920 _____ (Microsoft Corporation) C:\WINDOWS\SysWOW64\ifsutil.dll
2019-10-30 00:53 - 2019-10-30 00:53 - 000186880 _____ (Microsoft Corporation) C:\WINDOWS\SysWOW64\DWWIN.EXE
2019-10-30 00:53 - 2019-10-30 00:53 - 000186880 _____ (Microsoft Corporation) C:\WINDOWS\system32\fcon.dll
2019-10-30 00:53 - 2019-10-30 00:53 - 000185856 _____ (Microsoft Corporation) C:\WINDOWS\SysWOW64\DeviceCenter.dll
2019-10-30 00:53 - 2019-10-30 00:53 - 000183808 _____ (Microsoft Corporation) C:\WINDOWS\system32\ResetEngOnline.dll
2019-10-30 00:53 - 2019-10-30 00:53 - 000182288 _____ (Microsoft Corporation) C:\WINDOWS\system32\Drivers\msgpioclx.sys
2019-10-30 00:53 - 2019-10-30 00:53 - 000181776 _____ (Microsoft Corporation) C:\WINDOWS\system32\AppVDllSurrogate.exe
2019-10-30 00:53 - 2019-10-30 00:53 - 000180536 _____ (Microsoft Corporation) C:\WINDOWS\system32\Drivers\wfplwfs.sys
2019-10-30 00:53 - 2019-10-30 00:53 - 000180240 _____ (Microsoft Corporation) C:\WINDOWS\system32\Drivers\pdc.sys
2019-10-30 00:53 - 2019-10-30 00:53 - 000180024 _____ (Microsoft Corporation) C:\WINDOWS\system32\ulib.dll
2019-10-30 00:53 - 2019-10-30 00:53 - 000179712 _____ (Microsoft Corporation) C:\WINDOWS\SysWOW64\InstallServiceTasks.dll
2019-10-30 00:53 - 2019-10-30 00:53 - 000179712 _____ (Microsoft Corporation) C:\WINDOWS\system32\t2embed.dll
2019-10-30 00:53 - 2019-10-30 00:53 - 000179512 _____ (Microsoft Corporation) C:\WINDOWS\system32\Drivers\ksecpkg.sys
2019-10-30 00:53 - 2019-10-30 00:53 - 000179200 _____ (Microsoft Corporation) C:\WINDOWS\system32\twext.dll
2019-10-30 00:53 - 2019-10-30 00:53 - 000178688 _____ (Microsoft Corporation) C:\WINDOWS\system32\appsruprov.dll
2019-10-30 00:53 - 2019-10-30 00:53 - 000178176 _____ (Microsoft Corporation) C:\WINDOWS\system32\prntvpt.dll
2019-10-30 00:53 - 2019-10-30 00:53 - 000177664 _____ (Microsoft Corporation) C:\WINDOWS\system32\inetpp.dll
2019-10-30 00:53 - 2019-10-30 00:53 - 000176440 _____ (Microsoft Corporation) C:\WINDOWS\system32\uxlib.dll
2019-10-30 00:53 - 2019-10-30 00:53 - 000176152 _____ (Microsoft Corporation) C:\WINDOWS\system32\imm32.dll
2019-10-30 00:53 - 2019-10-30 00:53 - 000174392 _____ (Microsoft Corporation) C:\WINDOWS\system32\Drivers\AppvVemgr.sys
2019-10-30 00:53 - 2019-10-30 00:53 - 000174080 _____ (Microsoft Corporation) C:\WINDOWS\SysWOW64\p2pnetsh.dll
2019-10-30 00:53 - 2019-10-30 00:53 - 000174080 _____ (Microsoft Corporation) C:\WINDOWS\system32\sud.dll
2019-10-30 00:53 - 2019-10-30 00:53 - 000173568 _____ (Microsoft Corporation) C:\WINDOWS\SysWOW64\P2P.dll
2019-10-30 00:53 - 2019-10-30 00:53 - 000173568 _____ (Microsoft Corporation) C:\WINDOWS\system32\drvinst.exe
2019-10-30 00:53 - 2019-10-30 00:53 - 000173072 _____ (Microsoft Corporation) C:\WINDOWS\system32\AppVNice.exe
2019-10-30 00:53 - 2019-10-30 00:53 - 000172032 _____ (Microsoft Corporation) C:\WINDOWS\SysWOW64\puiapi.dll
2019-10-30 00:53 - 2019-10-30 00:53 - 000170920 _____ (Microsoft Corporation) C:\WINDOWS\SysWOW64\xmllite.dll
2019-10-30 00:53 - 2019-10-30 00:53 - 000170496 _____ (Microsoft Corporation) C:\WINDOWS\system32\NcaSvc.dll
2019-10-30 00:53 - 2019-10-30 00:53 - 000167936 _____ (Microsoft Corporation) C:\WINDOWS\system32\Drivers\rdpdr.sys
2019-10-30 00:53 - 2019-10-30 00:53 - 000167136 _____ (Microsoft Corporation) C:\WINDOWS\system32\vertdll.dll
2019-10-30 00:53 - 2019-10-30 00:53 - 000166400 _____ (Microsoft Corporation) C:\WINDOWS\SysWOW64\MicrosoftAccountTokenProvider.dll
2019-10-30 00:53 - 2019-10-30 00:53 - 000165832 _____ (Microsoft Corporation) C:\WINDOWS\system32\WerFaultSecure.exe
2019-10-30 00:53 - 2019-10-30 00:53 - 000163840 _____ (Microsoft Corporation) C:\WINDOWS\SysWOW64\BitLockerCsp.dll
2019-10-30 00:53 - 2019-10-30 00:53 - 000163328 _____ (Microsoft Corporation) C:\WINDOWS\system32\glu32.dll
2019-10-30 00:53 - 2019-10-30 00:53 - 000162384 _____ (Microsoft Corporation) C:\WINDOWS\system32\dwmapi.dll
2019-10-30 00:53 - 2019-10-30 00:53 - 000161632 _____ (Microsoft Corporation) C:\WINDOWS\system32\wldp.dll
2019-10-30 00:53 - 2019-10-30 00:53 - 000160256 _____ (Microsoft Corporation) C:\WINDOWS\system32\appinfo.dll
2019-10-30 00:53 - 2019-10-30 00:53 - 000159112 _____ (Microsoft Corporation) C:\WINDOWS\system32\devobj.dll
2019-10-30 00:53 - 2019-10-30 00:53 - 000158720 _____ (Microsoft Corporation) C:\WINDOWS\system32\umpo.dll
2019-10-30 00:53 - 2019-10-30 00:53 - 000158208 _____ (Microsoft Corporation) C:\WINDOWS\system32\Drivers\mrxdav.sys
2019-10-30 00:53 - 2019-10-30 00:53 - 000157752 _____ (Microsoft Corporation) C:\WINDOWS\system32\rmclient.dll
2019-10-30 00:53 - 2019-10-30 00:53 - 000157184 _____ (Microsoft Corporation) C:\WINDOWS\SysWOW64\ComposableShellProxyStub.dll
2019-10-30 00:53 - 2019-10-30 00:53 - 000155648 _____ (Microsoft Corporation) C:\WINDOWS\system32\SettingsHandlers_AppExecutionAlias.dll
2019-10-30 00:53 - 2019-10-30 00:53 - 000155136 _____ (Microsoft Corporation) C:\WINDOWS\system32\Chakradiag.dll
2019-10-30 00:53 - 2019-10-30 00:53 - 000153912 _____ (Microsoft Corporation) C:\WINDOWS\system32\Drivers\AppvVfs.sys
2019-10-30 00:53 - 2019-10-30 00:53 - 000153088 _____ (Microsoft Corporation) C:\WINDOWS\system32\profsvcext.dll
2019-10-30 00:53 - 2019-10-30 00:53 - 000153088 _____ (Microsoft Corporation) C:\WINDOWS\system32\dssvc.dll
2019-10-30 00:53 - 2019-10-30 00:53 - 000152408 _____ (Microsoft Corporation) C:\WINDOWS\system32\KerbClientShared.dll
2019-10-30 00:53 - 2019-10-30 00:53 - 000151568 _____ (Microsoft Corporation) C:\WINDOWS\system32\Drivers\vmbus.sys
2019-10-30 00:53 - 2019-10-30 00:53 - 000151552 _____ (Microsoft Corporation) C:\WINDOWS\system32\SettingsHandlers_BackgroundApps.dll
2019-10-30 00:53 - 2019-10-30 00:53 - 000150328 _____ (Microsoft Corporation) C:\WINDOWS\SysWOW64\WerFaultSecure.exe
2019-10-30 00:53 - 2019-10-30 00:53 - 000149512 _____ (Microsoft Corporation) C:\WINDOWS\SysWOW64\ulib.dll
2019-10-30 00:53 - 2019-10-30 00:53 - 000149504 _____ C:\WINDOWS\system32\DataStoreCacheDumpTool.exe
2019-10-30 00:53 - 2019-10-30 00:53 - 000148992 _____ (Microsoft Corporation) C:\WINDOWS\SysWOW64\twext.dll
2019-10-30 00:53 - 2019-10-30 00:53 - 000147456 _____ (Microsoft Corporation) C:\WINDOWS\system32\browserexport.exe
2019-10-30 00:53 - 2019-10-30 00:53 - 000147184 _____ (Microsoft Corporation) C:\WINDOWS\system32\smss.exe
2019-10-30 00:53 - 2019-10-30 00:53 - 000146416 _____ (Microsoft Corporation) C:\WINDOWS\system32\profext.dll
2019-10-30 00:53 - 2019-10-30 00:53 - 000145720 _____ (Microsoft Corporation) C:\WINDOWS\system32\microsoft-windows-kernel-processor-power-events.dll
2019-10-30 00:53 - 2019-10-30 00:53 - 000145208 _____ (Microsoft Corporation) C:\WINDOWS\system32\CscMig.dll
2019-10-30 00:53 - 2019-10-30 00:53 - 000144384 _____ (Microsoft Corporation) C:\WINDOWS\system32\oleprn.dll
2019-10-30 00:53 - 2019-10-30 00:53 - 000144376 _____ (Microsoft Corporation) C:\WINDOWS\system32\bcrypt.dll
2019-10-30 00:53 - 2019-10-30 00:53 - 000143808 _____ (Microsoft Corporation) C:\WINDOWS\SysWOW64\imm32.dll
2019-10-30 00:53 - 2019-10-30 00:53 - 000142544 _____ (Microsoft Corporation) C:\WINDOWS\system32\LicensingUI.exe
2019-10-30 00:53 - 2019-10-30 00:53 - 000141840 _____ (Microsoft Corporation) C:\WINDOWS\system32\Drivers\tm.sys
2019-10-30 00:53 - 2019-10-30 00:53 - 000140800 _____ (Microsoft Corporation) C:\WINDOWS\system32\mdmmigrator.dll
2019-10-30 00:53 - 2019-10-30 00:53 - 000140496 _____ (Microsoft Corporation) C:\WINDOWS\system32\userenv.dll
2019-10-30 00:53 - 2019-10-30 00:53 - 000139776 _____ (Microsoft Corporation) C:\WINDOWS\SysWOW64\sud.dll
2019-10-30 00:53 - 2019-10-30 00:53 - 000139776 _____ (Microsoft Corporation) C:\WINDOWS\system32\Chakrathunk.dll
2019-10-30 00:53 - 2019-10-30 00:53 - 000139264 _____ (Microsoft Corporation) C:\WINDOWS\SysWOW64\prntvpt.dll
2019-10-30 00:53 - 2019-10-30 00:53 - 000138752 _____ (Microsoft Corporation) C:\WINDOWS\SysWOW64\t2embed.dll
2019-10-30 00:53 - 2019-10-30 00:53 - 000138752 _____ (Microsoft Corporation) C:\WINDOWS\system32\InputLocaleManager.dll
2019-10-30 00:53 - 2019-10-30 00:53 - 000137864 _____ (Microsoft Corporation) C:\WINDOWS\SysWOW64\devobj.dll
2019-10-30 00:53 - 2019-10-30 00:53 - 000137728 _____ (Microsoft Corporation) C:\WINDOWS\system32\dwmredir.dll
2019-10-30 00:53 - 2019-10-30 00:53 - 000137528 _____ (Microsoft Corporation) C:\WINDOWS\system32\Drivers\AppVStrm.sys
2019-10-30 00:53 - 2019-10-30 00:53 - 000135480 _____ (Microsoft Corporation) C:\WINDOWS\SysWOW64\wldp.dll
2019-10-30 00:53 - 2019-10-30 00:53 - 000135168 _____ (Microsoft Corporation) C:\WINDOWS\system32\musdialoghandlers.dll
2019-10-30 00:53 - 2019-10-30 00:53 - 000135000 _____ (Microsoft Corporation) C:\WINDOWS\SysWOW64\dwmapi.dll
2019-10-30 00:53 - 2019-10-30 00:53 - 000133632 _____ (Microsoft Corporation) C:\WINDOWS\system32\appvetwclientres.dll
2019-10-30 00:53 - 2019-10-30 00:53 - 000132912 _____ (Microsoft Corporation) C:\WINDOWS\system32\Windows.Graphics.Display.BrightnessOverride.dll
2019-10-30 00:53 - 2019-10-30 00:53 - 000132608 _____ (Microsoft Corporation) C:\WINDOWS\system32\SettingsHandlers_ForceSync.dll
2019-10-30 00:53 - 2019-10-30 00:53 - 000132408 _____ (Microsoft Corporation) C:\WINDOWS\system32\offlinelsa.dll
2019-10-30 00:53 - 2019-10-30 00:53 - 000132096 _____ (Microsoft Corporation) C:\WINDOWS\splwow64.exe
2019-10-30 00:53 - 2019-10-30 00:53 - 000131584 _____ (Microsoft Corporation) C:\WINDOWS\system32\Windows.UI.Storage.dll
2019-10-30 00:53 - 2019-10-30 00:53 - 000130560 _____ (Microsoft Corporation) C:\WINDOWS\system32\StorageUsage.dll
2019-10-30 00:53 - 2019-10-30 00:53 - 000130560 _____ (Microsoft Corporation) C:\WINDOWS\system32\Drivers\tsusbhub.sys
2019-10-30 00:53 - 2019-10-30 00:53 - 000130048 _____ (Microsoft Corporation) C:\WINDOWS\system32\CloudDomainJoinAUG.dll
2019-10-30 00:53 - 2019-10-30 00:53 - 000129848 _____ (Microsoft Corporation) C:\WINDOWS\system32\Drivers\mup.sys
2019-10-30 00:53 - 2019-10-30 00:53 - 000129536 _____ (Microsoft Corporation) C:\WINDOWS\system32\vdsutil.dll
2019-10-30 00:53 - 2019-10-30 00:53 - 000128512 _____ (Microsoft Corporation) C:\WINDOWS\system32\usoapi.dll
2019-10-30 00:53 - 2019-10-30 00:53 - 000127488 _____ (Microsoft Corporation) C:\WINDOWS\system32\drvsetup.dll
2019-10-30 00:53 - 2019-10-30 00:53 - 000126464 _____ (Microsoft Corporation) C:\WINDOWS\system32\WinHvPlatform.dll
2019-10-30 00:53 - 2019-10-30 00:53 - 000125952 _____ (Microsoft Corporation) C:\WINDOWS\system32\fontsub.dll
2019-10-30 00:53 - 2019-10-30 00:53 - 000125232 _____ (Microsoft Corporation) C:\WINDOWS\SysWOW64\KerbClientShared.dll
2019-10-30 00:53 - 2019-10-30 00:53 - 000124416 _____ (Microsoft Corporation) C:\WINDOWS\system32\AppxSysprep.dll
2019-10-30 00:53 - 2019-10-30 00:53 - 000123920 _____ (Microsoft Corporation) C:\WINDOWS\system32\kdnet.dll
2019-10-30 00:53 - 2019-10-30 00:53 - 000122880 _____ (Microsoft Corporation) C:\WINDOWS\system32\wercplsupport.dll
2019-10-30 00:53 - 2019-10-30 00:53 - 000122368 _____ (Microsoft Corporation) C:\WINDOWS\system32\samlib.dll
2019-10-30 00:53 - 2019-10-30 00:53 - 000121856 _____ (Microsoft Corporation) C:\WINDOWS\system32\updatecsp.dll
2019-10-30 00:53 - 2019-10-30 00:53 - 000120344 _____ (Microsoft Corporation) C:\WINDOWS\SysWOW64\profext.dll
2019-10-30 00:53 - 2019-10-30 00:53 - 000120320 _____ (Microsoft Corporation) C:\WINDOWS\system32\KnobsCsp.dll
2019-10-30 00:53 - 2019-10-30 00:53 - 000119840 _____ (Microsoft Corporation) C:\WINDOWS\system32\OpenWith.exe
2019-10-30 00:53 - 2019-10-30 00:53 - 000119808 _____ (Microsoft Corporation) C:\WINDOWS\system32\DafPrintProvider.dll
2019-10-30 00:53 - 2019-10-30 00:53 - 000119296 _____ (Microsoft Corporation) C:\WINDOWS\system32\compstui.dll
2019-10-30 00:53 - 2019-10-30 00:53 - 000117248 _____ (Microsoft Corporation) C:\WINDOWS\SysWOW64\Chakradiag.dll
2019-10-30 00:53 - 2019-10-30 00:53 - 000117048 _____ (Microsoft Corporation) C:\WINDOWS\system32\Drivers\bindflt.sys
2019-10-30 00:53 - 2019-10-30 00:53 - 000116904 _____ (Microsoft Corporation) C:\WINDOWS\SysWOW64\userenv.dll
2019-10-30 00:53 - 2019-10-30 00:53 - 000116728 _____ (Microsoft Corporation) C:\WINDOWS\SysWOW64\rmclient.dll
2019-10-30 00:53 - 2019-10-30 00:53 - 000115200 _____ (Microsoft Corporation) C:\WINDOWS\SysWOW64\oleprn.dll
2019-10-30 00:53 - 2019-10-30 00:53 - 000115120 _____ (Microsoft Corporation) C:\WINDOWS\system32\phoneactivate.exe
2019-10-30 00:53 - 2019-10-30 00:53 - 000114176 _____ (Microsoft Corporation) C:\WINDOWS\system32\Drivers\agilevpn.sys
2019-10-30 00:53 - 2019-10-30 00:53 - 000110080 _____ C:\WINDOWS\system32\ResBParser.dll
2019-10-30 00:53 - 2019-10-30 00:53 - 000109056 _____ (Microsoft Corporation) C:\WINDOWS\system32\vds_ps.dll
2019-10-30 00:53 - 2019-10-30 00:53 - 000108032 _____ (Microsoft Corporation) C:\WINDOWS\system32\wwanprotdim.dll
2019-10-30 00:53 - 2019-10-30 00:53 - 000108032 _____ (Microsoft Corporation) C:\WINDOWS\system32\TpmTasks.dll
2019-10-30 00:53 - 2019-10-30 00:53 - 000107008 _____ (Microsoft Corporation) C:\WINDOWS\system32\CoreShellExtFramework.dll
2019-10-30 00:53 - 2019-10-30 00:53 - 000106296 _____ (Microsoft Corporation) C:\WINDOWS\system32\SecurityHealthProxyStub.dll
2019-10-30 00:53 - 2019-10-30 00:53 - 000105984 _____ (Microsoft Corporation) C:\WINDOWS\SysWOW64\drvsetup.dll
2019-10-30 00:53 - 2019-10-30 00:53 - 000105832 _____ (Microsoft Corporation) C:\WINDOWS\SysWOW64\OpenWith.exe
2019-10-30 00:53 - 2019-10-30 00:53 - 000105472 _____ (Microsoft Corporation) C:\WINDOWS\SysWOW64\Chakrathunk.dll
2019-10-30 00:53 - 2019-10-30 00:53 - 000105472 _____ (Microsoft Corporation) C:\WINDOWS\system32\WorkFolders.exe
2019-10-30 00:53 - 2019-10-30 00:53 - 000103936 _____ (Microsoft Corporation) C:\WINDOWS\system32\dot3msm.dll
2019-10-30 00:53 - 2019-10-30 00:53 - 000102400 _____ (Microsoft Corporation) C:\WINDOWS\system32\NFCProvisioningPlugin.dll
2019-10-30 00:53 - 2019-10-30 00:53 - 000102216 _____ (Microsoft Corporation) C:\WINDOWS\system32\changepk.exe
2019-10-30 00:53 - 2019-10-30 00:53 - 000100664 _____ (Microsoft Corporation) C:\WINDOWS\system32\Drivers\vmbkmcl.sys
2019-10-30 00:53 - 2019-10-30 00:53 - 000099712 _____ (Microsoft Corporation) C:\WINDOWS\system32\FsIso.exe
2019-10-30 00:53 - 2019-10-30 00:53 - 000099328 _____ (Microsoft Corporation) C:\WINDOWS\SysWOW64\fontsub.dll
2019-10-30 00:53 - 2019-10-30 00:53 - 000098592 _____ (Microsoft Corporation) C:\WINDOWS\SysWOW64\Windows.Graphics.Display.BrightnessOverride.dll
2019-10-30 00:53 - 2019-10-30 00:53 - 000097280 _____ (Microsoft Corporation) C:\WINDOWS\SysWOW64\compstui.dll
2019-10-30 00:53 - 2019-10-30 00:53 - 000097280 _____ (Microsoft Corporation) C:\WINDOWS\system32\provdatastore.dll
2019-10-30 00:53 - 2019-10-30 00:53 - 000096768 _____ (Microsoft Corporation) C:\WINDOWS\system32\tzautoupdate.dll
2019-10-30 00:53 - 2019-10-30 00:53 - 000096032 _____ (Microsoft Corporation) C:\WINDOWS\SysWOW64\bcrypt.dll
2019-10-30 00:53 - 2019-10-30 00:53 - 000094208 _____ (Microsoft Corporation) C:\WINDOWS\system32\mcbuilder.exe
2019-10-30 00:53 - 2019-10-30 00:53 - 000093696 _____ (Microsoft Corporation) C:\WINDOWS\system32\mssecuser.dll
2019-10-30 00:53 - 2019-10-30 00:53 - 000093184 _____ (Microsoft Corporation) C:\WINDOWS\system32\nlaapi.dll
2019-10-30 00:53 - 2019-10-30 00:53 - 000092672 _____ (Microsoft Corporation) C:\WINDOWS\system32\Drivers\wanarp.sys
2019-10-30 00:53 - 2019-10-30 00:53 - 000092672 _____ (Microsoft Corporation) C:\WINDOWS\system32\dhcpcsvc.dll
2019-10-30 00:53 - 2019-10-30 00:53 - 000092624 _____ (Microsoft Corporation) C:\WINDOWS\system32\taskhostw.exe
2019-10-30 00:53 - 2019-10-30 00:53 - 000092160 _____ (Microsoft Corporation) C:\WINDOWS\system32\wsqmcons.exe
2019-10-30 00:53 - 2019-10-30 00:53 - 000092160 _____ (Microsoft Corporation) C:\WINDOWS\system32\dot3api.dll
2019-10-30 00:53 - 2019-10-30 00:53 - 000091136 _____ (Microsoft Corporation) C:\WINDOWS\system32\ProvPluginEng.dll
2019-10-30 00:53 - 2019-10-30 00:53 - 000090112 _____ (Microsoft Corporation) C:\WINDOWS\system32\srmlib.dll
2019-10-30 00:53 - 2019-10-30 00:53 - 000089088 _____ (Microsoft Corporation) C:\WINDOWS\system32\WaaSMedicAgent.exe
2019-10-30 00:53 - 2019-10-30 00:53 - 000088576 _____ (Microsoft Corporation) C:\WINDOWS\SysWOW64\DafPrintProvider.dll
2019-10-30 00:53 - 2019-10-30 00:53 - 000088576 _____ (Microsoft Corporation) C:\WINDOWS\system32\BarcodeProvisioningPlugin.dll
2019-10-30 00:53 - 2019-10-30 00:53 - 000088488 _____ (Microsoft Corporation) C:\WINDOWS\system32\coloradapterclient.dll
2019-10-30 00:53 - 2019-10-30 00:53 - 000087552 _____ (Microsoft Corporation) C:\WINDOWS\SysWOW64\dot3api.dll
2019-10-30 00:53 - 2019-10-30 00:53 - 000087048 _____ (Microsoft Corporation) C:\WINDOWS\system32\Drivers\npfs.sys
2019-10-30 00:53 - 2019-10-30 00:53 - 000087040 _____ (Microsoft Corporation) C:\WINDOWS\SysWOW64\dot3msm.dll
2019-10-30 00:53 - 2019-10-30 00:53 - 000087040 _____ (Microsoft Corporation) C:\WINDOWS\system32\EditBufferTestHook.dll
2019-10-30 00:53 - 2019-10-30 00:53 - 000084280 _____ (Microsoft Corporation) C:\WINDOWS\system32\Drivers\winhvr.sys
2019-10-30 00:53 - 2019-10-30 00:53 - 000083456 _____ (Microsoft Corporation) C:\WINDOWS\system32\wpdbusenum.dll
2019-10-30 00:53 - 2019-10-30 00:53 - 000083456 _____ (Microsoft Corporation) C:\WINDOWS\system32\provtool.exe
2019-10-30 00:53 - 2019-10-30 00:53 - 000082432 _____ (Microsoft Corporation) C:\WINDOWS\system32\rdvvmtransport.dll
2019-10-30 00:53 - 2019-10-30 00:53 - 000080896 _____ (Microsoft Corporation) C:\WINDOWS\SysWOW64\mcbuilder.exe
2019-10-30 00:53 - 2019-10-30 00:53 - 000079376 _____ (Microsoft Corporation) C:\WINDOWS\system32\Drivers\uaspstor.sys
2019-10-30 00:53 - 2019-10-30 00:53 - 000078848 _____ (Microsoft Corporation) C:\WINDOWS\system32\offreg.dll
2019-10-30 00:53 - 2019-10-30 00:53 - 000078848 _____ (Microsoft Corporation) C:\WINDOWS\system32\ComputerDefaults.exe
2019-10-30 00:53 - 2019-10-30 00:53 - 000077824 _____ (Microsoft Corporation) C:\WINDOWS\SysWOW64\usoapi.dll
2019-10-30 00:53 - 2019-10-30 00:53 - 000075264 _____ (Microsoft Corporation) C:\WINDOWS\system32\tetheringclient.dll
2019-10-30 00:53 - 2019-10-30 00:53 - 000075264 _____ (Microsoft Corporation) C:\WINDOWS\system32\Groupinghc.dll
2019-10-30 00:53 - 2019-10-30 00:53 - 000072704 _____ (Microsoft Corporation) C:\WINDOWS\SysWOW64\tzautoupdate.dll
2019-10-30 00:53 - 2019-10-30 00:53 - 000072704 _____ (Microsoft Corporation) C:\WINDOWS\system32\efsext.dll
2019-10-30 00:53 - 2019-10-30 00:53 - 000071680 _____ (Microsoft Corporation) C:\WINDOWS\system32\dwm.exe
2019-10-30 00:53 - 2019-10-30 00:53 - 000070144 _____ (Microsoft Corporation) C:\WINDOWS\SysWOW64\dhcpcsvc.dll
2019-10-30 00:53 - 2019-10-30 00:53 - 000070144 _____ (Microsoft Corporation) C:\WINDOWS\system32\wups.dll
2019-10-30 00:53 - 2019-10-30 00:53 - 000069632 _____ (Microsoft Corporation) C:\WINDOWS\system32\Drivers\monitor.sys
2019-10-30 00:53 - 2019-10-30 00:53 - 000068096 _____ (Microsoft Corporation) C:\WINDOWS\system32\dhcpcsvc6.dll
2019-10-30 00:53 - 2019-10-30 00:53 - 000066832 _____ (Microsoft Corporation) C:\WINDOWS\system32\iumcrypt.dll
2019-10-30 00:53 - 2019-10-30 00:53 - 000066560 _____ (Microsoft Corporation) C:\WINDOWS\SysWOW64\EditBufferTestHook.dll
2019-10-30 00:53 - 2019-10-30 00:53 - 000066560 _____ (Microsoft Corporation) C:\WINDOWS\system32\umpo-overrides.dll
2019-10-30 00:53 - 2019-10-30 00:53 - 000066560 _____ (Microsoft Corporation) C:\WINDOWS\system32\findnetprinters.dll
2019-10-30 00:53 - 2019-10-30 00:53 - 000066048 _____ (Microsoft Corporation) C:\WINDOWS\SysWOW64\rdvvmtransport.dll
2019-10-30 00:53 - 2019-10-30 00:53 - 000066048 _____ (Microsoft Corporation) C:\WINDOWS\SysWOW64\ComputerDefaults.exe
2019-10-30 00:53 - 2019-10-30 00:53 - 000066048 _____ (Microsoft Corporation) C:\WINDOWS\system32\RemovableMediaProvisioningPlugin.dll
2019-10-30 00:53 - 2019-10-30 00:53 - 000065024 _____ (Microsoft Corporation) C:\WINDOWS\system32\ssdpapi.dll
2019-10-30 00:53 - 2019-10-30 00:53 - 000064512 _____ (Microsoft Corporation) C:\WINDOWS\SysWOW64\coloradapterclient.dll
2019-10-30 00:53 - 2019-10-30 00:53 - 000064512 _____ (Microsoft Corporation) C:\WINDOWS\system32\CertEnrollCtrl.exe
2019-10-30 00:53 - 2019-10-30 00:53 - 000064000 _____ (Microsoft Corporation) C:\WINDOWS\system32\tbauth.dll
2019-10-30 00:53 - 2019-10-30 00:53 - 000064000 _____ (Microsoft Corporation) C:\WINDOWS\system32\printui.exe
2019-10-30 00:53 - 2019-10-30 00:53 - 000064000 _____ (Microsoft Corporation) C:\WINDOWS\system32\Drivers\hidspi.sys
2019-10-30 00:53 - 2019-10-30 00:53 - 000064000 _____ (Microsoft Corporation) C:\WINDOWS\system32\ByteCodeGenerator.exe
2019-10-30 00:53 - 2019-10-30 00:53 - 000063288 _____ (Microsoft Corporation) C:\WINDOWS\system32\SecurityHealthHost.exe
2019-10-30 00:53 - 2019-10-30 00:53 - 000062976 _____ (Microsoft Corporation) C:\WINDOWS\SysWOW64\MshtmlDac.dll
2019-10-30 00:53 - 2019-10-30 00:53 - 000062464 _____ (Microsoft Corporation) C:\WINDOWS\SysWOW64\printui.exe
2019-10-30 00:53 - 2019-10-30 00:53 - 000061952 _____ (Microsoft Corporation) C:\WINDOWS\system32\LSCSHostPolicy.dll
2019-10-30 00:53 - 2019-10-30 00:53 - 000061952 _____ (Microsoft Corporation) C:\WINDOWS\system32\edpnotify.exe
2019-10-30 00:53 - 2019-10-30 00:53 - 000060928 _____ (Microsoft Corporation) C:\WINDOWS\system32\mf3216.dll
2019-10-30 00:53 - 2019-10-30 00:53 - 000060416 _____ (Microsoft Corporation) C:\WINDOWS\system32\AssignedAccessRuntime.dll
2019-10-30 00:53 - 2019-10-30 00:53 - 000059904 _____ (Microsoft Corporation) C:\WINDOWS\system32\devrtl.dll
2019-10-30 00:53 - 2019-10-30 00:53 - 000058880 _____ (Microsoft Corporation) C:\WINDOWS\SysWOW64\offreg.dll
2019-10-30 00:53 - 2019-10-30 00:53 - 000058825 _____ C:\WINDOWS\system32\srms.dat
2019-10-30 00:53 - 2019-10-30 00:53 - 000058368 _____ (Microsoft Corporation) C:\WINDOWS\SysWOW64\dhcpcsvc6.dll
2019-10-30 00:53 - 2019-10-30 00:53 - 000057856 _____ (Microsoft Corporation) C:\WINDOWS\system32\wcimage.dll
2019-10-30 00:53 - 2019-10-30 00:53 - 000056832 _____ (Microsoft Corporation) C:\WINDOWS\SysWOW64\devrtl.dll
2019-10-30 00:53 - 2019-10-30 00:53 - 000056832 _____ (Microsoft Corporation) C:\WINDOWS\system32\pnppolicy.dll
2019-10-30 00:53 - 2019-10-30 00:53 - 000056832 _____ (Microsoft Corporation) C:\WINDOWS\system32\GameInput.dll
2019-10-30 00:53 - 2019-10-30 00:53 - 000055304 _____ (Microsoft Corporation) C:\WINDOWS\system32\Drivers\storufs.sys
2019-10-30 00:53 - 2019-10-30 00:53 - 000055296 _____ (Microsoft Corporation) C:\WINDOWS\SysWOW64\efsext.dll
2019-10-30 00:53 - 2019-10-30 00:53 - 000053248 _____ C:\WINDOWS\system32\Drivers\UsbPmApi.sys
2019-10-30 00:53 - 2019-10-30 00:53 - 000053248 _____ (Microsoft Corporation) C:\WINDOWS\SysWOW64\findnetprinters.dll
2019-10-30 00:53 - 2019-10-30 00:53 - 000052752 _____ (Microsoft Corporation) C:\WINDOWS\system32\Drivers\vmstorfl.sys
2019-10-30 00:53 - 2019-10-30 00:53 - 000052736 _____ (Microsoft Corporation) C:\WINDOWS\system32\jsproxy.dll
2019-10-30 00:53 - 2019-10-30 00:53 - 000052224 _____ (Microsoft Corporation) C:\WINDOWS\system32\tetheringconfigsp.dll
2019-10-30 00:53 - 2019-10-30 00:53 - 000051200 _____ (Microsoft Corporation) C:\WINDOWS\SysWOW64\CertEnrollCtrl.exe
2019-10-30 00:53 - 2019-10-30 00:53 - 000050176 _____ (Microsoft Corporation) C:\WINDOWS\SysWOW64\ByteCodeGenerator.exe
2019-10-30 00:53 - 2019-10-30 00:53 - 000049152 _____ (Microsoft Corporation) C:\WINDOWS\SysWOW64\tbauth.dll
2019-10-30 00:53 - 2019-10-30 00:53 - 000049152 _____ (Microsoft Corporation) C:\WINDOWS\system32\XInputUap.dll
2019-10-30 00:53 - 2019-10-30 00:53 - 000049152 _____ (Microsoft Corporation) C:\WINDOWS\system32\enrollmentapi.dll
2019-10-30 00:53 - 2019-10-30 00:53 - 000048640 _____ (Microsoft Corporation) C:\WINDOWS\SysWOW64\edpnotify.exe
2019-10-30 00:53 - 2019-10-30 00:53 - 000048128 _____ (Microsoft Corporation) C:\WINDOWS\system32\ddrawex.dll
2019-10-30 00:53 - 2019-10-30 00:53 - 000047616 _____ C:\WINDOWS\system32\UsbPmApi.dll
2019-10-30 00:53 - 2019-10-30 00:53 - 000047104 _____ (Microsoft Corporation) C:\WINDOWS\SysWOW64\AssignedAccessRuntime.dll
2019-10-30 00:53 - 2019-10-30 00:53 - 000047104 _____ (Microsoft Corporation) C:\WINDOWS\system32\Drivers\devauthe.sys
2019-10-30 00:53 - 2019-10-30 00:53 - 000046632 _____ (Microsoft Corporation) C:\WINDOWS\system32\browser_broker.exe
2019-10-30 00:53 - 2019-10-30 00:53 - 000046080 _____ (Microsoft Corporation) C:\WINDOWS\system32\compact.exe
2019-10-30 00:53 - 2019-10-30 00:53 - 000045568 _____ (Microsoft Corporation) C:\WINDOWS\SysWOW64\mf3216.dll
2019-10-30 00:53 - 2019-10-30 00:53 - 000045568 _____ (Microsoft Corporation) C:\WINDOWS\system32\cellulardatacapabilityhandler.dll
2019-10-30 00:53 - 2019-10-30 00:53 - 000045056 _____ (Microsoft Corporation) C:\WINDOWS\SysWOW64\jsproxy.dll
2019-10-30 00:53 - 2019-10-30 00:53 - 000045056 _____ (Microsoft Corporation) C:\WINDOWS\system32\npmproxy.dll
2019-10-30 00:53 - 2019-10-30 00:53 - 000044544 _____ (Microsoft Corporation) C:\WINDOWS\system32\werdiagcontroller.dll
2019-10-30 00:53 - 2019-10-30 00:53 - 000044544 _____ (Microsoft Corporation) C:\WINDOWS\system32\cmintegrator.dll
2019-10-30 00:53 - 2019-10-30 00:53 - 000044032 _____ (Microsoft Corporation) C:\WINDOWS\SysWOW64\GameInput.dll
2019-10-30 00:53 - 2019-10-30 00:53 - 000044032 _____ (Microsoft Corporation) C:\WINDOWS\system32\XInput1_4.dll
2019-10-30 00:53 - 2019-10-30 00:53 - 000044032 _____ (Microsoft Corporation) C:\WINDOWS\system32\Windows.UI.Xaml.Resources.Common.dll
2019-10-30 00:53 - 2019-10-30 00:53 - 000043536 _____ (Microsoft Corporation) C:\WINDOWS\system32\Drivers\storvsc.sys
2019-10-30 00:53 - 2019-10-30 00:53 - 000043536 _____ (Microsoft Corporation) C:\WINDOWS\system32\Drivers\msfs.sys
2019-10-30 00:53 - 2019-10-30 00:53 - 000043008 _____ (Microsoft Corporation) C:\WINDOWS\system32\WiredNetworkCSP.dll
2019-10-30 00:53 - 2019-10-30 00:53 - 000043008 _____ (Microsoft Corporation) C:\WINDOWS\system32\UpgradeResultsUI.exe
2019-10-30 00:53 - 2019-10-30 00:53 - 000042512 _____ (Microsoft Corporation) C:\WINDOWS\system32\SysResetErr.exe
2019-10-30 00:53 - 2019-10-30 00:53 - 000041472 _____ (Microsoft Corporation) C:\WINDOWS\SysWOW64\ddrawex.dll
2019-10-30 00:53 - 2019-10-30 00:53 - 000041472 _____ (Microsoft Corporation) C:\WINDOWS\SysWOW64\compact.exe
2019-10-30 00:53 - 2019-10-30 00:53 - 000041472 _____ (Microsoft Corporation) C:\WINDOWS\system32\WordBreakers.dll
2019-10-30 00:53 - 2019-10-30 00:53 - 000041472 _____ (Microsoft Corporation) C:\WINDOWS\system32\wfdprov.dll
2019-10-30 00:53 - 2019-10-30 00:53 - 000040960 _____ (Microsoft Corporation) C:\WINDOWS\system32\WiFiConfigSP.dll
2019-10-30 00:53 - 2019-10-30 00:53 - 000039304 _____ (Microsoft Corporation) C:\WINDOWS\system32\NtlmShared.dll
2019-10-30 00:53 - 2019-10-30 00:53 - 000038912 _____ (Microsoft Corporation) C:\WINDOWS\SysWOW64\werdiagcontroller.dll
2019-10-30 00:53 - 2019-10-30 00:53 - 000037904 _____ (Microsoft Corporation) C:\WINDOWS\system32\SyncAppvPublishingServer.exe
2019-10-30 00:53 - 2019-10-30 00:53 - 000037888 _____ (Microsoft Corporation) C:\WINDOWS\SysWOW64\XInputUap.dll
2019-10-30 00:53 - 2019-10-30 00:53 - 000037176 _____ (Microsoft Corporation) C:\WINDOWS\system32\Drivers\wimmount.sys
2019-10-30 00:53 - 2019-10-30 00:53 - 000036864 _____ (Microsoft Corporation) C:\WINDOWS\system32\wlansvcpal.dll
2019-10-30 00:53 - 2019-10-30 00:53 - 000036864 _____ (Microsoft Corporation) C:\WINDOWS\system32\TokenBrokerCookies.exe
2019-10-30 00:53 - 2019-10-30 00:53 - 000036864 _____ (Microsoft Corporation) C:\WINDOWS\system32\IcsEntitlementHost.exe
2019-10-30 00:53 - 2019-10-30 00:53 - 000036352 _____ (Microsoft Corporation) C:\WINDOWS\SysWOW64\XInput1_4.dll
2019-10-30 00:53 - 2019-10-30 00:53 - 000036352 _____ (Microsoft Corporation) C:\WINDOWS\SysWOW64\enrollmentapi.dll
2019-10-30 00:53 - 2019-10-30 00:53 - 000034816 _____ (Microsoft Corporation) C:\WINDOWS\system32\Drivers\mskssrv.sys
2019-10-30 00:53 - 2019-10-30 00:53 - 000033792 _____ (Microsoft Corporation) C:\WINDOWS\system32\Windows.Management.Provisioning.ProxyStub.dll
2019-10-30 00:53 - 2019-10-30 00:53 - 000033280 _____ (Microsoft Corporation) C:\WINDOWS\SysWOW64\WordBreakers.dll
2019-10-30 00:53 - 2019-10-30 00:53 - 000033048 _____ (Microsoft Corporation) C:\WINDOWS\SysWOW64\NtlmShared.dll
2019-10-30 00:53 - 2019-10-30 00:53 - 000032256 _____ (Microsoft Corporation) C:\WINDOWS\SysWOW64\wups.dll
2019-10-30 00:53 - 2019-10-30 00:53 - 000030720 _____ (Microsoft Corporation) C:\WINDOWS\system32\Drivers\KNetPwrDepBroker.sys
2019-10-30 00:53 - 2019-10-30 00:53 - 000029696 _____ (Microsoft Corporation) C:\WINDOWS\SysWOW64\cmintegrator.dll
2019-10-30 00:53 - 2019-10-30 00:53 - 000029696 _____ (Microsoft Corporation) C:\WINDOWS\system32\nlmproxy.dll
2019-10-30 00:53 - 2019-10-30 00:53 - 000029184 _____ (Microsoft Corporation) C:\WINDOWS\SysWOW64\TokenBrokerCookies.exe
2019-10-30 00:53 - 2019-10-30 00:53 - 000028936 _____ (Microsoft Corporation) C:\WINDOWS\system32\vmbuspipe.dll
2019-10-30 00:53 - 2019-10-30 00:53 - 000028672 _____ (Microsoft Corporation) C:\WINDOWS\system32\WaaSMedicPS.dll
2019-10-30 00:53 - 2019-10-30 00:53 - 000028672 _____ (Microsoft Corporation) C:\WINDOWS\system32\Drivers\ndistapi.sys
2019-10-30 00:53 - 2019-10-30 00:53 - 000027648 _____ (Microsoft Corporation) C:\WINDOWS\system32\Win32_DeviceGuard.dll
2019-10-30 00:53 - 2019-10-30 00:53 - 000027648 _____ (Microsoft Corporation) C:\WINDOWS\system32\lstelemetry.dll
2019-10-30 00:53 - 2019-10-30 00:53 - 000026112 _____ (Microsoft Corporation) C:\WINDOWS\SysWOW64\msimsg.dll
2019-10-30 00:53 - 2019-10-30 00:53 - 000026112 _____ (Microsoft Corporation) C:\WINDOWS\system32\vdsldr.exe
2019-10-30 00:53 - 2019-10-30 00:53 - 000026112 _____ (Microsoft Corporation) C:\WINDOWS\system32\msimsg.dll
2019-10-30 00:53 - 2019-10-30 00:53 - 000025088 _____ (Microsoft Corporation) C:\WINDOWS\system32\Drivers\ws2ifsl.sys
2019-10-30 00:53 - 2019-10-30 00:53 - 000024064 _____ (Microsoft Corporation) C:\WINDOWS\system32\wci.dll
2019-10-30 00:53 - 2019-10-30 00:53 - 000024064 _____ (Microsoft Corporation) C:\WINDOWS\system32\CSystemEventsBrokerClient.dll
2019-10-30 00:53 - 2019-10-30 00:53 - 000023352 _____ (Microsoft Corporation) C:\WINDOWS\system32\Drivers\isapnp.sys
2019-10-30 00:53 - 2019-10-30 00:53 - 000021816 _____ (Microsoft Corporation) C:\WINDOWS\system32\ScriptRunner.exe
2019-10-30 00:53 - 2019-10-30 00:53 - 000020944 _____ (Microsoft Corporation) C:\WINDOWS\system32\wow64cpu.dll
2019-10-30 00:53 - 2019-10-30 00:53 - 000019984 _____ (Microsoft Corporation) C:\WINDOWS\system32\ResetEngine.exe
2019-10-30 00:53 - 2019-10-30 00:53 - 000019968 _____ (Microsoft Corporation) C:\WINDOWS\SysWOW64\winnlsres.dll
2019-10-30 00:53 - 2019-10-30 00:53 - 000019968 _____ (Microsoft Corporation) C:\WINDOWS\system32\winnlsres.dll
2019-10-30 00:53 - 2019-10-30 00:53 - 000019456 _____ (Microsoft Corporation) C:\WINDOWS\system32\wmsgapi.dll
2019-10-30 00:53 - 2019-10-30 00:53 - 000019256 _____ (Microsoft Corporation) C:\WINDOWS\system32\Drivers\msisadrv.sys
2019-10-30 00:53 - 2019-10-30 00:53 - 000017920 _____ (Microsoft Corporation) C:\WINDOWS\system32\bindflt.dll
2019-10-30 00:53 - 2019-10-30 00:53 - 000017408 _____ (Microsoft Corporation) C:\WINDOWS\system32\nlmsprep.dll
2019-10-30 00:53 - 2019-10-30 00:53 - 000016896 _____ (Microsoft Corporation) C:\WINDOWS\system32\wlanhlp.dll
2019-10-30 00:53 - 2019-10-30 00:53 - 000016696 _____ (Microsoft Corporation) C:\WINDOWS\system32\spwizres.dll
2019-10-30 00:53 - 2019-10-30 00:53 - 000014336 _____ (Microsoft Corporation) C:\WINDOWS\system32\dciman32.dll
2019-10-30 00:53 - 2019-10-30 00:53 - 000014336 _____ (Microsoft Corporation) C:\WINDOWS\system32\d3d8thk.dll
2019-10-30 00:53 - 2019-10-30 00:53 - 000013824 _____ (Microsoft Corporation) C:\WINDOWS\SysWOW64\KBDJPN.DLL
2019-10-30 00:53 - 2019-10-30 00:53 - 000013824 _____ (Microsoft Corporation) C:\WINDOWS\system32\appvetwstreamingux.dll
2019-10-30 00:53 - 2019-10-30 00:53 - 000013312 _____ (Microsoft Corporation) C:\WINDOWS\SysWOW64\KBDKOR.DLL
2019-10-30 00:53 - 2019-10-30 00:53 - 000013312 _____ (Microsoft Corporation) C:\WINDOWS\system32\dstokenclean.exe
2019-10-30 00:53 - 2019-10-30 00:53 - 000012800 _____ (Microsoft Corporation) C:\WINDOWS\SysWOW64\d3d8thk.dll
2019-10-30 00:53 - 2019-10-30 00:53 - 000012288 _____ (Microsoft Corporation) C:\WINDOWS\system32\TSErrRedir.dll
2019-10-30 00:53 - 2019-10-30 00:53 - 000011776 _____ (Microsoft Corporation) C:\WINDOWS\SysWOW64\dciman32.dll
2019-10-30 00:53 - 2019-10-30 00:53 - 000011576 _____ (Microsoft Corporation) C:\WINDOWS\system32\uxlibres.dll
2019-10-30 00:53 - 2019-10-30 00:53 - 000007680 _____ (Microsoft Corporation) C:\WINDOWS\SysWOW64\kbd106.dll
2019-10-30 00:53 - 2019-10-30 00:53 - 000003584 _____ (Microsoft Corporation) C:\WINDOWS\SysWOW64\TpmCertResources.dll
2019-10-30 00:53 - 2019-10-30 00:53 - 000003584 _____ (Microsoft Corporation) C:\WINDOWS\system32\TpmCertResources.dll
2019-10-30 00:53 - 2019-10-30 00:53 - 000003072 _____ (Microsoft Corporation) C:\WINDOWS\system32\lpk.dll
2019-10-30 00:53 - 2019-10-30 00:53 - 000002560 _____ (Microsoft Corporation) C:\WINDOWS\SysWOW64\msxml6r.dll
2019-10-30 00:53 - 2019-10-30 00:53 - 000002560 _____ (Microsoft Corporation) C:\WINDOWS\SysWOW64\msxml3r.dll
2019-10-30 00:53 - 2019-10-30 00:53 - 000002560 _____ (Microsoft Corporation) C:\WINDOWS\SysWOW64\lpk.dll
2019-10-30 00:53 - 2019-10-30 00:53 - 000002560 _____ (Microsoft Corporation) C:\WINDOWS\system32\msxml6r.dll
2019-10-30 00:53 - 2019-10-30 00:53 - 000002560 _____ (Microsoft Corporation) C:\WINDOWS\system32\msxml3r.dll
2019-10-30 00:53 - 2019-10-30 00:53 - 000000315 _____ C:\WINDOWS\system32\DrtmAuth9.bin
2019-10-30 00:53 - 2019-10-30 00:53 - 000000315 _____ C:\WINDOWS\system32\DrtmAuth8.bin
2019-10-30 00:53 - 2019-10-30 00:53 - 000000315 _____ C:\WINDOWS\system32\DrtmAuth7.bin
2019-10-30 00:53 - 2019-10-30 00:53 - 000000315 _____ C:\WINDOWS\system32\DrtmAuth6.bin
2019-10-30 00:53 - 2019-10-30 00:53 - 000000315 _____ C:\WINDOWS\system32\DrtmAuth5.bin
2019-10-30 00:53 - 2019-10-30 00:53 - 000000315 _____ C:\WINDOWS\system32\DrtmAuth4.bin
2019-10-30 00:53 - 2019-10-30 00:53 - 000000315 _____ C:\WINDOWS\system32\DrtmAuth3.bin
2019-10-30 00:53 - 2019-10-30 00:53 - 000000315 _____ C:\WINDOWS\system32\DrtmAuth2.bin
2019-10-30 00:53 - 2019-10-30 00:53 - 000000315 _____ C:\WINDOWS\system32\DrtmAuth12.bin
2019-10-30 00:53 - 2019-10-30 00:53 - 000000315 _____ C:\WINDOWS\system32\DrtmAuth11.bin
2019-10-30 00:53 - 2019-10-30 00:53 - 000000315 _____ C:\WINDOWS\system32\DrtmAuth10.bin
2019-10-30 00:53 - 2019-10-30 00:53 - 000000315 _____ C:\WINDOWS\system32\DrtmAuth1.bin
2019-10-30 00:50 - 2019-10-30 00:50 - 000000000 ____D C:\WINDOWS\SysWOW64\XPSViewer
2019-10-30 00:50 - 2019-10-30 00:50 - 000000000 ____D C:\WINDOWS\system32\he
2019-10-30 00:48 - 2019-10-30 01:23 - 000000000 ____D C:\Program Files (x86)\MSBuild
2019-10-30 00:48 - 2019-10-30 00:48 - 000000000 __RSD C:\WINDOWS\SysWOW64\WindowsDevicePortal
2019-10-30 00:48 - 2019-10-30 00:48 - 000000000 __RSD C:\WINDOWS\system32\WindowsDevicePortal
2019-10-30 00:48 - 2019-10-30 00:48 - 000000000 ___RD C:\WINDOWS\WebManagement
2019-10-30 00:48 - 2019-10-30 00:48 - 000000000 ____D C:\Program Files\Reference Assemblies
2019-10-30 00:48 - 2019-10-30 00:48 - 000000000 ____D C:\Program Files\MSBuild
2019-10-30 00:48 - 2019-10-30 00:48 - 000000000 ____D C:\Program Files (x86)\Reference Assemblies
2019-10-30 00:48 - 2019-03-19 05:21 - 000099328 _____ (Microsoft Corporation) C:\WINDOWS\system32\XPSSHHDR.dll
2019-10-30 00:48 - 2019-03-19 05:20 - 004470272 _____ (Microsoft Corporation) C:\WINDOWS\system32\xpsrchvw.exe
2019-10-30 00:48 - 2019-03-19 05:20 - 000415232 _____ (Windows ® Win 7 DDK provider) C:\WINDOWS\system32\DXCpl.exe
2019-10-30 00:48 - 2019-03-19 05:18 - 000350208 _____ (Microsoft Corporation) C:\WINDOWS\system32\perf_gputiming.dll
2019-10-30 00:48 - 2019-03-19 05:16 - 000903168 _____ (Microsoft Corporation) C:\WINDOWS\system32\XpsFilt.dll
2019-10-30 00:48 - 2019-03-19 04:15 - 000081408 _____ (Microsoft Corporation) C:\WINDOWS\SysWOW64\XPSSHHDR.dll
2019-10-30 00:48 - 2019-03-19 04:12 - 000274432 _____ (Microsoft Corporation) C:\WINDOWS\SysWOW64\perf_gputiming.dll
2019-10-30 00:48 - 2019-03-19 04:09 - 000568320 _____ (Microsoft Corporation) C:\WINDOWS\SysWOW64\XpsFilt.dll
2019-10-30 00:48 - 2019-03-19 04:09 - 000390656 _____ (Windows ® Win 7 DDK provider) C:\WINDOWS\SysWOW64\DXCpl.exe
2019-10-30 00:48 - 2019-03-19 01:49 - 000095744 _____ (Microsoft Corporation) C:\WINDOWS\system32\DxToolsReportGenerator.dll
2019-10-30 00:48 - 2019-03-19 01:29 - 000095744 _____ (Microsoft Corporation) C:\WINDOWS\SysWOW64\DxToolsReportGenerator.dll
2019-10-30 00:48 - 2019-03-19 01:19 - 017826304 _____ (Microsoft Corporation) C:\WINDOWS\system32\DXCaptureReplay.dll
2019-10-30 00:48 - 2019-03-19 01:19 - 000091648 _____ (Microsoft Corporation) C:\WINDOWS\system32\VsGraphicsProxyStub.dll
2019-10-30 00:48 - 2019-03-19 01:19 - 000060416 _____ (Microsoft Corporation) C:\WINDOWS\system32\DeployUtil.exe
2019-10-30 00:48 - 2019-03-19 01:19 - 000020480 _____ (Microsoft Corporation) C:\WINDOWS\system32\DeveloperTools.ProxyStub.dll
2019-10-30 00:48 - 2019-03-19 01:18 - 000129536 _____ (Microsoft Corporation) C:\WINDOWS\system32\VSD3DWARPDebug.dll
2019-10-30 00:48 - 2019-03-19 01:18 - 000032768 _____ (Microsoft Corporation) C:\WINDOWS\system32\debugregsvcapi.dll
2019-10-30 00:48 - 2019-03-19 01:17 - 001165312 _____ (Microsoft Corporation) C:\WINDOWS\system32\DXCap.exe
2019-10-30 00:48 - 2019-03-19 01:17 - 000099840 _____ (Microsoft Corporation) C:\WINDOWS\system32\DevToolsLauncher.exe
2019-10-30 00:48 - 2019-03-19 01:16 - 000296448 _____ (Microsoft Corporation) C:\WINDOWS\system32\PerceptionSimulationREST.dll
2019-10-30 00:48 - 2019-03-19 01:16 - 000174080 _____ (Microsoft Corporation) C:\WINDOWS\system32\DeveloperToolsSvc.exe
2019-10-30 00:48 - 2019-03-19 01:15 - 000331264 _____ (Microsoft Corporation) C:\WINDOWS\system32\DXGIDebug.dll
2019-10-30 00:48 - 2019-03-19 01:15 - 000101888 _____ (Microsoft Corporation) C:\WINDOWS\system32\DeveloperSetupCSP.dll
2019-10-30 00:48 - 2019-03-19 01:14 - 004825600 _____ (Microsoft Corporation) C:\WINDOWS\system32\d3d12SDKLayers.dll
2019-10-30 00:48 - 2019-03-19 01:14 - 001367040 _____ (Microsoft Corporation) C:\WINDOWS\system32\d3d11_3SDKLayers.dll
2019-10-30 00:48 - 2019-03-19 01:14 - 000173568 _____ (Microsoft Corporation) C:\WINDOWS\system32\DXToolsReporting.dll
2019-10-30 00:48 - 2019-03-19 01:13 - 000094208 _____ (Microsoft Corporation) C:\WINDOWS\system32\debugregsvc.dll
2019-10-30 00:48 - 2019-03-19 01:12 - 000188416 _____ (Microsoft Corporation) C:\WINDOWS\system32\DXToolsMonitor.dll
2019-10-30 00:48 - 2019-03-19 01:12 - 000165888 _____ (Microsoft Corporation) C:\WINDOWS\system32\VsGraphicsCapture.dll
2019-10-30 00:48 - 2019-03-19 01:10 - 013938688 _____ (Microsoft Corporation) C:\WINDOWS\SysWOW64\DXCaptureReplay.dll
2019-10-30 00:48 - 2019-03-19 01:09 - 002007552 _____ (Microsoft Corporation) C:\WINDOWS\system32\DXToolsOfflineAnalysis.dll
2019-10-30 00:48 - 2019-03-19 01:09 - 000095744 _____ (Microsoft Corporation) C:\WINDOWS\SysWOW64\VSD3DWARPDebug.dll
2019-10-30 00:48 - 2019-03-19 01:09 - 000041472 _____ (Microsoft Corporation) C:\WINDOWS\SysWOW64\VsGraphicsProxyStub.dll
2019-10-30 00:48 - 2019-03-19 01:08 - 004849152 _____ (Microsoft Corporation) C:\WINDOWS\system32\VsGraphicsRemoteEngine.exe
2019-10-30 00:48 - 2019-03-19 01:08 - 000565248 _____ (Microsoft Corporation) C:\WINDOWS\system32\d2d1debug3.dll
2019-10-30 00:48 - 2019-03-19 01:08 - 000235008 _____ (Microsoft Corporation) C:\WINDOWS\SysWOW64\DXGIDebug.dll
2019-10-30 00:48 - 2019-03-19 01:07 - 005729280 _____ (Microsoft Corporation) C:\WINDOWS\system32\VsGraphicsDesktopEngine.exe
2019-10-30 00:48 - 2019-03-19 01:06 - 000904192 _____ (Microsoft Corporation) C:\WINDOWS\SysWOW64\DXCap.exe
2019-10-30 00:48 - 2019-03-19 01:06 - 000284672 _____ (Microsoft Corporation) C:\WINDOWS\system32\VsGraphicsExperiment.dll
2019-10-30 00:48 - 2019-03-19 01:06 - 000136192 _____ (Microsoft Corporation) C:\WINDOWS\SysWOW64\DXToolsMonitor.dll
2019-10-30 00:48 - 2019-03-19 01:05 - 000115200 _____ (Microsoft Corporation) C:\WINDOWS\SysWOW64\DXToolsReporting.dll
2019-10-30 00:48 - 2019-03-19 01:04 - 003587072 _____ (Microsoft Corporation) C:\WINDOWS\SysWOW64\VsGraphicsRemoteEngine.exe
2019-10-30 00:48 - 2019-03-19 01:04 - 003557376 _____ (Microsoft Corporation) C:\WINDOWS\SysWOW64\d3d12SDKLayers.dll
2019-10-30 00:48 - 2019-03-19 01:04 - 000434688 _____ (Microsoft Corporation) C:\WINDOWS\SysWOW64\d2d1debug3.dll
2019-10-30 00:48 - 2019-03-19 01:03 - 004476928 _____ (Microsoft Corporation) C:\WINDOWS\SysWOW64\VsGraphicsDesktopEngine.exe
2019-10-30 00:48 - 2019-03-19 01:03 - 001084416 _____ (Microsoft Corporation) C:\WINDOWS\SysWOW64\d3d11_3SDKLayers.dll
2019-10-30 00:48 - 2019-03-19 01:02 - 000215040 _____ (Microsoft Corporation) C:\WINDOWS\SysWOW64\VsGraphicsExperiment.dll
2019-10-30 00:48 - 2019-03-19 01:00 - 001412608 _____ (Microsoft Corporation) C:\WINDOWS\SysWOW64\DXToolsOfflineAnalysis.dll
2019-10-30 00:48 - 2019-03-19 01:00 - 000122368 _____ (Microsoft Corporation) C:\WINDOWS\SysWOW64\VsGraphicsCapture.dll
2019-10-30 00:48 - 2019-03-02 03:33 - 000076060 _____ C:\WINDOWS\system32\xpsrchvw.xml
2019-10-30 00:48 - 2018-08-10 00:53 - 000076060 _____ C:\WINDOWS\SysWOW64\xpsrchvw.xml
2019-10-30 00:47 - 2019-03-19 05:32 - 000516648 _____ (Microsoft Corporation) C:\WINDOWS\system32\MicrosoftWebDriver.exe
2019-10-30 00:47 - 2019-03-19 04:27 - 000393768 _____ (Microsoft Corporation) C:\WINDOWS\SysWOW64\MicrosoftWebDriver.exe
2019-10-30 00:47 - 2019-03-19 01:20 - 001722880 _____ (Microsoft Corporation) C:\WINDOWS\system32\NlsLexicons000d.dll
2019-10-30 00:47 - 2019-03-19 01:18 - 000180736 _____ (Microsoft Corporation) C:\WINDOWS\system32\NlsData000d.dll
2019-10-30 00:47 - 2019-03-19 01:08 - 000134656 _____ (Microsoft Corporation) C:\WINDOWS\SysWOW64\NlsData000d.dll
2019-10-30 00:47 - 2019-03-19 01:05 - 002297344 _____ (Microsoft Corporation) C:\WINDOWS\system32\MLS7.dll
2019-10-30 00:47 - 2019-03-19 01:00 - 002251776 _____ (Microsoft Corporation) C:\WINDOWS\SysWOW64\MLS7.dll
2019-10-30 00:47 - 2019-03-02 03:31 - 001166488 _____ (Microsoft Corporation) C:\WINDOWS\system32\PresentationNative_v0300.dll
2019-10-30 00:47 - 2019-03-02 03:31 - 000124568 _____ (Microsoft Corporation) C:\WINDOWS\system32\PresentationCFFRasterizerNative_v0300.dll
2019-10-30 00:47 - 2019-03-02 03:31 - 000035592 _____ (Microsoft Corporation) C:\WINDOWS\system32\TsWpfWrp.exe
2019-10-30 00:47 - 2019-02-06 04:41 - 000778912 _____ (Microsoft Corporation) C:\WINDOWS\SysWOW64\PresentationNative_v0300.dll
2019-10-30 00:47 - 2019-02-06 04:41 - 000103072 _____ (Microsoft Corporation) C:\WINDOWS\SysWOW64\PresentationCFFRasterizerNative_v0300.dll
2019-10-30 00:47 - 2019-02-06 04:41 - 000035592 _____ (Microsoft Corporation) C:\WINDOWS\SysWOW64\TsWpfWrp.exe
2019-10-29 16:04 - 2019-10-29 16:04 - 025901056 _____ (Microsoft Corporation) C:\WINDOWS\system32\edgehtml.dll
2019-10-29 16:04 - 2019-10-29 16:04 - 025444352 _____ (Microsoft Corporation) C:\WINDOWS\system32\Hydrogen.dll
2019-10-29 16:04 - 2019-10-29 16:04 - 022627840 _____ (Microsoft Corporation) C:\WINDOWS\system32\mshtml.dll
2019-10-29 16:04 - 2019-10-29 16:04 - 019849216 _____ (Microsoft Corporation) C:\WINDOWS\SysWOW64\edgehtml.dll
2019-10-29 16:04 - 2019-10-29 16:04 - 018020352 _____ (Microsoft Corporation) C:\WINDOWS\SysWOW64\mshtml.dll
2019-10-29 16:04 - 2019-10-29 16:04 - 014816256 _____ (Microsoft Corporation) C:\WINDOWS\SysWOW64\Windows.UI.Xaml.dll
2019-10-29 16:04 - 2019-10-29 16:04 - 009928208 _____ (Microsoft Corporation) C:\WINDOWS\system32\ntoskrnl.exe
2019-10-29 16:04 - 2019-10-29 16:04 - 009711616 _____ (Microsoft Corporation) C:\WINDOWS\SysWOW64\wmp.dll
2019-10-29 16:04 - 2019-10-29 16:04 - 008011264 _____ (Microsoft Corporation) C:\WINDOWS\system32\mstscax.dll
2019-10-29 16:04 - 2019-10-29 16:04 - 007600688 _____ (Microsoft Corporation) C:\WINDOWS\system32\Windows.Media.Protection.PlayReady.dll
2019-10-29 16:04 - 2019-10-29 16:04 - 007262456 _____ (Microsoft Corporation) C:\WINDOWS\system32\shell32.dll
2019-10-29 16:04 - 2019-10-29 16:04 - 007195648 _____ (Microsoft Corporation) C:\WINDOWS\system32\ieframe.dll
2019-10-29 16:04 - 2019-10-29 16:04 - 007015936 _____ (Microsoft Corporation) C:\WINDOWS\SysWOW64\mstscax.dll
2019-10-29 16:04 - 2019-10-29 16:04 - 006523552 _____ (Microsoft Corporation) C:\WINDOWS\SysWOW64\Windows.Media.Protection.PlayReady.dll
2019-10-29 16:04 - 2019-10-29 16:04 - 006435840 _____ (Microsoft Corporation) C:\WINDOWS\system32\twinui.dll
2019-10-29 16:04 - 2019-10-29 16:04 - 006232576 _____ (Microsoft Corporation) C:\WINDOWS\SysWOW64\ieframe.dll
2019-10-29 16:04 - 2019-10-29 16:04 - 006082808 _____ (Microsoft Corporation) C:\WINDOWS\SysWOW64\windows.storage.dll
2019-10-29 16:04 - 2019-10-29 16:04 - 005943296 _____ (Microsoft Corporation) C:\WINDOWS\SysWOW64\Windows.Data.Pdf.dll
2019-10-29 16:04 - 2019-10-29 16:04 - 005763848 _____ (Microsoft Corporation) C:\WINDOWS\SysWOW64\shell32.dll
2019-10-29 16:04 - 2019-10-29 16:04 - 005501952 _____ (Microsoft Corporation) C:\WINDOWS\system32\cdp.dll
2019-10-29 16:04 - 2019-10-29 16:04 - 005112320 _____ (Microsoft Corporation) C:\WINDOWS\SysWOW64\twinui.dll
2019-10-29 16:04 - 2019-10-29 16:04 - 004307968 _____ (Microsoft Corporation) C:\WINDOWS\SysWOW64\cdp.dll
2019-10-29 16:04 - 2019-10-29 16:04 - 004150272 _____ (Microsoft Corporation) C:\WINDOWS\SysWOW64\Windows.AI.MachineLearning.dll
2019-10-29 16:04 - 2019-10-29 16:04 - 004129624 _____ (Microsoft Corporation) C:\WINDOWS\system32\mfcore.dll
2019-10-29 16:04 - 2019-10-29 16:04 - 003967920 _____ (Microsoft Corporation) C:\WINDOWS\SysWOW64\explorer.exe
2019-10-29 16:04 - 2019-10-29 16:04 - 003791360 _____ (Microsoft Corporation) C:\WINDOWS\system32\diagtrack.dll
2019-10-29 16:04 - 2019-10-29 16:04 - 003752960 _____ (Microsoft Corporation) C:\WINDOWS\system32\SettingsHandlers_nt.dll
2019-10-29 16:04 - 2019-10-29 16:04 - 003742544 _____ (Microsoft Corporation) C:\WINDOWS\SysWOW64\OneCoreUAPCommonProxyStub.dll
2019-10-29 16:04 - 2019-10-29 16:04 - 003371928 _____ (Microsoft Corporation) C:\WINDOWS\system32\combase.dll
2019-10-29 16:04 - 2019-10-29 16:04 - 002988856 _____ (Microsoft Corporation) C:\WINDOWS\system32\Drivers\tcpip.sys
2019-10-29 16:04 - 2019-10-29 16:04 - 002871848 _____ (Microsoft Corporation) C:\WINDOWS\system32\aitstatic.exe
2019-10-29 16:04 - 2019-10-29 16:04 - 002800640 _____ (Microsoft Corporation) C:\WINDOWS\SysWOW64\win32kfull.sys
2019-10-29 16:04 - 2019-10-29 16:04 - 002772272 _____ (Microsoft Corporation) C:\WINDOWS\system32\iertutil.dll
2019-10-29 16:04 - 2019-10-29 16:04 - 002762504 _____ (Microsoft Corporation) C:\WINDOWS\system32\KernelBase.dll
2019-10-29 16:04 - 2019-10-29 16:04 - 002703872 _____ (Microsoft Corporation) C:\WINDOWS\system32\WebRuntimeManager.dll
2019-10-29 16:04 - 2019-10-29 16:04 - 002698768 _____ (Microsoft Corporation) C:\WINDOWS\system32\Drivers\ntfs.sys
2019-10-29 16:04 - 2019-10-29 16:04 - 002586816 _____ (Microsoft Corporation) C:\WINDOWS\SysWOW64\combase.dll
2019-10-29 16:04 - 2019-10-29 16:04 - 002562048 _____ (Microsoft Corporation) C:\WINDOWS\SysWOW64\tquery.dll
2019-10-29 16:04 - 2019-10-29 16:04 - 002399232 _____ (Microsoft Corporation) C:\WINDOWS\SysWOW64\AcGenral.dll
2019-10-29 16:04 - 2019-10-29 16:04 - 002369552 _____ (Microsoft Corporation) C:\WINDOWS\system32\Microsoft.Uev.AppAgent.dll
2019-10-29 16:04 - 2019-10-29 16:04 - 002305536 _____ (Microsoft Corporation) C:\WINDOWS\SysWOW64\mssrch.dll
2019-10-29 16:04 - 2019-10-29 16:04 - 002258848 _____ (Microsoft Corporation) C:\WINDOWS\SysWOW64\iertutil.dll
2019-10-29 16:04 - 2019-10-29 16:04 - 002188808 _____ (Microsoft Corporation) C:\WINDOWS\system32\AppVEntSubsystems64.dll
2019-10-29 16:04 - 2019-10-29 16:04 - 002158080 _____ (Microsoft Corporation) C:\WINDOWS\system32\Microsoft.Uev.ModernAppAgent.dll
2019-10-29 16:04 - 2019-10-29 16:04 - 002081976 _____ (Microsoft Corporation) C:\WINDOWS\SysWOW64\KernelBase.dll
2019-10-29 16:04 - 2019-10-29 16:04 - 001974824 _____ (Microsoft Corporation) C:\WINDOWS\system32\Drivers\refs.sys
2019-10-29 16:04 - 2019-10-29 16:04 - 001916984 _____ (Microsoft Corporation) C:\WINDOWS\SysWOW64\AudioEng.dll
2019-10-29 16:04 - 2019-10-29 16:04 - 001856512 _____ (Microsoft Corporation) C:\WINDOWS\system32\urlmon.dll
2019-10-29 16:04 - 2019-10-29 16:04 - 001757096 _____ (Microsoft Corporation) C:\WINDOWS\system32\winload.efi
2019-10-29 16:04 - 2019-10-29 16:04 - 001726480 _____ (Microsoft Corporation) C:\WINDOWS\system32\appraiser.dll
2019-10-29 16:04 - 2019-10-29 16:04 - 001718584 _____ (Microsoft Corporation) C:\WINDOWS\system32\AppVEntVirtualization.dll
2019-10-29 16:04 - 2019-10-29 16:04 - 001691648 _____ (Microsoft Corporation) C:\WINDOWS\SysWOW64\urlmon.dll
2019-10-29 16:04 - 2019-10-29 16:04 - 001664688 _____ (Microsoft Corporation) C:\WINDOWS\SysWOW64\user32.dll
2019-10-29 16:04 - 2019-10-29 16:04 - 001659192 _____ (Microsoft Corporation) C:\WINDOWS\SysWOW64\Microsoft.Uev.AppAgent.dll
2019-10-29 16:04 - 2019-10-29 16:04 - 001616696 _____ (Microsoft Corporation) C:\WINDOWS\system32\AppVIntegration.dll
2019-10-29 16:04 - 2019-10-29 16:04 - 001610752 _____ (Microsoft Corporation) C:\WINDOWS\system32\HologramCompositor.dll
2019-10-29 16:04 - 2019-10-29 16:04 - 001495864 _____ (Microsoft Corporation) C:\WINDOWS\SysWOW64\AppVEntSubsystems32.dll
2019-10-29 16:04 - 2019-10-29 16:04 - 001394488 _____ (Microsoft Corporation) C:\WINDOWS\system32\hvix64.exe
2019-10-29 16:04 - 2019-10-29 16:04 - 001394168 _____ (Microsoft Corporation) C:\WINDOWS\system32\WinTypes.dll
2019-10-29 16:04 - 2019-10-29 16:04 - 001387024 _____ (Microsoft Corporation) C:\WINDOWS\system32\AppVEntSubsystemController.dll
2019-10-29 16:04 - 2019-10-29 16:04 - 001359872 _____ (Microsoft Corporation) C:\WINDOWS\system32\WebManagement.exe
2019-10-29 16:04 - 2019-10-29 16:04 - 001348096 _____ (Microsoft Corporation) C:\WINDOWS\SysWOW64\Wpc.dll
2019-10-29 16:04 - 2019-10-29 16:04 - 001257472 _____ (Microsoft Corporation) C:\WINDOWS\system32\rpcss.dll
2019-10-29 16:04 - 2019-10-29 16:04 - 001189376 _____ (Microsoft Corporation) C:\WINDOWS\system32\Microsoft.Graphics.Display.DisplayEnhancementService.dll
2019-10-29 16:04 - 2019-10-29 16:04 - 001185792 _____ (Microsoft Corporation) C:\WINDOWS\system32\AgentService.exe
2019-10-29 16:04 - 2019-10-29 16:04 - 001182720 _____ (Microsoft Corporation) C:\WINDOWS\system32\Microsoft.Uev.CommonBridge.dll
2019-10-29 16:04 - 2019-10-29 16:04 - 001154656 _____ (Microsoft Corporation) C:\WINDOWS\SysWOW64\AudioSes.dll
2019-10-29 16:04 - 2019-10-29 16:04 - 001126912 _____ (Microsoft Corporation) C:\WINDOWS\system32\ApplySettingsTemplateCatalog.exe
2019-10-29 16:04 - 2019-10-29 16:04 - 001073168 _____ (Microsoft Corporation) C:\WINDOWS\system32\hvax64.exe
2019-10-29 16:04 - 2019-10-29 16:04 - 001059840 _____ (Microsoft Corporation) C:\WINDOWS\HelpPane.exe
2019-10-29 16:04 - 2019-10-29 16:04 - 001047352 _____ (Microsoft Corporation) C:\WINDOWS\system32\AppVPolicy.dll
2019-10-29 16:04 - 2019-10-29 16:04 - 000982840 _____ (Microsoft Corporation) C:\WINDOWS\system32\winhttp.dll
2019-10-29 16:04 - 2019-10-29 16:04 - 000975872 _____ (Microsoft Corporation) C:\WINDOWS\system32\uDWM.dll
2019-10-29 16:04 - 2019-10-29 16:04 - 000960512 _____ (Microsoft Corporation) C:\WINDOWS\system32\wdp.dll
2019-10-29 16:04 - 2019-10-29 16:04 - 000960040 _____ (Microsoft Corporation) C:\WINDOWS\system32\AppVManifest.dll
2019-10-29 16:04 - 2019-10-29 16:04 - 000892696 _____ (Microsoft Corporation) C:\WINDOWS\SysWOW64\WinTypes.dll
2019-10-29 16:04 - 2019-10-29 16:04 - 000844800 _____ (Microsoft Corporation) C:\WINDOWS\system32\winlogon.exe
2019-10-29 16:04 - 2019-10-29 16:04 - 000827192 _____ (Microsoft Corporation) C:\WINDOWS\system32\AppVOrchestration.dll
2019-10-29 16:04 - 2019-10-29 16:04 - 000822072 _____ (Microsoft Corporation) C:\WINDOWS\SysWOW64\LicenseManager.dll
2019-10-29 16:04 - 2019-10-29 16:04 - 000816952 _____ (Microsoft Corporation) C:\WINDOWS\system32\AppVEntStreamingManager.dll
2019-10-29 16:04 - 2019-10-29 16:04 - 000811536 _____ (Microsoft Corporation) C:\WINDOWS\system32\generaltel.dll
2019-10-29 16:04 - 2019-10-29 16:04 - 000774672 _____ (Microsoft Corporation) C:\WINDOWS\system32\securekernel.exe
2019-10-29 16:04 - 2019-10-29 16:04 - 000768528 _____ (Microsoft Corporation) C:\WINDOWS\SysWOW64\winhttp.dll
2019-10-29 16:04 - 2019-10-29 16:04 - 000762880 _____ (Microsoft Corporation) C:\WINDOWS\system32\Microsoft.Uev.PrinterCustomActions.dll
2019-10-29 16:04 - 2019-10-29 16:04 - 000747536 _____ (Microsoft Corporation) C:\WINDOWS\system32\aeinv.dll
2019-10-29 16:04 - 2019-10-29 16:04 - 000743224 _____ (Microsoft Corporation) C:\WINDOWS\system32\AppVReporting.dll
2019-10-29 16:04 - 2019-10-29 16:04 - 000741376 _____ (Microsoft Corporation) C:\WINDOWS\system32\Microsoft.Uev.Office2013CustomActions.dll
2019-10-29 16:04 - 2019-10-29 16:04 - 000701440 _____ (Microsoft Corporation) C:\WINDOWS\SysWOW64\Windows.Mirage.Internal.dll
2019-10-29 16:04 - 2019-10-29 16:04 - 000700416 _____ (Microsoft Corporation) C:\WINDOWS\SysWOW64\BTAGService.dll
2019-10-29 16:04 - 2019-10-29 16:04 - 000669696 _____ (Microsoft Corporation) C:\WINDOWS\SysWOW64\SearchIndexer.exe
2019-10-29 16:04 - 2019-10-29 16:04 - 000669352 _____ (Microsoft Corporation) C:\WINDOWS\SysWOW64\AppXDeploymentClient.dll
2019-10-29 16:04 - 2019-10-29 16:04 - 000666640 _____ (Microsoft Corporation) C:\WINDOWS\system32\AppVCatalog.dll
2019-10-29 16:04 - 2019-10-29 16:04 - 000638264 _____ (Microsoft Corporation) C:\WINDOWS\system32\devinv.dll
2019-10-29 16:04 - 2019-10-29 16:04 - 000637952 _____ (Microsoft Corporation) C:\WINDOWS\SysWOW64\wdp.dll
2019-10-29 16:04 - 2019-10-29 16:04 - 000632320 _____ (Microsoft Corporation) C:\WINDOWS\SysWOW64\WpcWebFilter.dll
2019-10-29 16:04 - 2019-10-29 16:04 - 000618496 _____ (Microsoft Corporation) C:\WINDOWS\system32\CredProvDataModel.dll
2019-10-29 16:04 - 2019-10-29 16:04 - 000606720 _____ (Microsoft Corporation) C:\WINDOWS\system32\uxtheme.dll
2019-10-29 16:04 - 2019-10-29 16:04 - 000604984 _____ (Microsoft Corporation) C:\WINDOWS\system32\pcasvc.dll
2019-10-29 16:04 - 2019-10-29 16:04 - 000599552 _____ (Microsoft Corporation) C:\WINDOWS\SysWOW64\ActivationManager.dll
2019-10-29 16:04 - 2019-10-29 16:04 - 000598528 _____ (Microsoft Corporation) C:\WINDOWS\system32\webio.dll
2019-10-29 16:04 - 2019-10-29 16:04 - 000595456 _____ (Microsoft Corporation) C:\WINDOWS\system32\vbscript.dll
2019-10-29 16:04 - 2019-10-29 16:04 - 000586768 _____ (Microsoft Corporation) C:\WINDOWS\system32\Drivers\netio.sys
2019-10-29 16:04 - 2019-10-29 16:04 - 000578560 _____ (Microsoft Corporation) C:\WINDOWS\system32\SppExtComObj.Exe
2019-10-29 16:04 - 2019-10-29 16:04 - 000531968 _____ (Microsoft Corporation) C:\WINDOWS\SysWOW64\vbscript.dll
2019-10-29 16:04 - 2019-10-29 16:04 - 000516544 _____ (Microsoft Corporation) C:\WINDOWS\system32\mf.dll
2019-10-29 16:04 - 2019-10-29 16:04 - 000514576 _____ (Microsoft Corporation) C:\WINDOWS\system32\dcntel.dll
2019-10-29 16:04 - 2019-10-29 16:04 - 000513336 _____ (Microsoft Corporation) C:\WINDOWS\system32\aepic.dll
2019-10-29 16:04 - 2019-10-29 16:04 - 000512512 _____ (Microsoft Corporation) C:\WINDOWS\SysWOW64\Microsoft.Uev.Office2013CustomActions.dll
2019-10-29 16:04 - 2019-10-29 16:04 - 000511000 _____ (Microsoft Corporation) C:\WINDOWS\system32\wow64win.dll
2019-10-29 16:04 - 2019-10-29 16:04 - 000494904 _____ (Microsoft Corporation) C:\WINDOWS\system32\TransportDSA.dll
2019-10-29 16:04 - 2019-10-29 16:04 - 000491520 _____ (Microsoft Corporation) C:\WINDOWS\system32\profsvc.dll
2019-10-29 16:04 - 2019-10-29 16:04 - 000487424 _____ (Microsoft Corporation) C:\WINDOWS\SysWOW64\Windows.UI.FileExplorer.dll
2019-10-29 16:04 - 2019-10-29 16:04 - 000477712 _____ (Microsoft Corporation) C:\WINDOWS\system32\Drivers\FWPKCLNT.SYS
2019-10-29 16:04 - 2019-10-29 16:04 - 000477184 _____ (Microsoft Corporation) C:\WINDOWS\SysWOW64\uxtheme.dll
2019-10-29 16:04 - 2019-10-29 16:04 - 000469504 _____ (Microsoft Corporation) C:\WINDOWS\SysWOW64\webio.dll
2019-10-29 16:04 - 2019-10-29 16:04 - 000465208 _____ (Microsoft Corporation) C:\WINDOWS\system32\invagent.dll
2019-10-29 16:04 - 2019-10-29 16:04 - 000457216 _____ (Microsoft Corporation) C:\WINDOWS\system32\Drivers\cldflt.sys
2019-10-29 16:04 - 2019-10-29 16:04 - 000453632 _____ (Microsoft Corporation) C:\WINDOWS\SysWOW64\CredProvDataModel.dll
2019-10-29 16:04 - 2019-10-29 16:04 - 000443904 _____ (Microsoft Corporation) C:\WINDOWS\system32\edgeIso.dll
2019-10-29 16:04 - 2019-10-29 16:04 - 000435200 _____ (Microsoft Corporation) C:\WINDOWS\system32\wincorlib.dll
2019-10-29 16:04 - 2019-10-29 16:04 - 000431616 _____ (Microsoft Corporation) C:\WINDOWS\system32\Windows.UI.BioFeedback.dll
2019-10-29 16:04 - 2019-10-29 16:04 - 000423936 _____ (Microsoft Corporation) C:\WINDOWS\system32\Microsoft.Uev.CscUnpinTool.exe
2019-10-29 16:04 - 2019-10-29 16:04 - 000415544 _____ (Microsoft Corporation) C:\WINDOWS\SysWOW64\aepic.dll
2019-10-29 16:04 - 2019-10-29 16:04 - 000401920 _____ (Microsoft Corporation) C:\WINDOWS\system32\Wldap32.dll
2019-10-29 16:04 - 2019-10-29 16:04 - 000396088 _____ (Microsoft Corporation) C:\WINDOWS\system32\AppVScripting.dll
2019-10-29 16:04 - 2019-10-29 16:04 - 000382976 _____ (Microsoft Corporation) C:\WINDOWS\SysWOW64\FirewallAPI.dll
2019-10-29 16:04 - 2019-10-29 16:04 - 000381952 _____ (Microsoft Corporation) C:\WINDOWS\system32\AppLockerCSP.dll
2019-10-29 16:04 - 2019-10-29 16:04 - 000380928 _____ (Microsoft Corporation) C:\WINDOWS\SysWOW64\AcLayers.dll
2019-10-29 16:04 - 2019-10-29 16:04 - 000375720 _____ (Microsoft Corporation) C:\WINDOWS\SysWOW64\AUDIOKSE.dll
2019-10-29 16:04 - 2019-10-29 16:04 - 000358400 _____ (Microsoft Corporation) C:\WINDOWS\system32\AcGenral.dll
2019-10-29 16:04 - 2019-10-29 16:04 - 000354816 _____ (Microsoft Corporation) C:\WINDOWS\SysWOW64\Magnify.exe
2019-10-29 16:04 - 2019-10-29 16:04 - 000336384 _____ (Microsoft Corporation) C:\WINDOWS\SysWOW64\SearchProtocolHost.exe
2019-10-29 16:04 - 2019-10-29 16:04 - 000332288 _____ (Microsoft Corporation) C:\WINDOWS\SysWOW64\Wldap32.dll
2019-10-29 16:04 - 2019-10-29 16:04 - 000327680 _____ (Microsoft Corporation) C:\WINDOWS\SysWOW64\edgeIso.dll
2019-10-29 16:04 - 2019-10-29 16:04 - 000324624 _____ (Microsoft Corporation) C:\WINDOWS\system32\acmigration.dll
2019-10-29 16:04 - 2019-10-29 16:04 - 000324096 _____ (Microsoft Corporation) C:\WINDOWS\SysWOW64\win32k.sys
2019-10-29 16:04 - 2019-10-29 16:04 - 000315392 _____ (Microsoft Corporation) C:\WINDOWS\system32\AcLayers.dll
2019-10-29 16:04 - 2019-10-29 16:04 - 000308736 _____ (Microsoft Corporation) C:\WINDOWS\system32\msIso.dll
2019-10-29 16:04 - 2019-10-29 16:04 - 000307712 _____ (Microsoft Corporation) C:\WINDOWS\SysWOW64\wincorlib.dll
2019-10-29 16:04 - 2019-10-29 16:04 - 000299520 _____ (Microsoft Corporation) C:\WINDOWS\SysWOW64\mssvp.dll
2019-10-29 16:04 - 2019-10-29 16:04 - 000287744 _____ (Microsoft Corporation) C:\WINDOWS\system32\Microsoft.Uev.ManagedEventLogging.dll
2019-10-29 16:04 - 2019-10-29 16:04 - 000283136 _____ (Microsoft Corporation) C:\WINDOWS\SysWOW64\Search.ProtocolHandler.MAPI2.dll
2019-10-29 16:04 - 2019-10-29 16:04 - 000282112 _____ (Microsoft Corporation) C:\WINDOWS\system32\Microsoft.Uev.ConfigWrapper.dll
2019-10-29 16:04 - 2019-10-29 16:04 - 000259384 _____ (Microsoft Corporation) C:\WINDOWS\system32\AppVFileSystemMetadata.dll
2019-10-29 16:04 - 2019-10-29 16:04 - 000251904 _____ (Microsoft Corporation) C:\WINDOWS\SysWOW64\msIso.dll
2019-10-29 16:04 - 2019-10-29 16:04 - 000251512 _____ (Microsoft Corporation) C:\WINDOWS\SysWOW64\wscapi.dll
2019-10-29 16:04 - 2019-10-29 16:04 - 000249856 _____ (Gracenote, Inc.) C:\WINDOWS\SysWOW64\gnsdk_fp.dll
2019-10-29 16:04 - 2019-10-29 16:04 - 000236032 _____ (Microsoft Corporation) C:\WINDOWS\SysWOW64\cmd.exe
2019-10-29 16:04 - 2019-10-29 16:04 - 000230200 _____ (Microsoft Corporation) C:\WINDOWS\system32\AppVStreamMap.dll
2019-10-29 16:04 - 2019-10-29 16:04 - 000227840 _____ (Microsoft Corporation) C:\WINDOWS\system32\IndexedDbLegacy.dll
2019-10-29 16:04 - 2019-10-29 16:04 - 000219136 _____ (Microsoft Corporation) C:\WINDOWS\system32\wscinterop.dll
2019-10-29 16:04 - 2019-10-29 16:04 - 000214528 _____ (Microsoft Corporation) C:\WINDOWS\system32\DiagSvc.dll
2019-10-29 16:04 - 2019-10-29 16:04 - 000214016 _____ (Microsoft Corporation) C:\WINDOWS\system32\Microsoft.Uev.CmUtil.dll
2019-10-29 16:04 - 2019-10-29 16:04 - 000211968 _____ (Microsoft Corporation) C:\WINDOWS\SysWOW64\SearchFilterHost.exe
2019-10-29 16:04 - 2019-10-29 16:04 - 000206336 _____ (Microsoft Corporation) C:\WINDOWS\system32\wincredui.dll
2019-10-29 16:04 - 2019-10-29 16:04 - 000202552 _____ (Microsoft Corporation) C:\WINDOWS\system32\Drivers\appid.sys
2019-10-29 16:04 - 2019-10-29 16:04 - 000199680 _____ (Microsoft Corporation) C:\WINDOWS\SysWOW64\accessibilitycpl.dll
2019-10-29 16:04 - 2019-10-29 16:04 - 000197632 _____ (Microsoft Corporation) C:\WINDOWS\system32\Win32CompatibilityAppraiserCSP.dll
2019-10-29 16:04 - 2019-10-29 16:04 - 000189440 _____ (Microsoft Corporation) C:\WINDOWS\SysWOW64\fwpolicyiomgr.dll
2019-10-29 16:04 - 2019-10-29 16:04 - 000175616 _____ (Microsoft Corporation) C:\WINDOWS\SysWOW64\IndexedDbLegacy.dll
2019-10-29 16:04 - 2019-10-29 16:04 - 000164864 _____ (Microsoft Corporation) C:\WINDOWS\SysWOW64\wscinterop.dll
2019-10-29 16:04 - 2019-10-29 16:04 - 000164776 _____ (Microsoft Corporation) C:\WINDOWS\system32\omadmapi.dll
2019-10-29 16:04 - 2019-10-29 16:04 - 000164368 _____ (Microsoft Corporation) C:\WINDOWS\system32\CompatTelRunner.exe
2019-10-29 16:04 - 2019-10-29 16:04 - 000162816 _____ (Microsoft Corporation) C:\WINDOWS\SysWOW64\wincredui.dll
2019-10-29 16:04 - 2019-10-29 16:04 - 000160768 _____ (Microsoft Corporation) C:\WINDOWS\SysWOW64\mssph.dll
2019-10-29 16:04 - 2019-10-29 16:04 - 000159232 _____ (Microsoft Corporation) C:\WINDOWS\system32\srpapi.dll
2019-10-29 16:04 - 2019-10-29 16:04 - 000157184 _____ (Microsoft Corporation) C:\WINDOWS\system32\RMapi.dll
2019-10-29 16:04 - 2019-10-29 16:04 - 000150528 _____ (Microsoft Corporation) C:\WINDOWS\SysWOW64\dmvdsitf.dll
2019-10-29 16:04 - 2019-10-29 16:04 - 000143872 _____ (Microsoft Corporation) C:\WINDOWS\SysWOW64\SpatialAudioLicenseSrv.exe
2019-10-29 16:04 - 2019-10-29 16:04 - 000136536 _____ (Microsoft Corporation) C:\WINDOWS\SysWOW64\omadmapi.dll
2019-10-29 16:04 - 2019-10-29 16:04 - 000131584 _____ (Microsoft Corporation) C:\WINDOWS\SysWOW64\fwbase.dll
2019-10-29 16:04 - 2019-10-29 16:04 - 000113160 _____ (Microsoft Corporation) C:\WINDOWS\system32\Drivers\mountmgr.sys
2019-10-29 16:04 - 2019-10-29 16:04 - 000113152 _____ (Microsoft Corporation) C:\WINDOWS\SysWOW64\mssitlb.dll
2019-10-29 16:04 - 2019-10-29 16:04 - 000105984 _____ (Microsoft Corporation) C:\WINDOWS\system32\utcutil.dll
2019-10-29 16:04 - 2019-10-29 16:04 - 000094720 _____ (Microsoft Corporation) C:\WINDOWS\SysWOW64\Utilman.exe
2019-10-29 16:04 - 2019-10-29 16:04 - 000093712 _____ (Microsoft Corporation) C:\WINDOWS\system32\hvloader.dll
2019-10-29 16:04 - 2019-10-29 16:04 - 000093696 _____ (Microsoft Corporation) C:\WINDOWS\SysWOW64\EaseOfAccessDialog.exe
2019-10-29 16:04 - 2019-10-29 16:04 - 000090624 _____ (Microsoft Corporation) C:\WINDOWS\system32\tsgqec.dll
2019-10-29 16:04 - 2019-10-29 16:04 - 000089328 _____ (Microsoft Corporation) C:\WINDOWS\SysWOW64\win32u.dll
2019-10-29 16:04 - 2019-10-29 16:04 - 000086528 _____ (Microsoft Corporation) C:\WINDOWS\SysWOW64\AcXtrnal.dll
2019-10-29 16:04 - 2019-10-29 16:04 - 000084496 _____ (Microsoft Corporation) C:\WINDOWS\system32\Drivers\hvservice.sys
2019-10-29 16:04 - 2019-10-29 16:04 - 000083456 _____ (Microsoft Corporation) C:\WINDOWS\system32\wscui.cpl
2019-10-29 16:04 - 2019-10-29 16:04 - 000083456 _____ (Microsoft Corporation) C:\WINDOWS\system32\Microsoft.Uev.SyncController.exe
2019-10-29 16:04 - 2019-10-29 16:04 - 000081408 _____ (Microsoft Corporation) C:\WINDOWS\SysWOW64\dtdump.exe
2019-10-29 16:04 - 2019-10-29 16:04 - 000079360 _____ (Microsoft Corporation) C:\WINDOWS\SysWOW64\sethc.exe
2019-10-29 16:04 - 2019-10-29 16:04 - 000073024 _____ (Microsoft Corporation) C:\WINDOWS\SysWOW64\remoteaudioendpoint.dll
2019-10-29 16:04 - 2019-10-29 16:04 - 000071696 _____ (Microsoft Corporation) C:\WINDOWS\system32\win32appinventorycsp.dll
2019-10-29 16:04 - 2019-10-29 16:04 - 000070656 _____ (Microsoft Corporation) C:\WINDOWS\system32\Microsoft.Uev.Common.dll
2019-10-29 16:04 - 2019-10-29 16:04 - 000070144 _____ (Microsoft Corporation) C:\WINDOWS\SysWOW64\tsgqec.dll
2019-10-29 16:04 - 2019-10-29 16:04 - 000067584 _____ (Microsoft Corporation) C:\WINDOWS\SysWOW64\wscui.cpl
2019-10-29 16:04 - 2019-10-29 16:04 - 000066048 _____ (Microsoft Corporation) C:\WINDOWS\SysWOW64\AtBroker.exe
2019-10-29 16:04 - 2019-10-29 16:04 - 000065536 _____ (Microsoft Corporation) C:\WINDOWS\system32\iemigplugin.dll
2019-10-29 16:04 - 2019-10-29 16:04 - 000064512 _____ (Microsoft Corporation) C:\WINDOWS\system32\pcadm.dll
2019-10-29 16:04 - 2019-10-29 16:04 - 000063488 _____ (Microsoft Corporation) C:\WINDOWS\SysWOW64\iemigplugin.dll
2019-10-29 16:04 - 2019-10-29 16:04 - 000060416 _____ (Microsoft Corporation) C:\WINDOWS\SysWOW64\mssprxy.dll
2019-10-29 16:04 - 2019-10-29 16:04 - 000058880 _____ (Microsoft Corporation) C:\WINDOWS\system32\Microsoft.Uev.ModernAppCore.dll
2019-10-29 16:04 - 2019-10-29 16:04 - 000055808 _____ (Microsoft Corporation) C:\WINDOWS\system32\UevAppMonitor.exe
2019-10-29 16:04 - 2019-10-29 16:04 - 000054272 _____ (Microsoft Corporation) C:\WINDOWS\system32\Microsoft.Uev.CabUtil.dll
2019-10-29 16:04 - 2019-10-29 16:04 - 000051200 _____ (Microsoft Corporation) C:\WINDOWS\system32\pcalua.exe
2019-10-29 16:04 - 2019-10-29 16:04 - 000048128 _____ (Microsoft Corporation) C:\WINDOWS\system32\Drivers\nsiproxy.sys
2019-10-29 16:04 - 2019-10-29 16:04 - 000047104 _____ (Microsoft Corporation) C:\WINDOWS\system32\Microsoft.Uev.EventLogMessages.dll
2019-10-29 16:04 - 2019-10-29 16:04 - 000046080 _____ (Microsoft Corporation) C:\WINDOWS\SysWOW64\msscntrs.dll
2019-10-29 16:04 - 2019-10-29 16:04 - 000045568 _____ (Microsoft Corporation) C:\WINDOWS\system32\Microsoft.Uev.Office2010CustomActions.dll
2019-10-29 16:04 - 2019-10-29 16:04 - 000043520 _____ (Microsoft Corporation) C:\WINDOWS\system32\LaunchWinApp.exe
2019-10-29 16:04 - 2019-10-29 16:04 - 000041472 _____ (Microsoft Corporation) C:\WINDOWS\system32\UevAgentPolicyGenerator.exe
2019-10-29 16:04 - 2019-10-29 16:04 - 000036368 _____ (Microsoft Corporation) C:\WINDOWS\system32\DeviceCensus.exe
2019-10-29 16:04 - 2019-10-29 16:04 - 000036352 _____ (Microsoft Corporation) C:\WINDOWS\SysWOW64\Microsoft.Uev.Office2010CustomActions.dll
2019-10-29 16:04 - 2019-10-29 16:04 - 000034816 _____ (Microsoft Corporation) C:\WINDOWS\system32\winnsi.dll
2019-10-29 16:04 - 2019-10-29 16:04 - 000033280 _____ (Microsoft Corporation) C:\WINDOWS\SysWOW64\LaunchWinApp.exe
2019-10-29 16:04 - 2019-10-29 16:04 - 000033280 _____ (Microsoft Corporation) C:\WINDOWS\system32\posetup.dll
2019-10-29 16:04 - 2019-10-29 16:04 - 000030720 _____ C:\WINDOWS\system32\uwfservicingapi.dll
2019-10-29 16:04 - 2019-10-29 16:04 - 000030720 _____ (Microsoft Corporation) C:\WINDOWS\system32\nsisvc.dll
2019-10-29 16:04 - 2019-10-29 16:04 - 000028344 _____ (Microsoft Corporation) C:\WINDOWS\SysWOW64\winnsi.dll
2019-10-29 16:04 - 2019-10-29 16:04 - 000025600 _____ (Microsoft Corporation) C:\WINDOWS\system32\appidtel.exe
2019-10-29 16:04 - 2019-10-29 16:04 - 000024792 _____ (Microsoft Corporation) C:\WINDOWS\system32\nsi.dll
2019-10-29 16:04 - 2019-10-29 16:04 - 000023552 _____ (Microsoft Corporation) C:\WINDOWS\system32\Microsoft.Uev.Management.WmiAccess.dll
2019-10-29 16:04 - 2019-10-29 16:04 - 000022016 _____ (Microsoft Corporation) C:\WINDOWS\system32\Microsoft.Uev.Management.dll
2019-10-29 16:04 - 2019-10-29 16:04 - 000021520 _____ (Microsoft Corporation) C:\WINDOWS\system32\kdhvcom.dll
2019-10-29 16:04 - 2019-10-29 16:04 - 000020992 _____ (Microsoft Corporation) C:\WINDOWS\system32\Microsoft.Uev.ModernAppData.WinRT.dll
2019-10-29 16:04 - 2019-10-29 16:04 - 000020352 _____ (Microsoft Corporation) C:\WINDOWS\SysWOW64\nsi.dll
2019-10-29 16:04 - 2019-10-29 16:04 - 000019456 _____ (Microsoft Corporation) C:\WINDOWS\system32\Microsoft.Uev.SyncCommon.dll
2019-10-29 16:04 - 2019-10-29 16:04 - 000018944 _____ (Microsoft Corporation) C:\WINDOWS\SysWOW64\wfapigp.dll
2019-10-29 16:04 - 2019-10-29 16:04 - 000018944 _____ (Microsoft Corporation) C:\WINDOWS\system32\Microsoft.Uev.Common.WinRT.dll
2019-10-29 16:04 - 2019-10-29 16:04 - 000018432 _____ (Microsoft Corporation) C:\WINDOWS\system32\Drivers\applockerfltr.sys
2019-10-29 16:04 - 2019-10-29 16:04 - 000017920 _____ (Microsoft Corporation) C:\WINDOWS\system32\Microsoft.Uev.LocalSyncProvider.dll
2019-10-29 16:04 - 2019-10-29 16:04 - 000015360 _____ (Microsoft Corporation) C:\WINDOWS\system32\AcXtrnal.dll
2019-10-29 16:04 - 2019-10-29 16:04 - 000014336 _____ (Microsoft Corporation) C:\WINDOWS\system32\Microsoft.Uev.ModernSync.dll
2019-10-29 16:04 - 2019-10-29 16:04 - 000013824 _____ (Microsoft Corporation) C:\WINDOWS\system32\UevTemplateBaselineGenerator.exe
2019-10-29 16:04 - 2019-10-29 16:04 - 000012800 _____ (Microsoft Corporation) C:\WINDOWS\system32\pcaevts.dll
2019-10-29 16:04 - 2019-10-29 16:04 - 000012288 _____ (Microsoft Corporation) C:\WINDOWS\system32\pacjsworker.exe
2019-10-29 16:04 - 2019-10-29 16:04 - 000011776 _____ (Microsoft Corporation) C:\WINDOWS\system32\UevTemplateConfigItemGenerator.exe
2019-10-29 16:04 - 2019-10-29 16:04 - 000011264 _____ (Microsoft Corporation) C:\WINDOWS\system32\Microsoft.Uev.SmbSyncProvider.dll
2019-10-29 16:04 - 2019-10-29 16:04 - 000009216 _____ (Microsoft Corporation) C:\WINDOWS\SysWOW64\spwmp.dll
2019-10-29 16:04 - 2019-10-29 16:04 - 000008192 _____ (Microsoft Corporation) C:\WINDOWS\system32\Microsoft.Uev.MonitorSyncProvider.dll
2019-10-29 16:04 - 2019-10-29 16:04 - 000007680 _____ (Microsoft Corporation) C:\WINDOWS\system32\Microsoft.Uev.SyncConditions.dll
2019-10-29 16:04 - 2019-10-29 16:04 - 000005632 _____ (Microsoft Corporation) C:\WINDOWS\SysWOW64\msdxm.ocx
2019-10-29 16:04 - 2019-10-29 16:04 - 000005632 _____ (Microsoft Corporation) C:\WINDOWS\SysWOW64\dxmasf.dll
2019-10-29 16:04 - 2019-10-29 16:04 - 000002560 _____ (Microsoft Corporation) C:\WINDOWS\SysWOW64\wmploc.DLL
2019-10-29 16:04 - 2019-10-29 16:04 - 000002560 _____ (Microsoft Corporation) C:\WINDOWS\SysWOW64\tzres.dll
2019-10-29 16:04 - 2019-10-29 16:04 - 000002560 _____ (Microsoft Corporation) C:\WINDOWS\system32\tzres.dll
2019-10-29 16:04 - 2019-10-29 16:04 - 000002560 _____ (Microsoft Corporation) C:\WINDOWS\system32\tier2punctuations.dll
2019-10-29 16:03 - 2019-10-29 16:03 - 017787904 _____ (Microsoft Corporation) C:\WINDOWS\system32\Windows.UI.Xaml.dll
2019-10-29 16:03 - 2019-10-29 16:03 - 007904152 _____ (Microsoft Corporation) C:\WINDOWS\system32\windows.storage.dll
2019-10-29 16:03 - 2019-10-29 16:03 - 007849424 _____ (Microsoft Corporation) C:\WINDOWS\system32\OneCoreUAPCommonProxyStub.dll
2019-10-29 16:03 - 2019-10-29 16:03 - 007278592 _____ (Microsoft Corporation) C:\WINDOWS\system32\Windows.Data.Pdf.dll
2019-10-29 16:03 - 2019-10-29 16:03 - 006227624 _____ (Microsoft Corporation) C:\WINDOWS\system32\StartTileData.dll
2019-10-29 16:03 - 2019-10-29 16:03 - 006166016 _____ (Microsoft Corporation) C:\WINDOWS\system32\twinui.pcshell.dll
2019-10-29 16:03 - 2019-10-29 16:03 - 005890048 _____ (Microsoft Corporation) C:\WINDOWS\system32\Windows.AI.MachineLearning.dll
2019-10-29 16:03 - 2019-10-29 16:03 - 004615616 _____ (Microsoft Corporation) C:\WINDOWS\explorer.exe
2019-10-29 16:03 - 2019-10-29 16:03 - 004140544 _____ (Microsoft Corporation) C:\WINDOWS\system32\SystemSettingsThresholdAdminFlowUI.dll
2019-10-29 16:03 - 2019-10-29 16:03 - 004047360 _____ (Microsoft Corporation) C:\WINDOWS\system32\SRH.dll
2019-10-29 16:03 - 2019-10-29 16:03 - 004005888 _____ (Microsoft Corporation) C:\WINDOWS\system32\EdgeContent.dll
2019-10-29 16:03 - 2019-10-29 16:03 - 003968512 _____ (Microsoft Corporation) C:\WINDOWS\system32\tellib.dll
2019-10-29 16:03 - 2019-10-29 16:03 - 003727872 _____ (Microsoft Corporation) C:\WINDOWS\system32\win32kfull.sys
2019-10-29 16:03 - 2019-10-29 16:03 - 003703296 _____ (Microsoft Corporation) C:\WINDOWS\system32\AppXDeploymentServer.dll
2019-10-29 16:03 - 2019-10-29 16:03 - 003591208 _____ (Microsoft Corporation) C:\WINDOWS\system32\Drivers\dxgkrnl.sys
2019-10-29 16:03 - 2019-10-29 16:03 - 003387392 _____ (Microsoft Corporation) C:\WINDOWS\system32\NetworkMobileSettings.dll
2019-10-29 16:03 - 2019-10-29 16:03 - 003263488 _____ (Microsoft Corporation) C:\WINDOWS\system32\tquery.dll
2019-10-29 16:03 - 2019-10-29 16:03 - 003105792 _____ (Microsoft Corporation) C:\WINDOWS\system32\wuaueng.dll
2019-10-29 16:03 - 2019-10-29 16:03 - 002870784 _____ (Microsoft Corporation) C:\WINDOWS\system32\mssrch.dll
2019-10-29 16:03 - 2019-10-29 16:03 - 002717184 _____ (Microsoft Corporation) C:\WINDOWS\system32\win32kbase.sys
2019-10-29 16:03 - 2019-10-29 16:03 - 002284544 _____ (Microsoft Corporation) C:\WINDOWS\system32\AppXDeploymentExtensions.onecore.dll
2019-10-29 16:03 - 2019-10-29 16:03 - 002126112 _____ (Microsoft Corporation) C:\WINDOWS\system32\AudioEng.dll
2019-10-29 16:03 - 2019-10-29 16:03 - 002120704 _____ (Microsoft Corporation) C:\WINDOWS\system32\WpcDesktopMonSvc.dll
2019-10-29 16:03 - 2019-10-29 16:03 - 001942528 _____ (Microsoft Corporation) C:\WINDOWS\system32\audiosrv.dll
2019-10-29 16:03 - 2019-10-29 16:03 - 001920512 _____ (Microsoft Corporation) C:\WINDOWS\system32\FntCache.dll
2019-10-29 16:03 - 2019-10-29 16:03 - 001748480 _____ (Microsoft Corporation) C:\WINDOWS\system32\AppXDeploymentExtensions.desktop.dll
2019-10-29 16:03 - 2019-10-29 16:03 - 001687040 _____ (Microsoft Corporation) C:\WINDOWS\system32\Wpc.dll
2019-10-29 16:03 - 2019-10-29 16:03 - 001656600 _____ (Microsoft Corporation) C:\WINDOWS\system32\user32.dll
2019-10-29 16:03 - 2019-10-29 16:03 - 001451520 _____ (Microsoft Corporation) C:\WINDOWS\system32\usocoreworker.exe
2019-10-29 16:03 - 2019-10-29 16:03 - 001428992 _____ (Microsoft Corporation) C:\WINDOWS\system32\Drivers\bthport.sys
2019-10-29 16:03 - 2019-10-29 16:03 - 001413912 _____ (Microsoft Corporation) C:\WINDOWS\system32\AudioSes.dll
2019-10-29 16:03 - 2019-10-29 16:03 - 001259416 _____ (Microsoft Corporation) C:\WINDOWS\system32\WpcMon.exe
2019-10-29 16:03 - 2019-10-29 16:03 - 001149928 _____ (Microsoft Corporation) C:\WINDOWS\system32\ApplyTrustOffline.exe
2019-10-29 16:03 - 2019-10-29 16:03 - 001094656 _____ (Microsoft Corporation) C:\WINDOWS\system32\WpcRefreshTask.dll
2019-10-29 16:03 - 2019-10-29 16:03 - 001070080 _____ (Microsoft Corporation) C:\WINDOWS\system32\BTAGService.dll
2019-10-29 16:03 - 2019-10-29 16:03 - 001069064 _____ (Microsoft Corporation) C:\WINDOWS\system32\LicenseManager.dll
2019-10-29 16:03 - 2019-10-29 16:03 - 001066496 _____ (Microsoft Corporation) C:\WINDOWS\system32\MusUpdateHandlers.dll
2019-10-29 16:03 - 2019-10-29 16:03 - 001062912 _____ (Microsoft Corporation) C:\WINDOWS\system32\MPSSVC.dll
2019-10-29 16:03 - 2019-10-29 16:03 - 001027000 _____ (Microsoft Corporation) C:\WINDOWS\system32\ClipSVC.dll
2019-10-29 16:03 - 2019-10-29 16:03 - 000913920 _____ (Microsoft Corporation) C:\WINDOWS\system32\WpcWebFilter.dll
2019-10-29 16:03 - 2019-10-29 16:03 - 000911824 _____ (Microsoft Corporation) C:\WINDOWS\system32\AppXDeploymentClient.dll
2019-10-29 16:03 - 2019-10-29 16:03 - 000874536 _____ (Microsoft Corporation) C:\WINDOWS\system32\Drivers\dxgmms2.sys
2019-10-29 16:03 - 2019-10-29 16:03 - 000868864 _____ (Microsoft Corporation) C:\WINDOWS\system32\Windows.Management.Service.dll
2019-10-29 16:03 - 2019-10-29 16:03 - 000849920 _____ (Microsoft Corporation) C:\WINDOWS\system32\SearchIndexer.exe
2019-10-29 16:03 - 2019-10-29 16:03 - 000750080 _____ (Microsoft Corporation) C:\WINDOWS\system32\ActivationManager.dll
2019-10-29 16:03 - 2019-10-29 16:03 - 000735744 _____ (Microsoft Corporation) C:\WINDOWS\system32\AudioEndpointBuilder.dll
2019-10-29 16:03 - 2019-10-29 16:03 - 000708096 _____ (Microsoft Corporation) C:\WINDOWS\system32\agentactivationruntimewindows.dll
2019-10-29 16:03 - 2019-10-29 16:03 - 000704000 _____ (Microsoft Corporation) C:\WINDOWS\system32\agentactivationruntime.dll
2019-10-29 16:03 - 2019-10-29 16:03 - 000657424 _____ (Microsoft Corporation) C:\WINDOWS\system32\Drivers\spaceport.sys
2019-10-29 16:03 - 2019-10-29 16:03 - 000649728 _____ (Microsoft Corporation) C:\WINDOWS\system32\DevicesFlowBroker.dll
2019-10-29 16:03 - 2019-10-29 16:03 - 000644096 _____ (Microsoft Corporation) C:\WINDOWS\system32\cdpsvc.dll
2019-10-29 16:03 - 2019-10-29 16:03 - 000642560 _____ (Microsoft Corporation) C:\WINDOWS\system32\osk.exe
2019-10-29 16:03 - 2019-10-29 16:03 - 000598016 _____ (Microsoft Corporation) C:\WINDOWS\system32\MusNotification.exe
2019-10-29 16:03 - 2019-10-29 16:03 - 000589592 _____ (Microsoft Corporation) C:\WINDOWS\system32\audiodg.exe
2019-10-29 16:03 - 2019-10-29 16:03 - 000563712 _____ (Microsoft Corporation) C:\WINDOWS\system32\wpnprv.dll
2019-10-29 16:03 - 2019-10-29 16:03 - 000552448 _____ (Microsoft Corporation) C:\WINDOWS\system32\FirewallAPI.dll
2019-10-29 16:03 - 2019-10-29 16:03 - 000550400 _____ (Microsoft Corporation) C:\WINDOWS\system32\win32k.sys
2019-10-29 16:03 - 2019-10-29 16:03 - 000534528 _____ (Microsoft Corporation) C:\WINDOWS\system32\Microsoft.Bluetooth.UserService.dll
2019-10-29 16:03 - 2019-10-29 16:03 - 000530944 _____ (Microsoft Corporation) C:\WINDOWS\system32\usosvc.dll
2019-10-29 16:03 - 2019-10-29 16:03 - 000524800 _____ (Microsoft Corporation) C:\WINDOWS\system32\cdpusersvc.dll
2019-10-29 16:03 - 2019-10-29 16:03 - 000522176 _____ (Microsoft Corporation) C:\WINDOWS\system32\SystemSettingsAdminFlows.exe
2019-10-29 16:03 - 2019-10-29 16:03 - 000513536 _____ (Microsoft Corporation) C:\WINDOWS\system32\MusNotificationUx.exe
2019-10-29 16:03 - 2019-10-29 16:03 - 000492032 _____ (Microsoft Corporation) C:\WINDOWS\system32\Narrator.exe
2019-10-29 16:03 - 2019-10-29 16:03 - 000456192 _____ (Microsoft Corporation) C:\WINDOWS\system32\Windows.ApplicationModel.ConversationalAgent.dll
2019-10-29 16:03 - 2019-10-29 16:03 - 000446464 _____ (Microsoft Corporation) C:\WINDOWS\system32\Magnify.exe
2019-10-29 16:03 - 2019-10-29 16:03 - 000441144 _____ (Microsoft Corporation) C:\WINDOWS\system32\Drivers\dxgmms1.sys
2019-10-29 16:03 - 2019-10-29 16:03 - 000416016 _____ (Microsoft Corporation) C:\WINDOWS\system32\AUDIOKSE.dll
2019-10-29 16:03 - 2019-10-29 16:03 - 000401408 _____ (Microsoft Corporation) C:\WINDOWS\system32\SearchProtocolHost.exe
2019-10-29 16:03 - 2019-10-29 16:03 - 000392192 _____ (Microsoft Corporation) C:\WINDOWS\system32\Search.ProtocolHandler.MAPI2.dll
2019-10-29 16:03 - 2019-10-29 16:03 - 000368128 _____ (Microsoft Corporation) C:\WINDOWS\system32\mssvp.dll
2019-10-29 16:03 - 2019-10-29 16:03 - 000359424 _____ (Microsoft Corporation) C:\WINDOWS\system32\Drivers\MbbCx.sys
2019-10-29 16:03 - 2019-10-29 16:03 - 000350720 _____ (Microsoft Corporation) C:\WINDOWS\system32\SettingsHandlers_SpeechPrivacy.dll
2019-10-29 16:03 - 2019-10-29 16:03 - 000322504 _____ (Microsoft Corporation) C:\WINDOWS\system32\wscsvc.dll
2019-10-29 16:03 - 2019-10-29 16:03 - 000292664 _____ (Microsoft Corporation) C:\WINDOWS\system32\Drivers\msiscsi.sys
2019-10-29 16:03 - 2019-10-29 16:03 - 000291256 _____ (Microsoft Corporation) C:\WINDOWS\system32\wscapi.dll
2019-10-29 16:03 - 2019-10-29 16:03 - 000280064 _____ (Microsoft Corporation) C:\WINDOWS\system32\cmd.exe
2019-10-29 16:03 - 2019-10-29 16:03 - 000278016 _____ (Microsoft Corporation) C:\WINDOWS\system32\WpcTok.exe
2019-10-29 16:03 - 2019-10-29 16:03 - 000277504 _____ (Microsoft Corporation) C:\WINDOWS\system32\SettingsHandlers_CapabilityAccess.dll
2019-10-29 16:03 - 2019-10-29 16:03 - 000265216 _____ (Microsoft Corporation) C:\WINDOWS\system32\cdd.dll
2019-10-29 16:03 - 2019-10-29 16:03 - 000256000 _____ (Microsoft Corporation) C:\WINDOWS\system32\UpdateDeploymentProvider.dll
2019-10-29 16:03 - 2019-10-29 16:03 - 000250880 _____ (Microsoft Corporation) C:\WINDOWS\system32\Drivers\winnat.sys
2019-10-29 16:03 - 2019-10-29 16:03 - 000241152 _____ (Microsoft Corporation) C:\WINDOWS\system32\policymanagerprecheck.dll
2019-10-29 16:03 - 2019-10-29 16:03 - 000240640 _____ (Microsoft Corporation) C:\WINDOWS\system32\SearchFilterHost.exe
2019-10-29 16:03 - 2019-10-29 16:03 - 000239104 _____ (Microsoft Corporation) C:\WINDOWS\system32\vdsbas.dll
2019-10-29 16:03 - 2019-10-29 16:03 - 000237056 _____ (Microsoft Corporation) C:\WINDOWS\system32\accessibilitycpl.dll
2019-10-29 16:03 - 2019-10-29 16:03 - 000235008 _____ (Microsoft Corporation) C:\WINDOWS\system32\fwpolicyiomgr.dll
2019-10-29 16:03 - 2019-10-29 16:03 - 000204816 _____ (Microsoft Corporation) C:\WINDOWS\system32\Drivers\spacedump.sys
2019-10-29 16:03 - 2019-10-29 16:03 - 000204800 _____ (Microsoft Corporation) C:\WINDOWS\system32\mssph.dll
2019-10-29 16:03 - 2019-10-29 16:03 - 000201728 _____ (Microsoft Corporation) C:\WINDOWS\system32\AppXApplicabilityBlob.dll
2019-10-29 16:03 - 2019-10-29 16:03 - 000184832 _____ (Microsoft Corporation) C:\WINDOWS\system32\AarSvc.dll
2019-10-29 16:03 - 2019-10-29 16:03 - 000175616 _____ (Microsoft Corporation) C:\WINDOWS\system32\dmvdsitf.dll
2019-10-29 16:03 - 2019-10-29 16:03 - 000169472 _____ (Microsoft Corporation) C:\WINDOWS\system32\SpatialAudioLicenseSrv.exe
2019-10-29 16:03 - 2019-10-29 16:03 - 000162304 _____ (Microsoft Corporation) C:\WINDOWS\system32\fwbase.dll
2019-10-29 16:03 - 2019-10-29 16:03 - 000147456 _____ (Microsoft Corporation) C:\WINDOWS\system32\mssprxy.dll
2019-10-29 16:03 - 2019-10-29 16:03 - 000129024 _____ (Microsoft Corporation) C:\WINDOWS\system32\UtcDecoderHost.exe
2019-10-29 16:03 - 2019-10-29 16:03 - 000128512 _____ (Microsoft Corporation) C:\WINDOWS\system32\mssitlb.dll
2019-10-29 16:03 - 2019-10-29 16:03 - 000127064 _____ (Microsoft Corporation) C:\WINDOWS\system32\win32u.dll
2019-10-29 16:03 - 2019-10-29 16:03 - 000123904 _____ (Microsoft Corporation) C:\WINDOWS\system32\ApplicationControlCSP.dll
2019-10-29 16:03 - 2019-10-29 16:03 - 000118784 _____ (Microsoft Corporation) C:\WINDOWS\system32\Utilman.exe
2019-10-29 16:03 - 2019-10-29 16:03 - 000118272 _____ (Microsoft Corporation) C:\WINDOWS\system32\EaseOfAccessDialog.exe
2019-10-29 16:03 - 2019-10-29 16:03 - 000114688 _____ (Microsoft Corporation) C:\WINDOWS\system32\Drivers\bthenum.sys
2019-10-29 16:03 - 2019-10-29 16:03 - 000105488 _____ (Microsoft Corporation) C:\WINDOWS\system32\icfupgd.dll
2019-10-29 16:03 - 2019-10-29 16:03 - 000100352 _____ (Microsoft Corporation) C:\WINDOWS\system32\sethc.exe
2019-10-29 16:03 - 2019-10-29 16:03 - 000098304 _____ (Microsoft Corporation) C:\WINDOWS\system32\Drivers\BTHUSB.SYS
2019-10-29 16:03 - 2019-10-29 16:03 - 000088568 _____ (Microsoft Corporation) C:\WINDOWS\system32\remoteaudioendpoint.dll
2019-10-29 16:03 - 2019-10-29 16:03 - 000086016 _____ (Microsoft Corporation) C:\WINDOWS\system32\AtBroker.exe
2019-10-29 16:03 - 2019-10-29 16:03 - 000077824 _____ (Microsoft Corporation) C:\WINDOWS\system32\CustomInstallExec.exe
2019-10-29 16:03 - 2019-10-29 16:03 - 000076288 _____ (Microsoft Corporation) C:\WINDOWS\system32\autopilot.dll
2019-10-29 16:03 - 2019-10-29 16:03 - 000070656 _____ (Microsoft Corporation) C:\WINDOWS\system32\Windows.Management.EnrollmentStatusTracking.ConfigProvider.dll
2019-10-29 16:03 - 2019-10-29 16:03 - 000065272 _____ (Microsoft Corporation) C:\WINDOWS\system32\WindowsManagementServiceWinRt.ProxyStub.dll
2019-10-29 16:03 - 2019-10-29 16:03 - 000060416 _____ (Microsoft Corporation) C:\WINDOWS\system32\msscntrs.dll
2019-10-29 16:03 - 2019-10-29 16:03 - 000057856 _____ (Microsoft Corporation) C:\WINDOWS\system32\wups2.dll
2019-10-29 16:03 - 2019-10-29 16:03 - 000057344 _____ (Microsoft Corporation) C:\WINDOWS\system32\audioresourceregistrar.dll
2019-10-29 16:03 - 2019-10-29 16:03 - 000047208 _____ (Microsoft Corporation) C:\WINDOWS\system32\wuauclt.exe
2019-10-29 16:03 - 2019-10-29 16:03 - 000036864 _____ (Microsoft Corporation) C:\WINDOWS\system32\Drivers\BthMini.SYS
2019-10-29 16:03 - 2019-10-29 16:03 - 000027648 _____ (Microsoft Corporation) C:\WINDOWS\system32\wscisvif.dll
2019-10-29 16:03 - 2019-10-29 16:03 - 000025088 _____ (Microsoft Corporation) C:\WINDOWS\system32\autopilotdiag.dll
2019-10-29 16:03 - 2019-10-29 16:03 - 000024576 _____ (Microsoft Corporation) C:\WINDOWS\system32\wfapigp.dll
2019-10-29 16:03 - 2019-10-29 16:03 - 000018944 _____ (Microsoft Corporation) C:\WINDOWS\system32\wscproxystub.dll
2019-10-29 16:03 - 2019-10-29 16:03 - 000016896 _____ (Microsoft Corporation) C:\WINDOWS\system32\iscsilog.dll
2019-10-29 16:03 - 2019-10-29 16:03 - 000009216 _____ (Microsoft Corporation) C:\WINDOWS\system32\wscadminui.exe
2019-10-29 15:58 - 2019-10-29 15:58 - 000492544 _____ (Microsoft Corporation) C:\WINDOWS\system32\poqexec.exe
2019-10-29 15:58 - 2019-10-29 15:58 - 000390656 _____ (Microsoft Corporation) C:\WINDOWS\SysWOW64\poqexec.exe
2019-10-29 15:37 - 2019-10-29 15:37 - 000001961 _____ C:\ProgramData\Microsoft\Windows\Start Menu\SmartAudio.lnk
2019-10-29 15:36 - 2019-10-29 22:56 - 000000000 ____D C:\ProgramData\Microsoft OneDrive
2019-10-29 15:35 - 2018-11-27 04:34 - 005938792 _____ (Nahimic Inc) C:\WINDOWS\system32\NAHIMICV2apo.dll
2019-10-29 15:35 - 2018-11-27 04:34 - 001616848 _____ (Conexant Systems Inc.) C:\WINDOWS\system32\CX64APO.dll
2019-10-29 15:35 - 2018-11-27 04:34 - 001571072 _____ (Conexant Systems Inc.) C:\WINDOWS\system32\CX64APOMIX.dll
2019-10-29 15:35 - 2018-11-27 04:34 - 001529016 _____ (Conexant Systems Inc.) C:\WINDOWS\system32\CX64Proxy.dll
2019-10-29 15:35 - 2018-11-27 04:34 - 001069264 _____ (Conexant Systems Inc.) C:\WINDOWS\system32\CX64BPAPO.dll
2019-10-29 15:35 - 2018-11-27 04:34 - 000884352 _____ (ICEpower a/s) C:\WINDOWS\system32\ICEsoundAPO64.dll
2019-10-29 15:35 - 2018-11-27 04:34 - 000598216 _____ (Conexant Systems, Inc.) C:\WINDOWS\system32\CX64APO2.dll
2019-10-29 15:35 - 2018-11-27 04:34 - 000442152 _____ (Conexant Systems, Inc.) C:\WINDOWS\system32\ASpkExt64.dll
2019-10-29 15:35 - 2018-11-27 04:34 - 000112944 _____ (Conexant Systems, Inc.) C:\WINDOWS\system32\FMPropPageExt64.dll
2019-10-29 15:35 - 2018-11-27 04:34 - 000061024 _____ (Conexant Systems Inc.) C:\WINDOWS\system32\CxPageMaster64.dll
2019-10-29 15:35 - 2018-11-27 00:34 - 004921088 _____ (Conexant Systems, Inc.) C:\WINDOWS\system32\UCI64A195.dll
2019-10-29 15:35 - 2018-11-27 00:34 - 003463464 _____ (Conexant Systems Inc.) C:\WINDOWS\system32\Drivers\CHDRT64.sys
2019-10-29 15:35 - 2018-11-27 00:34 - 000806136 _____ (ICEpower) C:\WINDOWS\system32\ICEsoundService64.exe
2019-10-29 15:35 - 2018-11-27 00:34 - 000174272 _____ (ASUSTeK COMPUTER INC.) C:\WINDOWS\system32\ATKWMI.dll
2019-10-29 15:35 - 2018-11-27 00:34 - 000042504 _____ (Conexant Systems, Inc.) C:\WINDOWS\system32\CXHDMI64.dll
2019-10-29 15:35 - 2018-11-27 00:24 - 000530396 _____ C:\WINDOWS\system32\Drivers\miceq.ini
2019-10-29 15:35 - 2018-11-27 00:24 - 000202187 _____ C:\WINDOWS\system32\ICEsoundService.bin
2019-10-29 15:35 - 2018-11-27 00:24 - 000132231 _____ C:\WINDOWS\system32\Drivers\softeq.ini
2019-10-29 15:35 - 2018-11-27 00:24 - 000065520 _____ C:\WINDOWS\system32\Drivers\MicGain.ini
2019-10-29 15:35 - 2018-11-27 00:24 - 000030893 _____ C:\WINDOWS\system32\Drivers\Mixer.ini
2019-10-29 15:35 - 2018-11-27 00:24 - 000029642 _____ C:\WINDOWS\system32\Drivers\D2Keys.ini
2019-10-29 15:35 - 2018-11-27 00:24 - 000006451 _____ C:\WINDOWS\system32\Drivers\HeadsetCtrl.ini
2019-10-29 15:35 - 2018-11-27 00:24 - 000005638 _____ C:\WINDOWS\system32\Drivers\orverbs.ini
2019-10-29 15:35 - 2018-11-27 00:24 - 000005388 _____ C:\WINDOWS\system32\Drivers\fxmisc.ini
2019-10-29 15:35 - 2018-11-27 00:24 - 000001816 _____ C:\WINDOWS\system32\Drivers\altmixer.ini
2019-10-29 15:34 - 2019-10-29 15:34 - 000000020 ___SH C:\Users\Alex\ntuser.ini
2019-10-29 15:34 - 2019-10-29 15:34 - 000000000 ____D C:\Users\Alex\AppData\Local\PackageStaging
2019-10-29 15:33 - 2019-10-30 09:46 - 000000006 ____H C:\WINDOWS\Tasks\SA.DAT
2019-10-29 15:33 - 2019-10-30 09:40 - 000840848 _____ C:\WINDOWS\system32\PerfStringBackup.INI
2019-10-29 15:33 - 2019-10-30 09:37 - 000004162 _____ C:\WINDOWS\system32\Tasks\User_Feed_Synchronization-{D86AB5A0-4331-4167-B1BE-0AD2755BBB8E}
2019-10-29 15:33 - 2019-10-29 15:38 - 000003030 _____ C:\WINDOWS\system32\Tasks\IntelSURQC-Upgrade-86621605-2a0b-4128-8ffc-15514c247132
2019-10-29 15:33 - 2019-10-29 15:38 - 000002664 _____ C:\WINDOWS\system32\Tasks\IntelSURQC-Upgrade-86621605-2a0b-4128-8ffc-15514c247132-Logon
2019-10-29 15:33 - 2019-10-29 15:34 - 000002996 _____ C:\WINDOWS\system32\Tasks\Avast Driver Updater Startup
2019-10-29 15:33 - 2019-10-29 15:33 - 000003482 _____ C:\WINDOWS\system32\Tasks\Adobe Acrobat Update Task
2019-10-29 15:33 - 2019-10-29 15:33 - 000003398 _____ C:\WINDOWS\system32\Tasks\NvDriverUpdateCheckDaily_{B2FE1952-0186-46C3-BAEC-A80AA35AC5B8}
2019-10-29 15:33 - 2019-10-29 15:33 - 000003348 _____ C:\WINDOWS\system32\Tasks\GoogleUpdateTaskMachineUA
2019-10-29 15:33 - 2019-10-29 15:33 - 000003196 _____ C:\WINDOWS\system32\Tasks\NvBatteryBoostCheckOnLogon_{B2FE1952-0186-46C3-BAEC-A80AA35AC5B8}
2019-10-29 15:33 - 2019-10-29 15:33 - 000003194 _____ C:\WINDOWS\system32\Tasks\CCleaner Update
2019-10-29 15:33 - 2019-10-29 15:33 - 000003152 _____ C:\WINDOWS\system32\Tasks\NVIDIA GeForce Experience SelfUpdate_{B2FE1952-0186-46C3-BAEC-A80AA35AC5B8}
2019-10-29 15:33 - 2019-10-29 15:33 - 000003126 _____ C:\WINDOWS\system32\Tasks\KMSAutoNet
2019-10-29 15:33 - 2019-10-29 15:33 - 000003124 _____ C:\WINDOWS\system32\Tasks\GoogleUpdateTaskMachineCore
2019-10-29 15:33 - 2019-10-29 15:33 - 000003094 _____ C:\WINDOWS\system32\Tasks\update-S-1-5-21-2000554322-72074022-1378442669-1002
2019-10-29 15:33 - 2019-10-29 15:33 - 000003064 _____ C:\WINDOWS\system32\Tasks\Avast Cleanup Update
2019-10-29 15:33 - 2019-10-29 15:33 - 000003042 _____ C:\WINDOWS\system32\Tasks\Avast Emergency Update
2019-10-29 15:33 - 2019-10-29 15:33 - 000003034 _____ C:\WINDOWS\system32\Tasks\Update Checker
2019-10-29 15:33 - 2019-10-29 15:33 - 000002984 _____ C:\WINDOWS\system32\Tasks\NvProfileUpdaterDaily_{B2FE1952-0186-46C3-BAEC-A80AA35AC5B8}
2019-10-29 15:33 - 2019-10-29 15:33 - 000002948 _____ C:\WINDOWS\system32\Tasks\NvTmRep_CrashReport4_{B2FE1952-0186-46C3-BAEC-A80AA35AC5B8}
2019-10-29 15:33 - 2019-10-29 15:33 - 000002948 _____ C:\WINDOWS\system32\Tasks\NvTmRep_CrashReport3_{B2FE1952-0186-46C3-BAEC-A80AA35AC5B8}
2019-10-29 15:33 - 2019-10-29 15:33 - 000002948 _____ C:\WINDOWS\system32\Tasks\NvTmRep_CrashReport2_{B2FE1952-0186-46C3-BAEC-A80AA35AC5B8}
2019-10-29 15:33 - 2019-10-29 15:33 - 000002948 _____ C:\WINDOWS\system32\Tasks\NvTmRep_CrashReport1_{B2FE1952-0186-46C3-BAEC-A80AA35AC5B8}
2019-10-29 15:33 - 2019-10-29 15:33 - 000002924 _____ C:\WINDOWS\system32\Tasks\ATK Package 36D18D69AFC3
2019-10-29 15:33 - 2019-10-29 15:33 - 000002914 _____ C:\WINDOWS\system32\Tasks\NvNodeLauncher_{B2FE1952-0186-46C3-BAEC-A80AA35AC5B8}
2019-10-29 15:33 - 2019-10-29 15:33 - 000002848 _____ C:\WINDOWS\system32\Tasks\JavaUpdateSched
2019-10-29 15:33 - 2019-10-29 15:33 - 000002846 _____ C:\WINDOWS\system32\Tasks\update-sys
2019-10-29 15:33 - 2019-10-29 15:33 - 000002782 _____ C:\WINDOWS\system32\Tasks\AdobeGCInvoker-1.0-DESKTOP-51L5VTF-Alex
2019-10-29 15:33 - 2019-10-29 15:33 - 000002744 _____ C:\WINDOWS\system32\Tasks\NvProfileUpdaterOnLogon_{B2FE1952-0186-46C3-BAEC-A80AA35AC5B8}
2019-10-29 15:33 - 2019-10-29 15:33 - 000002728 _____ C:\WINDOWS\system32\Tasks\OneDrive Per-Machine Standalone Update Task
2019-10-29 15:33 - 2019-10-29 15:33 - 000002678 _____ C:\WINDOWS\system32\Tasks\USER_ESRV_SVC_QUEENCREEK
2019-10-29 15:33 - 2019-10-29 15:33 - 000002666 _____ C:\WINDOWS\system32\Tasks\Icons8 Check For Updates
2019-10-29 15:33 - 2019-10-29 15:33 - 000002554 _____ C:\WINDOWS\system32\Tasks\Icons8 Sync
2019-10-29 15:33 - 2019-10-29 15:33 - 000002302 _____ C:\WINDOWS\system32\Tasks\ASUS Splendid ACMON
2019-10-29 15:33 - 2019-10-29 15:33 - 000002234 _____ C:\WINDOWS\system32\Tasks\CCleanerSkipUAC
2019-10-29 15:33 - 2019-10-29 15:33 - 000002214 _____ C:\WINDOWS\system32\Tasks\ATK Package A22126881260
2019-10-29 15:33 - 2019-10-29 15:33 - 000002174 _____ C:\WINDOWS\system32\Tasks\KMS_VL_ALL
2019-10-29 15:33 - 2019-10-29 15:33 - 000000000 ____D C:\WINDOWS\system32\Tasks\Softland
2019-10-29 15:33 - 2019-10-29 15:33 - 000000000 ____D C:\WINDOWS\system32\Tasks\S-1-5-21-2000554322-72074022-1378442669-1002
2019-10-29 15:33 - 2019-10-29 15:33 - 000000000 ____D C:\WINDOWS\system32\Tasks\Avast Software
2019-10-29 15:32 - 2019-10-29 15:33 - 000007623 _____ C:\WINDOWS\diagwrn.xml
2019-10-29 15:32 - 2019-10-29 15:33 - 000007623 _____ C:\WINDOWS\diagerr.xml
2019-10-29 15:28 - 2019-10-30 09:47 - 000000000 ____D C:\Users\Alex
2019-10-29 15:25 - 2019-06-12 03:29 - 002874368 _____ (Microsoft Corporation) C:\WINDOWS\SysWOW64\PrintConfig.dll
2019-10-29 15:24 - 2019-10-29 22:53 - 000000000 ____D C:\WINDOWS\system32\SleepStudy
2019-10-29 14:29 - 2019-10-30 09:17 - 000000000 ___DC C:\WINDOWS\Panther
2019-10-29 14:28 - 2019-10-29 14:29 - 000000036 _____ C:\WINDOWS\progress.ini
2019-10-29 14:25 - 2019-10-29 15:34 - 000000000 ____D C:\Windows10Upgrade
2019-10-29 14:25 - 2019-10-29 15:33 - 000000000 ___HD C:\$GetCurrent
2019-10-29 14:25 - 2019-10-29 14:25 - 000000731 _____ C:\ProgramData\Microsoft\Windows\Start Menu\Programs\Windows 10 Update Assistant.lnk
2019-10-29 13:02 - 2019-10-29 13:02 - 000001481 _____ C:\ProgramData\Microsoft\Windows\Start Menu\Programs\Intel Driver & Support Assistant.lnk
2019-10-29 13:02 - 2019-08-16 14:29 - 000041816 _____ C:\WINDOWS\system32\Drivers\semav6msr64.sys
2019-10-29 12:40 - 2019-10-30 09:47 - 000025608 _____ (SlimWare Utilities, Inc.) C:\WINDOWS\system32\Drivers\SWDUMon.sys
2019-10-29 12:40 - 2019-10-30 09:47 - 000000500 _____ C:\WINDOWS\Tasks\Avast Driver Updater Startup.job
2019-10-29 12:40 - 2019-10-30 01:23 - 000000000 ____D C:\ProgramData\Microsoft\Windows\Start Menu\Programs\Avast Driver Updater
2019-10-29 12:40 - 2019-10-29 12:40 - 000000000 ____D C:\Users\Public\Documents\Downloaded Installers
2019-10-29 12:40 - 2019-10-29 12:40 - 000000000 ____D C:\Users\Alex\AppData\Local\AVAST Software
2019-10-29 12:40 - 2019-10-29 12:40 - 000000000 ____D C:\ProgramData\Documents\Downloaded Installers
2019-10-29 12:40 - 2019-10-29 12:40 - 000000000 ____D C:\Program Files (x86)\Avast Driver Updater
2019-10-29 12:32 - 2019-10-30 01:23 - 000000000 ____D C:\ProgramData\Microsoft\Windows\Start Menu\Programs\AVAST Software
2019-10-29 12:32 - 2019-10-29 12:32 - 000000000 ____D C:\Program Files (x86)\AVAST Software
2019-10-29 12:18 - 2019-10-29 12:18 - 000355720 _____ (AVAST Software) C:\WINDOWS\system32\aswBoot.exe
2019-10-29 12:18 - 2019-10-29 12:18 - 000236024 _____ (AVAST Software) C:\WINDOWS\system32\Drivers\aswStm.sys
2019-10-29 12:18 - 2019-10-29 12:18 - 000171520 _____ (AVAST Software) C:\WINDOWS\system32\Drivers\aswMonFlt.sys
2019-10-29 11:39 - 2019-10-29 12:35 - 000000000 ____D C:\Users\Alex\AppData\Roaming\AVAST Software
2019-10-29 11:38 - 2019-10-29 12:18 - 000848432 _____ (AVAST Software) C:\WINDOWS\system32\Drivers\aswSnx.sys
2019-10-29 11:38 - 2019-10-29 12:18 - 000552848 _____ (AVAST Software) C:\WINDOWS\system32\Drivers\aswNetSec.sys
2019-10-29 11:38 - 2019-10-29 12:18 - 000460448 _____ (AVAST Software) C:\WINDOWS\system32\Drivers\aswSP.sys
2019-10-29 11:38 - 2019-10-29 12:18 - 000316528 _____ (AVAST Software) C:\WINDOWS\system32\Drivers\aswVmm.sys
2019-10-29 11:38 - 2019-10-29 12:18 - 000274456 _____ (AVAST Software) C:\WINDOWS\system32\Drivers\aswbidsdriver.sys
2019-10-29 11:38 - 2019-10-29 12:18 - 000209552 _____ (AVAST Software) C:\WINDOWS\system32\Drivers\aswbidsh.sys
2019-10-29 11:38 - 2019-10-29 12:18 - 000204824 _____ (AVAST Software) C:\WINDOWS\system32\Drivers\aswArPot.sys
2019-10-29 11:38 - 2019-10-29 12:18 - 000110320 _____ (AVAST Software) C:\WINDOWS\system32\Drivers\aswRdr2.sys
2019-10-29 11:38 - 2019-10-29 12:18 - 000083792 _____ (AVAST Software) C:\WINDOWS\system32\Drivers\aswRvrt.sys
2019-10-29 11:38 - 2019-10-29 12:18 - 000065120 _____ (AVAST Software) C:\WINDOWS\system32\Drivers\aswbuniv.sys
2019-10-29 11:38 - 2019-10-29 12:18 - 000042736 _____ (AVAST Software) C:\WINDOWS\system32\Drivers\aswKbd.sys
2019-10-29 11:38 - 2019-10-29 12:18 - 000016304 _____ (AVAST Software) C:\WINDOWS\system32\Drivers\aswElam.sys
2019-10-29 11:38 - 2019-10-29 11:38 - 000001979 _____ C:\ProgramData\Microsoft\Windows\Start Menu\Programs\Avast Internet Security.lnk
2019-10-29 11:38 - 2019-10-29 11:38 - 000000000 ____D C:\Program Files\Common Files\AVAST Software
2019-10-29 11:38 - 2019-10-29 11:38 - 000000000 ____D C:\Program Files\AVAST Software
2019-10-29 11:37 - 2019-10-29 12:32 - 000000000 ____D C:\ProgramData\AVAST Software
2019-10-28 13:13 - 2019-10-28 13:13 - 000000000 ___HD C:\Users\Public\Documents\AdobeGC
2019-10-28 13:13 - 2019-10-28 13:13 - 000000000 ___HD C:\ProgramData\Documents\AdobeGC
2019-10-23 11:37 - 2019-10-28 13:02 - 000017955 _____ C:\Users\Alex\Desktop\סידור אחמ''שים - סקיצה.xlsx
2019-10-23 09:17 - 2019-10-18 00:39 - 004936088 _____ (NVIDIA Corporation) C:\WINDOWS\system32\nvapi64.dll
2019-10-23 09:17 - 2019-10-18 00:39 - 004205272 _____ (NVIDIA Corporation) C:\WINDOWS\SysWOW64\nvapi.dll
2019-10-23 09:17 - 2019-10-17 21:45 - 011838848 _____ (NVIDIA Corporation) C:\WINDOWS\system32\nvptxJitCompiler.dll
2019-10-23 09:17 - 2019-10-17 21:45 - 010164096 _____ (NVIDIA Corporation) C:\WINDOWS\SysWOW64\nvptxJitCompiler.dll
2019-10-23 09:17 - 2019-10-17 21:45 - 001074080 _____ C:\WINDOWS\system32\vulkan-1-999-0-0-0.dll
2019-10-23 09:17 - 2019-10-17 21:45 - 001074080 _____ C:\WINDOWS\system32\vulkan-1.dll
2019-10-23 09:17 - 2019-10-17 21:45 - 000931744 _____ C:\WINDOWS\SysWOW64\vulkan-1-999-0-0-0.dll
2019-10-23 09:17 - 2019-10-17 21:45 - 000931744 _____ C:\WINDOWS\SysWOW64\vulkan-1.dll
2019-10-23 09:17 - 2019-10-17 21:45 - 000848800 _____ C:\WINDOWS\system32\vulkaninfo-1-999-0-0-0.exe
2019-10-23 09:17 - 2019-10-17 21:45 - 000848800 _____ C:\WINDOWS\system32\vulkaninfo.exe
2019-10-23 09:17 - 2019-10-17 21:45 - 000706464 _____ C:\WINDOWS\SysWOW64\vulkaninfo-1-999-0-0-0.exe
2019-10-23 09:17 - 2019-10-17 21:45 - 000706464 _____ C:\WINDOWS\SysWOW64\vulkaninfo.exe
2019-10-23 09:17 - 2019-10-17 21:45 - 000450464 _____ (Khronos Group) C:\WINDOWS\system32\OpenCL.dll
2019-10-23 09:17 - 2019-10-17 21:45 - 000353368 _____ (Khronos Group) C:\WINDOWS\SysWOW64\OpenCL.dll
2019-10-23 09:17 - 2019-10-17 21:44 - 000677064 _____ C:\WINDOWS\system32\nvofapi64.dll
2019-10-23 09:17 - 2019-10-17 21:44 - 000545368 _____ C:\WINDOWS\SysWOW64\nvofapi.dll
2019-10-23 09:17 - 2019-10-17 21:43 - 040510664 _____ (NVIDIA Corporation) C:\WINDOWS\system32\nvcompiler.dll
2019-10-23 09:17 - 2019-10-17 21:43 - 035379912 _____ (NVIDIA Corporation) C:\WINDOWS\SysWOW64\nvcompiler.dll
2019-10-23 09:17 - 2019-10-17 21:43 - 017460608 _____ (NVIDIA Corporation) C:\WINDOWS\system32\nvcuda.dll
2019-10-23 09:17 - 2019-10-17 21:43 - 015028424 _____ (NVIDIA Corporation) C:\WINDOWS\SysWOW64\nvcuda.dll
2019-10-23 09:17 - 2019-10-17 21:43 - 005380512 _____ (NVIDIA Corporation) C:\WINDOWS\system32\nvcuvid.dll
2019-10-23 09:17 - 2019-10-17 21:43 - 004716416 _____ (NVIDIA Corporation) C:\WINDOWS\SysWOW64\nvcuvid.dll
2019-10-23 09:17 - 2019-10-17 21:43 - 002074712 _____ (NVIDIA Corporation) C:\WINDOWS\system32\NvFBC64.dll
2019-10-23 09:17 - 2019-10-17 21:43 - 001733080 _____ (NVIDIA Corporation) C:\WINDOWS\system32\nvdispco6444097.dll
2019-10-23 09:17 - 2019-10-17 21:43 - 001567888 _____ (NVIDIA Corporation) C:\WINDOWS\SysWOW64\NvFBC.dll
2019-10-23 09:17 - 2019-10-17 21:43 - 001491360 _____ (NVIDIA Corporation) C:\WINDOWS\system32\nvdispgenco6444097.dll
2019-10-23 09:17 - 2019-10-17 21:43 - 001482656 _____ (NVIDIA Corporation) C:\WINDOWS\system32\NvIFR64.dll
2019-10-23 09:17 - 2019-10-17 21:43 - 001370712 _____ (NVIDIA Corporation) C:\WINDOWS\system32\nvfatbinaryLoader.dll
2019-10-23 09:17 - 2019-10-17 21:43 - 001144736 _____ (NVIDIA Corporation) C:\WINDOWS\SysWOW64\NvIFR.dll
2019-10-23 09:17 - 2019-10-17 21:43 - 001064864 _____ (NVIDIA Corporation) C:\WINDOWS\SysWOW64\nvfatbinaryLoader.dll
2019-10-23 09:17 - 2019-10-17 21:43 - 000685016 _____ (NVIDIA Corporation) C:\WINDOWS\system32\NvIFROpenGL.dll
2019-10-23 09:17 - 2019-10-17 21:43 - 000556984 _____ (NVIDIA Corporation) C:\WINDOWS\SysWOW64\NvIFROpenGL.dll
2019-10-23 09:17 - 2019-10-17 02:28 - 000075600 _____ (NVIDIA Corporation) C:\WINDOWS\system32\Drivers\nvvhci.sys
2019-10-23 09:17 - 2019-10-17 02:28 - 000056045 _____ C:\WINDOWS\system32\nvinfo.pb
2019-10-20 00:17 - 2019-10-20 00:16 - 000129080 _____ (Oracle Corporation) C:\WINDOWS\SysWOW64\WindowsAccessBridge-64.dll
2019-10-17 15:42 - 2019-10-17 17:04 - 000016705 _____ C:\Users\Alex\Desktop\סידור אחמ''שים1.xlsx
2019-10-13 16:36 - 2019-10-24 22:04 - 000012735 _____ C:\Users\Alex\Desktop\פירוט שעות חודש אוקטובר.xlsx
2019-10-07 06:29 - 2019-10-07 06:40 - 000000000 ____D C:\Users\Alex\AppData\Local\FreeFixer
2019-10-07 06:29 - 2019-10-07 06:29 - 000000000 ____D C:\Users\Alex\AppData\Roaming\FreeFixer
2019-10-07 06:22 - 2019-10-30 09:51 - 000000000 ____D C:\FRST
2019-10-05 22:11 - 2019-10-05 22:11 - 000000015 _____ C:\Users\Alex\Desktop.newFile.txt
2019-10-01 23:50 - 2019-09-27 23:13 - 001726720 _____ (NVIDIA Corporation) C:\WINDOWS\system32\nvdispco6443648.dll
2019-10-01 23:50 - 2019-09-27 23:13 - 001491144 _____ (NVIDIA Corporation) C:\WINDOWS\system32\nvdispgenco6443648.dll

==================== One month (modified) ==================

(If an entry is included in the fixlist, the file/folder will be moved.)

2019-10-30 09:51 - 2018-08-27 12:26 - 000000000 ____D C:\ProgramData\Adguard
2019-10-30 09:49 - 2018-08-27 12:42 - 000000000 ____D C:\ProgramData\NVIDIA
2019-10-30 09:48 - 2018-08-27 12:58 - 000000386 _____ C:\Users\Alex\AppData\Roaming\sp_data.sys
2019-10-30 09:47 - 2019-03-19 06:52 - 000000000 ____D C:\ProgramData\regid.1991-06.com.microsoft
2019-10-30 09:47 - 2018-08-27 12:26 - 000000000 ____D C:\Program Files (x86)\Adguard
2019-10-30 09:47 - 2018-08-27 11:53 - 000000000 __SHD C:\Users\Alex\IntelGraphicsProfiles
2019-10-30 09:46 - 2019-03-19 06:37 - 000524288 _____ C:\WINDOWS\system32\config\BBI
2019-10-30 09:43 - 2019-03-19 06:50 - 000000000 ____D C:\WINDOWS\INF
2019-10-30 09:43 - 2018-08-27 12:31 - 000000000 ____D C:\ProgramData\Adobe
2019-10-30 09:37 - 2017-12-21 00:12 - 000000000 ____D C:\Users\Alex\AppData\Roaming\Adobe
2019-10-30 09:31 - 2019-09-21 13:12 - 000000000 ____D C:\Users\Alex\AppData\Local\D3DSCache
2019-10-30 09:21 - 2019-03-19 06:52 - 000000000 ____D C:\WINDOWS\appcompat
2019-10-30 01:24 - 2019-03-19 06:49 - 000028672 _____ C:\WINDOWS\system32\config\BCD-Template
2019-10-30 01:23 - 2019-09-16 14:22 - 000000000 ____D C:\ProgramData\Microsoft\Windows\Start Menu\Programs\Speccy
2019-10-30 01:23 - 2019-09-16 14:22 - 000000000 ____D C:\ProgramData\Microsoft\Windows\Start Menu\Programs\Recuva
2019-10-30 01:23 - 2019-09-16 14:22 - 000000000 ____D C:\ProgramData\Microsoft\Windows\Start Menu\Programs\Defraggler
2019-10-30 01:23 - 2019-09-16 14:22 - 000000000 ____D C:\ProgramData\Microsoft\Windows\Start Menu\Programs\CCleaner
2019-10-30 01:23 - 2019-09-16 13:58 - 000000000 ____D C:\ProgramData\Microsoft\Windows\Start Menu\Programs\Revo Uninstaller Pro
2019-10-30 01:23 - 2019-09-13 00:31 - 000000000 ____D C:\ProgramData\Microsoft\Windows\Start Menu\Programs\Oracle VM VirtualBox
2019-10-30 01:23 - 2019-08-09 15:07 - 000000000 ____D C:\ProgramData\Microsoft\Windows\Start Menu\Programs\Lightshot
2019-10-30 01:23 - 2019-08-09 12:17 - 000000000 ____D C:\ProgramData\Microsoft\Windows\Start Menu\Programs\JetBrains
2019-10-30 01:23 - 2019-06-22 21:38 - 000000000 ____D C:\ProgramData\Microsoft\Windows\Start Menu\Programs\Steam
2019-10-30 01:23 - 2019-06-20 08:05 - 000000000 ____D C:\Program Files\UNP
2019-10-30 01:23 - 2019-03-19 06:52 - 000000000 __RHD C:\Users\Public\Libraries
2019-10-30 01:23 - 2019-03-19 06:52 - 000000000 ____D C:\WINDOWS\SysWOW64\GroupPolicy
2019-10-30 01:23 - 2019-03-19 06:52 - 000000000 ____D C:\WINDOWS\system32\WinBioDatabase
2019-10-30 01:23 - 2019-03-19 06:52 - 000000000 ____D C:\WINDOWS\system32\spool
2019-10-30 01:23 - 2019-03-19 06:52 - 000000000 ____D C:\WINDOWS\system32\oobe
2019-10-30 01:23 - 2019-03-19 06:52 - 000000000 ____D C:\WINDOWS\system32\NDF
2019-10-30 01:23 - 2019-03-19 06:52 - 000000000 ____D C:\WINDOWS\system32\Drivers\DriverData
2019-10-30 01:23 - 2019-03-19 06:52 - 000000000 ____D C:\WINDOWS\ServiceState
2019-10-30 01:23 - 2019-03-19 06:52 - 000000000 ____D C:\WINDOWS\schemas
2019-10-30 01:23 - 2019-03-19 06:52 - 000000000 ____D C:\WINDOWS\Registration
2019-10-30 01:23 - 2019-03-19 06:52 - 000000000 ____D C:\WINDOWS\LiveKernelReports
2019-10-30 01:23 - 2019-03-19 06:52 - 000000000 ____D C:\WINDOWS\Help
2019-10-30 01:23 - 2019-03-19 06:52 - 000000000 ____D C:\Program Files\Common Files\System
2019-10-30 01:23 - 2019-03-19 06:52 - 000000000 ____D C:\Program Files\Common Files\microsoft shared
2019-10-30 01:23 - 2019-03-16 19:02 - 000000000 ____D C:\Program Files\CONEXANT
2019-10-30 01:23 - 2018-11-26 00:11 - 000000000 ____D C:\ProgramData\Microsoft\Windows\Start Menu\Programs\כלי Microsoft Office
2019-10-30 01:23 - 2018-10-18 20:31 - 000000000 ____D C:\WINDOWS\SysWOW64\3082
2019-10-30 01:23 - 2018-10-18 20:31 - 000000000 ____D C:\WINDOWS\SysWOW64\1055
2019-10-30 01:23 - 2018-10-18 20:31 - 000000000 ____D C:\WINDOWS\SysWOW64\1049
2019-10-30 01:23 - 2018-10-18 20:31 - 000000000 ____D C:\WINDOWS\SysWOW64\1046
2019-10-30 01:23 - 2018-10-18 20:31 - 000000000 ____D C:\WINDOWS\SysWOW64\1045
2019-10-30 01:23 - 2018-10-18 20:31 - 000000000 ____D C:\WINDOWS\SysWOW64\1040
2019-10-30 01:23 - 2018-10-18 20:31 - 000000000 ____D C:\WINDOWS\SysWOW64\1036
2019-10-30 01:23 - 2018-10-18 20:31 - 000000000 ____D C:\WINDOWS\SysWOW64\1033
2019-10-30 01:23 - 2018-10-18 20:31 - 000000000 ____D C:\WINDOWS\SysWOW64\1029
2019-10-30 01:23 - 2018-10-18 20:31 - 000000000 ____D C:\WINDOWS\system32\3082
2019-10-30 01:23 - 2018-10-18 20:31 - 000000000 ____D C:\WINDOWS\system32\1055
2019-10-30 01:23 - 2018-10-18 20:31 - 000000000 ____D C:\WINDOWS\system32\1049
2019-10-30 01:23 - 2018-10-18 20:31 - 000000000 ____D C:\WINDOWS\system32\1046
2019-10-30 01:23 - 2018-10-18 20:31 - 000000000 ____D C:\WINDOWS\system32\1045
2019-10-30 01:23 - 2018-10-18 20:31 - 000000000 ____D C:\WINDOWS\system32\1040
2019-10-30 01:23 - 2018-10-18 20:31 - 000000000 ____D C:\WINDOWS\system32\1036
2019-10-30 01:23 - 2018-10-18 20:31 - 000000000 ____D C:\WINDOWS\system32\1033
2019-10-30 01:23 - 2018-10-18 20:31 - 000000000 ____D C:\WINDOWS\system32\1029
2019-10-30 01:23 - 2018-10-16 08:00 - 000000000 ____D C:\WINDOWS\SHELLNEW
2019-10-30 01:23 - 2018-09-16 14:41 - 000000000 ____D C:\WINDOWS\system32\appmgmt
2019-10-30 01:23 - 2018-09-15 09:33 - 000000000 ____D C:\WINDOWS\system32\Tasks_Migrated
2019-10-30 01:23 - 2018-09-15 09:33 - 000000000 ____D C:\WINDOWS\system32\MsDtc
2019-10-30 01:23 - 2018-09-15 09:33 - 000000000 ____D C:\WINDOWS\system32\catroot2.old
2019-10-30 01:23 - 2018-09-09 16:53 - 000000000 ____D C:\ProgramData\Microsoft\Windows\Start Menu\Programs\SourceGear DiffMerge
2019-10-30 01:23 - 2018-08-30 16:44 - 000000000 ____D C:\ProgramData\Microsoft\Windows\Start Menu\Programs\Java Development Kit
2019-10-30 01:23 - 2018-08-27 13:00 - 000000000 ___HD C:\WINDOWS\system32\WLANProfiles
2019-10-30 01:23 - 2018-08-27 12:58 - 000000000 ____D C:\ProgramData\Microsoft\Windows\Start Menu\Programs\ASUS
2019-10-30 01:23 - 2018-08-27 12:42 - 000000000 ____D C:\ProgramData\Microsoft\Windows\Start Menu\Programs\NVIDIA Corporation
2019-10-30 01:23 - 2018-08-27 12:32 - 000000000 ____D C:\ProgramData\Microsoft\Windows\Start Menu\Programs\Java
2019-10-30 01:23 - 2018-08-27 12:26 - 000000000 ____D C:\ProgramData\Microsoft\Windows\Start Menu\Programs\Adguard
2019-10-30 01:23 - 2018-08-27 12:23 - 000000000 ____D C:\ProgramData\Microsoft\Windows\Start Menu\Programs\WinRAR
2019-10-30 01:23 - 2018-08-27 11:53 - 000000000 ____D C:\Program Files\Intel
2019-10-30 01:23 - 2018-08-27 11:53 - 000000000 ____D C:\Program Files (x86)\Intel
2019-10-30 01:23 - 2017-09-29 15:46 - 000000000 ___HD C:\WINDOWS\system32\GroupPolicy
2019-10-30 00:58 - 2018-08-27 12:42 - 000000000 ____D C:\WINDOWS\system32\Drivers\NVIDIA Corporation
2019-10-30 00:58 - 2018-08-27 11:47 - 000000000 ____D C:\WINDOWS\system32\Intel
2019-10-30 00:57 - 2019-06-22 22:01 - 000000000 ____D C:\ProgramData\Microsoft\Windows\Start Menu\Programs\Tencent Software
2019-10-30 00:57 - 2019-06-12 19:24 - 000000000 ____D C:\WINDOWS\Firmware
2019-10-30 00:57 - 2019-03-19 06:52 - 000000000 ____D C:\WINDOWS\Resources
2019-10-30 00:57 - 2019-03-16 19:03 - 000000000 ____D C:\ProgramData\Microsoft\Windows\Start Menu\Programs\Conexant
2019-10-30 00:57 - 2018-10-18 21:09 - 000000000 ____D C:\ProgramData\Microsoft\Windows\Start Menu\Programs\Windows Kits
2019-10-30 00:57 - 2018-10-18 20:27 - 000000000 ____D C:\ProgramData\Microsoft\Windows\Start Menu\Programs\Visual Studio 2017
2019-10-30 00:56 - 2019-03-19 08:23 - 000000000 ___SD C:\WINDOWS\system32\AppV
2019-10-30 00:56 - 2019-03-19 08:23 - 000000000 ____D C:\Program Files\Windows Defender Advanced Threat Protection
2019-10-30 00:56 - 2019-03-19 06:52 - 000000000 ___SD C:\WINDOWS\system32\DiagSvcs
2019-10-30 00:56 - 2019-03-19 06:52 - 000000000 ____D C:\WINDOWS\TextInput
2019-10-30 00:56 - 2019-03-19 06:52 - 000000000 ____D C:\WINDOWS\SysWOW64\oobe
2019-10-30 00:56 - 2019-03-19 06:52 - 000000000 ____D C:\WINDOWS\SysWOW64\Dism
2019-10-30 00:56 - 2019-03-19 06:52 - 000000000 ____D C:\WINDOWS\system32\WinMetadata
2019-10-30 00:56 - 2019-03-19 06:52 - 000000000 ____D C:\WINDOWS\system32\SystemResetPlatform
2019-10-30 00:56 - 2019-03-19 06:52 - 000000000 ____D C:\WINDOWS\system32\PerceptionSimulation
2019-10-30 00:56 - 2019-03-19 06:52 - 000000000 ____D C:\WINDOWS\system32\migwiz
2019-10-30 00:56 - 2019-03-19 06:52 - 000000000 ____D C:\WINDOWS\system32\Dism
2019-10-30 00:56 - 2019-03-19 06:52 - 000000000 ____D C:\WINDOWS\Provisioning
2019-10-30 00:55 - 2019-03-19 08:23 - 000021504 _____ (Microsoft Corporation) C:\WINDOWS\system32\OEMDefaultAssociations.dll
2019-10-30 00:55 - 2019-03-19 08:23 - 000018903 _____ C:\WINDOWS\system32\OEMDefaultAssociations.xml
2019-10-30 00:50 - 2019-03-19 08:23 - 000000000 ____D C:\Program Files\Windows Photo Viewer
2019-10-30 00:50 - 2019-03-19 08:23 - 000000000 ____D C:\Program Files (x86)\Windows Photo Viewer
2019-10-30 00:50 - 2019-03-19 08:20 - 000000000 ____D C:\WINDOWS\SysWOW64\WCN
2019-10-30 00:50 - 2019-03-19 08:20 - 000000000 ____D C:\WINDOWS\system32\WCN
2019-10-30 00:50 - 2019-03-19 06:52 - 000000000 ___SD C:\WINDOWS\SysWOW64\F12
2019-10-30 00:50 - 2019-03-19 06:52 - 000000000 ___SD C:\WINDOWS\system32\F12
2019-10-30 00:50 - 2019-03-19 06:52 - 000000000 ____D C:\WINDOWS\SysWOW64\MUI
2019-10-30 00:50 - 2019-03-19 06:52 - 000000000 ____D C:\WINDOWS\system32\Sysprep
2019-10-30 00:50 - 2019-03-19 06:52 - 000000000 ____D C:\WINDOWS\system32\MUI
2019-10-30 00:50 - 2019-03-19 06:52 - 000000000 ____D C:\WINDOWS\IME
2019-10-30 00:50 - 2019-03-19 06:52 - 000000000 ____D C:\Program Files (x86)\Windows Defender
2019-10-30 00:48 - 2019-03-19 08:21 - 000000000 ____D C:\WINDOWS\system32\OpenSSH
2019-10-30 00:48 - 2019-03-19 06:52 - 000000000 ____D C:\WINDOWS\SysWOW64\lv-LV
2019-10-30 00:48 - 2019-03-19 06:52 - 000000000 ____D C:\WINDOWS\SysWOW64\lt-LT
2019-10-30 00:48 - 2019-03-19 06:52 - 000000000 ____D C:\WINDOWS\SysWOW64\et-EE
2019-10-30 00:48 - 2019-03-19 06:52 - 000000000 ____D C:\WINDOWS\SysWOW64\es-MX
2019-10-30 00:48 - 2019-03-19 06:52 - 000000000 ____D C:\WINDOWS\SystemApps
2019-10-30 00:48 - 2019-03-19 06:52 - 000000000 ____D C:\WINDOWS\system32\lv-LV
2019-10-30 00:48 - 2019-03-19 06:52 - 000000000 ____D C:\WINDOWS\system32\lt-LT
2019-10-30 00:48 - 2019-03-19 06:52 - 000000000 ____D C:\WINDOWS\system32\et-EE
2019-10-30 00:48 - 2019-03-19 06:52 - 000000000 ____D C:\WINDOWS\system32\es-MX
2019-10-30 00:47 - 2019-03-19 08:22 - 000000000 ____D C:\WINDOWS\OCR
2019-10-30 00:47 - 2019-03-19 06:56 - 000000000 ____D C:\WINDOWS\Setup
2019-10-29 16:10 - 2019-03-19 06:52 - 000000000 ____D C:\WINDOWS\AppReadiness
2019-10-29 16:09 - 2017-12-21 00:12 - 000000000 ___RD C:\Users\Alex\3D Objects
2019-10-29 16:09 - 2017-11-28 05:47 - 000000000 __RHD C:\Users\Public\AccountPictures
2019-10-29 16:06 - 2019-03-19 06:52 - 000000000 ___RD C:\WINDOWS\PrintDialog
2019-10-29 16:06 - 2019-03-19 06:52 - 000000000 ___RD C:\WINDOWS\ImmersiveControlPanel
2019-10-29 16:06 - 2019-03-19 06:52 - 000000000 ____D C:\WINDOWS\SystemResources
2019-10-29 16:06 - 2019-03-19 06:52 - 000000000 ____D C:\WINDOWS\system32\appraiser
2019-10-29 16:06 - 2019-03-19 06:52 - 000000000 ____D C:\WINDOWS\ShellExperiences
2019-10-29 16:06 - 2019-03-19 06:52 - 000000000 ____D C:\WINDOWS\ShellComponents
2019-10-29 16:06 - 2019-03-19 06:52 - 000000000 ____D C:\WINDOWS\PolicyDefinitions
2019-10-29 16:06 - 2019-03-19 06:52 - 000000000 ____D C:\WINDOWS\DiagTrack
2019-10-29 16:06 - 2019-03-19 06:52 - 000000000 ____D C:\WINDOWS\bcastdvr
2019-10-29 16:06 - 2019-03-19 06:37 - 000000000 ____D C:\WINDOWS\servicing
2019-10-29 16:06 - 2019-03-19 06:37 - 000000000 ____D C:\WINDOWS\CbsTemp
2019-10-29 15:43 - 2018-08-27 11:51 - 000000000 ____D C:\WINDOWS\system32\MRT
2019-10-29 15:41 - 2018-08-27 11:51 - 127230528 ____C (Microsoft Corporation) C:\WINDOWS\system32\MRT.exe
2019-10-29 15:40 - 2017-12-21 00:12 - 000000000 ____D C:\Users\Alex\AppData\Local\Packages
2019-10-29 15:36 - 2018-08-27 12:04 - 000000000 ____D C:\Users\Alex\AppData\Local\PlaceholderTileLogoFolder
2019-10-29 15:36 - 2018-08-26 14:45 - 001705080 _____ (TODO: <Company name>) C:\WINDOWS\SysWOW64\RebootPrompt.exe
2019-10-29 15:33 - 2019-08-05 14:39 - 000000400 __RSH C:\ProgramData\ntuser.pol
2019-10-29 15:33 - 2019-07-22 14:44 - 000000406 _____ C:\WINDOWS\Tasks\update-sys.job
2019-10-29 15:33 - 2019-07-22 14:44 - 000000406 _____ C:\WINDOWS\Tasks\update-S-1-5-21-2000554322-72074022-1378442669-1002.job
2019-10-29 15:33 - 2019-03-19 06:52 - 000000000 ____D C:\ProgramData\USOPrivate
2019-10-29 15:33 - 2019-03-19 06:52 - 000000000 ____D C:\Program Files\Windows Defender
2019-10-29 15:33 - 2019-03-19 06:37 - 000032768 _____ C:\WINDOWS\system32\config\ELAM
2019-10-29 15:32 - 2019-03-19 06:52 - 000000000 ___HD C:\Program Files\WindowsApps
2019-10-29 15:31 - 2019-09-16 14:16 - 000002301 _____ C:\ProgramData\Microsoft\Windows\Start Menu\Programs\Google Chrome.lnk
2019-10-29 15:29 - 2018-08-27 12:26 - 000000257 _____ C:\WINDOWS\SysWOW64\Drivers\vwifikerneldrv.sys
2019-10-29 15:29 - 2018-08-27 12:26 - 000000257 _____ C:\WINDOWS\SysWOW64\d3dx9_11.dll.tmp
2019-10-29 15:29 - 2018-08-27 12:26 - 000000257 _____ C:\ProgramData\fontcacheev1.dat
2019-10-29 15:28 - 2018-12-24 15:17 - 000000000 ____D C:\Users\Alex\AppData\Roaming\Microsoft\Windows\Start Menu\Programs\Steam
2019-10-29 15:28 - 2018-11-09 14:30 - 000000000 ____D C:\Users\Alex\AppData\Roaming\Microsoft\Windows\Start Menu\Programs\Grammarly
2019-10-29 15:28 - 2018-08-27 12:23 - 000000000 ____D C:\Users\Alex\AppData\Roaming\Microsoft\Windows\Start Menu\Programs\WinRAR
2019-10-29 15:25 - 2018-08-27 11:50 - 000000000 ____D C:\Program Files\NVIDIA Corporation
2019-10-29 13:57 - 2018-08-27 12:49 - 000000000 ____D C:\Program Files (x86)\ASUS
2019-10-29 13:02 - 2018-08-27 12:26 - 000000000 ____D C:\ProgramData\Package Cache
2019-10-29 13:02 - 2018-08-27 11:53 - 000000000 ____D C:\ProgramData\Intel
2019-10-29 12:58 - 2018-08-27 12:58 - 000000000 ____D C:\ProgramData\ASUS
2019-10-29 12:35 - 2018-10-16 08:00 - 000000000 ____D C:\Users\Alex\AppData\Local\Microsoft Help
2019-10-29 12:35 - 2018-08-26 14:47 - 000000000 ____D C:\Users\Alex\AppData\Roaming\uTorrent
2019-10-29 12:28 - 2019-06-18 21:45 - 000000000 ____D C:\ProgramData\Comms
2019-10-29 12:09 - 2019-08-13 21:05 - 000000000 ____D C:\Program Files (x86)\Amazon
2019-10-29 11:14 - 2019-07-30 19:43 - 000000000 ____D C:\Users\Alex\AppData\LocalLow\uTorrent
2019-10-29 11:14 - 2019-04-22 19:54 - 000000000 ____D C:\Users\Alex\AppData\Local\BitTorrentHelper
2019-10-29 10:35 - 2019-09-12 15:10 - 000000000 ____D C:\Program Files (x86)\Microsoft OneDrive
2019-10-28 21:37 - 2019-09-12 15:10 - 000002174 _____ C:\ProgramData\Microsoft\Windows\Start Menu\Programs\OneDrive.lnk
2019-10-28 13:23 - 2018-08-27 13:24 - 000000000 ____D C:\Users\Alex\AppData\Roaming\BSplayer PRO
2019-10-28 13:00 - 2018-10-06 10:29 - 000000000 ____D C:\Users\Alex\AppData\Local\CrashDumps
2019-10-28 12:38 - 2018-09-23 23:04 - 000000000 ____D C:\Users\Alex\AppData\Local\ElevatedDiagnostics
2019-10-28 12:36 - 2017-12-21 00:09 - 000000000 ____D C:\WINDOWS\SoftwareDistribution.old
2019-10-26 21:11 - 2018-10-17 21:25 - 000000000 ____D C:\Program Files\Microsoft Office
2019-10-23 13:48 - 2018-08-27 12:44 - 000000000 ____D C:\Users\Alex\AppData\Local\NVIDIA
2019-10-20 00:17 - 2018-08-30 16:44 - 000000000 ____D C:\Program Files\Java
2019-10-20 00:17 - 2018-08-27 12:31 - 000000000 ____D C:\Program Files (x86)\Java
2019-10-20 00:16 - 2019-06-10 16:01 - 000129080 _____ (Oracle Corporation) C:\WINDOWS\system32\WindowsAccessBridge-64.dll
2019-10-20 00:16 - 2018-08-27 12:32 - 000114232 _____ (Oracle Corporation) C:\WINDOWS\SysWOW64\WindowsAccessBridge-32.dll
2019-10-17 16:00 - 2019-09-16 14:22 - 000000000 ____D C:\Program Files\CCleaner
2019-10-17 00:45 - 2018-08-27 12:42 - 005524464 _____ (NVIDIA Corporation) C:\WINDOWS\system32\nvcpl.dll
2019-10-17 00:45 - 2018-08-27 12:42 - 002636656 _____ (NVIDIA Corporation) C:\WINDOWS\system32\nvsvc64.dll
2019-10-17 00:44 - 2018-08-27 12:42 - 001767464 _____ (NVIDIA Corporation) C:\WINDOWS\system32\nvsvcr.dll
2019-10-17 00:44 - 2018-08-27 12:42 - 000655216 _____ (NVIDIA Corporation) C:\WINDOWS\system32\nv3dappshext.dll
2019-10-17 00:44 - 2018-08-27 12:42 - 000450872 _____ (NVIDIA Corporation) C:\WINDOWS\system32\nvmctray.dll
2019-10-17 00:44 - 2018-08-27 12:42 - 000124784 _____ (NVIDIA Corporation) C:\WINDOWS\system32\nvshext.dll
2019-10-17 00:44 - 2018-08-27 12:42 - 000083440 _____ (NVIDIA Corporation) C:\WINDOWS\system32\nv3dappshextr.dll
2019-10-16 11:47 - 2018-08-27 12:30 - 000000000 ____D C:\Users\Alex\AppData\Local\Adobe
2019-10-14 18:25 - 2019-08-24 23:35 - 000555064 _____ (TENCENT) C:\WINDOWS\system32\TesSafe.sys
2019-10-14 15:26 - 2018-08-27 12:42 - 008750052 _____ C:\WINDOWS\system32\nvcoproc.bin
2019-10-03 00:46 - 2018-08-27 12:57 - 000000000 ___HD C:\Program Files (x86)\InstallShield Installation Information
2019-10-02 23:02 - 2018-08-26 14:45 - 000000000 ____D C:\Program Files (x86)\Google

==================== Files in the root of some directories ========

2018-08-27 12:26 - 2019-10-29 15:29 - 000000257 _____ () C:\ProgramData\fontcacheev1.dat
2019-10-30 09:48 - 2019-10-30 09:48 - 001388432 _____ () C:\Users\Public\VOIP.dat
2018-08-27 12:58 - 2019-10-30 09:48 - 000000386 _____ () C:\Users\Alex\AppData\Roaming\sp_data.sys
2019-06-30 21:19 - 2019-06-30 21:31 - 000000128 _____ () C:\Users\Alex\AppData\Local\PUTTY.RND
2019-03-26 22:42 - 2019-03-26 22:42 - 000007597 _____ () C:\Users\Alex\AppData\Local\Resmon.ResmonCfg
2019-07-22 14:44 - 2019-07-22 14:44 - 000000003 _____ () C:\Users\Alex\AppData\Local\updater.log
2019-07-22 14:44 - 2019-08-09 15:07 - 000000424 _____ () C:\Users\Alex\AppData\Local\UserProducts.xml

==================== SigCheck ============================

(There is no automatic fix for files that do not pass verification.)

==================== End of FRST.txt ========================
Additional scan result of Farbar Recovery Scan Tool (x64) Version: 29-10-2019
Ran by Alex (30-10-2019 09:52:01)
Running from D:\Downloads\Chrome
Windows 10 Pro Version 1903 18362.449 (X64) (2019-10-29 13:33:28)
Boot Mode: Normal
==========================================================


==================== Accounts: =============================

Administrator (S-1-5-21-2000554322-72074022-1378442669-500 - Administrator - Disabled)
Alex (S-1-5-21-2000554322-72074022-1378442669-1002 - Administrator - Enabled) => C:\Users\Alex
DefaultAccount (S-1-5-21-2000554322-72074022-1378442669-503 - Limited - Disabled)
Guest (S-1-5-21-2000554322-72074022-1378442669-501 - Limited - Disabled)
WDAGUtilityAccount (S-1-5-21-2000554322-72074022-1378442669-504 - Limited - Disabled)

==================== Security Center ========================

(If an entry is included in the fixlist, it will be removed.)

AV: Avast Antivirus (Enabled - Up to date) {8EA8924E-BC81-DC44-8BB0-8BAE75D86EBF}
AV: Windows Defender (Disabled - Up to date) {D68DDC3A-831F-4fae-9E44-DA132C1ACF46}
AS: Windows Defender (Disabled - Up to date) {D68DDC3A-831F-4fae-9E44-DA132C1ACF46}
AS: Avast Antivirus (Enabled - Up to date) {35C973AA-9ABB-D3CA-B100-B0DC0E5F2402}
FW: Avast Antivirus (Enabled) {B693136B-F6EE-DD1C-A0EF-229B8B0B29C4}

==================== Installed Programs ======================

(Only the adware programs with "Hidden" flag could be added to the fixlist to unhide them. The adware programs should be uninstalled manually.)

µTorrent (HKU\S-1-5-21-2000554322-72074022-1378442669-1002\...\uTorrent) (Version: 3.5.5.45311 - BitTorrent Inc.)
AdGuard (HKLM-x32\...\{1d7ee810-0b6a-4cf5-8e22-8905eb4734e1}) (Version: 6.3.1399.4073 - Adguard Software Ltd)
AdGuard (HKLM-x32\...\{685F6AB3-7C61-42D1-AE5B-3864E48D1035}) (Version: 6.3.1399.4073 - Adguard Software Ltd) Hidden
Adobe Photoshop CC 2018 (HKLM\...\{C0FE994F-A638-4DCD-84A9-912A80C92365}) (Version: 1.0.0000 - Adobe Systems Incorporated) Hidden
Alcor Micro USB Card Reader Driver (HKLM-x32\...\{AEEF33DD-E3B9-4049-B709-0E546C2B1AAB}) (Version: 20.25.401.14526 - Alcor Micro Corp.) Hidden
Alcor Micro USB Card Reader Driver (HKLM-x32\...\InstallShield_{AEEF33DD-E3B9-4049-B709-0E546C2B1AAB}) (Version: 20.25.401.14526 - Alcor Micro Corp.)
Application Verifier x64 External Package (HKLM\...\{62CB44B2-8007-DBB2-1CBA-5CB7309EB3C3}) (Version: 10.1.17134.12 - Microsoft) Hidden
Application Verifier x64 External Package (HKLM\...\{B27BC1FC-8474-9E32-73C2-6F7CD58AD1E3}) (Version: 10.1.17763.132 - Microsoft) Hidden
ASUS Device Activation (HKLM-x32\...\{9C4B0706-9F9A-47BF-B417-0A111FC52B04}) (Version: 1.0.4.0 - ASUSTeK COMPUTER INC.)
ASUS Live Update (HKLM-x32\...\{FA540E67-095C-4A1B-97BA-4D547DEC9AF4}) (Version: 3.6.8 - ASUSTeK COMPUTER INC.)
ASUS PTP Driver (HKLM-x32\...\{7618E419-9124-4E6C-9AF4-487A6DDEC1C5}) (Version: 11.0.25 - ASUSTek COMPUTER INC.)
ASUS Splendid Video Enhancement Technology (HKLM-x32\...\{0969AF05-4FF6-4C00-9406-43599238DE0D}) (Version: 3.23.0001 - ASUS)
ATK Package (ASUS Keyboard Hotkeys) (HKLM-x32\...\{AB5C933E-5C7D-4D30-B314-9C83A49B94BE}) (Version: 1.0.0060 - ASUSTeK COMPUTER INC.)
Avast Cleanup Premium (HKLM-x32\...\{075CC190-59EE-499F-828B-0B5C098C8C15}_is1) (Version: 19.1.7734 - AVAST Software)
Avast Driver Updater (HKLM-x32\...\{630C3D8E-2BEE-465F-9E59-BB069ED10761}) (Version: 2.5.6 - AVAST Software) Hidden
Avast Driver Updater (HKLM-x32\...\Avast Driver Updater) (Version: 2.5.6 - AVAST Software)
Avast Internet Security (HKLM-x32\...\Avast Antivirus) (Version: 19.8.2393 - AVAST Software)
CCleaner (HKLM\...\CCleaner) (Version: 5.59 - Piriform)
ClickOnce Bootstrapper Package for Microsoft .NET Framework (HKLM-x32\...\{D256A5B9-68DA-4F6C-A447-A93E5639A46D}) (Version: 4.7.03083 - Microsoft Corporation) Hidden
Conexant HD Audio (HKLM\...\CNXT_AUDIO_HDA) (Version: 8.66.94.51 - Conexant)
Defraggler (HKLM\...\Defraggler) (Version: 2.21 - Piriform)
DiagnosticsHub_CollectionService (HKLM\...\{440C5592-4EA5-4772-B256-969D66068843}) (Version: 15.9.28016 - Microsoft Corporation) Hidden
Entity Framework 6.2.0 Tools  for Visual Studio 2017 (HKLM-x32\...\{B843915F-00A1-44B1-994C-1AE0A6400AE3}) (Version: 6.2.61807.0 - Microsoft Corporation) Hidden
Epic Games Launcher Prerequisites (x64) (HKLM\...\{66C5838F-B854-4A55-89E6-A6138747A4DF}) (Version: 1.0.0.0 - Epic Games, Inc.) Hidden
Gameloop (HKLM-x32\...\MobileGamePC) (Version: 1.0.0.1 - Tencent Technology Company)
Google Chrome (HKLM-x32\...\Google Chrome) (Version: 77.0.3865.120 - Google LLC)
Google Update Helper (HKLM-x32\...\{60EC980A-BDA2-4CB6-A427-B07A5498B4CA}) (Version: 1.3.35.301 - Google LLC) Hidden
Grammarly (HKU\S-1-5-21-2000554322-72074022-1378442669-1002\...\GrammarlyForWindows) (Version: 1.5.48 - Grammarly)
icecap_collection_neutral (HKLM-x32\...\{A3B4D258-74E1-49D6-9A86-2DFEFEE48DEC}) (Version: 15.8.27906 - Microsoft Corporation) Hidden
icecap_collection_x64 (HKLM\...\{E524832A-C567-499A-8872-0D79596E4DEE}) (Version: 15.8.27906 - Microsoft Corporation) Hidden
icecap_collectionresources (HKLM-x32\...\{469961DF-482F-4213-ACD4-4AFD443F2A88}) (Version: 15.8.27924 - Microsoft Corporation) Hidden
icecap_collectionresourcesx64 (HKLM-x32\...\{12246E9A-D1A6-4D96-8CEA-CCFD064B16E2}) (Version: 15.8.27924 - Microsoft Corporation) Hidden
Intel Driver && Support Assistant (HKLM-x32\...\{6B913517-E442-4045-A3A6-4C9EC4C4F0CC}) (Version: 19.10.42.4 - Intel) Hidden
Intel® Chipset Device Software (HKLM-x32\...\{17408817-d415-4768-a160-ae6d46d6bdb0}) (Version: 10.1.1.44 - Intel® Corporation) Hidden
Intel® Computing Improvement Program (HKLM\...\{A9133872-C9FE-45CC-8F01-D1947B0F09EA}) (Version: 2.4.04755 - Intel Corporation)
Intel® Wireless Bluetooth® (HKLM-x32\...\{00000040-0210-1037-84C8-B8D95FA3C8C3}) (Version: 21.40.0.1 - Intel Corporation)
Intel® Driver & Support Assistant (HKLM-x32\...\{9758f1c4-4afb-42ef-99ca-a0e88d687809}) (Version: 19.10.42.4 - Intel)
Intel® PROSet/Wireless Software (HKLM-x32\...\{d5c53162-d8b4-4547-8a40-917a25c0172e}) (Version: 20.60.0 - Intel Corporation)
IntelliJ IDEA Community Edition 2019.2 (HKLM-x32\...\IntelliJ IDEA Community Edition 2019.2) (Version: 192.5728.98 - JetBrains s.r.o.)
IntelliTraceProfilerProxy (HKLM-x32\...\{ACBAA378-519A-441D-9349-C0AAD8DEAD04}) (Version: 15.0.17289.01 - Microsoft Corporation) Hidden
Java 8 Update 231 (64-bit) (HKLM\...\{26A24AE4-039D-4CA4-87B4-2F64180231F0}) (Version: 8.0.2310.11 - Oracle Corporation)
Java 8 Update 231 (HKLM-x32\...\{26A24AE4-039D-4CA4-87B4-2F32180231F0}) (Version: 8.0.2310.11 - Oracle Corporation)
Java™ SE Development Kit 10.0.2 (64-bit) (HKLM\...\{71307D56-8005-5F5E-9227-BFA2754D6E54}) (Version: 10.0.2.0 - Oracle Corporation)
Kits Configuration Installer (HKLM-x32\...\{29B915AE-013F-151F-3E61-67F7363C3A09}) (Version: 10.1.17763.132 - Microsoft) Hidden
Launcher Prerequisites (x64) (HKLM-x32\...\{c6c5a357-c7ca-4a5f-9789-3bb1af579253}) (Version: 1.0.0.0 - Epic Games, Inc.) Hidden
Lightshot-5.5.0.4 (HKLM-x32\...\{30A5B3C9-2084-4063-A32A-628A98DE512B}_is1) (Version: 5.5.0.4 - Skillbrains)
Microsoft .NET Core SDK 2.1.403 (x64) (HKLM-x32\...\{2eabe091-c571-4b9d-bdaa-5df5d11c84d4}) (Version: 2.1.403 - Microsoft Corporation)
Microsoft .NET Core SDK 2.1.500 (x64) (HKLM-x32\...\{d83984c4-b4ab-41e1-8d62-84f151ca642b}) (Version: 2.1.500 - Microsoft Corporation)
Microsoft .NET Core SDK 2.1.502 (x64) (HKLM-x32\...\{6e700b89-6f3c-4dff-b957-44b77c8a4b0e}) (Version: 2.1.502 - Microsoft Corporation)
Microsoft Office Professional Plus 2019 - en-us (HKLM\...\ProPlus2019Retail - en-us) (Version: 16.0.12026.20344 - Microsoft Corporation)
Microsoft Office Professional Plus 2019 - he-il (HKLM\...\ProPlus2019Retail - he-il) (Version: 16.0.12026.20344 - Microsoft Corporation)
Microsoft OneDrive (HKLM-x32\...\OneDriveSetup.exe) (Version: 19.174.0902.0013 - Microsoft Corporation)
Microsoft SQL Server 2012 Native Client  (HKLM\...\{1385D3DB-8E80-427B-91D2-B7535862B8E4}) (Version: 11.3.6518.0 - Microsoft Corporation)
Microsoft SQL Server 2016 LocalDB  (HKLM\...\{9097BF1A-13A0-4A4A-A1F8-473E2A669863}) (Version: 13.1.4001.0 - Microsoft Corporation)
Microsoft System CLR Types for SQL Server vNext CTP1.6 (HKLM\...\{98DD6908-C582-452A-954D-E79E6DF0310A}) (Version: 15.0.600.33 - Microsoft Corporation)
Microsoft System CLR Types for SQL Server vNext CTP1.6 (HKLM-x32\...\{640EECB8-1962-4D23-ACB2-310107EC7ED9}) (Version: 15.0.600.33 - Microsoft Corporation)
Microsoft Visual C++ 2005 Redistributable (HKLM-x32\...\{7299052b-02a4-4627-81f2-1818da5d550d}) (Version: 8.0.56336 - Microsoft Corporation)
Microsoft Visual C++ 2005 Redistributable (HKLM-x32\...\{837b34e3-7c30-493c-8f6a-2b0f04e2912c}) (Version: 8.0.59193 - Microsoft Corporation)
Microsoft Visual C++ 2005 Redistributable (x64) (HKLM\...\{071c9b48-7c32-4621-a0ac-3f809523288f}) (Version: 8.0.56336 - Microsoft Corporation)
Microsoft Visual C++ 2008 Redistributable - x64 9.0.30729.17 (HKLM\...\{8220EEFE-38CD-377E-8595-13398D740ACE}) (Version: 9.0.30729 - Microsoft Corporation)
Microsoft Visual C++ 2008 Redistributable - x86 9.0.30729.17 (HKLM-x32\...\{9A25302D-30C0-39D9-BD6F-21E6EC160475}) (Version: 9.0.30729 - Microsoft Corporation)
Microsoft Visual C++ 2010  x64 Redistributable - 10.0.40219 (HKLM\...\{1D8E6291-B0D5-35EC-8441-6616F567A0F7}) (Version: 10.0.40219 - Microsoft Corporation)
Microsoft Visual C++ 2010  x86 Redistributable - 10.0.40219 (HKLM-x32\...\{F0C3E5D1-1ADE-321E-8167-68EF0DE699A5}) (Version: 10.0.40219 - Microsoft Corporation)
Microsoft Visual C++ 2012 Redistributable (x64) - 11.0.61030 (HKLM-x32\...\{ca67548a-5ebe-413a-b50c-4b9ceb6d66c6}) (Version: 11.0.61030.0 - Microsoft Corporation)
Microsoft Visual C++ 2012 Redistributable (x86) - 11.0.61030 (HKLM-x32\...\{33d1fd90-4274-48a1-9bc1-97e33d9c2d6f}) (Version: 11.0.61030.0 - Microsoft Corporation)
Microsoft Visual C++ 2013 Redistributable (x64) - 12.0.30501 (HKLM-x32\...\{050d4fc8-5d48-4b8f-8972-47c82c46020f}) (Version: 12.0.30501.0 - Microsoft Corporation)
Microsoft Visual C++ 2013 Redistributable (x86) - 12.0.30501 (HKLM-x32\...\{f65db027-aff3-4070-886a-0d87064aabb1}) (Version: 12.0.30501.0 - Microsoft Corporation)
Microsoft Visual C++ 2017 Redistributable (x64) - 14.16.27012 (HKLM-x32\...\{427ada59-85e7-4bc8-b8d5-ebf59db60423}) (Version: 14.16.27012.6 - Microsoft Corporation)
Microsoft Visual C++ 2017 Redistributable (x86) - 14.16.27012 (HKLM-x32\...\{67f67547-9693-4937-aa13-56e296bd40f6}) (Version: 14.16.27012.6 - Microsoft Corporation)
Microsoft Visual Studio Installer (HKLM\...\{6F320B93-EE3C-4826-85E0-ADF79F8D4C61}) (Version: 1.18.1089.1204 - Microsoft Corporation)
MSI Development Tools (HKLM-x32\...\{1E406B46-65F4-91CE-65DA-DB66D5443B68}) (Version: 10.1.17134.12 - Microsoft Corporation) Hidden
MSI Development Tools (HKLM-x32\...\{6C961B30-A670-8A05-3BFE-3947E84DD4E4}) (Version: 10.1.17763.132 - Microsoft Corporation) Hidden
NVAPI Monitor plugin for NvContainer (HKLM\...\{B2FE1952-0186-46C3-BAEC-A80AA35AC5B8}_NvContainer.NvapiMonitor) (Version: 1.19 - NVIDIA Corporation) Hidden
NVIDIA GeForce Experience 3.20.0.118 (HKLM\...\{B2FE1952-0186-46C3-BAEC-A80AA35AC5B8}_Display.GFExperience) (Version: 3.20.0.118 - NVIDIA Corporation)
NVIDIA Graphics Driver 440.97 (HKLM\...\{B2FE1952-0186-46C3-BAEC-A80AA35AC5B8}_Display.Driver) (Version: 440.97 - NVIDIA Corporation)
NVIDIA PhysX System Software 9.19.0218 (HKLM\...\{B2FE1952-0186-46C3-BAEC-A80AA35AC5B8}_Display.PhysX) (Version: 9.19.0218 - NVIDIA Corporation)
Office 16 Click-to-Run Extensibility Component (HKLM\...\{90160000-008C-0000-1000-0000000FF1CE}) (Version: 16.0.12026.20344 - Microsoft Corporation) Hidden
Office 16 Click-to-Run Licensing Component (HKLM\...\{90160000-007E-0000-1000-0000000FF1CE}) (Version: 16.0.12026.20344 - Microsoft Corporation) Hidden
Office 16 Click-to-Run Localization Component (HKLM\...\{90160000-008C-0409-1000-0000000FF1CE}) (Version: 16.0.12026.20344 - Microsoft Corporation) Hidden
Office 16 Click-to-Run Localization Component (HKLM\...\{90160000-008C-040D-1000-0000000FF1CE}) (Version: 16.0.12026.20344 - Microsoft Corporation) Hidden
Oracle VM VirtualBox 6.0.12 (HKLM\...\{E572CA5C-A60B-4C3B-9E9E-1302BBE4DBEE}) (Version: 6.0.12 - Oracle Corporation)
Rainmeter (HKLM-x32\...\Rainmeter) (Version: 4.3 beta r3260 - Rainmeter)
Recuva (HKLM\...\Recuva) (Version: 1.53 - Piriform)
Revo Uninstaller Pro 4.1.0 (HKLM\...\{67579783-0FB7-4F7B-B881-E5BE47C9DBE0}_is1) (Version: 4.1.0 - VS Revo Group, Ltd.)
SDK ARM Additions (HKLM-x32\...\{0B5D6FB7-05A5-271B-5B99-82384219A471}) (Version: 10.1.17763.132 - Microsoft Corporation) Hidden
SDK ARM Redistributables (HKLM-x32\...\{4A5F6E94-7967-A333-8231-CA9AF35E03BD}) (Version: 10.1.17763.132 - Microsoft Corporation) Hidden
SourceGear DiffMerge 4.2.0.697.stable (x64) (HKLM\...\{F6BEC317-F689-4158-B1F0-F229B794CFBA}) (Version: 4.2.0.697 - SourceGear, LLC)
Speccy (HKLM\...\Speccy) (Version: 1.32 - Piriform)
Steam (HKLM-x32\...\Steam) (Version: 2.10.91.91 - Valve Corporation)
TypeScript SDK (HKLM-x32\...\{3CBDDAE8-99AE-4168-BDA7-8352BF15BE73}) (Version: 3.1.2.0 - Microsoft Corporation) Hidden
TypeScript SDK (HKLM-x32\...\{A3055644-FB53-420D-8724-EBEAB330D64F}) (Version: 3.0.3.0 - Microsoft Corporation) Hidden
Universal CRT Extension SDK (HKLM-x32\...\{18ABFDF6-23D9-87E6-015E-FFE3C7F153D5}) (Version: 10.1.17134.12 - Microsoft Corporation) Hidden
Universal CRT Extension SDK (HKLM-x32\...\{7D225043-6CC5-7B56-11DD-AFF90E4C1C0C}) (Version: 10.1.17763.132 - Microsoft Corporation) Hidden
Universal CRT Headers Libraries and Sources (HKLM-x32\...\{0D6B41AF-D117-8944-A059-3F9346A896C5}) (Version: 10.1.17134.12 - Microsoft Corporation) Hidden
Universal CRT Headers Libraries and Sources (HKLM-x32\...\{CB19DBA2-C210-5646-9522-695A1317CD34}) (Version: 10.1.17763.132 - Microsoft Corporation) Hidden
Universal CRT Redistributable (HKLM-x32\...\{5F577A45-3C65-352B-061D-D6A57F05402C}) (Version: 10.1.17763.132 - Microsoft Corporation) Hidden
Universal CRT Redistributable (HKLM-x32\...\{B6273353-8B54-1F89-1A16-5940925104CE}) (Version: 10.1.17134.12 - Microsoft Corporation) Hidden
Universal CRT Tools x64 (HKLM\...\{3B588BBE-EB02-D1B2-5CD5-7DB85AD8A3E7}) (Version: 10.1.17763.132 - Microsoft Corporation) Hidden
Universal CRT Tools x86 (HKLM-x32\...\{D2DC1EDF-EE04-9B5F-BDD7-06645D859EC3}) (Version: 10.1.17763.132 - Microsoft Corporation) Hidden
Universal General MIDI DLS Extension SDK (HKLM-x32\...\{775886B8-DEE1-CB20-8A94-FC09FA54ECF6}) (Version: 10.1.17134.12 - Microsoft Corporation) Hidden
Universal General MIDI DLS Extension SDK (HKLM-x32\...\{CE83D0BD-418A-F3D1-D6CE-687E96D1EBD0}) (Version: 10.1.17763.132 - Microsoft Corporation) Hidden
Update for  (KB2504637) (HKLM-x32\...\{CFEF48A8-BFB8-3EAC-8BA5-DE4F8AA267CE}.KB2504637) (Version: 1 - Microsoft Corporation)
Update for Windows 10 for x64-based Systems (KB4023057) (HKLM\...\{9CBA860F-7437-4A75-941C-8EF559F2D145}) (Version: 2.52.0.0 - Microsoft Corporation)
vcpp_crt.redist.clickonce (HKLM-x32\...\{16E08161-F78C-4FFC-8E12-F9BEA280795F}) (Version: 14.16.27012 - Microsoft Corporation) Hidden
Visual Studio Enterprise 2017 (HKLM-x32\...\8bbda070) (Version: 15.9.28307.222 - Microsoft Corporation)
VS Immersive Activate Helper (HKLM-x32\...\{54FBC9A9-CCA1-417E-ACA6-203A32A39F37}) (Version: 16.0.95.0 - Microsoft Corporation) Hidden
VS JIT Debugger (HKLM\...\{4B816AD0-D12B-498A-8148-7CBE3ED328DE}) (Version: 16.0.95.0 - Microsoft Corporation) Hidden
VS Script Debugging Common (HKLM\...\{8B657335-3813-4CF4-A6FE-2AA44BE23F94}) (Version: 16.0.95.0 - Microsoft Corporation) Hidden
vs_BlendMsi (HKLM-x32\...\{C5D83E0F-12E7-4BA3-98E6-DAE0E73B5BF9}) (Version: 15.0.27205 - Microsoft Corporation) Hidden
vs_clickoncebootstrappermsi (HKLM-x32\...\{A68D7884-F036-4A0D-AE1A-410E0311E135}) (Version: 15.0.27005 - Microsoft Corporation) Hidden
vs_clickoncebootstrappermsires (HKLM-x32\...\{91DDDFB5-1782-48C2-BA2A-8F4D9DE39D27}) (Version: 15.0.27005 - Microsoft Corporation) Hidden
vs_clickoncesigntoolmsi (HKLM-x32\...\{6A1ECF65-2CBF-4B33-9D4A-D1C0A0E5FE45}) (Version: 15.0.27005 - Microsoft Corporation) Hidden
vs_codecoveragemsi (HKLM-x32\...\{B2DB38F7-4225-4EA6-A7B2-F9A0E089DD89}) (Version: 15.0.27005 - Microsoft Corporation) Hidden
vs_codeduitestframeworkmsi (HKLM-x32\...\{4379D9C7-B16D-486C-BC6D-43550A4C55EE}) (Version: 15.0.27005 - Microsoft Corporation) Hidden
vs_communitymsi (HKLM-x32\...\{71797C29-380A-492C-B35A-F5E4A7B57BDC}) (Version: 15.9.28307 - Microsoft Corporation) Hidden
vs_communitymsires (HKLM-x32\...\{40040E64-50EB-4FCF-B209-DA0B20821759}) (Version: 15.0.26621 - Microsoft Corporation) Hidden
vs_cuitcommoncoremsi (HKLM-x32\...\{060D7518-16AC-41F1-9956-38CA636FCF7B}) (Version: 15.0.27005 - Microsoft Corporation) Hidden
vs_cuitextensionmsi (HKLM-x32\...\{88484E59-774D-4947-AF0E-4524D6C3147D}) (Version: 15.8.27729 - Microsoft Corporation) Hidden
vs_cuitextensionmsi_x64 (HKLM-x32\...\{184D5702-3AD2-4F0D-95E6-11E1C75A9298}) (Version: 15.0.27005 - Microsoft Corporation) Hidden
vs_devenvmsi (HKLM-x32\...\{BFFA2FFB-1095-4ADD-A352-368806D2412B}) (Version: 15.0.26621 - Microsoft Corporation) Hidden
vs_enterprisemsi (HKLM-x32\...\{6E0FB913-0E76-44B5-B0D4-2B71A7984BD2}) (Version: 15.0.26621 - Microsoft Corporation) Hidden
vs_filehandler_amd64 (HKLM-x32\...\{A254DA0E-26A1-43C3-95BE-7A24D5599473}) (Version: 15.9.28302 - Microsoft Corporation) Hidden
vs_filehandler_x86 (HKLM-x32\...\{1F42A73E-CF26-4D67-BA79-752CA56B639F}) (Version: 15.9.28302 - Microsoft Corporation) Hidden
vs_FileTracker_Singleton (HKLM-x32\...\{A41E138F-5A3F-443C-B72D-957AB994FB5A}) (Version: 15.9.28128 - Microsoft Corporation) Hidden
vs_Graphics_Singletonx64 (HKLM\...\{B6BAC9A6-A70D-4E4D-B90A-7EE2B336E090}) (Version: 15.8.27729 - Microsoft Corporation) Hidden
vs_Graphics_Singletonx86 (HKLM-x32\...\{3161DA68-DD37-4798-82DB-B3A0BD6BA233}) (Version: 15.8.27729 - Microsoft Corporation) Hidden
vs_minshellinteropmsi (HKLM-x32\...\{3A78DA3D-C8D4-429D-B536-6E59A0088451}) (Version: 15.8.27825 - Microsoft Corporation) Hidden
vs_minshellmsi (HKLM-x32\...\{68B8AD33-CE97-4C3D-9583-669C39D21BA5}) (Version: 15.9.28302 - Microsoft Corporation) Hidden
vs_minshellmsires (HKLM-x32\...\{6DFE6F8D-B61D-4348-AB70-4ABF1210DFD5}) (Version: 15.0.26621 - Microsoft Corporation) Hidden
vs_networkemulationmsi_x64 (HKLM-x32\...\{674BB892-7904-4B94-8077-9DA3D2CBFC70}) (Version: 15.0.27005 - Microsoft Corporation) Hidden
vs_professionalmsi (HKLM-x32\...\{C135A30B-7258-4E11-8660-87C5642A4AAE}) (Version: 15.0.26621 - Microsoft Corporation) Hidden
vs_SQLClickOnceBootstrappermsi (HKLM-x32\...\{5779B6DD-604A-41CE-BC3D-9D4BDDA22AD2}) (Version: 15.0.27005 - Microsoft Corporation) Hidden
vs_tipsmsi (HKLM-x32\...\{1AC6CC3D-7724-4D84-9270-798A2191AB1C}) (Version: 15.0.27005 - Microsoft Corporation) Hidden
Vulkan Run Time Libraries 1.0.65.1 (HKLM\...\VulkanRT1.0.65.1) (Version: 1.0.65.1 - LunarG, Inc.) Hidden
Vulkan Run Time Libraries 1.0.65.1 (HKLM\...\VulkanRT1.0.65.1-2) (Version: 1.0.65.1 - LunarG, Inc.) Hidden
Vulkan Run Time Libraries 1.0.65.1 (HKLM\...\VulkanRT1.0.65.1-3) (Version: 1.0.65.1 - LunarG, Inc.) Hidden
Vulkan Run Time Libraries 1.0.65.1 (HKLM\...\VulkanRT1.0.65.1-4) (Version: 1.0.65.1 - LunarG, Inc.) Hidden
WinAppDeploy (HKLM-x32\...\{5AD4A604-B476-1578-2A20-6B02FC6258BE}) (Version: 10.1.17134.12 - Microsoft Corporation) Hidden
WinAppDeploy (HKLM-x32\...\{716AE8F2-1BE3-7657-DF6B-F23DEEC75AF9}) (Version: 10.1.17763.132 - Microsoft Corporation) Hidden
Windows 10 Update Assistant (HKLM-x32\...\{D5C69738-B486-402E-85AC-2456D98A64E4}) (Version: 1.4.9200.22899 - Microsoft Corporation)
Windows Driver Package - ASUSTek COMPUTER INC. (AsusPTPDrv) HIDClass  (10/25/2017 11.0.0.21) (HKLM\...\38D64A6EF13E2FAA5DE3820CB44E2994223DD766) (Version: 10/25/2017 11.0.0.21 - ASUSTek COMPUTER INC.)
Windows Driver Package - Google, Inc. (WinUSB) AndroidUsbDeviceClass  (01/27/2014 9.0.0000.00000) (HKLM\...\9CA77E2A8332A0824C54DA611BBE4CA24AB1F750) (Version: 01/27/2014 9.0.0000.00000 - Google, Inc.)
Windows Driver Package - libusb-win32 WorldCup Device (02/23/2013 1.2.6.0) (HKLM\...\607E81836F3E58EDC7289F7B7047149AE2C7F301) (Version: 02/23/2013 1.2.6.0 - libusb-win32)
Windows Mobile Connectivity Tools 10.0.15254.0 - Desktop x86 (HKLM-x32\...\{833F02C5-2C39-49F6-BD64-91D351081274}) (Version: 10.1.15254.1 - Microsoft Corporation)
Windows SDK AddOn (HKLM-x32\...\{E77C2F78-6089-48F8-89DF-DDF2850DFFD9}) (Version: 10.1.0.0 - Microsoft Corporation)
Windows Software Development Kit - Windows 10.0.17134.12 (HKLM-x32\...\{5f83ccda-0498-4b97-a298-16a642bf49f2}) (Version: 10.1.17134.12 - Microsoft Corporation)
Windows Software Development Kit - Windows 10.0.17763.132 (HKLM-x32\...\{5fe95b9d-9219-4d8b-a031-71323ae48a81}) (Version: 10.1.17763.132 - Microsoft Corporation)
WinFlash (HKLM-x32\...\{8F21291E-0444-4B1D-B9F9-4370A73E346D}) (Version: 3.2.9.0 - ASUSTeK COMPUTER INC.)
WinRAR 5.71 (64-bit) (HKLM\...\WinRAR archiver) (Version: 5.71.0 - win.rar GmbH)
WinRT Intellisense Desktop - en-us (HKLM-x32\...\{00B12DF9-5428-9406-DE2C-8E8A1A062B05}) (Version: 10.1.17763.132 - Microsoft Corporation) Hidden
WinRT Intellisense Desktop - en-us (HKLM-x32\...\{389D182F-0ADA-5C7E-FF32-2573A821592C}) (Version: 10.1.17134.12 - Microsoft Corporation) Hidden
WinRT Intellisense Desktop - Other Languages (HKLM-x32\...\{C3776B36-B34E-00E2-3009-95A6F1870B58}) (Version: 10.1.17134.12 - Microsoft Corporation) Hidden
WinRT Intellisense Desktop - Other Languages (HKLM-x32\...\{E82A4A6C-C21C-35FE-B805-3E44318F6D63}) (Version: 10.1.17763.132 - Microsoft Corporation) Hidden
WinRT Intellisense IoT - en-us (HKLM-x32\...\{7E898893-9C42-A572-7F57-FDE55CE812F7}) (Version: 10.1.17763.132 - Microsoft Corporation) Hidden
WinRT Intellisense IoT - en-us (HKLM-x32\...\{965D1746-D94A-49B9-2A48-A14914CA3B57}) (Version: 10.1.17134.12 - Microsoft Corporation) Hidden
WinRT Intellisense IoT - Other Languages (HKLM-x32\...\{84C6B91B-67DA-DDE3-86F1-87A3E307E8C1}) (Version: 10.1.17134.12 - Microsoft Corporation) Hidden
WinRT Intellisense IoT - Other Languages (HKLM-x32\...\{E8B1CB29-5C24-D882-3CEF-F8A7263BC63D}) (Version: 10.1.17763.132 - Microsoft Corporation) Hidden
WinRT Intellisense Mobile - en-us (HKLM-x32\...\{3755CD99-C62E-3312-DDD3-29A4F259270D}) (Version: 10.1.17134.12 - Microsoft Corporation) Hidden
WinRT Intellisense Mobile - en-us (HKLM-x32\...\{F6F11150-93DE-0507-FCA0-F746E0207017}) (Version: 10.1.17763.132 - Microsoft Corporation) Hidden
WinRT Intellisense PPI - en-us (HKLM-x32\...\{729DA966-8590-2C1F-2178-16C1D32FD7FD}) (Version: 10.1.17134.12 - Microsoft Corporation) Hidden
WinRT Intellisense PPI - en-us (HKLM-x32\...\{8329C3A0-8582-D1C2-67FF-800654BFDF45}) (Version: 10.1.17763.132 - Microsoft Corporation) Hidden
WinRT Intellisense PPI - Other Languages (HKLM-x32\...\{771C9DEF-7C0B-85DA-6426-7A20F06BEC94}) (Version: 10.1.17763.132 - Microsoft Corporation) Hidden
WinRT Intellisense PPI - Other Languages (HKLM-x32\...\{F1C18506-3168-A9D9-E2D9-D23A512A326E}) (Version: 10.1.17134.12 - Microsoft Corporation) Hidden
WinRT Intellisense UAP - en-us (HKLM-x32\...\{4095D263-6A13-78D3-DEDA-AA3452011F6E}) (Version: 10.1.17134.12 - Microsoft Corporation) Hidden
WinRT Intellisense UAP - en-us (HKLM-x32\...\{B047C746-63E8-41C7-A5C0-7ABD390CF3E6}) (Version: 10.1.17763.132 - Microsoft Corporation) Hidden
WinRT Intellisense UAP - Other Languages (HKLM-x32\...\{0063AF94-397B-9C64-1C71-D404B27C5D96}) (Version: 10.1.17763.132 - Microsoft Corporation) Hidden
WinRT Intellisense UAP - Other Languages (HKLM-x32\...\{C3243E23-2EB6-4419-2692-40944923B112}) (Version: 10.1.17134.12 - Microsoft Corporation) Hidden

Packages:
=========
EdgeDevtoolsPlugin -> C:\WINDOWS\SystemApps\Microsoft.EdgeDevtoolsPlugin_cw5n1h2txyewy [2019-10-29] (Microsoft Corporation)
HP Smart -> C:\Program Files\WindowsApps\AD2F1837.HPPrinterControl_100.1.575.0_x64__v10z8vjag6ke6 [2019-06-28] (HP Inc.)
Mail and Calendar -> C:\Program Files\WindowsApps\microsoft.windowscommunicationsapps_16005.11629.20316.0_x64__8wekyb3d8bbwe [2019-07-09] (Microsoft Corporation) [MS Ad]
Microsoft Advertising SDK for XAML -> C:\Program Files\WindowsApps\Microsoft.Advertising.Xaml_10.1811.1.0_x64__8wekyb3d8bbwe [2019-01-22] (Microsoft Corporation) [MS Ad]
Microsoft Advertising SDK for XAML -> C:\Program Files\WindowsApps\Microsoft.Advertising.Xaml_10.1811.1.0_x86__8wekyb3d8bbwe [2019-01-22] (Microsoft Corporation) [MS Ad]
Microsoft Midi gm.dls -> C:\Program Files\WindowsApps\Microsoft.Midi.GmDls_1.0.1.0_neutral__8wekyb3d8bbwe [2019-05-19] (Microsoft Platform Extensions)
Microsoft News -> C:\Program Files\WindowsApps\Microsoft.BingNews_4.31.11723.0_x64__8wekyb3d8bbwe [2019-06-27] (Microsoft Corporation) [MS Ad]
Microsoft To-Do -> C:\Program Files\WindowsApps\Microsoft.Todos_1.60.21782.0_x64__8wekyb3d8bbwe [2019-07-03] (Microsoft Corporation)
MSN Weather -> C:\Program Files\WindowsApps\Microsoft.BingWeather_4.28.10351.0_x64__8wekyb3d8bbwe [2019-02-13] (Microsoft Corporation) [MS Ad]
PDF Document Scanner -> C:\Program Files\WindowsApps\61083ApeApps.PDFDocumentScanner_4.19.0.0_x64__d2yynfvsn01f4 [2019-07-13] (Ape Apps) [MS Ad]
Photo Editor | Polarr -> C:\Program Files\WindowsApps\613EBCEA.PolarrPhotoEditorAcademicEdition_5.5.8.0_x64__jb41c8remg0x2 [2019-06-25] (Polarr)
Photos Add-on -> C:\Program Files\WindowsApps\Microsoft.Windows.Photos.DLC.Main_2017.39121.36610.0_x64__8wekyb3d8bbwe [2019-05-23] (Microsoft Corporation)
WhatsApp Desktop -> C:\Program Files\WindowsApps\5319275A.WhatsAppDesktop_0.3.3794.0_x64__cv1g1gvanyjgm [2019-07-09] (WhatsApp Inc.)

==================== Custom CLSID (Whitelisted): ==============

(If an entry is included in the fixlist, it will be removed from the registry. The file will not be moved unless listed separately.)

CustomCLSID: HKU\S-1-5-21-2000554322-72074022-1378442669-1002_Classes\CLSID\{1BF42E4C-4AF4-4CFD-A1A0-CF2960B8F63E}\InprocServer32 -> C:\Users\Alex\AppData\Local\Microsoft\OneDrive\19.152.0801.0008\amd64\FileSyncShell64.dll => No File
CustomCLSID: HKU\S-1-5-21-2000554322-72074022-1378442669-1002_Classes\CLSID\{233525e0-5434-46ef-b464-fd7e45e2e145}\localserver32 -> C:\Program Files (x86)\Intel\Driver and Support Assistant\DSATray.exe (IDSA Production signing key -> Intel)
CustomCLSID: HKU\S-1-5-21-2000554322-72074022-1378442669-1002_Classes\CLSID\{7AFDFDDB-F914-11E4-8377-6C3BE50D980C}\InprocServer32 -> C:\Users\Alex\AppData\Local\Microsoft\OneDrive\19.152.0801.0008\amd64\FileSyncShell64.dll => No File
CustomCLSID: HKU\S-1-5-21-2000554322-72074022-1378442669-1002_Classes\CLSID\{82CA8DE3-01AD-4CEA-9D75-BE4C51810A9E}\InprocServer32 -> C:\Users\Alex\AppData\Local\Microsoft\OneDrive\19.152.0801.0008\amd64\FileSyncShell64.dll => No File
SSODL: EldosMountNotificator-cbfs6 - {3041C05F-484E-4B19-A0B9-C51C3506C05B} - C:\WINDOWS\system32\cbfsMntNtf6.dll (EldoS Corporation -> /n software, Inc.)
SSODL-x32: EldosMountNotificator-cbfs6 - {3041C05F-484E-4B19-A0B9-C51C3506C05B} - C:\WINDOWS\SysWOW64\cbfsMntNtf6.dll (EldoS Corporation -> /n software, Inc.)
ShellServiceObjects: Virtual Storage Mount Notification -> {3041C05F-484E-4B19-A0B9-C51C3506C05B} => C:\WINDOWS\system32\cbfsMntNtf6.dll [2016-09-09] (EldoS Corporation -> /n software, Inc.)
ShellServiceObjects-x32: Virtual Storage Mount Notification -> {3041C05F-484E-4B19-A0B9-C51C3506C05B} => C:\WINDOWS\SysWOW64\cbfsMntNtf6.dll [2016-09-09] (EldoS Corporation -> /n software, Inc.)
ShellIconOverlayIdentifiers: [    OneDrive1] -> {BBACC218-34EA-4666-9D7A-C78F2274A524} => C:\Program Files (x86)\Microsoft OneDrive\19.174.0902.0013\amd64\FileSyncShell64.dll [2019-10-28] (Microsoft Corporation -> Microsoft Corporation)
ShellIconOverlayIdentifiers: [    OneDrive2] -> {5AB7172C-9C11-405C-8DD5-AF20F3606282} => C:\Program Files (x86)\Microsoft OneDrive\19.174.0902.0013\amd64\FileSyncShell64.dll [2019-10-28] (Microsoft Corporation -> Microsoft Corporation)
ShellIconOverlayIdentifiers: [    OneDrive3] -> {A78ED123-AB77-406B-9962-2A5D9D2F7F30} => C:\Program Files (x86)\Microsoft OneDrive\19.174.0902.0013\amd64\FileSyncShell64.dll [2019-10-28] (Microsoft Corporation -> Microsoft Corporation)
ShellIconOverlayIdentifiers: [    OneDrive4] -> {F241C880-6982-4CE5-8CF7-7085BA96DA5A} => C:\Program Files (x86)\Microsoft OneDrive\19.174.0902.0013\amd64\FileSyncShell64.dll [2019-10-28] (Microsoft Corporation -> Microsoft Corporation)
ShellIconOverlayIdentifiers: [    OneDrive5] -> {A0396A93-DC06-4AEF-BEE9-95FFCCAEF20E} => C:\Program Files (x86)\Microsoft OneDrive\19.174.0902.0013\amd64\FileSyncShell64.dll [2019-10-28] (Microsoft Corporation -> Microsoft Corporation)
ShellIconOverlayIdentifiers: [    OneDrive6] -> {9AA2F32D-362A-42D9-9328-24A483E2CCC3} => C:\Program Files (x86)\Microsoft OneDrive\19.174.0902.0013\amd64\FileSyncShell64.dll [2019-10-28] (Microsoft Corporation -> Microsoft Corporation)
ShellIconOverlayIdentifiers: [    OneDrive7] -> {C5FF006E-2AE9-408C-B85B-2DFDD5449D9C} => C:\Program Files (x86)\Microsoft OneDrive\19.174.0902.0013\amd64\FileSyncShell64.dll [2019-10-28] (Microsoft Corporation -> Microsoft Corporation)
ShellIconOverlayIdentifiers: [ OneDrive1] -> {BBACC218-34EA-4666-9D7A-C78F2274A524} => C:\Program Files (x86)\Microsoft OneDrive\19.174.0902.0013\amd64\FileSyncShell64.dll [2019-10-28] (Microsoft Corporation -> Microsoft Corporation)
ShellIconOverlayIdentifiers: [ OneDrive2] -> {5AB7172C-9C11-405C-8DD5-AF20F3606282} => C:\Program Files (x86)\Microsoft OneDrive\19.174.0902.0013\amd64\FileSyncShell64.dll [2019-10-28] (Microsoft Corporation -> Microsoft Corporation)
ShellIconOverlayIdentifiers: [ OneDrive3] -> {A78ED123-AB77-406B-9962-2A5D9D2F7F30} => C:\Program Files (x86)\Microsoft OneDrive\19.174.0902.0013\amd64\FileSyncShell64.dll [2019-10-28] (Microsoft Corporation -> Microsoft Corporation)
ShellIconOverlayIdentifiers: [ OneDrive4] -> {F241C880-6982-4CE5-8CF7-7085BA96DA5A} => C:\Program Files (x86)\Microsoft OneDrive\19.174.0902.0013\amd64\FileSyncShell64.dll [2019-10-28] (Microsoft Corporation -> Microsoft Corporation)
ShellIconOverlayIdentifiers: [ OneDrive5] -> {A0396A93-DC06-4AEF-BEE9-95FFCCAEF20E} => C:\Program Files (x86)\Microsoft OneDrive\19.174.0902.0013\amd64\FileSyncShell64.dll [2019-10-28] (Microsoft Corporation -> Microsoft Corporation)
ShellIconOverlayIdentifiers: [ OneDrive6] -> {9AA2F32D-362A-42D9-9328-24A483E2CCC3} => C:\Program Files (x86)\Microsoft OneDrive\19.174.0902.0013\amd64\FileSyncShell64.dll [2019-10-28] (Microsoft Corporation -> Microsoft Corporation)
ShellIconOverlayIdentifiers: [ OneDrive7] -> {C5FF006E-2AE9-408C-B85B-2DFDD5449D9C} => C:\Program Files (x86)\Microsoft OneDrive\19.174.0902.0013\amd64\FileSyncShell64.dll [2019-10-28] (Microsoft Corporation -> Microsoft Corporation)
ShellIconOverlayIdentifiers: [00asw] -> {472083B0-C522-11CF-8763-00608CC02F24} => C:\Program Files\AVAST Software\Avast\ashShell.dll [2019-10-29] (AVAST Software s.r.o. -> AVAST Software)
ShellIconOverlayIdentifiers: [EldosIconOverlay-cbfs6] -> {9570AEB6-09DB-44CD-8B62-1C5B6757F2F6} => C:\WINDOWS\system32\cbfsMntNtf6.dll [2016-09-09] (EldoS Corporation -> /n software, Inc.)
ShellIconOverlayIdentifiers-x32: [ OneDrive1] -> {BBACC218-34EA-4666-9D7A-C78F2274A524} => C:\Program Files (x86)\Microsoft OneDrive\19.174.0902.0013\amd64\FileSyncShell64.dll [2019-10-28] (Microsoft Corporation -> Microsoft Corporation)
ShellIconOverlayIdentifiers-x32: [ OneDrive2] -> {5AB7172C-9C11-405C-8DD5-AF20F3606282} => C:\Program Files (x86)\Microsoft OneDrive\19.174.0902.0013\amd64\FileSyncShell64.dll [2019-10-28] (Microsoft Corporation -> Microsoft Corporation)
ShellIconOverlayIdentifiers-x32: [ OneDrive3] -> {A78ED123-AB77-406B-9962-2A5D9D2F7F30} => C:\Program Files (x86)\Microsoft OneDrive\19.174.0902.0013\amd64\FileSyncShell64.dll [2019-10-28] (Microsoft Corporation -> Microsoft Corporation)
ShellIconOverlayIdentifiers-x32: [ OneDrive4] -> {F241C880-6982-4CE5-8CF7-7085BA96DA5A} => C:\Program Files (x86)\Microsoft OneDrive\19.174.0902.0013\amd64\FileSyncShell64.dll [2019-10-28] (Microsoft Corporation -> Microsoft Corporation)
ShellIconOverlayIdentifiers-x32: [ OneDrive5] -> {A0396A93-DC06-4AEF-BEE9-95FFCCAEF20E} => C:\Program Files (x86)\Microsoft OneDrive\19.174.0902.0013\amd64\FileSyncShell64.dll [2019-10-28] (Microsoft Corporation -> Microsoft Corporation)
ShellIconOverlayIdentifiers-x32: [ OneDrive6] -> {9AA2F32D-362A-42D9-9328-24A483E2CCC3} => C:\Program Files (x86)\Microsoft OneDrive\19.174.0902.0013\amd64\FileSyncShell64.dll [2019-10-28] (Microsoft Corporation -> Microsoft Corporation)
ShellIconOverlayIdentifiers-x32: [ OneDrive7] -> {C5FF006E-2AE9-408C-B85B-2DFDD5449D9C} => C:\Program Files (x86)\Microsoft OneDrive\19.174.0902.0013\amd64\FileSyncShell64.dll [2019-10-28] (Microsoft Corporation -> Microsoft Corporation)
ShellIconOverlayIdentifiers-x32: [EldosIconOverlay-cbfs6] -> {9570AEB6-09DB-44CD-8B62-1C5B6757F2F6} => C:\WINDOWS\system32\cbfsMntNtf6.dll [2016-09-09] (EldoS Corporation -> /n software, Inc.)
ContextMenuHandlers1: [ FileSyncEx] -> {CB3D0F55-BC2C-4C1A-85ED-23ED75B5106B} => C:\Program Files (x86)\Microsoft OneDrive\19.174.0902.0013\amd64\FileSyncShell64.dll [2019-10-28] (Microsoft Corporation -> Microsoft Corporation)
ContextMenuHandlers1: [7-Zip] -> {23170F69-40C1-278A-1000-000100020000} =>  -> No File
ContextMenuHandlers1: [ANotepad++64] -> {B298D29A-A6ED-11DE-BA8C-A68E55D89593} =>  -> No File
ContextMenuHandlers1: [avast] -> {472083B0-C522-11CF-8763-00608CC02F24} => C:\Program Files\AVAST Software\Avast\ashShell.dll [2019-10-29] (AVAST Software s.r.o. -> AVAST Software)
ContextMenuHandlers1: [BriefcaseMenu] -> {85BBD920-42A0-1069-A2E4-08002B30309D} =>  -> No File
ContextMenuHandlers1: [DefragglerShellExtension] -> {4380C993-0C43-4E02-9A7A-0D40B6EA7590} => C:\Program Files\Defraggler\DefragglerShell64.dll [2016-03-08] (Piriform Ltd -> Piriform Ltd)
ContextMenuHandlers1-x32: [SourceGearDiffMergeShellExtension32] -> {2F410E77-24FD-4788-8412-3810115E7BCB} => C:\Program Files (x86)\SourceGear\Common\DiffMerge\SourceGearDiffMergeShellExtension32.dll [2013-10-23] (SourceGear LLC) [File not signed]
ContextMenuHandlers1: [SourceGearDiffMergeShellExtension64] -> {41E0355D-F488-487D-B7BA-D235D5834F1D} => C:\Program Files\SourceGear\Common\DiffMerge\SourceGearDiffMergeShellExtension64.dll [2013-10-23] (SourceGear LLC) [File not signed]
ContextMenuHandlers1: [WinRAR] -> {B41DB860-64E4-11D2-9906-E49FADC173CA} => C:\Program Files\WinRAR\rarext.dll [2019-04-27] (win.rar GmbH -> Alexander Roshal)
ContextMenuHandlers1-x32: [WinRAR32] -> {B41DB860-8EE4-11D2-9906-E49FADC173CA} => C:\Program Files\WinRAR\rarext32.dll [2019-04-27] (win.rar GmbH -> Alexander Roshal)
ContextMenuHandlers3: [00asw] -> {472083B0-C522-11CF-8763-00608CC02F24} => C:\Program Files\AVAST Software\Avast\ashShell.dll [2019-10-29] (AVAST Software s.r.o. -> AVAST Software)
ContextMenuHandlers3: [{4A7C4306-57E0-4C0C-83A9-78C1528F618C}] -> {4A7C4306-57E0-4C0C-83A9-78C1528F618C} =>  -> No File
ContextMenuHandlers4: [ FileSyncEx] -> {CB3D0F55-BC2C-4C1A-85ED-23ED75B5106B} => C:\Program Files (x86)\Microsoft OneDrive\19.174.0902.0013\amd64\FileSyncShell64.dll [2019-10-28] (Microsoft Corporation -> Microsoft Corporation)
ContextMenuHandlers4: [7-Zip] -> {23170F69-40C1-278A-1000-000100020000} =>  -> No File
ContextMenuHandlers4: [RecuvaShellExt] -> {435E5DF5-2510-463C-B223-BDA47006D002} => C:\Program Files\Recuva\RecuvaShell64.dll [2016-06-01] (Piriform Ltd -> Piriform Ltd)
ContextMenuHandlers4-x32: [SourceGearDiffMergeShellExtension32] -> {2F410E77-24FD-4788-8412-3810115E7BCB} => C:\Program Files (x86)\SourceGear\Common\DiffMerge\SourceGearDiffMergeShellExtension32.dll [2013-10-23] (SourceGear LLC) [File not signed]
ContextMenuHandlers4: [SourceGearDiffMergeShellExtension64] -> {41E0355D-F488-487D-B7BA-D235D5834F1D} => C:\Program Files\SourceGear\Common\DiffMerge\SourceGearDiffMergeShellExtension64.dll [2013-10-23] (SourceGear LLC) [File not signed]
ContextMenuHandlers5: [ FileSyncEx] -> {CB3D0F55-BC2C-4C1A-85ED-23ED75B5106B} => C:\Program Files (x86)\Microsoft OneDrive\19.174.0902.0013\amd64\FileSyncShell64.dll [2019-10-28] (Microsoft Corporation -> Microsoft Corporation)
ContextMenuHandlers5: [igfxcui] -> {3AB1675A-CCFF-11D2-8B20-00A0C93CB1F4} =>  -> No File
ContextMenuHandlers5: [igfxDTCM] -> {9B5F5829-A529-4B12-814A-E81BCB8D93FC} => C:\WINDOWS\System32\DriverStore\FileRepository\igdlh64.inf_amd64_c9081e50bcffa972\igfxDTCM.dll [2018-04-17] (Microsoft Windows Hardware Compatibility Publisher -> Intel Corporation)
ContextMenuHandlers5: [NvCplDesktopContext] -> {3D1975AF-48C6-4f8e-A182-BE0E08FA86A9} => C:\WINDOWS\system32\nvshext.dll [2019-10-17] (NVIDIA Corporation -> NVIDIA Corporation)
ContextMenuHandlers6: [avast] -> {472083B0-C522-11CF-8763-00608CC02F24} => C:\Program Files\AVAST Software\Avast\ashShell.dll [2019-10-29] (AVAST Software s.r.o. -> AVAST Software)
ContextMenuHandlers6: [BriefcaseMenu] -> {85BBD920-42A0-1069-A2E4-08002B30309D} =>  -> No File
ContextMenuHandlers6: [DefragglerShellExtension] -> {4380C993-0C43-4E02-9A7A-0D40B6EA7590} => C:\Program Files\Defraggler\DefragglerShell64.dll [2016-03-08] (Piriform Ltd -> Piriform Ltd)
ContextMenuHandlers6: [RecuvaShellExt] -> {435E5DF5-2510-463C-B223-BDA47006D002} => C:\Program Files\Recuva\RecuvaShell64.dll [2016-06-01] (Piriform Ltd -> Piriform Ltd)
ContextMenuHandlers6: [WinRAR] -> {B41DB860-64E4-11D2-9906-E49FADC173CA} => C:\Program Files\WinRAR\rarext.dll [2019-04-27] (win.rar GmbH -> Alexander Roshal)
ContextMenuHandlers6-x32: [WinRAR32] -> {B41DB860-8EE4-11D2-9906-E49FADC173CA} => C:\Program Files\WinRAR\rarext32.dll [2019-04-27] (win.rar GmbH -> Alexander Roshal)

==================== Codecs (Whitelisted) ====================

==================== Shortcuts & WMI ========================

(The entries could be listed to be restored or removed.)

ShortcutWithArgument: C:\Users\Alex\AppData\Roaming\Microsoft\Internet Explorer\Quick Launch\User Pinned\ImplicitAppShortcuts\b04caf901f490205\Magic Actions for YouTube™.lnk -> C:\Program Files (x86)\Google\Chrome\Application\chrome.exe (Google LLC) -> --profile-directory=Default --app-id=abjcfabbhafbcdfjoecdgepllmpfceif

==================== Loaded Modules (Whitelisted) =============

2017-03-15 17:08 - 2017-03-15 17:08 - 000732672 _____ () [File not signed] C:\Program Files (x86)\Adguard\brolib32.dll
2017-10-03 12:45 - 2017-10-03 12:45 - 000147968 _____ () [File not signed] C:\Program Files (x86)\ASUS\Splendid\CCTAdjust.dll
2017-10-24 11:24 - 2017-10-24 11:24 - 000036864 _____ () [File not signed] C:\Program Files (x86)\ASUS\Splendid\DetectDisplayDC.dll
2017-06-21 10:51 - 2017-06-21 10:51 - 000029184 _____ () [File not signed] C:\Program Files (x86)\ASUS\Splendid\VideoEnhance.dll
2019-10-29 12:32 - 2016-09-12 15:53 - 048936448 _____ () [File not signed] C:\Program Files (x86)\AVAST Software\Avast Cleanup\libcef.dll
2018-10-16 14:41 - 2018-10-16 14:41 - 000315392 _____ () [File not signed] C:\Program Files\Rainmeter\Plugins\ActionTimer.DLL
2018-10-16 14:42 - 2018-10-16 14:42 - 000023552 _____ () [File not signed] C:\Program Files\Rainmeter\Plugins\InputText.DLL
2017-10-24 11:24 - 2017-10-24 11:24 - 000073216 _____ (ASUS TeK Computer Inc.) [File not signed] C:\Program Files (x86)\ASUS\Splendid\ApplyLUT.dll
2017-10-24 11:24 - 2017-10-24 11:24 - 000242688 _____ (ASUS TeK Computer Inc.) [File not signed] C:\Program Files (x86)\ASUS\Splendid\GenLUT.dll
2017-10-24 11:24 - 2017-10-24 11:24 - 000407040 _____ (ASUSTeK Computer Inc.) [File not signed] C:\Program Files (x86)\ASUS\Splendid\ColorU.dll
2019-10-29 15:36 - 2018-03-13 10:21 - 001173504 _____ (Conexant Systems, Inc.) [File not signed] C:\Program Files\Conexant\SAII\CxHDAudioAPI.dll
2017-11-01 20:58 - 2017-11-01 20:58 - 001141248 _____ (Robert Simpson, et al.) [File not signed] C:\Program Files (x86)\Adguard\SQLite.Interop.dll
2017-10-24 11:24 - 2017-10-24 11:24 - 000403968 _____ (TODO: <Company name>) [File not signed] C:\Program Files (x86)\ASUS\Splendid\ColorUGameDLL.dll
2017-10-24 11:24 - 2017-10-24 11:24 - 000029184 _____ (TODO: <Company name>) [File not signed] C:\Program Files (x86)\ASUS\Splendid\GLCDdll.dll

==================== Alternate Data Streams (Whitelisted) ========

(If an entry is included in the fixlist, only the ADS will be removed.)

AlternateDataStreams: C:\Users\Public\Shared Files:VersionCache [220]

==================== Safe Mode (Whitelisted) ==================

==================== Association (Whitelisted) =================

==================== Internet Explorer trusted/restricted ==========

==================== Hosts content: =========================

(If needed Hosts: directive could be included in the fixlist to reset Hosts.)

2017-09-29 15:46 - 2019-09-16 14:23 - 000002112 ____R C:\WINDOWS\system32\drivers\etc\hosts
0.0.0.0 api.adguard.com
0.0.0.0 adclick.g.doublecklick.net
0.0.0.0 adeventtracker.spotify.com
0.0.0.0 ads-fa.spotify.com
0.0.0.0 analytics.spotify.com
0.0.0.0 audio2.spotify.com
0.0.0.0 b.scorecardresearch.com
0.0.0.0 bounceexchange.com
0.0.0.0 bs.serving-sys.com
0.0.0.0 content.bitsontherun.com
0.0.0.0 core.insightexpressai.com
0.0.0.0 crashdump.spotify.com
0.0.0.0 d2gi7ultltnc2u.cloudfront.net
0.0.0.0 d3rt1990lpmkn.cloudfront.net
0.0.0.0 desktop.spotify.com
0.0.0.0 doubleclick.net
0.0.0.0 ds.serving-sys.com
0.0.0.0 googleadservices.com
0.0.0.0 googleads.g.doubleclick.net
0.0.0.0 gtssl2-ocsp.geotrust.com
0.0.0.0 log.spotify.com
0.0.0.0 media-match.com
0.0.0.0 omaze.com
0.0.0.0 pagead46.l.doubleclick.net
0.0.0.0 pagead2.googlesyndication.com
0.0.0.0 partner.googleadservices.com
0.0.0.0 pubads.g.doubleclick.net
0.0.0.0 redirector.gvt1.com
0.0.0.0 s0.2mdn.net
0.0.0.0 securepubads.g.doubleclick.net

2019-05-17 10:06 - 2019-05-17 10:06 - 000000438 _____ C:\WINDOWS\system32\drivers\etc\hosts.ics

==================== Other Areas ===========================

(Currently there is no automatic fix for this section.)

HKLM\System\CurrentControlSet\Control\Session Manager\Environment\\Path -> C:\Program Files (x86)\Common Files\Oracle\Java\javapath;C:\Windows\system32;C:\Windows;C:\Windows\System32\Wbem;C:\Windows\System32\WindowsPowerShell\v1.0\;C:\Program Files (x86)\NVIDIA Corporation\PhysX\Common;C:\WINDOWS\system32;C:\WINDOWS;C:\WINDOWS\System32\Wbem;C:\WINDOWS\System32\WindowsPowerShell\v1.0\;C:\WINDOWS\System32\OpenSSH\;C:\Program Files\SourceGear\Common\DiffMerge\;C:\Program Files\Intel\WiFi\bin\;C:\Program Files\Common Files\Intel\WirelessCommon\;C:\Program Files\dotnet\;C:\Program Files\Microsoft SQL Server\130\Tools\Binn\;C:\Program Files\NVIDIA Corporation\NVIDIA NvDLISR;C:\Users\Alex\AppData\Local\Microsoft\WindowsApps;C:\adb;%SystemRoot%\system32;%SystemRoot%;%SystemRoot%\System32\Wbem;%SYSTEMROOT%\System32\WindowsPowerShell\v1.0\;%SYSTEMROOT%\System32\OpenSSH\
HKU\S-1-5-21-2000554322-72074022-1378442669-1002\Control Panel\Desktop\\Wallpaper -> D:\Media\Saved Pictures\cityscapes_old_Czech_history_flags_town_Prague_rivers_6022x3988(1).png
DNS Servers: 10.100.102.1
HKLM\SOFTWARE\Microsoft\Windows\CurrentVersion\Policies\System => (ConsentPromptBehaviorAdmin: 5) (ConsentPromptBehaviorUser: 3) (EnableLUA: 1)
HKLM\SOFTWARE\Microsoft\Windows\CurrentVersion\Explorer => (SmartScreenEnabled: )
Windows Firewall is enabled.

==================== MSCONFIG/TASK MANAGER disabled items ==

(If an entry is included in the fixlist, it will be removed.)

HKLM\...\StartupApproved\Run: => "AdobeAAMUpdater-1.0"
HKLM\...\StartupApproved\Run: => "system_jconsole.jar"
HKLM\...\StartupApproved\Run32: => "Acrobat Assistant 8.0"
HKLM\...\StartupApproved\Run32: => "Intel Driver & Support Assistant"
HKU\S-1-5-21-2000554322-72074022-1378442669-1002\...\StartupApproved\Run: => "Spotify Web Helper"

==================== FirewallRules (Whitelisted) ================

(If an entry is included in the fixlist, it will be removed from the registry. The file will not be moved unless listed separately.)

FirewallRules: [OpenSSH-Server-In-TCP] => (Allow) %SystemRoot%\system32\OpenSSH\sshd.exe No File
FirewallRules: [{A6E742F5-7ADD-4DB8-AB7B-FF655E0E9A94}] => (Allow) C:\Program Files\Intel\SUR\QUEENCREEK\x64\esrv_svc.exe (Intel® Software Development Products -> )
FirewallRules: [{68A5A69C-8CED-415B-B5F7-D409F8482878}] => (Allow) C:\Program Files\Intel\SUR\QUEENCREEK\x64\esrv_svc.exe (Intel® Software Development Products -> )
FirewallRules: [{7A2577C3-672C-44F9-8AFD-409BDEE81755}] => (Block) C:\Program Files\Intel\SUR\QUEENCREEK\x64\esrv_svc.exe (Intel® Software Development Products -> )
FirewallRules: [{524F3A9F-6BED-4CC9-A43F-B126D2BE2EC4}] => (Block) C:\Program Files\Intel\SUR\QUEENCREEK\x64\esrv_svc.exe (Intel® Software Development Products -> )
FirewallRules: [{577D2496-EF0D-493A-953E-9663512467D1}] => (Allow) C:\Program Files (x86)\Google\Chrome\Application\chrome.exe (Google LLC -> Google LLC)
FirewallRules: [{4DA68222-27A5-4A79-800F-D846E7C88DB6}] => (Allow) d:\program files\txgameassistant\appmarket\GF186\TUpdate.exe (Tencent Technology(Shenzhen) Company Limited -> Tencent)
FirewallRules: [{D640598E-ECDD-44D3-904B-F05328506E3D}] => (Allow) d:\program files\txgameassistant\appmarket\GameDownload.exe (Tencent Technology(Shenzhen) Company Limited -> Tencent)
FirewallRules: [{9B7633EE-8D21-4947-885C-01CDB5D072FE}] => (Allow) d:\program files\txgameassistant\appmarket\QQExternal.exe (Tencent Technology(Shenzhen) Company Limited -> )
FirewallRules: [{4742B0C1-6577-463F-BF31-62287CF0DD45}] => (Allow) d:\program files\txgameassistant\appmarket\bugreport.exe (Tencent Technology(Shenzhen) Company Limited -> 腾讯公司)
FirewallRules: [{B7D58553-EF6B-4EEC-A18C-32C3E587F92C}] => (Allow) d:\program files\txgameassistant\appmarket\TInst.exe (Tencent Technology(Shenzhen) Company Limited -> )
FirewallRules: [{5CF9BE72-29DB-4065-87AF-A5A03312D357}] => (Allow) d:\program files\txgameassistant\appmarket\AppMarket.exe (Tencent Technology(Shenzhen) Company Limited -> Tencent)
FirewallRules: [{38091BCD-8AA0-4448-8742-317ECCAC3325}] => (Allow) d:\program files\txgameassistant\ui\TxGaDcc.exe (Tencent Technology(Shenzhen) Company Limited -> Tencent)
FirewallRules: [{BB18E79F-3B42-4D8A-9788-135C18DEB62D}] => (Allow) d:\program files\txgameassistant\ui\bugreport.exe (Tencent Technology(Shenzhen) Company Limited -> Tencent)
FirewallRules: [{8F2CA185-87A5-4D03-93D4-CF774A38283B}] => (Allow) d:\program files\txgameassistant\ui\TInst.exe (Tencent Technology(Shenzhen) Company Limited -> )
FirewallRules: [{5299FF4D-8636-4309-89C7-8F01FC5FFF9F}] => (Allow) d:\program files\txgameassistant\ui\adb.exe () [File not signed]
FirewallRules: [{BE90AC7D-C2D8-488E-90E3-8AA44F3E38DD}] => (Allow) d:\program files\txgameassistant\ui\AndroidEmulator.exe (Tencent Technology(Shenzhen) Company Limited -> Tencent)
FirewallRules: [{F8E027E1-F7EC-4B68-B313-22CED4DD06D3}] => (Allow) C:\Program Files (x86)\AnyDesk\AnyDesk.exe No File
FirewallRules: [{F074CC3B-C0FC-4976-9A72-0BF1DB857327}] => (Allow) C:\Program Files (x86)\AnyDesk\AnyDesk.exe No File
FirewallRules: [{C78341EC-A155-49CD-A73C-BE3BC73DACF5}] => (Allow) C:\Program Files (x86)\AnyDesk\AnyDesk.exe No File
FirewallRules: [{7474C3D8-ABF0-4B7F-9A4F-135BC132FEC2}] => (Allow) C:\Program Files (x86)\AnyDesk\AnyDesk.exe No File
FirewallRules: [{7FD0DED7-51B2-4B98-B131-EA3B8AA629E9}] => (Allow) C:\Program Files (x86)\AnyDesk\AnyDesk.exe No File
FirewallRules: [{BD26B09B-AFD1-4B43-82ED-8DB0B7A458F9}] => (Allow) C:\Program Files (x86)\AnyDesk\AnyDesk.exe No File
FirewallRules: [{1624C483-F0D1-4B39-83E6-81E7091103BE}] => (Allow) C:\Program Files\BlueStacks\HD-Player.exe No File
FirewallRules: [{CAFAE633-21C8-4A2B-89DB-C9D29CD069CF}] => (Allow) C:\Program Files (x86)\Bignox\BigNoxVM\RT\NoxVMHandle.exe No File
FirewallRules: [{0455BF38-F4D9-4BCF-9992-E56A10F8C4A1}] => (Allow) D:\Program Files\Nox\bin\Nox.exe No File
FirewallRules: [{5DB6114C-5745-498A-893E-44A6402BD520}] => (Allow) C:\Program Files\NVIDIA Corporation\NvStreamSrv\nvstreamer.exe (NVIDIA Corporation -> NVIDIA Corporation)
FirewallRules: [{2C854FE7-FCB8-44EA-8F68-A4C7EEEC7D1A}] => (Allow) C:\Program Files\NVIDIA Corporation\NvStreamSrv\nvstreamer.exe (NVIDIA Corporation -> NVIDIA Corporation)
FirewallRules: [{79DE7D3E-9DBE-40A9-A4E6-A05876FC2959}] => (Allow) C:\Program Files\NVIDIA Corporation\NvContainer\nvcontainer.exe (NVIDIA Corporation -> NVIDIA Corporation)
FirewallRules: [{57999D92-A754-4B3C-AB83-63380E558862}] => (Allow) C:\Program Files\NVIDIA Corporation\NvContainer\nvcontainer.exe (NVIDIA Corporation -> NVIDIA Corporation)
FirewallRules: [{0F80F91A-ED6B-4622-BC3E-2C7B11C9E1FF}] => (Allow) C:\Program Files\Microsoft Office\root\Office16\outlook.exe (Microsoft Corporation -> Microsoft Corporation)
FirewallRules: [{5938A0AE-CEBD-43A7-9C6F-E06151ABB66C}] => (Allow) d:\program files\txgameassistant\appmarket\GF186\TUpdate.exe (Tencent Technology(Shenzhen) Company Limited -> Tencent)
FirewallRules: [{F22A64ED-7B1A-4173-9E44-D60F0B95A23A}] => (Allow) d:\program files\txgameassistant\appmarket\GameDownload.exe (Tencent Technology(Shenzhen) Company Limited -> Tencent)
FirewallRules: [{6720C6AE-4B5D-4B6A-9920-5F8265284079}] => (Allow) d:\program files\txgameassistant\appmarket\QQExternal.exe (Tencent Technology(Shenzhen) Company Limited -> )
FirewallRules: [{FA7DD936-1693-4101-9B98-122F1DDA3526}] => (Allow) d:\program files\txgameassistant\appmarket\bugreport.exe (Tencent Technology(Shenzhen) Company Limited -> 腾讯公司)
FirewallRules: [{84AE89C1-8E21-49FB-814A-30272211C733}] => (Allow) d:\program files\txgameassistant\appmarket\TInst.exe (Tencent Technology(Shenzhen) Company Limited -> )
FirewallRules: [{86BE9FB3-E0DD-46BD-A38E-97A198503178}] => (Allow) d:\program files\txgameassistant\appmarket\AppMarket.exe (Tencent Technology(Shenzhen) Company Limited -> Tencent)
FirewallRules: [{6681289E-6D79-42EC-9A32-E6A4EEBC0730}] => (Allow) d:\program files\txgameassistant\ui\TxGaDcc.exe (Tencent Technology(Shenzhen) Company Limited -> Tencent)
FirewallRules: [{07EE5E51-5497-4FC9-8D53-39FC3CCD1C5C}] => (Allow) d:\program files\txgameassistant\ui\bugreport.exe (Tencent Technology(Shenzhen) Company Limited -> Tencent)
FirewallRules: [{FD559080-8F94-40E8-9070-019C54035F3B}] => (Allow) d:\program files\txgameassistant\ui\TInst.exe (Tencent Technology(Shenzhen) Company Limited -> )
FirewallRules: [{7D4D7F5A-C808-4908-8D39-6D335924671C}] => (Allow) d:\program files\txgameassistant\ui\adb.exe () [File not signed]
FirewallRules: [{DA43770C-7B5B-44B4-B3B1-75DAE5439956}] => (Allow) d:\program files\txgameassistant\ui\AndroidEmulator.exe (Tencent Technology(Shenzhen) Company Limited -> Tencent)
FirewallRules: [{226A6013-BD27-4F13-B589-4E4F824F8ADB}] => (Allow) C:\Users\Alex\AppData\Roaming\Tencent\TxGameAssistant\GameDownload\TenioDL.exe (Tencent Technology(Shenzhen) Company Limited -> Tencent)
FirewallRules: [{868C39F0-7333-4EB6-AA9A-BA1FD30D79F3}] => (Allow) C:\Users\Alex\AppData\Roaming\Tencent\TxGameAssistant\GameDownload\TenioDL.exe (Tencent Technology(Shenzhen) Company Limited -> Tencent)
FirewallRules: [{C0D39196-5CDF-419E-8EFF-EF0AFE032E21}] => (Allow) E:\Games\Steam\bin\cef\cef.win7\steamwebhelper.exe No File
FirewallRules: [{53B08AC8-626F-48B2-8774-9FCFAD7E0180}] => (Allow) E:\Games\Steam\bin\cef\cef.win7\steamwebhelper.exe No File
FirewallRules: [UDP Query User{A62F5F0D-8A48-4DE4-9B4D-56AEA52E99D9}C:\program files\java\jre1.8.0_221\bin\javaw.exe] => (Allow) C:\program files\java\jre1.8.0_221\bin\javaw.exe No File
FirewallRules: [TCP Query User{49FEA4F2-E579-41B6-8F43-2F2A61D869B9}C:\program files\java\jre1.8.0_221\bin\javaw.exe] => (Allow) C:\program files\java\jre1.8.0_221\bin\javaw.exe No File
FirewallRules: [{D1E928E2-FCE0-417D-9917-ADD821F1D42C}] => (Allow) d:\program files\txgameassistant\appmarket\GF186\TUpdate.exe (Tencent Technology(Shenzhen) Company Limited -> Tencent)
FirewallRules: [{321545A3-3BF8-439A-AA10-053810E88FC0}] => (Allow) d:\program files\txgameassistant\appmarket\GameDownload.exe (Tencent Technology(Shenzhen) Company Limited -> Tencent)
FirewallRules: [{F52DCE59-DF77-4F87-8B60-C0C6287E84A3}] => (Allow) d:\program files\txgameassistant\appmarket\QQExternal.exe (Tencent Technology(Shenzhen) Company Limited -> )
FirewallRules: [{24515E23-D6F2-4A4A-91E2-E91C2660D8D2}] => (Allow) d:\program files\txgameassistant\appmarket\bugreport.exe (Tencent Technology(Shenzhen) Company Limited -> 腾讯公司)
FirewallRules: [{DE98A226-5D8B-4AC8-94D0-52E783091897}] => (Allow) d:\program files\txgameassistant\appmarket\TInst.exe (Tencent Technology(Shenzhen) Company Limited -> )
FirewallRules: [{742EE7DA-E373-415D-926F-CFAD506B01D2}] => (Allow) d:\program files\txgameassistant\appmarket\AppMarket.exe (Tencent Technology(Shenzhen) Company Limited -> Tencent)
FirewallRules: [{A53C8DB6-1BE4-4DA7-89E5-7FFA0A14CB5C}] => (Allow) d:\program files\txgameassistant\ui\TxGaDcc.exe (Tencent Technology(Shenzhen) Company Limited -> Tencent)
FirewallRules: [{06AE5CC8-5C2E-4F9E-99D7-DD4C46D722EF}] => (Allow) d:\program files\txgameassistant\ui\bugreport.exe (Tencent Technology(Shenzhen) Company Limited -> Tencent)
FirewallRules: [{91EA2ED4-500F-408A-8641-21A5EF3D0C0E}] => (Allow) d:\program files\txgameassistant\ui\TInst.exe (Tencent Technology(Shenzhen) Company Limited -> )
FirewallRules: [{942A1A1B-7EE9-4777-BFED-8EA6E0705CBC}] => (Allow) d:\program files\txgameassistant\ui\adb.exe () [File not signed]
FirewallRules: [{69E9319C-B678-4BD9-92A5-7D5E38821E67}] => (Allow) d:\program files\txgameassistant\ui\AndroidEmulator.exe (Tencent Technology(Shenzhen) Company Limited -> Tencent)
FirewallRules: [{2E6451A3-AD40-4FB8-ACCF-42D64BD1FD2C}] => (Allow) E:\Games\Steam\Steam.exe No File
FirewallRules: [{AA615BA0-1374-42A0-B4AA-80D8CDDAEC96}] => (Allow) E:\Games\Steam\Steam.exe No File
FirewallRules: [UDP Query User{E97CE564-7775-4244-8BF4-5835BD6E5E56}D:\downloads\chrome\anydesk.exe] => (Allow) D:\downloads\chrome\anydesk.exe No File
FirewallRules: [TCP Query User{C57139D4-BD70-4180-9C1F-E837F7D4926B}D:\downloads\chrome\anydesk.exe] => (Allow) D:\downloads\chrome\anydesk.exe No File
FirewallRules: [{6ED47E32-23DC-47E2-B18B-1285D2A35999}] => (Allow) d:\program files\txgameassistant\ui\TxGaDcc.exe (Tencent Technology(Shenzhen) Company Limited -> Tencent)
FirewallRules: [{747C537C-EBDD-4722-8214-7DB0995717C0}] => (Allow) d:\program files\txgameassistant\ui\bugreport.exe (Tencent Technology(Shenzhen) Company Limited -> Tencent)
FirewallRules: [{20BAAE53-1AD8-4317-97D3-760FD8EBC8F2}] => (Allow) d:\program files\txgameassistant\ui\TInst.exe (Tencent Technology(Shenzhen) Company Limited -> )
FirewallRules: [{A3C2388C-2A35-4636-9130-DCB1874558D0}] => (Allow) d:\program files\txgameassistant\ui\adb.exe () [File not signed]
FirewallRules: [{A6A3C05E-49BF-4C1A-86DE-26106BA2864B}] => (Allow) d:\program files\txgameassistant\ui\AndroidEmulator.exe (Tencent Technology(Shenzhen) Company Limited -> Tencent)
FirewallRules: [{2893747B-7DBE-4AA9-ABCA-9433AB8436D1}] => (Allow) d:\program files\txgameassistant\appmarket\GF186\TUpdate.exe (Tencent Technology(Shenzhen) Company Limited -> Tencent)
FirewallRules: [{4741CF36-B0FD-457D-B00B-9090E047BD91}] => (Allow) d:\program files\txgameassistant\appmarket\GameDownload.exe (Tencent Technology(Shenzhen) Company Limited -> Tencent)
FirewallRules: [{9F73FE48-AD47-4300-B389-BA09F6BA86D5}] => (Allow) d:\program files\txgameassistant\appmarket\QQExternal.exe (Tencent Technology(Shenzhen) Company Limited -> )
FirewallRules: [{9E879F1D-0483-496D-A8F3-CF828E4462D6}] => (Allow) d:\program files\txgameassistant\appmarket\bugreport.exe (Tencent Technology(Shenzhen) Company Limited -> 腾讯公司)
FirewallRules: [{522C1C54-2138-4E6D-A1AE-416D46310078}] => (Allow) d:\program files\txgameassistant\appmarket\TInst.exe (Tencent Technology(Shenzhen) Company Limited -> )
FirewallRules: [{AA6A741B-AFE9-40E9-A266-CE295989D451}] => (Allow) d:\program files\txgameassistant\appmarket\AppMarket.exe (Tencent Technology(Shenzhen) Company Limited -> Tencent)
FirewallRules: [{BCB4CA02-247B-4733-B858-8770361B9DF0}] => (Allow) e:\games\txgameassistant\ui\TxGaDcc.exe No File
FirewallRules: [{8AD92706-634E-404E-87FC-9D8DD61EAC75}] => (Allow) e:\games\txgameassistant\ui\bugreport.exe No File
FirewallRules: [{7AD4EE32-8D90-4934-B495-BD5D12AEC29E}] => (Allow) e:\games\txgameassistant\ui\TInst.exe No File
FirewallRules: [{E42F771E-F12D-4394-8EFE-2E31FCC28AE4}] => (Allow) e:\games\txgameassistant\ui\adb.exe No File
FirewallRules: [{3CBCE643-9C22-4ED6-B82F-5C53F9BBD23F}] => (Allow) e:\games\txgameassistant\ui\AndroidEmulator.exe No File
FirewallRules: [{3137AC8F-72A3-4177-9A61-C4DFC329E4B8}] => (Allow) C:\Users\Alex\AppData\Roaming\Tencent\TxGameAssistant\GameDownload\TenioDL.exe (Tencent Technology(Shenzhen) Company Limited -> Tencent)
FirewallRules: [{56E1FD55-418C-4C64-8B2A-458E570847E6}] => (Allow) C:\Users\Alex\AppData\Roaming\Tencent\TxGameAssistant\GameDownload\TenioDL.exe (Tencent Technology(Shenzhen) Company Limited -> Tencent)
FirewallRules: [{25CE14BE-EDAB-48DB-8581-048D10EEFD10}] => (Allow) C:\Users\Alex\AppData\Roaming\Tencent\TxGameAssistant\GameDownload\TenioDL.exe (Tencent Technology(Shenzhen) Company Limited -> Tencent)
FirewallRules: [{FE27430A-4817-4A91-B1F8-71DB66FADBB6}] => (Allow) C:\Users\Alex\AppData\Roaming\Tencent\TxGameAssistant\GameDownload\TenioDL.exe (Tencent Technology(Shenzhen) Company Limited -> Tencent)
FirewallRules: [{654377F1-94F4-43ED-9321-57CF691166E6}] => (Allow) e:\games\txgameassistant\appmarket\GF186\TUpdate.exe No File
FirewallRules: [{5E369E1D-8B5D-486E-A38E-3561DBBA73A7}] => (Allow) e:\games\txgameassistant\appmarket\GameDownload.exe No File
FirewallRules: [{8E445166-CCC9-4E46-81DC-8778725E3318}] => (Allow) e:\games\txgameassistant\appmarket\QQExternal.exe No File
FirewallRules: [{E89379BB-0C5A-4AE8-B7E0-FB77AC96AB2F}] => (Allow) e:\games\txgameassistant\appmarket\bugreport.exe No File
FirewallRules: [{CEDF9A67-A974-419E-A2FB-F7832228FB2C}] => (Allow) e:\games\txgameassistant\appmarket\TInst.exe No File
FirewallRules: [{F1599F47-CA17-4441-95CF-30E7B288BBCC}] => (Allow) e:\games\txgameassistant\appmarket\AppMarket.exe No File
FirewallRules: [{D0CCAC36-4564-4783-AF55-692C46802F5A}] => (Allow) D:\Games\Steam\bin\cef\cef.win7\steamwebhelper.exe No File
FirewallRules: [{14D96340-9356-4D76-BCD0-2973CB6BAD03}] => (Allow) D:\Games\Steam\bin\cef\cef.win7\steamwebhelper.exe No File
FirewallRules: [{EDF0B0EE-DBA9-48A6-B75B-B9E4560E083C}] => (Allow) D:\Games\Steam\Steam.exe No File
FirewallRules: [{7719CAFD-4793-4DA6-90D9-D697BBD0928D}] => (Allow) D:\Games\Steam\Steam.exe No File
FirewallRules: [{71E7D3D7-9EA8-4CA6-8D13-0E1D6673722F}] => (Allow) D:\Program Files (x86)\SteamLibrary\steamapps\common\Deceit\bin\win_x64\Deceit.exe No File
FirewallRules: [{35E7BF1F-B4DB-43A1-BB32-CDC02A38F97B}] => (Allow) D:\Program Files (x86)\SteamLibrary\steamapps\common\Deceit\bin\win_x64\Deceit.exe No File
FirewallRules: [{51726D9E-8F81-4B4B-A746-7983065BC0C8}] => (Allow) C:\Program Files\Microsoft Office\root\Office16\UcMapi.exe (Microsoft Corporation -> Microsoft Corporation)
FirewallRules: [{25BA10AF-B5E2-49E6-8321-E9B268830FE9}] => (Allow) C:\Program Files\Microsoft Office\root\Office16\Lync.exe (Microsoft Corporation -> Microsoft Corporation)
FirewallRules: [{B4D1EBD6-E8EB-44D4-86CA-39C8DA21B505}] => (Allow) C:\Program Files (x86)\Steam\bin\cef\cef.win7x64\steamwebhelper.exe No File
FirewallRules: [{AB81E5D9-4A3E-472A-A1E5-1667B6088DC5}] => (Allow) C:\Program Files (x86)\Steam\bin\cef\cef.win7x64\steamwebhelper.exe No File
FirewallRules: [{4CF9B394-93F6-46E8-9FC7-4C1A570482A4}] => (Allow) C:\Program Files\NVIDIA Corporation\NvContainer\nvcontainer.exe (NVIDIA Corporation -> NVIDIA Corporation)
FirewallRules: [{CB97AB2D-B46F-444F-9440-300ABC0C839C}] => (Allow) C:\Program Files\NVIDIA Corporation\NvContainer\nvcontainer.exe (NVIDIA Corporation -> NVIDIA Corporation)
FirewallRules: [{E58A2172-5AC4-4D6C-A2EB-0B3BAC567233}] => (Allow) C:\Program Files (x86)\Adguard\AdguardSvc.exe (Adguard Software Limited -> Adguard Software Ltd)
FirewallRules: [{D332C7A4-7F8A-47DC-BE2F-EA0FB0729A16}] => (Allow) C:\Users\Alex\AppData\Roaming\uTorrent\uTorrent.exe (BitTorrent Inc -> BitTorrent Inc.)
FirewallRules: [{CF1A27CB-60FD-45D8-B251-2FBA6160B920}] => (Allow) C:\Users\Alex\AppData\Roaming\uTorrent\uTorrent.exe (BitTorrent Inc -> BitTorrent Inc.)
FirewallRules: [{17DBCFEB-90FD-40D3-8604-2A3A84A317AA}] => (Allow) C:\Program Files\Intel\WiFi\bin\PanDhcpDns.exe (Intel Corporation -> )
FirewallRules: [{E1979933-86EE-4CB0-A4E7-5A69CE183812}] => (Allow) C:\Program Files\Microsoft Office\Office16\lync.exe No File
FirewallRules: [{553E4DA6-0E06-4A3B-A0FF-8490398E9FE5}] => (Allow) C:\Program Files\Microsoft Office\Office16\lync.exe No File
FirewallRules: [{998C3280-346E-4280-ABE7-B63B6617579B}] => (Allow) C:\Program Files\Microsoft Office\Office16\UcMapi.exe No File
FirewallRules: [{03EE8B07-C2EE-4E45-9524-799739B2C20E}] => (Allow) C:\Program Files\Microsoft Office\Office16\UcMapi.exe No File
FirewallRules: [{9FB9C183-38B6-40DD-8A46-7A67BBB39F17}] => (Allow) C:\Program Files\Microsoft Office\root\Office16\Lync.exe (Microsoft Corporation -> Microsoft Corporation)
FirewallRules: [{16048E09-6E6B-40B1-AF7E-1BE22C7AE6E8}] => (Allow) C:\Program Files\Microsoft Office\root\Office16\UcMapi.exe (Microsoft Corporation -> Microsoft Corporation)
FirewallRules: [{935B2B93-36FC-4610-A272-DE7255CA0705}] => (Allow) C:\Program Files (x86)\Steam\Steam.exe No File
FirewallRules: [{A6B56197-67EA-496D-9BC5-3FE527854249}] => (Allow) C:\Program Files (x86)\Steam\Steam.exe No File
FirewallRules: [{8D9948AB-EA67-453B-ADBB-34FE2D165C5D}] => (Allow) C:\Program Files (x86)\Steam\bin\cef\cef.win7\steamwebhelper.exe No File
FirewallRules: [{F8022175-726D-4012-8AD5-1426A046D619}] => (Allow) C:\Program Files (x86)\Steam\bin\cef\cef.win7\steamwebhelper.exe No File

==================== Restore Points =========================

29-10-2019 15:35:13 Windows Update
30-10-2019 09:35:51 Revo Uninstaller Pro's restore point - Adobe Photoshop CC 2019
30-10-2019 09:37:13 Revo Uninstaller Pro's restore point - Adobe Creative Cloud
30-10-2019 09:38:39 Revo Uninstaller Pro's restore point - CCleaner
30-10-2019 09:41:17 Revo Uninstaller Pro's restore point - Spotify
30-10-2019 09:42:28 Revo Uninstaller Pro's restore point - Adobe Acrobat DC
30-10-2019 09:42:47 Removed Adobe Acrobat DC.

==================== Faulty Device Manager Devices ============

Name: Unknown USB Device (Link in Compliance Mode)
Description: Unknown USB Device (Link in Compliance Mode)
Class Guid: {36fc9e60-c465-11cf-8056-444553540000}
Manufacturer: (Standard USB Host Controller)
Service:
Problem: : Windows has stopped this device because it has reported problems. (Code 43)
Resolution: One of the drivers controlling the device notified the operating system that the device failed in some manner. For more information about how to diagnose the problem, see the hardware documentation.


==================== Event log errors: ========================

Application errors:
==================
Error: (10/30/2019 09:51:07 AM) (Source: Microsoft-Windows-PerfNet) (EventID: 2004) (User: ALEX-ASUS)
Description: Unable to open the Server service performance object. The first four bytes (DWORD) of the Data section contains the status code.

Error: (10/30/2019 09:46:24 AM) (Source: VSS) (EventID: 13) (User: )
Description: Volume Shadow Copy Service information: The COM Server with CLSID {4e14fba2-2e22-11d1-9964-00c04fbbb345} and name CEventSystem cannot be started. [0x8007045b, A system shutdown is in progress.
]

Error: (10/30/2019 09:42:28 AM) (Source: VSS) (EventID: 8194) (User: )
Description: Volume Shadow Copy Service error: Unexpected error querying for the IVssWriterCallback interface.  hr = 0x80070005, Access is denied.
.
This is often caused by incorrect security settings in either the writer or requestor process.


Operation:
   Gathering Writer Data

Context:
   Writer Class Id: {e8132975-6f93-4464-a53e-1050253ae220}
   Writer Name: System Writer
   Writer Instance ID: {2ff7c8b7-f571-40c1-9c50-d14d2a17ad4c}

Error: (10/30/2019 09:41:17 AM) (Source: VSS) (EventID: 8194) (User: )
Description: Volume Shadow Copy Service error: Unexpected error querying for the IVssWriterCallback interface.  hr = 0x80070005, Access is denied.
.
This is often caused by incorrect security settings in either the writer or requestor process.


Operation:
   Gathering Writer Data

Context:
   Writer Class Id: {e8132975-6f93-4464-a53e-1050253ae220}
   Writer Name: System Writer
   Writer Instance ID: {2ff7c8b7-f571-40c1-9c50-d14d2a17ad4c}

Error: (10/30/2019 09:38:39 AM) (Source: Microsoft-Windows-PerfNet) (EventID: 2004) (User: ALEX-ASUS)
Description: Unable to open the Server service performance object. The first four bytes (DWORD) of the Data section contains the status code.

Error: (10/30/2019 09:38:39 AM) (Source: VSS) (EventID: 8194) (User: )
Description: Volume Shadow Copy Service error: Unexpected error querying for the IVssWriterCallback interface.  hr = 0x80070005, Access is denied.
.
This is often caused by incorrect security settings in either the writer or requestor process.


Operation:
   Gathering Writer Data

Context:
   Writer Class Id: {e8132975-6f93-4464-a53e-1050253ae220}
   Writer Name: System Writer
   Writer Instance ID: {2ff7c8b7-f571-40c1-9c50-d14d2a17ad4c}

Error: (10/30/2019 09:37:13 AM) (Source: VSS) (EventID: 8194) (User: )
Description: Volume Shadow Copy Service error: Unexpected error querying for the IVssWriterCallback interface.  hr = 0x80070005, Access is denied.
.
This is often caused by incorrect security settings in either the writer or requestor process.


Operation:
   Gathering Writer Data

Context:
   Writer Class Id: {e8132975-6f93-4464-a53e-1050253ae220}
   Writer Name: System Writer
   Writer Instance ID: {2ff7c8b7-f571-40c1-9c50-d14d2a17ad4c}

Error: (10/30/2019 09:35:51 AM) (Source: VSS) (EventID: 8194) (User: )
Description: Volume Shadow Copy Service error: Unexpected error querying for the IVssWriterCallback interface.  hr = 0x80070005, Access is denied.
.
This is often caused by incorrect security settings in either the writer or requestor process.


Operation:
   Gathering Writer Data

Context:
   Writer Class Id: {e8132975-6f93-4464-a53e-1050253ae220}
   Writer Name: System Writer
   Writer Instance ID: {2ff7c8b7-f571-40c1-9c50-d14d2a17ad4c}


System errors:
=============
Error: (10/30/2019 09:44:05 AM) (Source: Service Control Manager) (EventID: 7034) (User: )
Description: The Adobe Genuine Monitor Service service terminated unexpectedly.  It has done this 1 time(s).

Error: (10/30/2019 09:44:04 AM) (Source: Service Control Manager) (EventID: 7034) (User: )
Description: The Adobe Acrobat Update Service service terminated unexpectedly.  It has done this 1 time(s).

Error: (10/29/2019 11:17:02 PM) (Source: DCOM) (EventID: 10010) (User: ALEX-ASUS)
Description: The server {1A1F4206-0688-4E7F-BE03-D82EC69DF9A5} did not register with DCOM within the required timeout.

Error: (10/29/2019 10:53:11 PM) (Source: disk) (EventID: 11) (User: )
Description: The driver detected a controller error on \Device\Harddisk2\DR2.

Error: (10/29/2019 07:34:29 PM) (Source: disk) (EventID: 11) (User: )
Description: The driver detected a controller error on \Device\Harddisk1\DR1.

Error: (10/29/2019 03:39:27 PM) (Source: Service Control Manager) (EventID: 7023) (User: )
Description: The FDResPub service terminated with the following error:
%%2147952449 = The requested address is not valid in its context.

Error: (10/29/2019 03:29:33 PM) (Source: Service Control Manager) (EventID: 7023) (User: )
Description: The Intel® PROSet/Wireless Zero Configuration Service service terminated with the following error:
%%2147770990

Error: (10/29/2019 03:28:59 PM) (Source: Service Control Manager) (EventID: 7030) (User: )
Description: The Device Activation Service service is marked as an interactive service.  However, the system is configured to not allow interactive services.  This service may not function properly.


CodeIntegrity:
===================================

Date: 2019-10-30 09:48:02.345
Description:
Code Integrity determined that a process (\Device\HarddiskVolume4\Program Files\Windows Defender\MpCmdRun.exe) attempted to load \Device\HarddiskVolume4\Program Files\AVAST Software\Avast\aswAMSI.dll that did not meet the Microsoft signing level requirements.

Date: 2019-10-30 09:48:02.331
Description:
Code Integrity determined that a process (\Device\HarddiskVolume4\Program Files\Windows Defender\MpCmdRun.exe) attempted to load \Device\HarddiskVolume4\Program Files\AVAST Software\Avast\aswAMSI.dll that did not meet the Microsoft signing level requirements.

Date: 2019-10-30 09:48:02.319
Description:
Code Integrity determined that a process (\Device\HarddiskVolume4\Program Files\Windows Defender\MpCmdRun.exe) attempted to load \Device\HarddiskVolume4\Program Files\AVAST Software\Avast\aswAMSI.dll that did not meet the Microsoft signing level requirements.

Date: 2019-10-30 09:48:02.306
Description:
Code Integrity determined that a process (\Device\HarddiskVolume4\Program Files\Windows Defender\MpCmdRun.exe) attempted to load \Device\HarddiskVolume4\Program Files\AVAST Software\Avast\aswAMSI.dll that did not meet the Microsoft signing level requirements.

Date: 2019-10-30 09:48:02.291
Description:
Code Integrity determined that a process (\Device\HarddiskVolume4\Program Files\Windows Defender\MpCmdRun.exe) attempted to load \Device\HarddiskVolume4\Program Files\AVAST Software\Avast\aswAMSI.dll that did not meet the Microsoft signing level requirements.

Date: 2019-10-30 09:48:02.278
Description:
Code Integrity determined that a process (\Device\HarddiskVolume4\Program Files\Windows Defender\MpCmdRun.exe) attempted to load \Device\HarddiskVolume4\Program Files\AVAST Software\Avast\aswAMSI.dll that did not meet the Microsoft signing level requirements.

Date: 2019-10-30 09:48:02.262
Description:
Code Integrity determined that a process (\Device\HarddiskVolume4\Program Files\Windows Defender\MpCmdRun.exe) attempted to load \Device\HarddiskVolume4\Program Files\AVAST Software\Avast\aswAMSI.dll that did not meet the Microsoft signing level requirements.

Date: 2019-10-30 09:48:02.245
Description:
Code Integrity determined that a process (\Device\HarddiskVolume4\Program Files\Windows Defender\MpCmdRun.exe) attempted to load \Device\HarddiskVolume4\Program Files\AVAST Software\Avast\aswAMSI.dll that did not meet the Microsoft signing level requirements.

==================== Memory info ===========================

BIOS: American Megatrends Inc. X510UF.303 04/17/2019
Motherboard: ASUSTeK COMPUTER INC. X510UF
Processor: Intel® Core™ i7-8550U CPU @ 1.80GHz
Percentage of memory in use: 30%
Total physical RAM: 16263 MB
Available physical RAM: 11268.1 MB
Total Virtual: 18695 MB
Available Virtual: 13272.07 MB

==================== Drives ================================

Drive c: () (Fixed) (Total:173.23 GB) (Free:94.58 GB) NTFS
Drive d: (Local Disk) (Fixed) (Total:303.11 GB) (Free:166.11 GB) NTFS

\\?\Volume{e9b623dc-f55c-4bba-a020-4a42ae37fea6}\ () (Fixed) (Total:0.49 GB) (Free:0.06 GB) NTFS
\\?\Volume{02c80970-8e73-4501-9d3a-9ca8f75eb092}\ () (Fixed) (Total:0.09 GB) (Free:0.07 GB) FAT32

==================== MBR & Partition Table ====================

==========================================================
Disk: 0 (Protective MBR) (Size: 476.9 GB) (Disk ID: 00000000)

Partition: GPT.

==================== End of Addition.txt =======================