Hi, my name is Dan. I recently posted on these forums about the
Aurora/Nail.exe
spyware, and had SUPERB help from the user known as greyknight. At the end of my post after fixing this, I also asked him if he could help me fix this particular problem I have (shown below).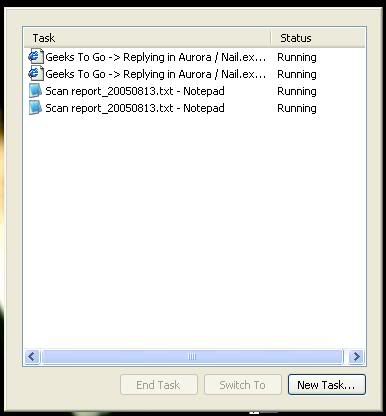 He told me to do the following, "
Go to Start->Run and type in sfc /scannow and hit OK. Let it scan. If it finds any files missing/corrupted, it may ask for the Windows CD
."
I did that, and it scanned, but nothing happened after that.

It did not ask for my Windows CD (and even if I did, I've no clue where it is

).
This is more of an annoyance than it is a crucial problem. So I'll be glad if you guys do help me. It's just nice to know and watch your processes (as well as that CPU-usage / percentage thing). I've downloaded a "proc-watch" program, but it just isn't the same!

So again, thank you in advance. I'll check back with this before I head off to work, tomorrow. Thank you!

Dan
P.S. - The only way to get it off your screen is to right-click close it in the tray sometimes. Sometimes it doesn't even show up there, and I'd have to restart my computer. I've had this problem before, and it usually comes back. It could be just a Windows-Error. Thank you! Bye
Edited by hysteria, 16 August 2005 - 03:54 AM.