Hi folks, on my new computer I didn't bother installing any CD burner. I just put on a LITE-ON DVDRW Dual burner. I've been copying DVDs without a problem but this morning was the first time I tried to copy a CD.
I followed the normal steps. Only think I noticed was that before when I burn a disc I could actually choose not only the read speed but also the "burn speed", but this time around the only burn speed availabe apart from "Maximum" was "48x" (which is the drive's maximum I guess).
And everytime after I went to press "Copy", the following message comes up (image attach).
Anyone's got any idea why it's acting strange like this? It's strange because I usually see a message like that when I try to BURN a CD, but not when I start copying it onto my harddrive...
Cheers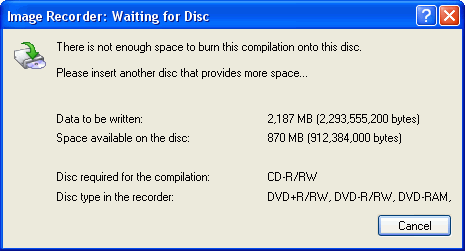 Edited by chinofeliz, 24 January 2006 - 05:41 PM.