OK, thanks for the photos
I see what you mean by the lack of space between the drives & the case etc. I didn't realise that the drives were mounted side on in your case!
The holes that you can see in the front of the chassis, aren't actually screw holes for a fan, they're just air vents. Apart from that, there doesn't appear to be enough room anyway for a fan in the front.
If you are interested in an internal drive caddy, assuming that there is a spare 5.25IN bay in your case, then this would solve your problem. See the pic below for an example of one.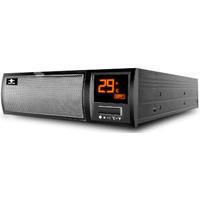 The other things you can do to help improve cooling, would be to install a case fan at the back (now that we know theres a place for one), add an exhaust fan (see pic below) & sort out the drive cabling if possible.