Hi,

I'm using the Scanner and Camera Wizard built into WinXP and I'm finding it quite conveniant. However, something has happened that make it less conveniant, and I hope this could be fixed somehow... Maybe a registry-key that has been messed up?
When I come to the "Picture name and destination" step I used to just type a name for the group of photos (normaly a date), and then the path to the place to save the photos would automatically change and give me a subfolder with the name of my photo-group.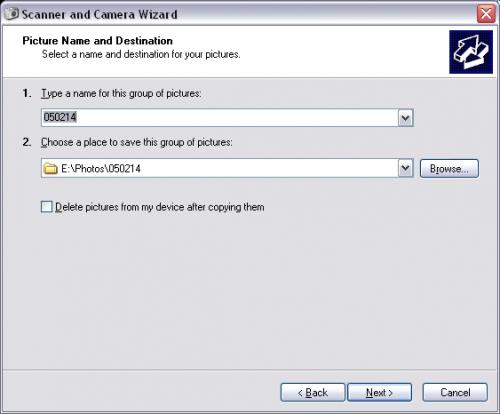 As you see in the attached screen-dump the group name, and the folder name is the same.
However, a while back (not sure when and in corrolation with wath), the automatic change of folder name stoped working. So now if I type a date in the top text field I anyway have to manually browse and create a folder so get a folder with the same name... This is quite annoying when it used to be so simple...

I'm runnign WinXP Home SP2
Anny ideas?