The
User Account Control
in Windows Vista is one of its strongest security features, and also it's most common annoyance. Especially, it's nagging "
A program needs your permission to continue
" prompts. These prompts are especially plentiful when setting up and configuring a new system. We recommend you leave UAC enabled, but if you must disable it, here's a safer way. Why safer? Because disabling UAC completely also disables "
protected mode
" in Internet Explorer. This method removes the annoying prompts, but retains protected mode in IE.
1. Open the Local Security Policy manager by clicking
Start
, type
secpol.msc
, hit enter (or click the secpol.msc icon).
Note: An alternate path to the Local Security Policy manager is Start -> Control Panel -> Classic View -> Administrative Tools, Local Security Policy.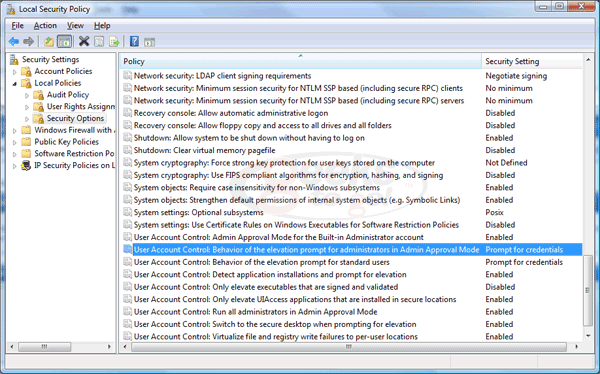 2. Navigate through Security Settings ->
Local Policies
->
Security Options
. In the rightmost pane, scroll to the bottom and double-click
"User Account Control: Behavior of the elevation prompt for administrators in Admin Approval Mode
", select
Elevate without prompting
, click OK.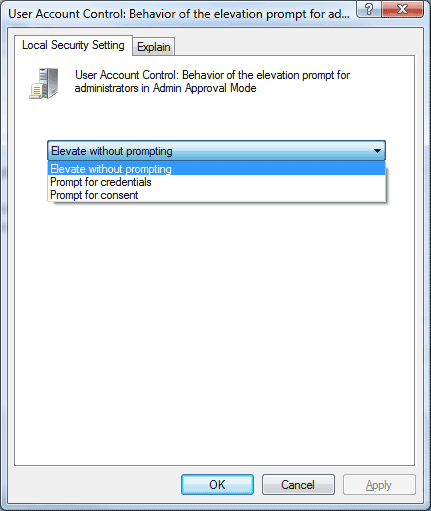 This setting will cause a security warning at every startup, and red X shield to be visible in the task bar. To remove it, in
Control Panel
, go to the
Security Center
. On the left hand side, click the "
Change the way Security Center alerts me
" and choose "
Don't notify me and don't display the icon (not recommended)
" as shown below:
As it says, disabling security alerts is "not recommended". This is because other security notifications like the firewall being disabled or antivirus definitions out-of-date will also be disabled. We recommend it only be used temporarily, for instance when setting up or configuring a new system.