How-to remove WinAntiSpyware 2007 (removal instructions)
WinAntiSpyware 2007 is a
rogue anti-spyware
application that uses
scareware
tactics. It gives the appearance of scanning and detecting spyware, and then attempts to deceive by presenting false, misleading scan results and/or pestering users into purchasing the program using intrusive, deceptive warnings.
WinAntiSpyWare 2007: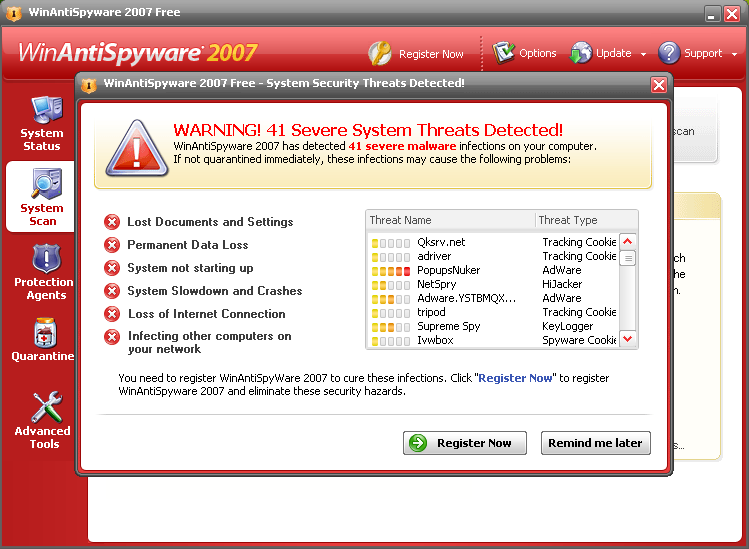 Credit: Atribune
Please download
VundoFix.exe
to your desktop
Double-click VundoFix.exe to run it.
Click the Scan for Vundo button.
Once it's done scanning, click the Remove Vundo button.
You will receive a prompt asking if you want to remove the files, click YES
Once you click yes, your desktop will go blank as it starts removing Vundo.
When completed, it will prompt that it will reboot your computer, click OK.
Please post the contents of C:\vundofix.txt and a new HiJackThis log in a reply to this thread.
Note: It is possible that VundoFix encountered a file it could not remove. In this case, VundoFix will run on reboot, simply follow the above instructions starting from "Click the
Scan for Vundo
button" when VundoFix appears upon rebooting.
If the WinAntiSpyware infection is still present, please post the contents of C:\
vundofix.txt
and a
HiJackThis
log in the
Malware Removal Forum
.
Have you've found the VundoFix removal tool useful? Please consider a donation to the author:
Atribune.org
.
WinAntiSpyware Alternate fix:
(use only if the above fix didn't work)
1) Download
VirtumundoBegone
2) Save VirtumundoBeGone.exe to your desktop.
3) Run VirtumundoBeGone.exe and follow the instructions. Do not worry if you see a BLUE SCREEN "Fatal Error" Message, this is normal and expected.
4) When it has finished, reboot.
It will create a log on your desktop called VBG.TXT, if the infection is still present, post this log and a
HiJackThis
log in the
Malware Removal Forum
.
=====================================================================
Are you still having problems with WinAntiSpyware 2007, or other malware on your system? Please start a new topic in our Malware Removal Forum, after following these instructions.
Other Sources:
WinAntiSpyware
@ StopBadware.org |
WinAntiSpyware
@ Sunbelt Research