HP Pavilion HDX Contest!
GeeksToGo.com has been chosen to be part of the
31 days of the Dragon
sponsored by
HP
. As part of this marketing campaign, each participating site creates their own contest to give away an
HP Pavilion HDX Dragon
notebook. If purchased, the package value is over $5,000! Package details
here
.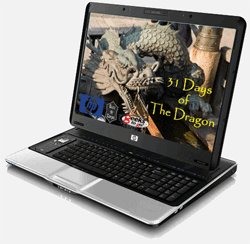 Contest Overview
Simply print the Geeks to Go logo. Display it in an unusual, creative or funny place and take a picture or video of it. Update: If you don't have a printer, display on a monitor or other device is allowed. Reminder, no photo editing software allowed.
Reply
in this topic (free registration required) with your picture or video. From the pool of contestants who properly enter the logo competition, a
random entry
will be chosen as the Grand Prize,
HP "Dragon" notebook winner
... In addition, the entries judged as the
Most Creative Photo
and
Most Creative Video
will be awarded
Windows Vista Ultimate
(full retail), courtesy of Geeks to Go. Have some fun with it! Take the logo somewhere interesting, exciting, or strange. Submit only a photo OR a video, not both. One entry per person.
We hope you'll have fun creating your submissions, and enjoy viewing other entries. Here is the Geeks to Go logo. You will find it available below in popular file types.

PDF Format
|
PNG Format
|
PSD Format
|
EPS Format
Contest Rules
Entries will only be accepted in this forum topic. Entries in any other areas of the site will be void.
ONE entry per person. Those entering more than once will be disqualified (it's easy to catch).
Only a photo OR video entry may be submitted, not both.
Contest dates and times: 12:01am CDT May 13th - 11:59pm CDT May 20th (this topic only open during the contest).
Geeks to Go is a family friendly site. Any images submitted that break this rule will be disqualified and removed.
Images that have been digitally enhanced or manipulated are not allowed. No Photoshop or other photo editing software allowed.
Do not do anything illegal or irresponsible to win this contest, it's not worth it. If we find that a law was broken, the submission will be discarded. Be responsible please.
All images submitted to the contest become the property of Geeks to Go and will be displayed for everyone to see. Remember your own personal privacy and safety when taking these pictures.
The Grand Prize Winner will be notified immediately at the conclusion of the contest, using the email address used to register.
This is an International competition. All members and staff are eligible to win.
Posting your submission
There are a number of image hosting options for your submissions. Choose one that suits you. Please ask in the
Discussion Topic
if you are having problems posting your images using one of these services.
Sites that require registration
Flickr
Photobucket
Webshots
Windows Live Spaces
Sites that do not require registration
ImageShack.us
imgPlace.com
TinyPic.com
After your image is posted simply place image tags around the URL:
[img]http://urltoyourimage[/img]
Sites to host videos
PhotoBucket
YouTube
AOL Video
Google Video
You can link to your video, or embed Youtube images using the Youtube tags:
[youtube]http://youtubeurl[/youtube]
If you can't get any of the above services to work, you can embed the images in your post
Press the "Add Reply" button
In the "Attachments" section, press the "Browse" button
Locate the image you would like to post, highlight it, and press the "open" button

Press the "Upload" button
Press the arrow on the right side of the "Current Attachments" box
Click the icon with the

GREEN

plus sign on it to embed your image into the post

Press the "Add Reply" button
==================================================================
This thread is not for discussion. Please limit any replies to this thread for submissions only. All discussion related to this contest should happen in the 31 Days of the Dragon Discussion Thread. Any posts that are made without a submission will be deleted by a member of the mod team.
Good luck everyone!