Looks good. To be sure that everything is OK please proceed with these two final steps:
Step 1
Malwarebytes' Anti-Malware
I see that you have
Malwarebytes' Anti-Malware
installed on your computer could you please do a scan using these settings:
Open Malwarebytes' Anti-Malware.
Select the Update tab.
Click on Check for Updates button.
Click on OK.
Select the Scanner tab.
Select Perform quick scan, then click on Scan.
The scan may take some time to finish,so please be patient.
When the scan is complete, click OK, then Show Results to view the results.
Make sure that everything is checked, and click Remove Selected.
When disinfection is completed, a log will open in Notepad and you may be prompted to Restart.(See Extra Note)
The log is automatically saved by MBAM and can be viewed by clicking the Logs tab in MBAM.
Copy and paste the entire report in your next reply.
Extra Note:
If MBAM encounters a file that is difficult to remove, you will be presented with 1 of 2 prompts, click OK to either and let MBAM proceed with the disinfection process, if asked to restart the computer, please do so immediately.
Step 2
Download fresh AVPTool from
Here
to your desktop
Run the program you have just downloaded to your desktop (it will be randomly named )
We will run a virus scan only
On the first tab select all elements down to including Computer and then select start scan (1)
Once it has finished select report (2) and post that.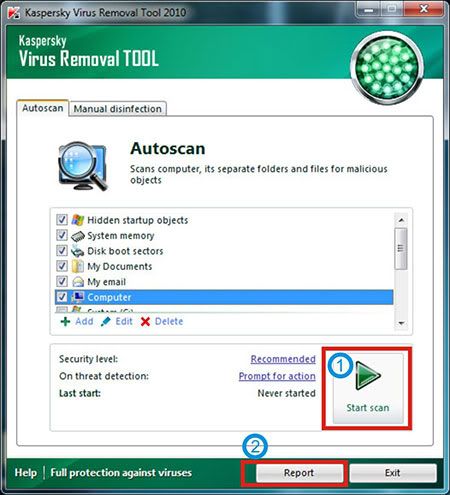 Please be patient as this scan could take a long time to complete.
Click on Exit to uninstall AVP tool. You may need to restart your computer after that.
When completed the above, please post back the following in the order asked for: