After System Restore Virus, I cannot connect to the network [Closed]
Started by
otaku4225
,
Nov 17 2011 12:57 PM
#16
Posted 21 November 2011 - 04:11 PM
What firewall do you have ?

---
#17
Posted 21 November 2011 - 06:37 PM
Default windows firewall. I started my computer in Safe mode with Networking and the problem persisted
Edited by otaku4225, 22 November 2011 - 09:28 AM.
---
#18
Posted 22 November 2011 - 01:22 PM
OK lets run some checks ... Do any other computers use your router ? And are they experiencing the same problem
Please
download
SINO by
Artellos
.
Save SINO to a place you can remember and run SINO.exe. (If you downloaded the ZIP version you will need to extract it first)
Then please check the following checkboxes:


System Info
Services
Boot Check
Tasklist
Startup Items
Event Log
Ipconfig
Ping
Netstat
Hosts file
Shares
Routing Table

Once checked, hit the Run Scan! button and wait for the program to finish the scan.
A notepad window will pop up. Please copy all of the content into your next reply.
Note: If you try to interact with the program once it's started scanning it might appear to hang. The scan however will continue.
---
#19
Posted 22 November 2011 - 03:11 PM
My mom's computer is wired to it, my brother uses the router and he doesn't have the same problem.

First thing when i started sino was an error message stating "SINO couldn't connect and will now continue with the current version" Then it ran normally.

When I checked all the boxes you told me, Sino still said "You haven't made a selection. Please select one or more tick boxes to continue" I tried ticking some of them, leaving them all unticked, ticking them all. Same error

---
---
#21
Posted 22 November 2011 - 03:40 PM
---
#22
Posted 22 November 2011 - 03:44 PM
Ok it is now deep investigation time

Go to control panel
Open the Network Connections folder.
Right click the local area network connection and click Properties.
Double click Internet Protocol (TCP/IP).
Click Advanced.
Click WINS.
Click the Enable NetBIOS Over TCP/IP button.

---
#23
Posted 22 November 2011 - 03:54 PM
Problem still persists. Not sure if i should restart to make the changes. Also, I am using a wireless connection

---
#24
Posted 22 November 2011 - 04:05 PM
---
#25
Posted 22 November 2011 - 07:47 PM

---
#26
Posted 23 November 2011 - 02:25 PM
OK this is indeed a curiosity
Download AVPTool from
Here
to your desktop
Run the programme you have just downloaded to your desktop (it will be randomly named )
First we will run a virus scan
Click the cog in the upper right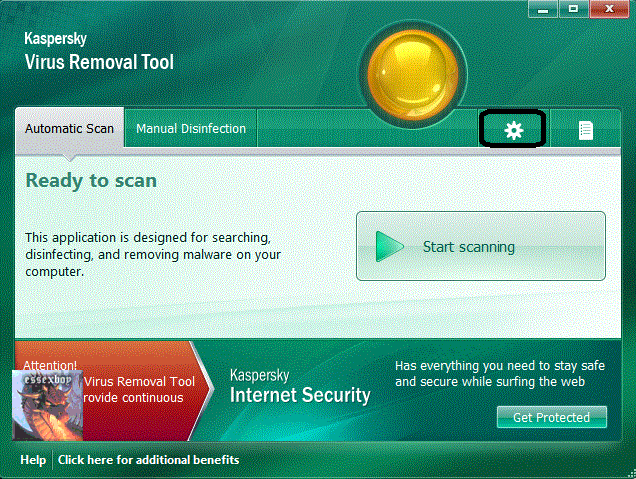 Select down to and including your main drive, once done select the Automatic scan tab and press
Start Scan
Allow AVP to delete all infections found
Once it has finished select report tab (last tab)
Select
Detected threats
report from the left and press
Save
button
Save it to your desktop and attach to your next post
Now the Analysis
Rerun AVP and select the
Manual Disinfection
tab and press
Start Gathering System Information
On completion click the link to locate the zip file to upload and attach to your next post
Megaupload
---
#27
Posted 26 November 2011 - 01:44 PM
I was not able to run the full scan, but on everything besides my computer and the hard drive. Every time I turned off or put the laptop to sleep, the program would reinstall. I brought my laptop to my sisters house and used the network there. It worked up until today when I came back home. When i came back home and connected to my mothers network, the same error occurred. I ran the sfc scannow but everything came back clean.

---
---
#29
Posted 26 November 2011 - 03:11 PM
No, it didn't help. Her network worked before i left the house to my sisters, and it works now as I'm using my moms internet.

---
#30
Posted 26 November 2011 - 03:41 PM
So the current situation is that you can access the net using the computer at another location. You cannot use it at your house, but everyone else can

Right click the network icon on the notification area
Select Open Network and Sharing centre
Select Manage wireless networks on the left
Right click the active network
Select remove network
Reboot

Then reset the network connection
Go to the Network and Sharing centre again
Select Connect to a network and go from there

---
---
Similar Topics
0 user(s) are reading this topic
0 members, 0 guests, 0 anonymous users
As Featured On: