WOW! That's great.. Oh please, I'd really be grateful.

I'm ready for any thing but I hope this works. Does this applies to all kind of files or just JPGs?

I can't guarantee it will work at all, but I have had success with this method in the past. THere's also a risk - your machine may not boot after we've don't this, so you you need to decide whether the risk is worth it
OK. As I said, Sality is highly infectious, so to move forward we need a clean PC to download the removal tools to, and a clean USB memory stick to transfer them to the infected machine.
Notes:
Please read through tese instructions a few times until you are confident what to do before starting them. It is vital that these steps are performed in the correct order and exactly as posted. I suggest that you print off this post for reference before proceding.
In step 5 you will be asked to temporarily disable any security programs you are running (Anti-virus and Spyware). Click
here
for details
++++++++++ oOo +++++++++
Steps 1 & 2 are performed on the clean machine.

» Step 1 Securing the USB/Flash device «
Flash Drive Disinfector
Download
Flash_Disinfector.exe by

sUBs
from
here
and save it to your desktop.
Double-click Flash_Disinfector.exe to run it and follow any prompts that may appear.
The utility may ask you to insert your flash drive and/or other removable drives. Please do so and allow the utility to clean up those drives as well.
Wait until it has finished scanning and then exit the program.
Reboot your computer when done.

Note: Flash_Disinfector will create a hidden folder named autorun.inf in each partition and every USB drive plugged in when you run it. Don't delete this folder...it will help protect your drives from future infection.
» Step 2 Download the tools we need «
Even if you already have any of the following, please download them again, as your versions may be infected
Note: All of these tools require renaming before you copy then to the infected machine
Download SalityKiller.zip, unzip it, rename

SalityKiller.exe

to SK.com and save it your USB disk
Download Combofix.exe rename

ComboFix.exe

to SvcHost.com and save it your USB disk
Download drweb-cureit.exe rename

drweb-cureit.exe

to DrW.com and save it your USB disk
The next steps are performed on your infected machine

» Step 3 Transfer the tools to the infected machine «
Copy SK.com to your C:\ drive on the infected machine
Copy SvcHost.com to your desktop on the infected machine
Copy DrW.com to your desktop on the infected machine
» Step 4 Run SalityKiller «
On the infected machine:
Click Start > Run
Type in: c:\SK.com -a -j -k -l c:\SKLog.txt and press enter
A black screen will appear as the scan starts
Once complete, Press any key to continue.
Locate SKreport.log, in C:\. Please post the contents of SKreport.log on your next reply after you've run the remaining steps.
» Step 5 Run ComboFix «
Browse to your desktop where you placed a copy of Combofix (SvcHost.com).
Disable your Antivirus and Antispyware applications, usually via a right click on the System Tray icon. They may otherwise interfere with our tools
Double click on SvcHost.com & follow the prompts.
As part of its process, ComboFix may check to see if the Microsoft Windows Recovery Console is installed. With malware infections being as they are today, it's strongly recommended to have this pre-installed on your machine before doing any malware removal. It will allow you to boot up into a special recovery/repair mode that will allow us to more easily help you should your computer have a problem after an attempted removal of malware.
Follow the prompts to allow ComboFix to download and install the Microsoft Windows Recovery Console, and when prompted, agree to the End-User License Agreement to install the Microsoft Windows Recovery Console.
**Please note: If the Microsoft Windows Recovery Console is already installed, ComboFix will continue its malware removal procedures.

Once the Microsoft Windows Recovery Console is installed using ComboFix, you should see the following message: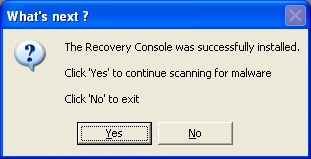 Click on Yes, to continue scanning for malware.
When finished, it may ask for a reboot. Please do so if requested.
It shall produce a log for you. Please include the C:\ComboFix.txt in your next reply after you've run the remaining steps.
» Step 6 Run Dr Web «
Doubleclick DrWeb.com, click on Start and allow it to run the express scan
This will scan the files currently running in memory and when something is found, click the Yes button when it asks you if you want to cure it. This is only a short scan
Once the short scan has finished, choose the Complete Scan
Select all drives. A red dot shows which drives have been chosen
Click the green arrow at the right, and the scan will start
Click Yes to all if it asks if you want to cure/move the file
When the scan has finished, look and see if you can click the following icon next to the files found:

If so, click it and then click the next icon right below and select Move incurable as you'll see in next image:

This will move it to the %userprofile%\DoctorWeb\quarantaine-folder if it can't be cured. (this in case if we need samples)
After selecting, in the Dr.Web CureIt menu on top, click file and choose save report list
Save the report to your desktop. The report will be called DrWeb.csv. Open it, copy the contents and post it on your next reply. If you can't open it, rename it to Drweb.txt
If asked to reboot, please do so. This will allow DrWebCureIT! to move/delete files that were in use
.
»Finally... «
Please let me know how you got in in your next reply and post all the logs
SalityKiller log - SKLog.log
Combofix log - Combofix.txt
DrWeb log - DrwWeb.csv/DrWeb.txt