Hi guys
Over the last week or so I've had issues when booting up my Acer Aspire 6930Z that has Vista Home Premium SP2 on it.
Every time I boot up I get the following notification,
It is occasionally, but not always, accompanied by another notification stating that 'Superfetch Has Stopped Working'!
This prevents me from using the internet.
I eventually get round the problem by going in my Network Connections, right clicking and hitting 'Diagnose'.
It analyses the situation and presents me with these options,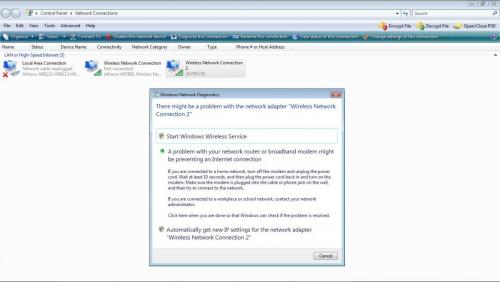 I click on 'Start Windows Wireless Service' and wait while it does some repairing before telling me that the problem has been resolved.
That's generally it until I next start up my machine ............................ but it's such a pain.
Anyone know how I can correct the initial Superfetch and Host Process issues please.
Many thanks,
Slime.