How can I remove the MBR:Alureon-G [Rtk] [Closed]
Started by
Goggleplex-Googleplex
,
May 13 2013 11:58 AM
#61
Posted 22 May 2013 - 01:48 PM

Results 2.txt
20.74KB
149 downloads
I DID IT OVER WITH FIREFOX CLOSED...

---
#62
Posted 22 May 2013 - 03:21 PM
Lets try something a little left field could you uninstall any programmes that you no longer require and back up to a USB or CD any data you do not currently need
Clear Cache/Temp Files
Download
TFC by OldTimer
to your desktop
Please double-click TFC.exe to run it. (Note: If you are running on Vista, right-click on the file and choose Run As Administrator).
It

will close all programs

when run, so make sure you have

saved all your work

before you begin.
Click the Start button to begin the process. Depending on how often you clean temp files, execution time should be anywhere from a few seconds to a minute or two. Let it run uninterrupted to completion.
Once it's finished it should reboot your machine. If it does not, please manually reboot the machine yourself to ensure a complete clean.
Once that is done run a disc defragment
Let me know if that alleviates some of the problems
---
#63
Posted 23 May 2013 - 11:18 AM
That's gonna take a while. Something else is going on. Suddenly, in 2 of my email accounts, lots of emails are missing! I neglected to delete Java like you told me to. I can't even see Java on the taskbar! This is on 2 different computers! Hotmail and Yahoo email accounts. My wife is having the same problem on her phone. Do you know what might be causing this?

---
#64
Posted 23 May 2013 - 11:40 AM
Not really as they are both web based accounts where the e-mail is held online unless deleted. So if they are not on the web host then the indication would be that they were deleted from your end

---
#65
Posted 28 May 2013 - 04:05 PM
Hi! I don't have anywhere to put programs on that computer. I uninstalled all the suspicious ones and nothing got fixed. Both FF and IE browsers get that "The connection was reset" after a short time of using the computer. And also, the shutdown time is very long if I use the computer for any real length of time. And one more thing. The windows magnifier does not appear when Windows starts. I have to click in it in the taskbar. When I had the alorien virus, I could go to Google and search for something... but when I tried to go into a site, I got redirected. And now, I can go to Google, do a search, but when I try to get into a site, I get that nessage! But why does it only happen after using the computer for a while??!!
Is there a way to repair FF and IE? Even if I had the money to have the BIOS password erased, if I wiped the system, I'd lose "ReadPlease," the text to speech program that reads to me. It's not being offered for the PC anymore. Because I always only used the free version, they won't let me download ANY version of their program.
Accessibility regularly gets withdrawn from people's systems after new software comes along.
---
#66
Posted 29 May 2013 - 06:45 AM
Lets have a look at the temperatures
Download
Speedfan
and install it. Once it's installed, run the program and post here the information it shows. The information I want you to post is the stuff that is circled in the example picture I have attached.
If you are running on a vista machine, please go to where you installed the program and run the program as administrator.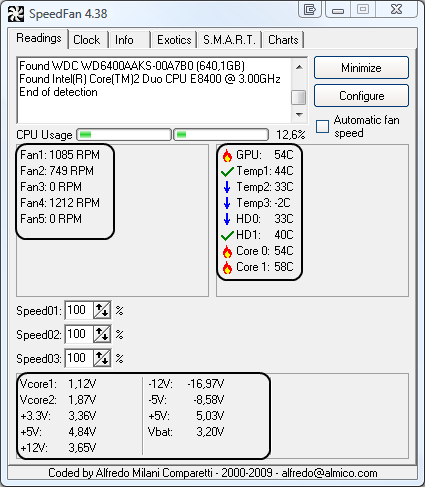 (this is a screenshot from a vista machine)
Would
this programme
be any good ?
---
#67
Posted 29 May 2013 - 08:59 AM
HDO: 39C
Temp1: 27c
Temp2: 27C
Core0: 58C
Core1: 54C

This is all it showed.


I think I forgot to tell you... Sometimes I find AVAST turned off at startup. And sometimes AVAST says, "A program is trying to turn AVAST off." And also, the Windows magnifier does not appear at startup sometimes. It's supposed to be on the screen and functioning. I open it manually when that happens.

---
#68
Posted 29 May 2013 - 09:02 AM
I'm letting things run for a while to see if the temps increase when the system stops functioning properly. If temps are higher, I'll post them.

---
#69
Posted 29 May 2013 - 09:04 AM
OK lets run a real deep virus scan
Download
Dr.Web CureIt
.
Doubleclick the drweb-cureit.exe file to open it.
A window will open offerring a choice of EPM or Standard Mode
Chose EPM
A license and updates window will appear. If necessary update, otherwise check the box "I agree to participate..." and click Continue
You will not be able to use your computer until the scan is finished. It generally takes only a short time say... around 15/20 mins.
Dr Web will scan your computer. When finished a report is saved to C:\users\....\Doctor Web named cureit.log. Copy and paste the contents back here.
---
#70
Posted 29 May 2013 - 11:19 AM
Windows - System Error

There is an IP address conflict with another system on the network

[OK]

This is what happened. What do I do about this.

I clicked OK and it seems the scan is continuing.


---
#71
Posted 29 May 2013 - 11:26 AM
Sounds as though the other computer on your network has the same IP

1.On your computer, open Network Connections (Start > Run > ncpa.cpl > OK)
2.Right-click on the icon for your wireless adapter and select Properties
3.Click on the "General" tab, select "Internet Protocol (TCP/IP)" in the list of "This connection uses the following items," and click "Properties"
4.Select the two radio buttons to "Obtain an IP address automatically" and "Obtain DNS server address automatically"
5.OK your way out.

---
#72
Posted 29 May 2013 - 11:40 AM
I'm thinking you want me to do this on the "other" computer, (that's working normally). (It's a desktop.) The computer with the problem is a Fujitsu laptop.

The scan is finished. 2 threats found.

---
#73
Posted 29 May 2013 - 11:41 AM
Could you post the log please
When finished a report is saved to C:\users\....\Doctor Web named cureit.log
EDIT: You will probably need to check both computers network
---
#74
Posted 29 May 2013 - 11:48 AM
I think I have to neutralize the 2 threats before I can do anything. Is that OK?

I'm having a hard time with this one because the program disabled the magnifier. I can hardly see the screen.

---
#75
Posted 29 May 2013 - 11:52 AM
If necessary then yes, but I would like to be sure they are threats and not false positives.. Was that other screen reader any good ?

---
---
Similar Topics
0 user(s) are reading this topic
0 members, 0 guests, 0 anonymous users
As Featured On: