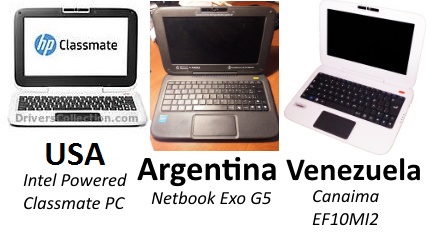 I have a netbook EF10MI2 (I think they're know in the USA as Intel Powered Classmate PC 'Clamshell' or Marble Point) with Windows 7 Ultimate x64, and one day it just died. It was the typical corrupted BIOS issue (This model is known for this) and the solution is well known as well; flash the BIOS (UEFI). When I was about to start the process, I decided to look for the latest version for these netbooks, which I found is v1.04.
I started the process, and it all worked as it should, I recovered the PC. Later on I was reading the documentation that came in the ZIP and they recommended updating the TXE Firmware as well. I was unsure if my antivirus would stop the process thinking it's "suspicious" so I did it via EFI shell. And it worked.
Two days later I wanted to listen to some music and I noticed the netbook ignored the headphones; the music is played on the speakers only. I thought my headphones were broken so I tried another and they were also ignored. I thought it was a driver issue, so I uninstalled the Realtek HD Audio drivers, rebooted the netbook, then re-installed the drivers, the problem is still there. Then I uninstalled them again, rebooted, downloaded the latest drivers (2021) and installed them, nothing changed. At last I re-installed Windows, nothing changed, and the netbook is still ignoring the headphones.
So I flashed a debian distro to my flash drive and booted the live mode. I was surprised to see the OS couldn't find an audio device, which is odd because it was fine before updating that goddamn firmware.
Then I decided to perform a BIOS downgrade to v1.03. It can't be done via Windows batch or EFI shell, it must be done via recovery mode. I'm going to write it here so people can learn. It is obvious you need another PC:
Format the flash drive to FAT32 and 8192bytes cluster size (8kb)
Unzip the BIOS ZIP contents to the flash drive
Rename the file "MP0035p.cap" to BIOS.cap

**With the netbook off**

Connect the flash drive
Press and hold Fn+R on the keyboard
Connect the charger (You should see a blinking pink light)
Press and hold the power button for 3 seconds
Release all keys and wait. No user input is needed; well it was like this for me.
When it's done, the netbook should power off, disconnect the flash drive and the charger
Turn it on, enter the BIOS configuration utility, check the version, it should say:

MPBYT10A.86A.0035.2015.0211.1604

That's all.

 
Well, the process worked, I downgraded my BIOS successfully. But still can't use headphones. Then I tried to downgrade the firmware to the version that came in the v1.03 ZIP, and got this error: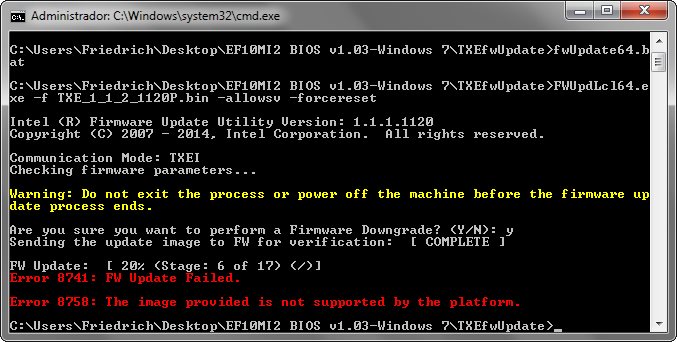 Error 8758: The image provided is not supported by the platform.
Then I tried via EFI shell and I got the same error.
And here I am, unable to listen to music with my headphones. Any ideas? What should I do?
I have another of these netbooks with its original BIOS, here's the information:
Intel TXE Firmware 1.1.0.1089
BIOS MPBYT10A.17A.0030.2014.0906.1259
BIOS Version: 1.02CAN
EC Version: 1.03
I got a PDF from intel with the technical information, you can either download it (Mediafire) or read it here (Copy&Paste)
Content Type Product Information & Documentation
Article ID 000006284
Last Reviewed 12/18/2019
Local vendors can provide geographically relevant, and culturally appropriate teaching and
learning solutions for the Intel® classmate PC
.
Hardware Specification
Processor
Intel® Celeron® Processor N2805 and N2806, Bay Trail - mobile Dual
Core
Memory 4 GB DDR3-1066 MHz
Storage
SSD SKU: 16 GB/32 GB/64 GB SATA 2.0 connection
Hard Disk SKU: 320 GB/500 GB SATA 2.0 connection 5400 RPM, 2.5¨
HDD (7 mm), Intel Education Hard Disk Protection
LCD
10.1¨ 1366 x 768 HD, Color LCD, LCD TFT, LED backlight, 200 nits,
Anti-Glare for non-touch SKU/Glare for touch SKU
Operating System Windows 8.1* Pro 64-bit, Windows 7 Pro* 64-bit, or Linux*
Security McAfee AntiVirus Plus*, Intel® Education Theft Deterrent with TPM
Keyboard/Touch Pad Water-resistant keyboard/touch pad/power button (330 cc)
Camera 1.0 MP, 180 degrees rotatable camera
Audio/Speaker
/Microphone
Integrated audio, built-in speaker, and digital microphone
Handle
Integrated retractable handle supports micro-mobility in the
classroom
System I/O 1X USB 3.0, 1X USB 2.0, card reader, HDMI
Connectivity Wi-Fi + Bluetooth® 4.0, TV tuner (optional)
Battery Options
Polymer Battery, - 2 cell battery 25 Wh (3400mAh), - 3 cell battery 37
Wh (3400mAh)
Drop Test 70 cm drop-resistance
========================================================================
This is apart from the post, I ask this question here just to avoid creating another thread
========================================================================
Is there any way to 'inject' a custom BIOS splash image?
Some tutorials on the internet involves messing around with the BIOS binary itself, extracting the section containing the images with UEFITool, replace it with another image with the exact file size and then injecting it back into the BIOS binary. I tried this on another netbook and failed, I just can't get my image to the required file size. All I got was a black screen.
Other tutorials shows the use of the Intel Integrator Toolkit, I downloaded it and it's not compatible with these netbooks. I found an older version (5.0.3.568) and it's not working. Apparently it's only for desktop PCs.