Hello there,  
So i have been having some problems with my computer and i have been getting some random BSODs. I did the windows memory diagnostics and in the test it said that i had some hardware issues. When the computer restarted, i got a popup saying "Your computer has a memory problem." i tried doing memtest and i made a bootable cd but i wasn't able to change the Bios settings to boot from CD. i spent a few hours to no avail trying that. The only options were "Windows boot manager" and "UEFI: General." Which i have no idea what UEFI:general is. I just upgraded my motherboard and processor last week but i already had these problems since before i upgraded. I just want a suggestion in what i should do next?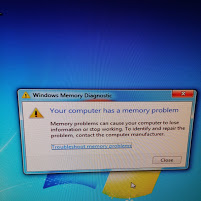 My Spec are:
CPU:                Intel I7 4790K
GPU:               ATI Radeon R9 280x
Motherboard:  Asus H97 Gaming 3
RAM:               8Gb (4Gb x 2) Kingston  
Thanks
Edited by Nicholasmita, 06 February 2015 - 01:55 AM.