This topic is locked
#16
Posted 11 November 2014 - 09:30 PM
Everything else appears to work just fine.Thank you for what you have been able to do so far too.

---
#17
Posted 12 November 2014 - 08:46 AM
---
#18
Posted 13 November 2014 - 11:08 AM
I made this change but it did not make any different other than a really faster mouse pointer.
---
#19
Posted 13 November 2014 - 11:38 AM
Try removing any drivers using the Control Panel > programs and features. If you don't find any drivers therein, then remove the mouse in Device Manager and re-boot. Check Device Manager after reboot to see if mouse is listed or the generic entry for your mouse (I am sure it will be). That may cure the stuttering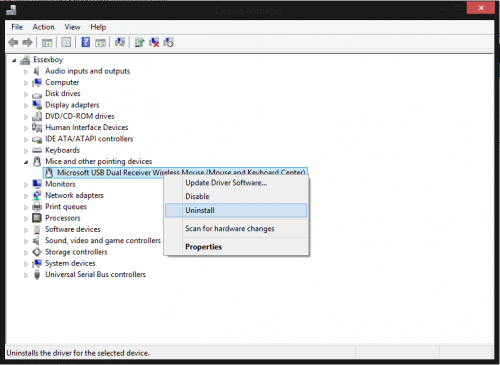 ---
#20
Posted 15 November 2014 - 07:49 AM
Ok. I am about to walk out the door but I will do this as soon as I get home and let you know.
---
#21
Posted 15 November 2014 - 07:57 AM

---
#22
Posted 19 November 2014 - 09:26 PM
Sorry for the late reply on this, I got sidetracked and this slipped my mind. I uninstalled the only mouse driver and rebooted but there doesn't seem to be any change.
---
#23
Posted 20 November 2014 - 08:38 AM
Have you tried a different mouse ?

---
#24
Posted 21 November 2014 - 07:59 PM
Not yet. This is the only mouse I have. I will see about getting one over the weekend. I'll get back with you on it but to be honest, I don't think its a mouse thing.
---
#25
Posted 30 November 2014 - 10:15 AM
Due to lack of feedback, this topic has been closed.

If you need this topic reopened, please contact a staff member. This applies only to the original topic starter. Everyone else please begin a New Topic.


---
---
Similar Topics
Also tagged with one or more of these keywords: Virus, win32 zperm, win32, zperm
Security

→

Virus, Spyware, Malware Removal

→


Started by bobbielynjordan ,

18 Oct 2018

remote

,

administration

and 7 more...

Security

→

Virus, Spyware, Malware Removal

→


Started by tamarad93 ,

15 Aug 2018

malware

,

trojan

,

virus

Security

→

Virus, Spyware, Malware Removal

→


Started by MrMatoke ,

22 Jul 2018

Trojan

,

Virus

,

Malware

,

Occamy.c

Hot

33 replies
4,247 views

Security

→

Virus, Spyware, Malware Removal

→


Started by CrniOrao ,

17 Jul 2018

DLL

,

Error

,

Virus

,

Malware

and 1 more...

Security

→

Virus, Spyware, Malware Removal

→


Started by promithius ,

31 May 2018

coinminer

,

diskdriver

,

virus

and 2 more...

Hot

45 replies
3,472 views
0 user(s) are reading this topic
0 members, 0 guests, 0 anonymous users
As Featured On: