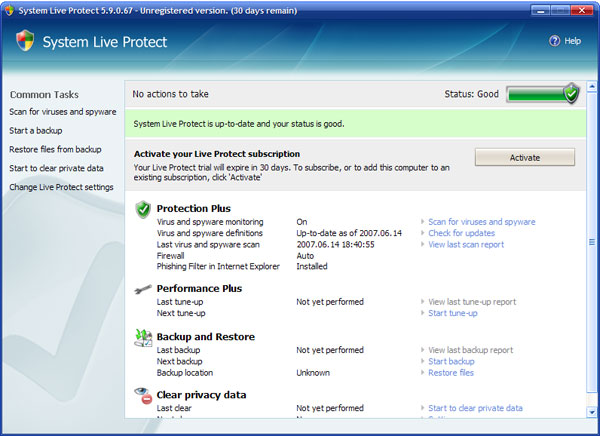 Much of the malware problem the past year has been rougue malware applications installed by the zlob trojan. There are too many to list. Among the popular ones have been SpyDawn, Virusburst, SpyAxe, SpySheriff, WinFixer and SmitFraud.
The latest in this long line is System Live Protect. Like the others, it looks very much like a legitimate application. Even a Microsoft application in this case. However, it reports greatly exaggerated or false system reports and warnings in an effort to entice the user to purchase a "registered version" that will remove the alleged threats.

Don't purchase it, remove it, and your problems will go away. Of course, it's not as easy as selecting System Live Protect from the uninstall menu. However, S!Ri has been working tirelessly to maintain his SmitFraudFix tool that will easily remove this and the other threats like it.
We have instructions to Remove System Live Protect in our forums. Or, you can download the tool and view instructions right from S!Ri's page. If you find his tool useful, please consider a donation to enable him to continue his work! It requires a tremendous amount of time to keep his tools updated.