If you have a Facebook account, you've probably seen, or shared, at least one urban myth. Maybe it's this image: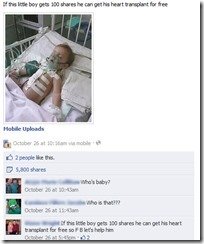 Or this:
Today, 12/01/2014 in response to the Facebook guidelines and under articles L.111, 112 and 113 of the code of intellectual property, I declare that my rights are attached to all my personal songs, lyrics, literary excerpts, data, drawings, paintings, photos, texts etc… published on my profile. For commercial use of the foregoing my written consent is required at all times……
Or even this:
I just found out that should you ever be forced to withdraw monies from an ATM machine, you can notify the police by entering your Pin # in reverse. The machine will still give you the monies you requested, but unknown to the robber, etc, the police will be immediately dispatched to help you.
The broadcast stated that this method of calling the police is very seldom used because people don't know it exist, and it might mean the difference between life and death. Hopefully, none of you will have to use this, but I wanted to pass it along just in case you hadn't heard of it. Please pass it along to everyone possible.
There is no validity to any of these posts, and none of them are new.  In fact, the third one started circulating in an email as early as 2006, before migrating to Facebook. The first one has been circulating since at least 2010. The Facebook privacy one surfaces in a new form every time Facebook announces changes to its privacy policy. These are just a sample of the many myths that are out there. All of these have been discredited, and the validity can be easily checked. The next time you see a Facebook status like that, stop and think about it. How will sharing a picture 100 times provide a free heart transplant? If entering a PIN backwards would summon police, don't you think that information might actually be shared by your bank? Who decided stating your rights in a Facebook status would provide any legal protection whatsoever? (For the record, you agree to Facebook's Terms and Conditions when you create an account. Stating otherwise publicly doesn't change anything).
While it's not possible to completely stop these things from circulating, you can become part of the solution. Don't blindly share or post anything just because everyone else is. It's possible to quickly check whether a post is valid or not. I use Snopes.com to check these items out. For example, here's the Snopes link debunking the backwards ATM  PIN myth. If the story isn't true, don't spread it. While there's not necessarily anything malicious about these myths, there's no point in perpetuating them. Your friends will probably thank you for having a little less clutter in their feed, too.