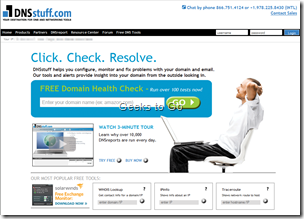 If you've ever tried to lookup the location of an IP address, check the status of DNS propagation, or wanted to check the health of your DNS or mail server,  you're probably familiar with DNSstuff.com. It used to be an incredibly useful site – when it was free. While DNSstuff.com does still offer a selection of free tools, full access has now reached $79/year! While no free site offers every tool available on dnsstuff.com, here are 10 free sites that offer a good selection of alternatives.
…5 more sites that deserve a mention:
One more bonus site. While some of the charts it creates and tools are cool, it can be slow. It also seems parts of it may not be working. Geeky enough that it had to be included: serversniff.net
The bottom line is that you may be able to find all the tools you need using free alternatives to DNSstuff. However, they won't all be conveniently located at one site, and won't all offer the speed and performance of dnsstuff.com. If you host a lot of sites, own a webhosting company, or are a frequent user of the tools dnsstuff offers, than $79/year may be a reasonable investment. If you're like most of the rest of us, and  only need to access the tools occasionally, it's nice to know there are free alternatives available.