Geeks to Go is proud to announce that we will be giving away a beautiful Lenovo M90z computer to one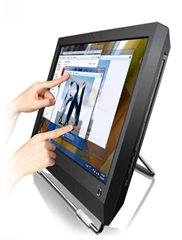 lucky person. Lenovo and Ivy Worldwide have teamed up with GTG and 25 other websites to give away 25 of these computers to lucky contest winners.
The Lenovo M90z is a 23" All-In-One multitouch computing beast that any technology buff would be lucky to have in their collection.
The specifics of the GTG contest are still being hashed out but we know for sure that our contest will begin on May 10 and our winner will be picked and announced on May 14.  Note: Comments to this story will not count as entries to our contest.
Stay tuned to the GTG homepage for the Lenovo M90z review and for more contest information.
Please head on over to the other websites participating in the giveaways and try your luck in all the contests.
UPDATE: Details for our contest can be found on our Facebook page: facebook.com/geekstogo

Lenovo M90z Participants