Motherboard
GIGABYTE GA-MA770-DS3
==========
Motherboard review by James_8970
==========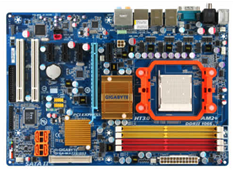 As technology continues to progress, our present demands continue to outgrow our pasts. Over the past few months we have seen many new chipsets released: Intel's P35/X38/X48, nVidia's 7x0i series, and now it's AMD's turn with the 770 (AM2+) and 790fx series chipsets. With our budget constraints we were not able to leap for a $200+ motherboard, but overall we believe this board is a great compromise between performance and dollar value.
As time moves on, new CPU's are released and their performance is greatly affected by the features on the motherboard. AMD has just recently released some new products, the Phenom series CPU's. While they aren't quite as good as their Intel counterparts, they do have a great number of innovative features that set them apart from Intel's current offerings. That aside, many of the current motherboards are Phenom compatible – after a BIOS update. This motherboard, on the other hand, is compatible with this CPU out of the box. It also has a higher hyper transport speed then other traditional AM2 motherboards, which could ultimately affect future upgrades. This motherboard comes fully equipped with native DDR2 1066MHz, PCIe 2.0 – a first for an AMD motherboard – and up to 16GB of RAM to keep you on the leading edge of technology and give you an unprecedented upgradability path for the future.

While there are many motherboards similar to this one from a wide range of manufacturers, this one stands out from the rest. It has two PS/2 ports, 6 USB 2.0 ports, 2 IEEE 1394 ports, 1x optical and 1x coaxial S/PDIF ports, 4 additional onboard USB ports, 1x onboard 1394a port, 1GB/s networking, realtek ALC888 onboard audio, RAID controller, 16GB RAM support, solid state capacitors and lastly PCIe 2.0 support. This motherboard comes with a great deal of features, all bundled into a great package at an amazing price.
USA pricing…………..$109.99 (2/18/2008)
Canadian pricing……$105.99 (2/18/2008)
---
Processor/CPU
AMD Athlon 64 X2 4800+ Brisbane
==========
Processor/CPU reviewed by hfcg
==========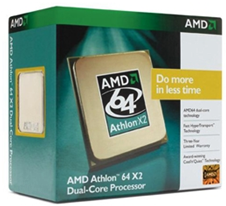 AMD, Intel, Dual core, Quad core, And what is a GigaHertz?
With all the choices to make, buying a processor can be an overwhelming experience. Most people do not know what is meant by L1 cache, or System Bus and with the addition of a 32 bit or 64 bit OS, even an experienced user can become confused.
The Athlon 64 X2 4800+ is a mid range 64 bit dual core processor. It has a clock speed of 2.5GHz that makes it fast enough for most mid-range computing, while remaining an inexpensive choice for the budget builder. The 64 bit processor is capable of running 32bit or 64bit operating systems, giving you unprecedented freedom of choice today and in the future. This is a stable, cool running processor for the mid range user who wants to do basic home or small office computing. The processor features 256KB L1 cache and 512KB L2 cache (per core) and 14.4GB/s data bandwidth (6.4GB/s memory and 8GB/s single-link HyperTransport).
USA pricing…………..$88.99 (2/18/2008)
Canadian pricing……$95.03 (2/18/2008)
---
Operating System
Vista Home Premium 32bit
==========
Operating System reviewed by James_8970
==========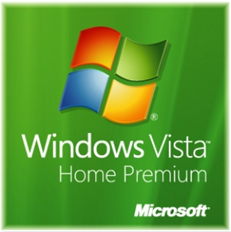 Over the past year there has been a lot of controversy regarding Vista. Some love it, others hate it, but ultimately it's the future, whether we like it our not. You may have heard about Vista incompatibilities with various products and applications. Windows Vista has been out for over a year now, since it's release, there have been numerous stability fixes and the majority of all products will now work with Vista at ease. With SP1 just around the corner, Vista should become an even better experience.
Vista comes in a large number of versions. Among them are Vista Home basic, Vista home premium, Vista Ultimate, Vista Business and lately Vista Enterprise. Each version comprises of different features for a better experience, more in depth information on each version can be found here. When all is said and done, we believe that Vista home premium is the best valued version for the grand majority of end users. It has the right mix of features and can be found at an excellent value.
You may have noticed that we have chosen a OEM copy of Vista. What this means is that you save a significant amount of money, but there are a few shortfalls when comparing this to the retail version that you should be aware of.
The retail version of Vista comes with both 32bit and 64bit versions of the OS (though you need get the other version sent by mail), the OEM version on the other hand is limited to one the version you have purchased.

Another shortfall is the lack of Microsoft support, though it's virtually none existent anyway (we'll be happy to help you in the event of a problem).

There are a limited amount of upgrades that you can perform, after exceeding this amount you'll be forced to purchase a new license.

Lastly the license is linked to you motherboard, if you replace your motherboard you will be required to get a new license. Should you get a DOA board or have to RMA a board, Microsoft may make a exception.
Vista is essentially an oversimplified, more secure, more stable and better looking version of XP. We highly recommend Vista over other alternatives on the market because of it's increased stability and security. Windows Vista is a great OS and with SP1 just around the corner, it sweetens the deal.
USA pricing………….$94.93 (2/18/2008)
Canadian pricing…..$99.99 (2/18/2008)
---
Memory/RAM
G.Skill 2GB
==========
Memory/RAM reviewed by James_8970
==========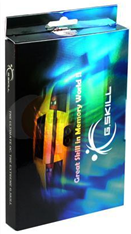 Over the past year, our requirements for RAM have soared; this was helped in part by Vista. While 2GB was once considered over kill, it has now become the norm and is now required in a multitasking environment. Luckily for you, RAM has dropped significantly in price over the past year, giving you much more bang for your buck.
While there is PC2-6400/PC2-8000/PC2-8500, the premium in price is not worth it, unless you have intentions of overclocking. Considering this build was built around a office/home user, this build has not be designed with overclocking in mind, although mild overclocking can be accomplished. The PC2-5400 RAM we have chosen will be sufficient for this build and will not suffer performance loss when compared to its higher frequency brothers.
While there is also DDR3 on the market, it is cost prohibitive for this build and doesn't offer any bang for its buck. Latencies are also much looser to achieve the higher frequencies. At this time DDR3 is not recommended for anyone but the extreme enthusiast.
We choose this memory over others as it operates at 667MHz, has 2GB of capacity, G.Skill is a reliable company, great bang for your buck and operates at the stock DDR2 voltage. Since these RAM modules operate at the stock voltage, there will be no need for you to adjust BIOS settings to get the most out of your product. This way there will be far fewer headaches.
USA pricing………….$39.99 (2/18/2008)
Canadian Pricing…..$44.91 (2/18/2008)
Note: Canadian version different due the lack of the American model in Canada.
---
Video Card
HIS Radeon X1650PRO
==========
Video Card review by James_8970
==========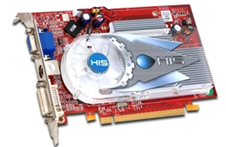 A common misconception is that onboard video will be sufficient to get by everyday tasks. While you may be able to see your computer screen and do a number of other things you will likely notice lag in online videos, slower rendering times in visual applications such as Google earth and increase time for real time rendering in video applications like Adobe premiere and Sony Vegas. Onboard will also draw resources from your CPU and RAM which will effect general use on every day applications.
To fix this issue we chose the HIS Radeon X1650PRO video card. It's a powerful budget end card that will get you through low profile gaming, as well as your everyday tasks with ease. While this card won't have enough power to play newer games at higher resolutions and settings, it will still get by for lower resolutions and maybe even mid to high settings. This GPU is fully DX9.0 compatible, and sports 256mb of GDDR2, 12 pixelpiplines, 64bit memory interface. It also has Vista support, RoHS Compliance, and can display resolutions up to 2560 x 1600.
While there are multiple choices on the market, for low end gaming and office use, there is no better GPU on the market to fit your needs. It'll get you by with ease.
USA pricing………….$44.99 (2/18/2008)
Canadian pricing…..$60.99 (2/18/2008)
---
Monitor
Acer AL1916WAbd Black 19″ monitor
==========
Monitor review by titan8990
==========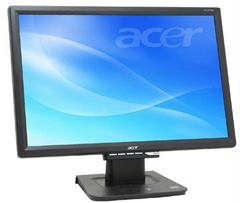 The Acer AL1916WAbd is a perfect monitor when looking at a price/quality ratio. Some budget monitors just don't cut it. I have seen some budget monitors make noises louder than the computer! This is definitely not the case with the Acer AL1916WAbd. At it's $180 price tag it is one of the lowest priced 19″ widescreen monitors on the market and without sacrificing quality. It's native resolution of 1440×900, 700:1 contrast ratio and 5ms response time make it perfect for everyday use as well as gaming.
This was an easy choice for us. Simply one of the best budget monitors out there.
USA pricing………….$179.99 (2/18/2008)
Canadian pricing…..$195.99 (2/18/2008)
---
Hard Disk Drive
Seagate 7200.10 250GB
==========
Hard Disk Drive review by james_8970
==========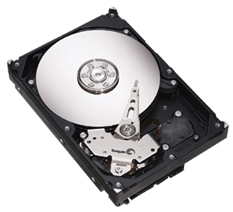 Today, there is a wide range of hard drives such as the SE16 from Western Digital, the F1 Spinpoint from Samsung, the Barracuda's from Seagate and the Deskstar from Hitachi. Capacities range from below 80GB all the way up to 1TB (1000GB) drives nowadays, so which one is the best fit for you?
While the offerings between the hard drive manufacturers differ slightly, the 7200.10 series from Seagate tends to hold the most cost effective solution for you dollar. The 10th generation barracuda from Seagate was the first to implement Perpendicular Recording Technology. With the introduction of this new technology, it allowed Seagate to make denser drives which in turn created a faster and more reliable unit.
At 250GB, you pay a measly 0.268$ per gigabyte, with the addition of 8mb cache and the implementation of the SATA interface for improved cable management and airflow. While all these drives offer essentially the same thing, there is one thing that sets Seagate apart from the rest of the pack – its warranty. While the industry standard is 3 years, Seagate went the extra mile to offer a 5 year warranty.
While all hard drives offer very similar performance for approximately the same price, each has a few features to distinguish itself from the rest of the pack. With the excellent cost per gigabyte, great performance and 5 year warranty, we feel that the Seagate 250GB 7200.10 is the best choice for your dollar.
USA pricing………….$64.99 (2/18/2008)
Canadian pricing…..$55.99 (2/18/2008)
---
DVD drive
Pioneer DVR-212DBK
==========
Optical drive review by james_8970
==========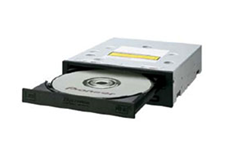 A good drive ultimately decides if the disc you put in will become a coaster or a valuable place to store your memories. With so many DVD drives on the market, it's very difficult to choose which is the best one considering they are all roughly the same price. You could buy a Lite-On, Samsung, Pioneer, LG and more. With a market filled with numerous choices, which is the best one to fit your needs?
Pioneer has long been known to carry upper range products on the DVD drive markets. Unlike many other popular drives, this one isn't held back by it's firmware – it makes quality burns at higher speeds and best of all isn't known to create coasters like other popular brands. This drive has 2mb of cache, 18x burn speeds, does quality burns, uses a SATA interface for better cable management/air flow and looks great. Cosmetically, this drive is better than the others, when I get a black case I want my drive to be to black as well. Pioneer developed an ingenious idea to imprint the details of the drive into the bezel rather than print them in white. The overall finish looks superb and I'd be happy if others manufacturers followed Pioneer in this regard. While this drive does excel in many regard, it has one shortfall, it's rather loud. Though to be honest I have never come across a drive that was much quieter, something I'd appreciate all drive manufacturers to drastically improve upon.
Overall, this drive is an excellent buy. It's fast, has stunning appeal, and outperforms all the other drives in it's class at the same price tag. So really, how can you go wrong?
USA pricing………….$28.99 (2/18/2008)
Canadian Pricing…..$27.99 (2/18/2008)
---
Case/PSU
Antec Sonata III
==========
Case/PSU review by James_8970
==========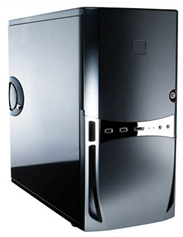 While many are quick to dismiss a PSU/case combo, there are a few that slip through the cracks and actually have great quality at a reasonable price. The Sonata III is one of those few examples.
The case is spacious for a great number of upgrades and has superb airflow. It has plenty of room to upgrade, with up to 5 hard drives, 2 video cards, three 5.25" and two 2.5" bays. You should have no problem upgrading in the near future. It provides two USB, an eSATA and two audio ports for easy convenience at the front of your case and a washable air filter to prevent dust from clogging fans and heatsinks within your rig.
The PSU is handily the single most important component in your rig, if you don't believe me, would your body function properly with a defective heart? It's the same principle with a computer, with a poor, cheap, generic unit; your hardware will age much faster and will eventually die prematurely. While this PSU may be cheap, it packs a punch. It's a quality 500W Earthwatt unit from Antec which has high efficiency, a quiet fan, 3 year warranty, low ripple and long connectors. It'll be enough to power a few upgrades and will be more than enough for this build.
The combination of these two excellent products provide quality at an amazing value.
USA pricing………….$99.99 (2/18/2008)
Canadian pricing…..$99.95 (2/18/2008)
---
Keyboard – Mouse
Microsoft Comfort Curve 2000
==========
Keyboard/Mouse reviewed by James_8970
==========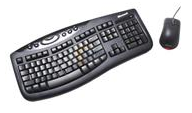 Keyboards and mice as primarily based on user preference. We have placed this combo set here that feels comfortable. the layout seems natural and your keystrokes seem effortless. If you have the chance, we'd recommend you stop by Best Buy or Circuit City to give the keyboards and mice on display a try. This is the only way you'll find what you personally enjoy.
This is an inexpensive, comfortable, and quality combo that gets the job done.
USA Pricing………….$21.99 (2/18/2008)
Canadian Pricing…..$20.39 (2/18/2008)
---
USA Total…………$774.84
Canadian Total…..$807.22
Selected and reviewed by our Tech Apprentice Team