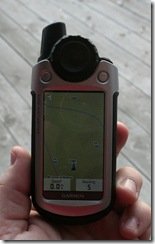 The benefits of owning a GPS unit are still something that remain a mystery to many. The cost of a unit can be prohibitive for a device that many people would consider a luxury. I spend a considerable amount of time hunting and fishing in the great outdoors. A GPS could be quite beneficial to someone like me. If you spend a good amount of time outside hunting, fishing, jogging, hiking, boating, camping, or any other outdoor activity, a GPS will likely add to your outdoor experience.
This year the US Government is dispersing extra funding to a large chunk of the US population. I had an epiphany with this extra money coming in – beyond paying off bills and buying beer, why not get that GPS that I've long been wanting? To that end I decided to contact Garmin to see if I could get a look at one of their products for review here. Like Christmas in early March, the Colorado 400t arrived at my doorstep just begging to be tested.
The Colorado 400t has a very "you can't break me" look to it. When I first laid paws on it I had this urge to throw it down a flight of stairs. Fortunately, common sense prevailed when I remembered that Garmin has my Credit Card number. Nevertheless the unit certainly looks rugged. It has good heft, a large screen and a control layout that's both simple, yet effective. Even for those wearing gloves.

I have the unit and have not thrown it down stairs, so now, where to start? Directions? Get serious, I'm a guy, I don't read directions. I'm a computer geek, let's install the software. It is Monday after all, I can get used to the software so that I can do something useful with the GPS this weekend.
The Garmin MapSource GPS Software looks fairly simplistic at first glance. As with most software it's very easy to install. The initial screen shows a map of the United States and allows for many different things, including adding waypoints (coordinates of a specific point), routes, and distance/measuring.
The basemaps that come with the standard MapSource software are just barely more than worthless. They come with very little in the way of roads, no medium to small size lakes or rivers, and very little town information. This particular GPS comes with TOPO maps for the unit, but not for the computer. If you only plan to store waypoints and such on your computer, then this will probably be adequate. If you want to utilize the computer to add routes, verify waypoints, plan trips, and follow your tracks, the basemaps just won't cut it.
If you are going to be even somewhat serious about this GPS, you need to add the TOPO maps for the computer – they are fantastic. All the small roads, lakes, rivers, and elevation changes are part of this package. You also get things like Airports, State/Federal land, cemeteries, parks, railroads, and many other great things that the standard maps do not have. The TOPO Map's $120 price tag seems exorbitant, but to really get the most use out of the GPS, it's well worth the cost.
We've looked over the software and it's not Saturday yet. Let's peek at the GPS to see what we can find. This particular GPS is setup with "profiles" for each of the different activities that you can do with it. The profiles are Recreational, Geocaching, Automotive, Marine, Flight, and Fitness. The different profiles change the way the trip computer reacts and how the display looks.
Beyond the normal functions of the GPS, there are a lot of neat features that come with this particular unit. I already noted the TOPO maps, but there is more, lots more actually. There are 2 "games" that can be played with this unit, Geocaching and Wherigo.
Geocaching is a sport where GPS users leave a "cache" somewhere and then share the location of that "cache" on the internet for other GPS users to download and find. These hidden treasures can really be anything as they are up to the discretion of the person leaving it.
Wherigo is a fairly new game and it seems like it could be a lot of fun. Think of this as a real life version of a computer game. Someone, somewhere on the internet builds a game and uploads it to the Wherigo website. These games can have storylines, virtual characters, virtual items, physical and virtual locations and many other things to help the player complete the game. The game is setup in zones and as the GPS user moves from zone to zone, the player might see videos, get directions, or receive tasks from the GPS. The GPS might also give them instructions to talk to virtual characters or perform virtual tasks. All-in-all, if I had the time, Wherigo would probably be something that would really interest me.
This GPS has an electronic compass which is actually quite nice. Once calibrated (a very simple process) it quickly orients itself and is very accurate. There are also large buttons so that even in the bitter cold, the GPS is easy to navigate with gloves on. The unit takes about 35 seconds from power on to having satellite signal.
The Colorado 400t also comes with some interesting features that aren't quite as exciting as the ones previously mentioned. Things like an Image Viewer, Alarm Clock, Stopwatch, Calculator, and Calendar could all certainly be very useful, however just aren't as much fun as running around playing games. The built-in Satellite Tracking screen is nice to see how accurately your GPS is calculating. The Elevation Plot would probably be a nice feature for someone in the mountains. The Sun and Moon shows you the time when the sun will rise and set and also shows the stages of the moon. The Area Calculation feature is pretty cool if you are checking out new property like I'll describe later or you are a real-estate agent. The "Where To" function allows you to choose a city, waypoint, Geographic point, or pre-programmed route and draws a line between you and your chosen destination. With the 400t you can also share your waypoints and routes with other users via a wireless connection. Overall the extra features of this GPS are very impressive.
Now we've looked at the software, have a handle on where things are on the GPS itself, and have looked at the features, let's go outside and play. I have new property that I recently purchased. Let's see if I can figure out how to map out my boundaries using the GPS. The first step is to go out to each of the corner posts left by the surveyors and mark waypoints. Next, we need to input this information into the computer so that we can make a map out of it and make a route to follow. Easy enough right? It is with the MapSource software.
Click the "Receive from GPS" button and voila, the waypoints download from the GPS and appear right where they should on the map. Click the route button (it really is this easy, I couldn't make it up) and click on each waypoint in the order you want to travel them. Once finished, click the upload to GPS button and it's time to go back out into the cold. Everything went surprisingly well (although the GPS forgot to tell me how to get across the creek). One can of fluorescent spray paint later and I now know before I cross into my neighbor's property.
This particular unit tracked very well in the thick cover of the woods on my property. No matter where I was on the property, every time I took the GPS out of my pocket it knew right where I was. It even had quite accurate maps of the small creek that runs through my property.
Now that we played out in the woods, let's test the automotive profile on this GPS. Changing profiles from recreational to automotive is a snap. Once in the proper profile, I turn on the Trip Computer and fire up the SUV. Each time I looked at the GPS it agreed with my vehicle on speed and heading. At many corners I checked my location and looked at my route and everything looked great. No matter what speed I traveled and what back roads I took, the GPS kept up with me.
During both the woods and auto tests the 400t performed very well. Other than going inside in a building with a steel roof, I couldn't get this GPS to lose its signal. There were a few points in very thick cover where the signal dipped a little, but nothing where it lost enough signal to lose itself.
Even though this GPS has an Automobile profile, its purpose is truly recreational. You can use this GPS to do turn by turn navigation, but you would have to program waypoints at each turn and program in a route between waypoints. It is possible, but if you are looking for an automobile navigation unit, you should be looking for a unit made specifically for that purpose.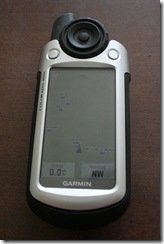 During my tests, I did find a few faults with this GPS. Each time you turn it on, it defaults to the lowest possible backlight settings. You can't even see the screen regardless of external lighting. You have to go into the settings and turn up the backlight. Maybe this setting is in place on purpose, but I can't for the life of me figure out why. For me it was just a nuisance.
I can't for the life of me figure out what the Hunt and Fish feature on the GPS is for. It's a separate screen that shows "Good, Bad, Best, Worst" times on it. It's supposed to be like an almanac and it pulls these times based on the area that the GPS is currently in. What I can't figure out is what is good and or bad about those times? Hunting? Fishing? What kind of fish? What kind of game? It just makes no sense to me.
Overall I think the Garmin Colorado 400t is too much GPS for a novice like me. Its $600 price tag is certainly restrictive, even on a moderate budget. While it has many neat features like profiles, large color screen, easy "fat-finger-capable" button layout, and wireless waypoint sharing, these features just aren't worth the extra money in my world. The functional parts of this unit like satellite reception, startup time, and ease of use are all comparable to other units that I have used.
If you are looking for a GPS to spend that extra government money on and you want a unit that's color, with a large screen, great reception, quick startup, and plenty of extra things to play with, then the Garmin Colorado 400t is right up your alley. If, like me, you are interested in a functional piece of equipment without all the toys, you might be better off looking at one of the lower color HC Garmin models.
Rating: