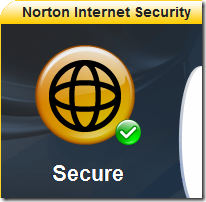 Change can be a great thing. We've all heard fascinating tales of people who shed half their weight.  But change can also be treacherous and destructive. A peek into history books would reveal us tales of great empires falling apart, leaving nothing but dust behind. Doubtless however, change is powerful.
Symantec's history over the last few years seems to match the second definition. The huge security company, which just a few years ago has been the biggest and doubtless the most influencing security software developer around, witnessed a steep downfall in sales. The security giant, whose products were once installed in almost every new computer, was taunted by the Revolution of the Internet. Faster download speeds made it easier to find alternatives – some of which were free; so did online reviews and comparisons, which were available to everyone: not only in geeky computer magazines.
Symantec's products were simply too bloated and buggy, and even as alternatives began to gain popularity, Symantec didn't make a proper change. Ironically, it was Norton 360, an all-in-one suite targeted at home users, that made a 180 degree change with low performance requirements, a redesigned and intuitive interface and a huge leap forward in general. Now, the latest generation of Symantec's 2009 security suites is held to a higher standard, as the company makes yet bolder promises. So we've tried out Norton Internet Security 2009, and here's what we have to say.
Installing
Norton Internet Security 2009 (or NIS2009) was off to a rough start. First was the psychological factor: I didn't want to like it. I had bad experience with previous Norton products and security suites. Second, the installation file is a whooping 58.6 megabyte in size; that's almost double the size of Kaspersky's Internet Security suite, NIS's main competitor, and for years, the better choice of the two.
Once the download was completed, however, I was impressed by the speed of the installation, which only took about 2 minutes in total, not even requiring a restart in the end. No complex settings or daunting wizards to go through, either: NIS2009 launched itself flawlessly and was ready for action in just a couple of seconds.
Features & Interface
So what will you get for your money? Besides the traditional components, such as an anti-virus with active protection and an anti-spyware along with a firewall, NIS2009 offers an anti-phishing component (which blocks access to suspicious or dangerous websites), identity & log-in cards (allowing you to preset identities and sensitive information to enter in websites), parental control (which you need to install separately) and home network monitoring (allowing you to see the status of other computers in the network, as well as their security status – if they're using NIS2009 too, and also determining if your wireless connection is secure and encrypted).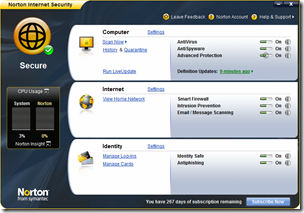 Opening the main window of NIS2009 reveals 3 different parts controlling different areas of protection: Computer (anti-virus and anti-spyware protection), Internet (firewall, intrusion prevention, e-mail scanning and network security) and Identity (identity cards, anti-phishing). Each of these areas takes a different part of the screen, allowing the user to disable or enable their main features with a single click, as well as access a more complex array of settings, shown in a separate screen. There are also two performance bars total system CPU usage vs. Norton's CPU usage, and a button to launch LiveUpdate. You'll also find quick help texts near every control on the main screen. All in all a simple and clean layout to which I got accustomed quickly.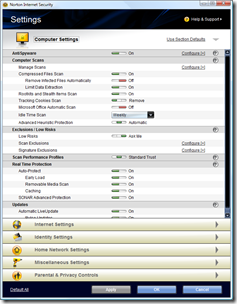 If you're a more advanced user or a control freak, NIS2009 will satisfy your needs. You can control  virtually every feature; the complex settings are organized in categories, and you can access yet more complex settings through the submenus. A bit confusing, but users that choose to dig into these settings will probably know their way around, though I found that basic information like a filepath of an infection, require way too much digging around sub-sub menus. Same for firewall – which is set on 'silent' by default (meaning you won't get notifications prompting you to block or allow programs to connect to the internet). And while NIS2009 does a good job in filtering these, I would like to see the firewall settings laid out in a more basic way and with less digging around menus.
Touching on control freaks, they will definitely like the performance meter familiar from previous versions of Norton Internet Security. This performance meter shows total CPU consumption vs. percent consumed by NIS2009. We'll touch on the subject of performance later on, but you can also get very comprehensive graphs and reports on background jobs done by NIS2009 when the PC is idle.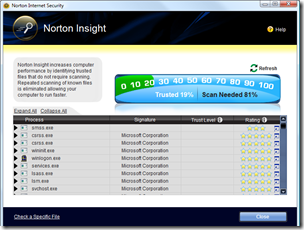 One of the most important innovations in NIS2009 is Norton Insight, a technology allowing you to cut scanning times by mapping known "good" files, either from an online database or from a user input. It works by clicking the Norton Insight button in the main window, and allowing Norton Insight to scan known directories for 'good' files. You can also specify specific files that you want to check against the online database. As you can see from the screenshot, on my PC Norton Insight found only 19% 'trusted files', but that means many files and a significant reduction in scanning time. The great thing about this feature is that it's community based. NIS2009 collects data from users (with permission) and tests to see if the same files appear in many different computers. If so, the file is assumed safe by Norton Insight, thus reducing scan times. So, with time this feature can only improve.
NIS2009 also includes the LiveUpdate feature built-in the product, unlike previous versions which had a clumsy and separate application performing updates. LiveUpdate here works flawlessly, and downloads definitions every several minutes. Thankfully, NIS2009 doesn't disturb you to inform you of this, but more about this later on.
Like most security suites today, NIS2009 includes predefined log-in cards which you can configure and define as you like. You can password protect them or not, and you can set a master password required each time you want to use a certain log-in. All around a basic and easy to use feature, that also uses a toolbar (thankfully supporting both Explorer and Firefox, unlike previous versions) to fill in details. This toolbar also gives you information about site safety (phishing).
Performance & Detection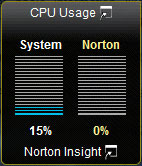 Performance was one of the biggest issues of previous NIS versions, and this version is lighter than ever. In normal computer usage – background operation with no scans running – Norton consumed between 10 to 20mb of memory; very impressive, and actually better than some standalone products. While scanning, NIS2009 took between 60 and 70mb of memory in a given moment, which on a fairly modern machine should not slow things much.
Like most modern anti-virus solutions, NIS2009 offers a 'Quick Scan' feature (scanning high-risk areas), which is quick indeed – on my machine this scan took just under 40 seconds – while scanning just below 4,000 files. A full scan, however, will take several hours – depending on the size of your hardrive, computer speed and amount of files.
Evidently, a great deal of effort has been put to make NIS2009 as silent as possible, hence the  inclusion of Silent Mode (also present in previous versions of NIS and other Symantec products). Like the name says, Silent Mode makes sure NIS2009 won't disturb you during games or movies. You can set it to detect full screen automatically and turn Silent Mode automatically, or set it for a specific period of time. Once the time is over or full screen is ended, Norton will notify you if there were security incidents during the period. However, to my surprise I found that using Silent Mode isn't necessary; NIS2009 was very quiet and didn't alert me unless a shield has been disabled or it found a suspicious activity, even without Silent Mode.
However, not everything was perfect with NIS2009. While security suites traditionally have high detection rates, many have a lot of false positives, and this was the case here. On my clean machine, NIS2009 found several false positives and marked them as 'highly dangerous'. Also, I encountered occasional problems with file downloads freezing, unless I turned NIS2009's Active Protection off. Same with bigger file transfers through MSN Messenger. I also didn't like the short freezing between clicks in the main program window.
Overall I would rate NIS a huge improvement over its predecessors, and a huge success. If you were to list the most common complaints about Norton Antivirus, and Norton Internet Security this release answers them all:
Bloated

Difficult to remove

Large memory footprint

Resource hog

Live Update
Norton has always enjoyed good detection rates, now it has a quality application and interface to go with them. It should be on your short list of antivirus applications. NOD32 was my former antivirus of choice (a geek favorite). I now run Norton Antivirus, and I can say it proudly. Well done Norton!
Rating: