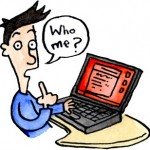 Technology is something that many of us take for granted. Teenagers today look at us as though we are crazy when we reminisce about the days without Internet… without cell phones or even CD players. They cannot fathom what it was we could have possibly done for entertainment in the years we spent before game consoles were invented.
As many of us grow older, we are embracing technology, and giving these kids a run for their money. We are on the cutting edge when it comes to social networking, new gadgets and gizmos and even computer building and repair. My daughter, for instance, is astounded that I even know how to turn on a computer, let alone build one myself. She cannot grasp that I have only been using a computer for about ten years, yet I can do the things I do for work all day every day as though I've spent my lifetime working at it.
This never ceases to make me chuckle. I think back over my 38 years, and it blows my mind at the many advances in tech I've watched become major players in our everyday lives. If I were to choose one piece of technology that changed my life, I would have to simply say my computer. I know – it sounds lame. You have to understand, though. Prior to my first use of a computer, I worked in a boring 9-5 office job, slaving away over numbers and ledgers all day long. Now that I have become somewhat of a computer "expert", I am living my dream. I work from home as a "virtual assistant" to a guy thousands of miles away. I write his blogs, manage his virtual communities, and more. Because of my computer, I also learned how to remove malware years ago, and ended up here at GeeksToGo. I've now made my home here for nearly five years, and am still proud to be a part of this site.
Because of these two "jobs" of mine, I have made literally hundreds of amazing friends, and thousands more social contacts. I met my fiancee through my boss – again, because I was online. My life has changed in so many ways, simply because I sat down and learned how to use a computer. It has become something I would never have dared to dream of in my early life. I can honestly say that I am a Geek now, and am so proud to be one.
What piece of technology has changed or shaped your life – and why?