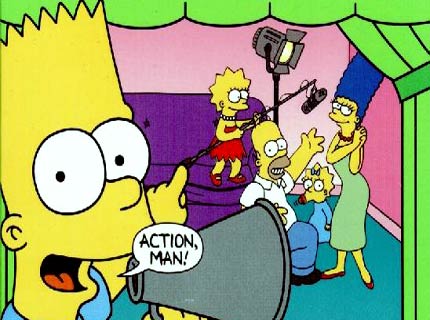 There have been at least 21 tries before to make a successful video game based on the hit Simpsons TV show. All have flopped. The Simpsons Game is now under development by EA and will release for the PS2, PSP, PS3, Nintendo DS, Wii and the Xbox 360 in the fall of 2007.
So what's different this time? Scot Amos, Executive Producer, The Simpsons Game says,
Our goal in developing THE SIMPSONS GAME is to create the most original game ever, which is a lofty goal and only possible given the close collaboration with 'The Simpsons' creative team. We're also especially proud of the game's warm visual feel, which captures – for the first time ever in a game – the look of the TV show.
Powerhouse EA badly needs an original hit. It's also getting great support from the TV show cast and crew. All the characters voices will be represented, and the writers contributed over 8,000 lines of dialogue for the games 16 "episodes".
The plot of the game is not based on the upcoming Simpsons movie, but instead revolves around the Simpson family finding that without its advanced knowledge or consent, it has become the basis of a new video game.
'Simpsons' game leads EA summer preview [ZDNet]