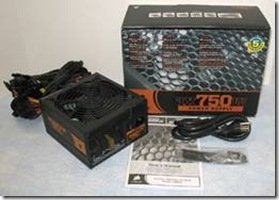 I've been a fan of Corsair RAM for years, so when they decided to enter the power supply market, I jumped at the chance to see what they have to offer.
The TX750W comes with some impressive packaging including a "velvet" bag to keep it in if you're not actually going to use it…which would be a serious mistake. Don't let the "Plain Jane" matte black and orange dressings fool you, this is a truly nice piece of hardware. When you remove this PSU from the box (and the bag), the first thing you notice is the abundance of leads…more than enough for almost any installation. There's an ATX 24/20 pin connector, an EPS/ATX12V 8/4 pin connector, 4 PCI-E 6/8pin connectors, 8 SATA power connectors, 8 4 pin Molex peripheral connectors, and 2 floppy connectors…all of adequate length. This all sounds great; but it presents some issues I'll get to a little later.
Now, I've read other reviews on this PSU and they've been generally favorable…which always leads me to be a bit skeptical. Yes, the specifications are very good…it's quiet and has one of the best efficiency ratings on the market. Looks good on paper, but what does this mean to the average user? It adds up to stability and we'll make a few comparisons to another PSU I'm testing.
Let's start with installation. I installed to two different cases for this review. The first was the Antec 900 Extreme Gaming case using an ASUS A8N-SLI SE motherboard. The Antec case features a bottom mounted PSU configuration and I ran into problems right from the start. First, in this configuration, the Corsair PSU must be mounted upside down which puts the leads to the outside of the case…away from the motherboard. The leads, though of good length, required some very creative routing to get a clean looking install. Even then, some of the leads were barely long enough to reach the connectors on the motherboard. The 4/8 pin EPS/ATX lead was particularly troublesome in this installation. The sheer number of leads presented another issue in the Antec case…there is no place to tuck that many leads away where they can't be readily seen. I ended up having to move the HDD's to the upper drive cage in order to stuff the leads into the lower bay. Might not seem like much of a problem until you consider that those leads were blocking fully half of the airflow provided by Antec's two front mounted case fans. I do not recommend using the Corsair TX750W in this configuration; you'll want use a case with a top mount for the PSU.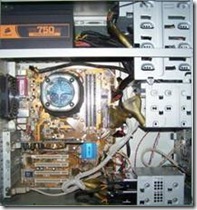 I then installed in an older AOpen case with the top mount for the PSU and used an ASUS K8N motherboard. I had a little better time with this installation. The leads reached the motherboard connectors just fine and the Corsair is right side up. Everything went smoothly and I even managed to get the extra leads tucked away without restricting airflow or smothering the motherboard.
Great! Let's see how this thing works. In running the computer through its paces, this PSU is, indeed, very quiet and seems stable enough. Under load, it's just as stable and quiet. Seems good so far, let's compare it to another product and see how it does. I'll compare the TX750W output voltages to an Ultra X2 ULT40121 750W PSU which also claims to be very stable, quiet, and efficient.
I used SpeedFan 4.33 to monitor and graph the voltage outputs of both power supplies for five minutes on each voltage leg. There was very little variation in voltage in both power supplies; however, as the graphs demonstrate, the Corsair provides a much more stable output in every case. Now I'm impressed.
Corsair TX750W on the left – Ultra X2 ULT40121 750W on the right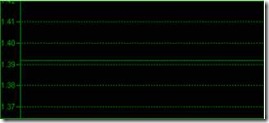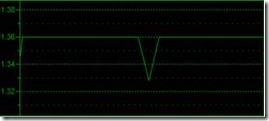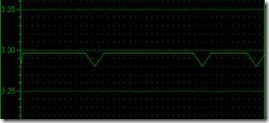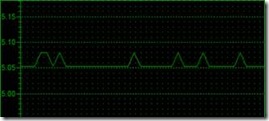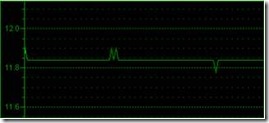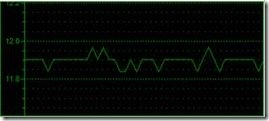 Top to bottom are Vcore1 voltage, +3.3v, +5v, and +12v legs.
As is clearly shown in the graphs, the Corsair is about as stable as any power supply I've seen in recent years. Ripple voltage is extremely low and voltage fluctuation is very minor. The TX750W performs equally well whether sitting at idle or under a considerable load. Even while working with two video cards configured in SLI, there was no perceptible change in output voltage at any level.
This power supply lives up to its promise of being cool and quiet. The 140mm fan it uses pushes enough air that it barely gets warm which surely adds to its stability and is bound to contribute mightily to reliability and longevity. It is, indeed, a very quiet power supply. Side by side with the Ultra PSU, it can't heard at all until the Ultra is shut down…then it's a whisper compared other power supplies with similar output.
Though my experience with the TX750W got off to a rocky start, I found this power supply to be an exceptional piece of equipment. If Corsair were to offer this power supply as a modular unit to limit the tangle of leads to deal with when it's installed, it would be nearly perfect. I think they have a winner when considering the performance, but installation can be a test of one's will when dealing with all the cabling issues.
Rating: