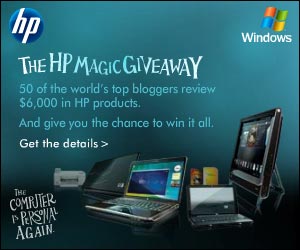 Finding it a little more difficult to find the holiday magic this year? Still need something extra special for under the tree? HP and Microsoft have teamed up with 50 websites this holiday season to give away a total of $300,000 in prizes, in The HP Magic Giveaway. If you've done the math correctly, you already know that means we have a $6,000 prize package to award to one lucky winner. While the details of our contest won't be revealed until later (subscribe to our feed), now we'll share what's contained in the prize package, and all 50 sites where you will have an opportunity to win!
If you're new to this site, we share magical moments every day, by providing free tech help. Our magical moments come from helping someone solve a technology problem. It could be as simple as removing the Language Bar, or as complex as removing the latest rootkit that your antivirus missed. If you have some magic to share, or just want to learn more, please visit our forums.
The Holiday Magic Prize Package:
What's included? It's an impressive array HP of hardware. An awesome 25″ touchscreen desktop, a notebook with a huge 18″ screen, a 14″ entertainment notebook, and an ultra small and light, Mini1000 netbook with a 10″ screen. Plus a MediaSmart Connect that makes it easy to share media from a computer with your HDTV (photos, music, even HD video). HP accessories include a wireless All-in-One printer/scanner/copier, and a Photo Value Pak.

Microsoft wraps up the software with Windows Vista Ultimate, Windows Vista Home Premium, and Windows XP (Mini 1000). Microsoft Office Home and Student Edition 2007 (1 DVD w/ 3 licenses), and Microsoft Windows Live. Completing the package is Corel VideoStudio X2, and the movie Kung Fu Panda (2 widescreen DVDs; 1 Blu-ray disc).

Yes, one lucky winner takes it all, and there are 50 chances to win. To see all 50 participating sites, visit the official HP Magic site, or view the complete list after the break…
Each site is free to set their own contest rules, so be sure to check each site, review their contest, and enter to win!

AbsoluteVista
Barb's Connected World
Bleeping Computer
BostonPocketPC
Carlos Alberto
CíberPrensa
Digital Home Thoughts
Digital Inspiration
Down-to-Earth Mama
Eliax
Gadgetell
Gear Live
GearDiary
Geek News Central
Geek.com
Geeks To Go!
Geeks!
GeeksRoom
Geekzone
Gotta Be Mobile
HackCollege
I Started Something
InfoWester
JK On the Run
La Bitácora de Erwin Ried
Last 100
Liliputing
Living – In Theory
MediaBlab
merlot mom
moosh in indy.
Morningside Mom
Neowin
Notebooks.com
Noticias Tech
One Day, One Job
OSNN
Planet x64
Slashdot Review
SlashGear
Stop, Drop & Blog
Student Bloggers
Study Hacks – Demystifying College Success
Techie Diva
Techmamas
The Digital Lifestyle
The Gadgeteer
Thoughts on poetics & tech
Unión de Bloggers Hispanos
Windows Connected