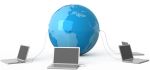 Being a Geek, I know how critical it is to back up your information regularly. I also know that computer crashes can – and will – happen without warning. Since I work from home, it's even more critical for me to have an excellent backup system in place, right? I am about to lose my Geek card by telling you this. Until two weeks ago, I hadn't backed up my information in over a year! I kept putting off buying a physical drive to keep the information on. And the online backup services I had looked in to were all too expensive for me to justify spending any money on. However, that changed in the blink of an eye when I was introduced to KeepVault!
First off, I have to admit that I didn't pay for this program. There is a free 30 day trial, and I had planned to check it out that way. However, I had to write an article about this system for my boss' blog not long ago. As a small extra little perk, the company graciously handed over a beautiful 100GB account for the next year! I was ecstatic, and installed the program within an hour of receiving the email!
From writing the original article, I already knew the basics of what KeepVault could do. I knew that it doesn't only have to be used on one computer – I can use the same backup account for every computer in my house! The software also gives me the option to back up my data to their encrypted website, as well as to a local drive if I choose. You can edit your settings to utilize one or both methods!
Once I installed the software, the first thing I noticed was how simple the user interface is. Even though I've never used software like this before, I quickly found everything I needed. I scheduled a daily time for my full backups, and selected what exactly I wanted to be backed up! Next, I learned that I could choose between one large backup per day – or incremental backups, based on file changes. Yes, folks… instant backup every time a selected file or folder changes!! Working from home, that option appealed to me. I have files that change constantly throughout the day. I admit, though, I was worried as to whether this method would bog down my system. I mean, the files are being upload as they are changed.
I had nothing to fear. The first time I ran KeepVault, I performed a complete backup of everything I could think of that needed it. Yes, that one took awhile. I simply set it to start when I was in bed. I have a lot of videos on my machine due to my job, and that's what made it go so slowly that time. That's not the fault of the program! If you are backing up documents, pictures and music, it won't take you nearly as long.
The next morning, I went ahead and changed my settings to do the immediate backups whenever a file changed. Believe it or not, I didn't even notice it doing anything. As a matter of fact, I opened the program a few times to make sure it really was backing my files up since I hadn't noticed any difference in my system through the day!
It only costs about $4.00 per month to protect your entire family with a 40GB account. Isn't your information worth four dollars? Everything is encrypted before it ever reaches the KeepVault servers. No one is going to see or read your information, I promise you that.
I'm more than happy with this software, and I absolutely recommend it to anyone and everyone. I can honestly say that I will never again go without backing up my files!
Can I have my Geek card back now? Please?